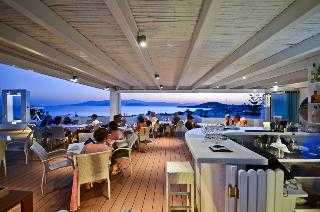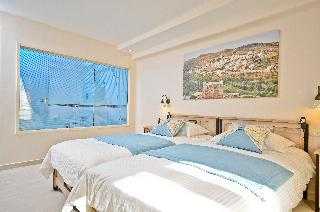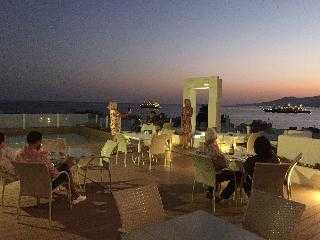 Avaliação TripAdvisor
Baseado em 190 avaliação
Ver todas
Este luxuoso hotel encontra-se em Aghios Prokopios. Inserido a 5. 0 km do centro da cidade, o alojamento permite-lhe um fácil acesso a tudo o que este destino tem para lhe oferecer. As principais zonas de entretenimento encontram-se próximas do hotel. A 70 metro(s), os viajantes irão encontrar ligaç...
Mais detalhes
Disponibilidade
Selecione a data da sua viagem
Selecione a data da sua viagem para verificar a disponibilidade dos quartos.
Informações do estabelecimento
Este luxuoso hotel encontra-se em Aghios Prokopios. Inserido a 5. 0 km do centro da cidade, o alojamento permite-lhe um fácil acesso a tudo o que este destino tem para lhe oferecer. As principais zonas de entretenimento encontram-se próximas do hotel. A 70 metro(s), os viajantes irão encontrar ligações de transporte que vão permitir que explorem a zona. A praia mais próxima encontra-se a 30 metro(s) do hotel. Os visitantes poderão encontrar o aeroporto a 2. 5 km. O alojamento encontra-se a 5. 5 km do porto. Este estabelecimento dispõe de um total de 16 unidades. O Naxos Island foi construído e...
Mais detalhes
Entrada a partir de: 15:00
Saída até: 11:00
Comodidades do estabelecimento
Comida / Bebida
Restaurante
Comodidades / Instalações para negócios
Salas de Reuniões
Serviços de recepção
Depósito de bagagens
Avaliação dos hóspedes
TripAdvisor
Pontuação dos viajantes
Excelente

131

Muito Bom

33

Bom

16

Razoável

4

Ruim

6
Perfil dos viajantes
Negócios

0

Romântica

98

Viagem a sós

4

Família

55

Viagem com amigos

7
Resumo das pontuações
Atendimento

Custo-benefício

Limpeza

Localização

Qualidade do sono

Quartos
Hotel muito bom!
Avaliou em 25 de junho de 2016
Excelente atendimento, muito boas instalações, café da manhã muito bom, com vista para a praia de Agios Procopios. O hotel está a 200 m próximo da praia. Tem um bom restaurante! O restaurante em frente também é muito bom!
Roberto F
Soberbo
Avaliou em 5 de agosto de 2014
Este é um ótimo hotel, não muito longe (300m) da bela praia de Agios Prokopios, onde você também encontrará restaurantes e bares para um cocktail à noite se quiser. A equipe é realmente super atenciosa, gentil e sempre disponíveis para ajudar. Eles têm uma grande piscina na cobertura com um bar situado bem ao lado dela - se você não estiver a fim de uma curta caminhada da praia. Eu definitivamente recomendo ficar aqui durante sua estadia na ilha de Naxos. E eu definitivamente tentarei voltar!
epd20
Fantastic hotel and island
Avaliou em 27 de setembro de 2021
We stayed at the Naxos Island Hotel for five nights in September. This is a fantastic hotel! The employees cannot do enough for you. Yannis and Alex at the restaurant, Electra (the young woman at the front desk), and the hotel driver were some of the exceptional employees that we encountered. Our room was spacious with a large balcony and bathroom and was very clean. The rooftop restaurant served a delicious breakfast each morning with an amazing view. The hotel is in an ideal location, a short walking distance from several restaurants and several organized beaches. I would not hesitate to recommend this hotel and hope to be able to return someday.
lucyv1
Amazing gem of a hotel in Naxos
Avaliou em 9 de agosto de 2021
We stayed at Naxos Island Hotel in July 2021, which is conveniently located in a small beach town. We were welcomed by a hospitable and hard-working staff, who did everything they could to make us feel welcomed and situated in the hotel. The staff worked so well together that we thought it was a family-run hotel! When I asked, they said they aren't; they are just really close because they have worked together for so long, which was sweet. Rooms were well-maintained, complete with sleep number beds and japanese-style bidet seats. Rooms are configured in a way that 2 rooms can be combined to create a family suite, which was convenient for us and our kids who would be staying in the next room over. The rooftop pool and bar was the best feature of the hotel, with a panoramic view of the beach and beautiful sunset. The daytime bartender, Vangiles, was also fun and gave us some very good recommendations for our time in Naxos. We used the laundry service, which was affordable/convenient and turned around our load overnight without any issues. There are no coffee makers in the rooms, but at check in, the hotel staff said that any time you want coffee, they will pick up coffee and bring it to you in 5 minutes, free of charge. I didn't use this service, but that is a nice touch.
leestahs
A Gem: Great Location, Fantastic Staff, Superb Rooms.
Avaliou em 3 de julho de 2021
We traveled to Naxos right after the country relaxed restrictions and we've been pleasantly surprised with this little gem. It's a solid 4+ star hotel. We stayed two nights on third floor sea view rooms. Here are our observations: Great Management: We had some miscommunication with the tour company and booked the wrong dates for the hotel. Just three days before our arrival, the manager (Vaggelis) accommodated our dates even though he was in the right to charge us penalties. The front reception gave us a great overview of hotel and surrounding attractions. Comfortable, Clean Rooms: You can tell that the owners paid lots of attention to details. The beds were similar to sleep number beds and you could adjust the recline and firmness of the mattress (this might have been a new upgrade). The details, fixtures, and furniture were carefully selected and suits the needs of a luxurious stay. There were also Japanese-style bidets on the toilets that were an unexpected bonus. They gave us family room where we were able to join double rooms (3+2), which worked out really well. Friendly Staff: From the get go, the staff was super helpful with any information and we were treated to welcome drinks. I could tell that they genuinely wanted you to have a good time and were super hospitable with any recommendations. Food: For covid times- we had to pre-order our breakfast. Quality was fine- but I appreciate the variety given that during Covid times its been hard for all hotels. We had dinner at the rooftop and we really enjoyed the Moussaka (Sp?) and the Crawfish risotto. Area: We wanted some beach time after visiting Santorini and we got everything we could ask for. It's about a 3 minutes walk to the beach and a really nice place to relax- Not overly touristy, which is something that we find refreshing. The rooftop pool is great as well- if you want some further privacy. Negatives: Internet was spotty on the 3rd floor in our rooms. Worked fine everywhere else. Overall- We would come back to stay here. It's great for families and nice to get away from the hustle and bustle from Athens and Santorini.
tbslove50