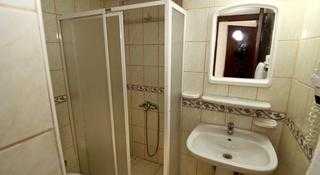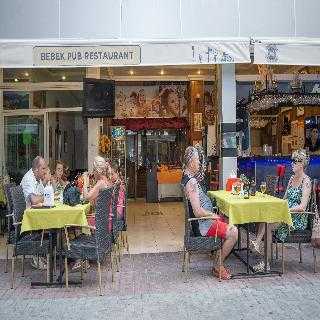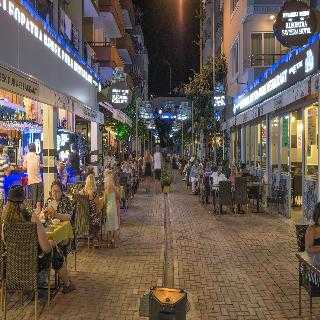 Avaliação TripAdvisor
Baseado em 80 avaliação
Ver todas
Situado a poucos passos da famosa Praia Cleopatra de Alanya, este hotel urbano decorado com simplicidade está idealmente localizado para desfrutar de muitas lojas, bares café do resort e restaurantes, bem como da praia popular para dias preguiçosos de banhos de sol ou nadar no Mediterrâneo. Ideal pa...
Mais detalhes
Disponibilidade
Selecione a data da sua viagem
Selecione a data da sua viagem para verificar a disponibilidade dos quartos.
Informações do estabelecimento
Situado a poucos passos da famosa Praia Cleopatra de Alanya, este hotel urbano decorado com simplicidade está idealmente localizado para desfrutar de muitas lojas, bares café do resort e restaurantes, bem como da praia popular para dias preguiçosos de banhos de sol ou nadar no Mediterrâneo. Ideal para uma boa noite de descanso após um longo dia no sol ou de passeios, os quartos também estão equipados com Wi-Fi. Partilhando instalações com os seus dois hotéis irmãos localizados na mesma rua, os hóspedes podem beneficiar de uma sauna relaxante ou banho turco no pequeno spa antes de desfrutarem d...
Mais detalhes
Entrada a partir de: 15:00
Saída até: 11:00
Comodidades do estabelecimento
Comida / Bebida
Restaurante
Piscina e comodidades de bem-estar
Piscina Exterior
.
Avaliação dos hóspedes
TripAdvisor
Pontuação dos viajantes
Excelente

20

Muito Bom

18

Bom

17

Razoável

13

Ruim

12
Perfil dos viajantes
Negócios

1

Romântica

23

Viagem a sós

15

Família

9

Viagem com amigos

17
Resumo das pontuações
Atendimento

Custo-benefício

Limpeza

Localização

Qualidade do sono

Quartos
An overpriced and worn out old hotel
Avaliou em 30 de julho de 2019
I got quite a shock when I came into the room the first time. The standard was very low, but nice staff and the AC worked well. The hotel has a pool with sunbeds with very filthy cushions on them. In the room there was a filthy blanket in a cabinett. I like to sleep with more than a sheet on me and I had to use the dirty one. The location was however the best, close to the beach, shops and towncenter. There were very thin walls between the rooms so you could hear everything from the neighbour rooms. And very loud noise from the hallway when people walked and they slammed the doors very hard so there were no way to get rest. There were only tiny soaps in the bathroom so I had to go to the market to buy one and no shampoo or conditioner whatsoever. The hotel had wifi in the rooms, but it worked very poorly.
Dalarna_Sweden
Basic
Avaliou em 27 de junho de 2019
I guess you get what you pay for. Rooms are small, basic and average cleanliness. You have to pay 50 euros for air conditioning but it is he worst ineffectual air con we have ever had. There was a good shower which I used about 16 times a day to counteract the fact the air con was so bad. We paid 2€ a day for the safe. Staff walked into the room without knocking daily and were once in our room when we came back. Breakfast was limited cereal, bread and salad. No fresh juice but a tea and coffee machine Very limited and unless you are there at 8am you will not get any watermelon as once something runs out it is not replaced. We didn't eat lunch or dinner in the hotel as there are fabulous, cheap, friendly resteraunts nearby The staff were somewhat helpful until it came to phoning for our transfer and they just kept telling us to come back. We eventually had to go to one of the friendly resteraunts nearby and use a waiter's phone. It wasn't too noisy in the evenings and it is very close to shops, supermarket and restaurants. the beach is 2 minutes walk away. The beach is fine stones and very hot so remember your swimming shoes. There are also slippy stones as you enter the water so shoes really help. If the air con had been better this hotel would have got a better review from us but being boiling and not able to cool down unless in the shower somewhat spoiled the holiday.
David S
Is not clean, smoking hotel, hotel with more hotels
Avaliou em 28 de abril de 2019
Is not clean, is smoking hotel, hotel not give the room you asked for, you have to pay for air conditioning, do not come here if you want have a good holiday. You must to pay for extra thing you want.
Lucasboy
Very well located, near the beach and also close to the city center
Avaliou em 18 de dezembro de 2018
The hotel is very close to Kleopatra beach. It is located in small, nice street without traffic. The room was big enough, with a terrace.WiFi in the room works fine. I was given a room in the hotel Kleopatra Bebek instead of Kleopatra Develi. The receptionist KNEW for which hotel I had reservation. On the first sight these two hotels look more as a two blocks than a separated hotels, they use the same entrance, the same reception desk so I realize that I am in Bebek few days after check in. I was at the vacation and didn't want to get nervous. Both hotels have one reception desk and across the street is Kleopatra Bavyera where all 3 hotels have breakfast. I think all 3 hotels have the same owner so this is the reason of this kind of organization. It was many dust in the each corner of the room. Room cleaner cleaned room every second day, but it was poor. The bedclothes was poor too.
Draganche
Has potential but let down by apathetic&rude staff.Good basic breakfast.Bedsheets2small.Nice balcony.Cheap if buy online
Avaliou em 12 de novembro de 2018
9-10/11/18 - We three British middle aged guys are on our last few days touring the area west of Antalya. We are on our return leg from Anamur so decided to stay again in Alanya as it is an interesting town. We booked this hotel ahead from Anamur as it had reasonable reviews and had a very cheap offer (£10.50 for three in one room for the Friday night). We arrived around 7pm after a mile walk from the main bus station/otogar. We found the hotel easily, almost opposite the Cable Car base, down a prettified pedestrian street that was quite quiet as it was off season. I can imagine it could get much busier and noisier. We checked in with the rather dour receptionist and given the key for room 405. We went up a flight of stairs and use the lift, overshooting by a couple of floors as the room numbers do not match the floor numbers (lift doors are between floors). We found room 405 in the corner, opened the door, to find it was a bit musty smell (smoke/quillada/mosquito spray ?) and the balcony door open to air it. The room itself was clean and a fair size with a big window and door onto a reasonable sized balcony looking over the main pedestrian street below. A third chair was later swiped from the stairwell so we could all three sit outside. The room had a small LED TV (which we tried and had a bad UHF/PAL Signal but did show Euronews in English which was the first news we had seen other than English Al Jazeera all twelve days so far). There was an A/C unit which we did not pay for. I could not see any smoke detectors or sprinklers on the ceiling (as is fairly usual in cheaper places). The showerroom had a deep and wide sink, shelf with mirror and overhead light and hair drier but no electric socket. A towel rail held a couple of small towels (along with two bigger ones on the bed were enough for three of us being eco-friendly). A corner plastic screened off shower was present. After the 3.25hr journey and walk we broke into a bottle of wine bought at the Carrefour by the Alanya coach station. I found only two glasses (big and small) so popped down to reception to grab another one. To my surprise the receptionist was apathetic and recommended I buy a plastic cup from the market nearby! I returned to my friends and he who booked the hotel had seen reviews about unhelpful staff. He could not drink out of the sink plastic cup as there was gunk at the bottom so resigned himself to drinking out of a plastic bottle, not a good look! As we had come from Anamur being dropped off at the coach station by Tayfun our host, I had inadvertently left a bag in his car boot. I checked what I was missing which was quite significant (including our own stock of sturdy plastic cups) so I needed to contact Tayfun. I logged onto the net, found out the telephone numbers but the internet/wifi was so slow I could not skype (we neglected unfortunately to buy a SIM at the start of the holiday). I again popped down to ask if they could make a local cheap or free mobile to landline call. Again the frosty receptionist just told me to buy a SIM or make an international call (£1.50 a minute!). Once again I was pretty miffed so returned to the room to eventually email and fb the hotel, get a reply (a few hours later after a meal and aborted bar visit) along with a mobile number which he used on WA. I am now typing this review on the Akdeniz coach (40 single) back to Anamur to collect the bag off him at 12:30. We went for a meal at Ravza and aborted visit to the unexpectedly closed nearby Proud And Loud bar (to logon to their wifi). We returned to the hotel, logged on, found reply messages, did some paperwork, finished the second bottle of wine and eventually went to bed. The double bed under bedsheet was clean but only a single so moved around (the mattress protector was not much bigger but tied down). The main cover sheets were only small doubles which were quite useless for two so I awoke rather cold a couple of times in the night. Our friend in the single bed had enough sheets so slept well. An early start (for my solo return trip to Anemur) at 07:45 was encouraged by the (as usual) diaphanous curtains letting in the morning light. I looked up the coach times again and had time for a quick breakfast which was included (amazing value at that price). We were greeted by the cheerful ladies but just a nod from the previous night's unhelpful receptionist who pointed over the road to the quite busy restaurant. The 'basic' (extended cooked version could be purchased) buffet breakfast was in the opposite hotel restaurant and was perfectly adequate as it was a typical uncooked tourist breakfast but without the spam (which was fine for us a veggies). A modern coffee machine dispensed unlimited various options including hot chocolate. A fruit juice machine dispensed basic squashes. I used the clean restaurant's disabled access toilet and ran to the coach station to catch the 09:15 coach to Anemur. Whilst in Anemur I had a message from my friends saying that they had moved from the hotel to HMA Appart Hotel instead. The reason being they tried to book another night with a particularly apathetic female receptionist but were told it was twice the price at £21/150TL although they did not have to change the sheets, towels or clean the room. Online (hotels dot com) it was still 75TL so my friend said he would book online at which she said 'go ahead then' and as he was trying to book she turned off the online booking (but left the wifi on so he found HMA instead at the same 150TL with a much better rating). I am finishing this review from there. As a result of the latest interaction I am giving it 2/5 and that is generous. They really need to change their attitude in off peak season, they may as well shut down although the restaurant opposite would lose the arranged custom.
MikeLondonSE