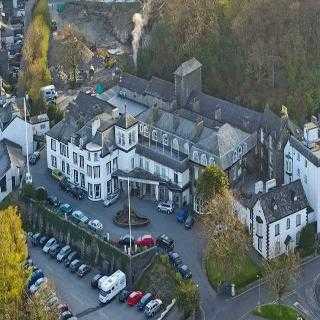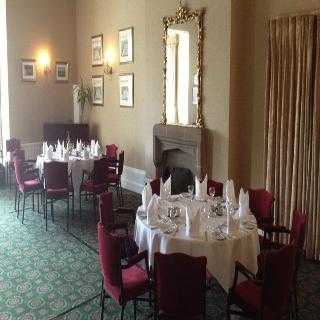 Avaliação TripAdvisor
Baseado em 90 avaliação
Ver todas
Este agradável hotel está situado em Windermere. O estabelecimento consiste em 85 quartos de hóspedes. Este alojamento foi edificado em 1880. Além do mais, existe ligação à Internet sem fios acessível nas áreas comuns. A receção está disponível 24 horas por dia. As áreas comuns neste hotel são acess...
Mais detalhes
Disponibilidade
Selecione a data da sua viagem
Selecione a data da sua viagem para verificar a disponibilidade dos quartos.
Informações do estabelecimento
Este agradável hotel está situado em Windermere. O estabelecimento consiste em 85 quartos de hóspedes. Este alojamento foi edificado em 1880. Além do mais, existe ligação à Internet sem fios acessível nas áreas comuns. A receção está disponível 24 horas por dia. As áreas comuns neste hotel são acessíveis a cadeiras de rodas. Os animais de estimação, quer de grande ou pequeno porte, também são bem-vindos a este alojamento o que é ideal para aqueles viajantes que não desejam separar-se dos seus patudos. O parque de estacionamento pode ser útil para aqueles que chegam de carro. Aqueles que procur...
Mais detalhes
Entrada a partir de: 15:00
Saída até: 11:00
Comodidades do estabelecimento
Avaliação dos hóspedes
TripAdvisor
Pontuação dos viajantes
Excelente

41

Muito Bom

5

Bom

16

Razoável

11

Ruim

17
Perfil dos viajantes
Negócios

2

Romântica

42

Viagem a sós

2

Família

17

Viagem com amigos

3
Resumo das pontuações
Atendimento

Custo-benefício

Limpeza

Localização

Qualidade do sono

Quartos
Lesley M
Avaliou em 24 de outubro de 2021
Met up with family for a 2 night stay. From arrival to departure, the staff were fantastic. Had a problem with the room heating, which was remedied almost straight away by I think it was Marius? - we also asked for a couple of extra things to make our stay more comfortable- an extra comfortable chair and rubber shower mat and these were provided with no fuss. It was my sister's birthday and we took a cake with us which they were happy to take care of and present at the end of dinner. The meal was delicious and beautifully presented. The ham terrine and lamb shank was lovely. All the staff; reception, bar, restaurant were very attentive and friendly. The beds are very high - but very comfortable. The room was spotlessly clean with a lake view. A bit short on drawer space if staying more than a couple of nights. Breakfast the next morning was very good and a broad selection available, though I chose to order Eggs Benedict freshly cooked - v scrummy. On our second night we had booked a meal elsewhere but as my mum had severe back pain, we changed our minds and returned to the hotel restaurant again. They were able to fit us in at short notice and we were not disappointed - the pork belly dish was delicious. They are running a reduced menu currently due to staff availability and the only thing I would say is that it would have been good if they had not dropped the chicken dish. We would definitely return, but please, please, Ro Hotel - change your toilet paper in your bedrooms. A 4-star hotel should not cut corners with 2-star toilet rolls!!!! 😉 Thank you for a very enjoyable stay.
lesleymU6102WG
Far exceeded our expectations!
Avaliou em 23 de outubro de 2021
We originally stayed here in July 2021 just after The Ro opened. They had a few teething problems and so asked us back to give them another chance. We returned in October and I can honestly say they far exceeded our expectations! We received an extremely warm welcome back from Khara and the rest of the team, had a beautiful lakeview room (the beds are soooo comfy!) and breakfast and dinner were absolutely delicious. The hotel is very stylish with lots of attention to detail and the restaurant and bar area are welcoming and well stocked with a great cocktail menu too! I cannot rate the hotel and the team highly enough! Thank you Khara and everyone else at The Ro who made our stay so special… we will definitely be back!
DenandMart
Excellent night !!!
Avaliou em 22 de outubro de 2021
Stayed for one night last night and was very impressed - the room, staff, dinner, breakfast and drinks were excellent. We had a lake view room that was huge and was perfect. Dinner and breakfast was really good quality, portions big and the service was fantastic. We got leathered in the bar afterwards and really enjoyed the range of lagers and cocktails. Overall a great stay and a huge improvement on our last stay when they had just opened after refurbishment - well done Karah and team 👏👏👏👏👌👌👌
R7214JVmartinw
Anniversary
Avaliou em 21 de outubro de 2021
We have had an amazing day at bowness on Windermere paddleboarding , we were met by very attentive reception staff at To hotel, Bowness on Windermere, we have had an amazing meal and Danny makes an amazing espresso martini, x
jilliann596
Put us off from staycation
Avaliou em 18 de outubro de 2021
I cannot put in words how disappointed we were with this hotel. After a lovely stay in a beautiful inn in Hawkeshead on our way to Scotland we decided to stay for one more night by the lakes so we can explore a little extra. Unfortunately we couldn't continue our trip to Scotland so we thought we will treat ourselves for a special night away and book a beautiful hotel. We booked one night for £350 in this hotel. We read that it was recently refurbished and under new management so we thought we cannot go wrong. Our room was tucked away looking at tin sheds in the back in the attic!! We had to bend down to get to our bed. We hit our heads several times. The bins and draws was full of rubbish the previous guests have left and it wasn't a clean room. I went to see the receptionist and expressed my concerns. The only thing we got offered that they come and take the rubbish out. She asked if we wanted to cancel our room but we couldn't have due that we were about 350 miles from home. We were told that they have issues with the housekeeping… they didn't offere another room which would be suitable for the price we paid for!! After my disappointment I thought I have a cup of tea in our room but it turns out we didn't have cups, teabags or even a spoon. I got told they give a wooden stirrer … for £350??? Great. Had a cuppa and then headed down for dinner. All of the items on the menu was earlier delivered from a frozen food company so they literally warmed it up. Next morning the Covid aware team put out a help yourself breakfast which meant all cooked items were cold and you had to use the same utensils what everyone else touched. Luckily we were one of the first for breakfast due that we couldn't sleep after banging our heads. Very sad that after several chats with the receptionist lady we had not received an answer from the manager - Craig… and we even been promised we will receive a call. We are still waiting. I have contacted the hotel several times. We totally understand that some hotels suffered not having enough staff available but they should have not advertised rooms available at that high price and let people down. It is not fair. If it would be £100 I would not said a word. We really wanted to have a lovely night away and what it did is just made us feeling sick how much we paid for such a shocking service.
Krisztina S