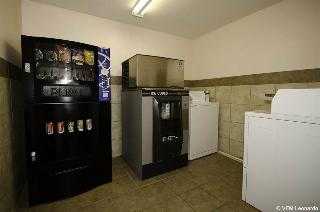 Avaliação TripAdvisor
Baseado em 56 avaliação
Ver todas
Este confortável hotel está situado em Bradford. Não são permitidos animais de estimação neste alojamento.
Mais detalhes
Disponibilidade
Selecione a data da sua viagem
Selecione a data da sua viagem para verificar a disponibilidade dos quartos.
Informações do estabelecimento
Este confortável hotel está situado em Bradford. Não são permitidos animais de estimação neste alojamento.
Entrada a partir de: 15:00
Saída até: 11:00
Comodidades do estabelecimento
Avaliação dos hóspedes
TripAdvisor
Pontuação dos viajantes
Excelente

4

Muito Bom

5

Bom

25

Razoável

4

Ruim

18
Perfil dos viajantes
Negócios

2

Romântica

18

Viagem a sós

1

Família

23

Viagem com amigos

5
Resumo das pontuações
Atendimento

Custo-benefício

Limpeza

Localização

Qualidade do sono

Quartos
It is not the Hilton
Avaliou em 9 de outubro de 2019
This is an old motel that has been refurbished. It is a survivor. The rooms are small because that's how it was back in the day. We had a king size bed and that took up more room. Shower was awesome. This place was clean and quiet. Towels could stand to be replaced. Continental Breakfast in the lobby. My biggest complaint is that they tried to charge us more for our little dog staying than what it says on the website. I had a copy of it with me so they honored it. We would stay here again/
Cindy W
Our room is excellent
Avaliou em 7 de setembro de 2019
From viewing photos online, I believe the rooms here vary greatly. Ours is fantastic. Clean, updated, no smells, no bugs, great pillows and beds. Microwave, fridge, coffeemaker. Clean carpet. I hate hard floor hotels, I.see some rooms have them here. We are in the wing nearest the office, kinda near it's far end 2nd from the corner.
CJ O
One night stay
Avaliou em 1 de julho de 2019
The gentlemen who checked us in was a bit of a downer but the rest of the stay was fine. The room was clean and comfortable. The price was reasonable for what was provided. I had a look at the breakfast in the morning, it was pretty sparse but there were apples and bananas if that's your thing. I would stay here again if in the area. Wi-fi could be better but not a deal breaker.
Glenncca
Its worth the price
Avaliou em 13 de maio de 2019
There are no bathtubs anymore in any rooms, came with 2 kids 5 and under alittle disappointed cause it did say bathtub on booking.com. but the bathrooms are pretty damn nice...all in all so it the entire room. You gotta find breakfast elsewhere but thats not something id complain about. This place does price match, however i rebooked for same everything and saved $7 which came to a total of $65 for the night. My only complaint (and thats coming from being a housekeeper for an attraction motel in va) is how things are cleaned.. the inside microwave door was crusty and between the sink and wall there was bottle cap and swept away trash tucked in there.. on a positive note... no smells, vacuumed floor, everything fully functional ive stayed here before... in January of 2018 i believe.. i would return for sure mainly in colder weather since there's no pool. I like the place!
misfitfary89
Clean yourself to stay
Avaliou em 24 de março de 2019
I have stayed here several times in the past, and only had minor issues a few times. Unfortunately my recent stay was not the case. There were bugs in the shower, around the toilet and crawling on the bathroom wall. Towels were dirty, blood spot on one and makeup on another. Pulled the sheets back on the bed and it looked like someone had a good time. Needless to say went up front and was told there was no other room available. Then they implied that they didn't know if I used the room, and there was nothing they could do. Obviously I was not getting a refund and continuing to argue was pointless. I asked if I could atleast get clean towels and new bedding. I was handed two clean towels and then told they didn't have any sheets cleaned. So I went to Walmart. Bought sheets and items to clean the room myself. I do have photos as well, definitely my last stay.
Mobile35804135959