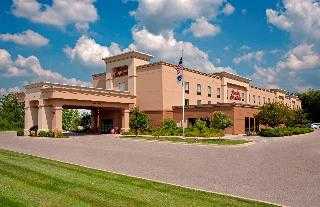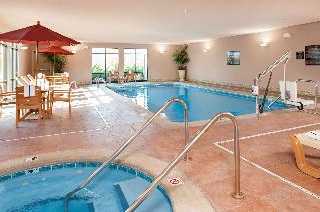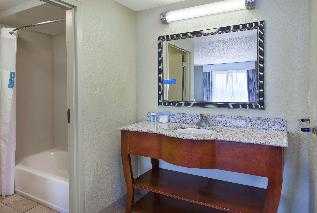 Avaliação TripAdvisor
Baseado em 271 avaliação
Ver todas
Just 2.4 km from the Gerald R. Ford International Airport, it takes a mere 5 minutes to get to the terminal from the hotel. Grand Rapids itself lies just minutes away and offers a huge array of amenities and activities to please any business traveler or family on vacation. Within just a few kilomete...
Mais detalhes
Disponibilidade
Selecione a data da sua viagem
Selecione a data da sua viagem para verificar a disponibilidade dos quartos.
Informações do estabelecimento
Just 2.4 km from the Gerald R. Ford International Airport, it takes a mere 5 minutes to get to the terminal from the hotel. Grand Rapids itself lies just minutes away and offers a huge array of amenities and activities to please any business traveler or family on vacation. Within just a few kilometers of the hotel in Grand Rapids guests will find golf, bowling, shopping, an ice arena, horseback riding and many of the city's best-known businesses. From the Frank Lloyd Wright-designed Meyer May home to the outdoor sculpture and lush landscape of the Frederik Meijer Gardens, Grand Rapids offers s...
Mais detalhes
Entrada a partir de: 15:00
Saída até: 11:00
Comodidades do estabelecimento
Comodidades / Instalações para negócios
Salas de Reuniões
Piscina e comodidades de bem-estar
.
Serviços de recepção
Depósito de bagagens
Avaliação dos hóspedes
TripAdvisor
Pontuação dos viajantes
Excelente

88

Muito Bom

65

Bom

43

Razoável

28

Ruim

47
Perfil dos viajantes
Negócios

81

Romântica

53

Viagem a sós

24

Família

69

Viagem com amigos

16
Resumo das pontuações
Atendimento

Custo-benefício

Limpeza

Localização

Qualidade do sono

Quartos
Perto do aeroporto
Avaliou em 28 de janeiro de 2018
Ficamos nesse hotel apenas por uma noite por ele ficar perto do aeroporto e ter transfer, café da manhã bom para os padrões americanos. Preço acessível, localização boa. Única coisa ruim foi o espalhar que trabalha muito mal educado.
nancylaura
Disgusting and management staff very unfriendly
Avaliou em 4 de setembro de 2021
This is place is nothing like the pictures itshouldbe condemned my ac was not working I call the desk and the manager told me she couldn't do anything but bring me a fan what they don't have a on call maintenance this place should be close very dirty and ran down very outdated will be local news station to make a report.
Anthonymichelesasnet
straight out fraud
Avaliou em 19 de agosto de 2021
When I look the Hotel up on line for comparison with other Hotels it said the Clarion had airport shuttle, pool, breakfast buffet. When I arrived there was neither there was no airport shuttle, the pool was closed there was not buffet. I asked the front desk and told the clerk that online it said you had all these things, she replied that they were supposed to take it off the sight. well guess what the didn't
matthewsA6979EB
Apparently 420 friendly
Avaliou em 21 de julho de 2021
As previously mentioned the halls reeked of weed. Had to switch rooms once. Air conditioning unit may or may not have been functional. Unable to use television. Leaking bath faucet, no cups or coffee for the mini coffee maker in the room. The people at the desk were nice. I don't believe my wake up call was scheduled, as the phone didn't ring. Noticed a boarded window of a room from parking lot. Even if you get a bargain on the room would still suggest passing on the deal.
labrabull
Avoid at all costs.
Avaliou em 18 de julho de 2021
I know this is a long review, but read entirety. To start off our baseball team reserved a block of rooms. I called to make my reservations and they could not find the reserved block. I asked to speak to a manager and the person whom I was speaking too stated that the manager was to busy and didn't want to deal with me. I attempted to call a couple weeks later and again I'm met with the same rudeness. However, this time I did speak with a manager by the name of Emma. She was very friendly and apologized for the inconvenience and stated that they have fired the entire staff twice in the last month. I went ahead and booked even though I saw the reviews were terrible. When we arrived Emma was at the front desk and remembered our conversation and was very nice. The rooms were very dark, dingy and damp. My son who wanted to stay here due to his team now wanted to book another hotel but everything was booked up. Compared to the other parents rooms ours was great. There rooms either smelled like cigarette smoke, marijuana, or rotting garbage. I'm not kidding. The first night was ok and the beds were actually comfortable. The breakfast if that's what u want to call it is pathetic. 7am and hardly anything out but a couple boxes of cereal and some fruit that should've been thrown out days ago. It's now Friday night and there r people just wandering around the parking lot. Very sketchy people. Turns out they r staying here. As I'm writing this it's 430 am Saturday morning. There r still people wandering the parking lot and walking down the halls screaming and laughing. I tried calling the front desk on my room phone and cell no less than a dozen times with no answer. The occupants in the room next door r also loud and unruly. Since no one at the front desk is answering I decide to talk to the front desk in person. By this time the unruly people in the hallway had left.When I turn on the light and walk to the door I c several cock roaches on the floor. Now I'm really upset. I go to the front desk ring the bell several times, nobody there. I look in inside the office behind the counter and the worker is sound asleep. Keep in mind that our room was on the first floor, approx 6 rooms from the front desk and all this noise she slept right thru. I woke her up and she stated that she wasn't sleeping. I showed her all my calls to the front desk and she then stated that she tried to answer but I hung up on her. I go back to my room and I hear the front desk person knock on the room next door. The occupant of the room then stated "what the expletive do u want". I hear the front desk person tell them to be quite which they did. Its now 4 am and I'm thinking at least it will b quite. Wont b able sleep due to me thinking about roaches crawling on me, but at least some peace and quite. Not gonna happen. The unruly people who were outside my room, are now at the pool. Yelling, using profanities, and smoking marijuana. Keep in mind the pool is approx. 50 yards from my room and I can still here them. Once again I called the front desk, but I guess the the lady got a good nap in earlier because she answered the phone this time. Explained about the unruliness at the pool and she said she would take care of that also I spoke with Emma the following morning and she was very apologetic and did refund that night and I cancelled the other 2 nights I had reserved. While speaking with Emma another front desk person showed Emma and myself, no less then 6 other sticky notes with complaints from guests. Ranging from marijuana being smoked in the hallways, young children walking the halls at 330 am, and just unruly guests. This place is dirty, staff unprofessional, and not safe to stay in. Please if u have a family do not stay here. I would not stay here if it was free. The only positive thing about this hotel is the manager Emma.
Zeek3060