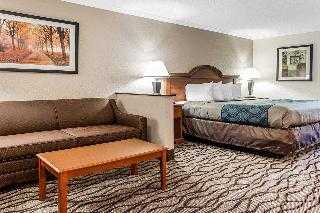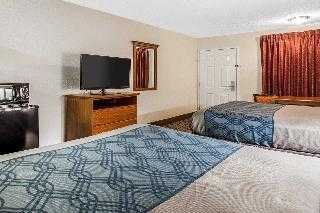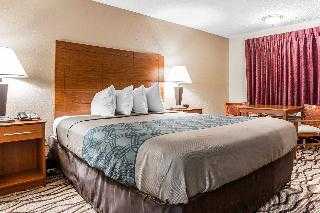 Avaliação TripAdvisor
Baseado em 88 avaliação
Ver todas
Este simples hotel encontra-se em Downtown.
Mais detalhes
Disponibilidade
Selecione a data da sua viagem
Selecione a data da sua viagem para verificar a disponibilidade dos quartos.
Informações do estabelecimento
Este simples hotel encontra-se em Downtown.
Entrada a partir de: 15:00
Saída até: 11:00
Comodidades do estabelecimento
Piscina e comodidades de bem-estar
Piscina Exterior
.
Avaliação dos hóspedes
TripAdvisor
Pontuação dos viajantes
Excelente

32

Muito Bom

27

Bom

12

Razoável

3

Ruim

14
Perfil dos viajantes
Negócios

11

Romântica

29

Viagem a sós

11

Família

24

Viagem com amigos

4
Resumo das pontuações
Atendimento

Custo-benefício

Limpeza

Localização

Qualidade do sono

Quartos
Average hotel
Avaliou em 5 de outubro de 2021
We had a very early flight out of the Columbia SC airport. So, to avoid a 1.5 hour drive from Augusta, we decide to stay near the airport. We found the location to be very near the airport. The check in process war quick and easy. The room need some updates and no breakfast since we left early.
Donny W
Basic Room for the night
Avaliou em 7 de fevereiro de 2020
The place was rated very good. The room was clean but smelled like it had been smoked in. Staff had no other rooms available. They offered us Fabreeze and a citrus aerosol. Glad it worked because my wife is allergic to smoke smell- asthmatic. It was a night's rest with limited but sufficient breakfast. There was outside noise and thin walls so we had sound all night. At 3 am someone went running by, followed by another person. ??? We managed to rest but it was definitely not our best hotel experience.
Bruce-Boy47
one night stay
Avaliou em 19 de janeiro de 2020
Stayed there one night for business . The price was reasonable.It is a basic hotel nothing special.The room was very dated, but the bed was comfortable.The room was clean and quite. Breakfast was very limited.Front desk was helpful and friendly.
fireman331
Just passing through..
Avaliou em 7 de outubro de 2019
Stopped here for the night on our way to Myrtle Beach. Price was very reasonable, room was clean and beds were comfortable. Front desk attendant was very pleasant and welcoming. We would definitely stay here again, and would recommend this property.
INcouple07
Worst hotel experience
Avaliou em 26 de junho de 2019
I had to switch rooms three times due to smelling of cigarettes. One room smelled like cigarettes and alcohol. The following morning I had to shower twice to get the smell off and then immediately leave the room. Three or four other rooms were preoccupied with families that were partying, sitting in the parking lot blaring music and drinking. One family made a makeshift grill to cook on and did so in front of my room which caused smoke and grill smell to be in the room. This was the WORST hotel experience I've ever had and I'd definitely stay away from Econo Lodge.
Mobile06101887344