TownePlace Suites by Marriott Ontario Chino Hills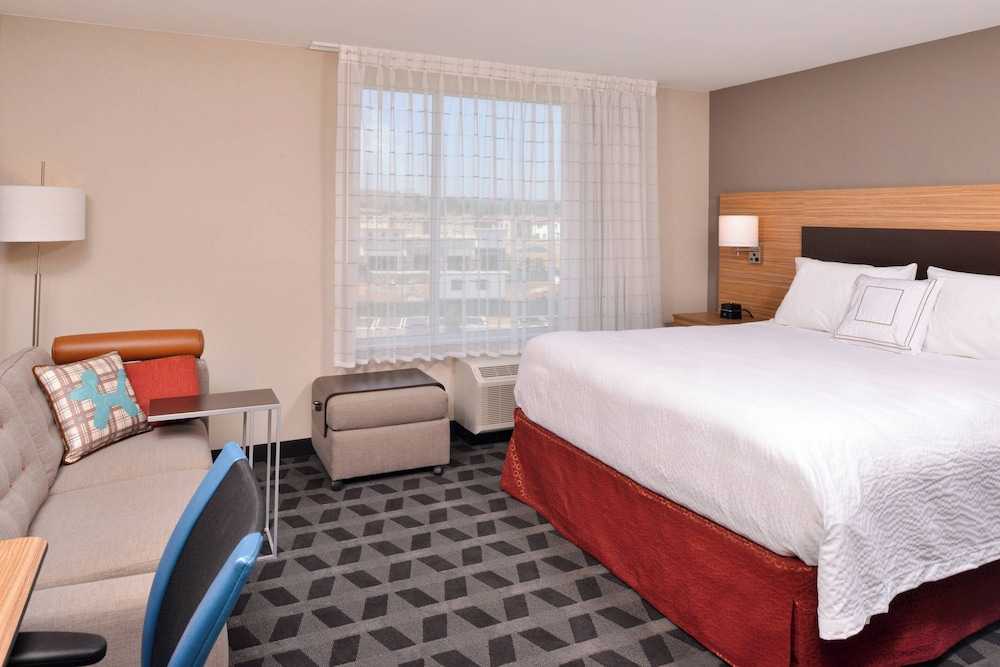 Avaliação TripAdvisor
Baseado em 30 avaliação
Ver todas
Ao alojar-se TownePlace Suites by Marriott Ontario Chino Hills em Chino Hills, ficará no centro financeiro, a 5 minutos de carro de Chino Hills State Park e de BAPS Shri Swaminarayan Mandir. Este aparthotel está a 2,9 km (1,8 mi) de Big League Dreams Sports Park e a 6,9 km (4,3 mi) de The Shoppes at...
Mais detalhes
Disponibilidade
Selecione a data da sua viagem
Selecione a data da sua viagem para verificar a disponibilidade dos quartos.
Informações do estabelecimento
Ao alojar-se TownePlace Suites by Marriott Ontario Chino Hills em Chino Hills, ficará no centro financeiro, a 5 minutos de carro de Chino Hills State Park e de BAPS Shri Swaminarayan Mandir. Este aparthotel está a 2,9 km (1,8 mi) de Big League Dreams Sports Park e a 6,9 km (4,3 mi) de The Shoppes at Chino Hills. As propostas de lazer e entretenimento à sua disposição incluem uma piscina exterior e uma sala de fitness aberta 24 horas. As facilidades adicionais incluem Wi-Fi grátis, um televisor no espaço comum e grelhadores de churrasco. As principais comodidades incluem um business center aber...
Mais detalhes
Entrada a partir de: 15:00
Saída até: 11:00
Comodidades do estabelecimento
Piscina e comodidades de bem-estar
Piscina Exterior
Serviços de recepção
Depósito de bagagens
Avaliação dos hóspedes
TripAdvisor
Pontuação dos viajantes
Excelente

19

Muito Bom

6

Bom

3

Razoável

1

Ruim

1
Perfil dos viajantes
Negócios

10

Romântica

4

Viagem a sós

2

Família

11

Viagem com amigos

0
Resumo das pontuações
Atendimento

Custo-benefício

Limpeza

Localização

Qualidade do sono

Quartos
WOULD DEFINITELY STAY HERE AGAIN!
Avaliou em 12 de setembro de 2021
Friendly staff. Very clean. Followed all COVID protocols. Our room had everything a person could want. We didn't use the kitchen but if we had needed it, it was well thought out. Large bathroom. Countertop could have been a big larger but it was fine. Bed was very comfortable. Pillows the same. Breakfast was really good. Fresh and tasty cheese omelets. Juice, fruit, breads, make-your-own waffles, coffee station. Breakfast staff made sure we had whatever we needed. Only negative was the room air conditioner was very loud. We have found this to be the case in most hotels so we tried to ignore it. We were just pleased that we could adjust our temp nicely low as it was very hot outside. Also had a nice view of mountains and a garden below. Freeway was also out our window but here is another good plus for this hotel, rooms were well insulated. We could only hear the freeway if a motorcycle was going by and revving its motor. Oh yes, right across the parking lot (you don't even have to drive!) is the Luchador Brewing Company. Great selection of beer and excellent food. Fun atmosphere. If we find ourselves in this area again we will definitely stay at this hotel.
Chris F
Long Mandatory Staycation
Avaliou em 10 de março de 2021
When our house caught fire we had no place to stay and when our Public Adjusters set us up for a place to stay, this is where they sent us. This was our first time needing to use our insurance for this type of accident so, to say the least, we were unsure of what we needed to do. Brandon and Jasmine were our first contact and they were awesome. They made our check in as simple as pie, we felt at home and just like we were there for a vacation, (an 8 month long mandatory vacation). Guss was always at hand whenever my husband needed his internet fix, Marcela and Jackie for his vacuum and Lemon scented body wash, the staff were always there with a clean towel, sheets, tongs and spatula for BBQ'ng, letting us in to the pool, anything we needed. For me though, it was a Pepsi (2, 3 or 4) anytime I needed one. The grounds were maintained beautifully, and even with an unforeseen water brake, they handled the cleanup and situation as if there was no problem at all. Every staff member we encountered, from Marcela, Brandon, Jackie, Jasmine, Guss and Kaela to anyone I haven't mentioned always offered service with a smile. When we went back to do a spot cleaning and finish picking up our stuff and check out(because our house is finally done! Yippie), Kaela helped us out for our final goodbye. We are so happy to be moving back in but it was sad to say goodbye to everyone because they were always so thoughtful and helpful, it was like saying goodbye to family. Thank you again for making such a horrible experience turn into a wonderful and pleasant time.
desiluv2bareit
IMMACULATE hotel--so clean!!
Avaliou em 21 de novembro de 2020
We have stayed at this hotel quite a few times since it was built and opened for business a few years ago. We have not returned for more than a year. Recently we chose this hotel while we were in the area. To our VERY PLEASANT SURPRISE--- this place is still IMMACULATE, so clean, so well maintained, still shining with splendor as if it was just opened yesterday. WOW--Bravo to the GM and Management Team, Operations Team, Maintenance Engineering and especially to the hard working housekeeping team. Thank you so much for keeping the place so clean, sanitizing stations everywhere, front desk clerks wearing masks and serving morning coffee with new clean gloves after each guest --especially in this pandemic environment--- this is SO VERY MUCH APPRECIATED!!!! Definitely will recommend and be back!!! Keep up the GREAT HOSPITALITY TEAMS and know that YOU ARE VERY MUCH APPRECIATED!!!
le_eye108
GREAT people!
Avaliou em 5 de dezembro de 2019
Let me just start with the people...I have yet to run into a hotel employee at this place that wasn't smiling, pleasant and happy. Jonte and Jet were at the front desk to check me in on this last visit. I've been here before but MONTHS ago but I was remembered and that made me feel special right off the bat. It's nice when you travel for business and are remembered. Rooms can be remodeled but I can tell you that the attitude of the people comes from the top, and genuinely appreciate the friendly reception here. The hotel rating of 5 stars is BECAUSE of the people. The day I checked out I got an email from Hannah letting me know they accidentally charged me the wrong rate and refunded me the difference. Honesty in business is so rare and I really appreciated her reaching out. The rooms...they are what they are for a TownePlace/Marriott property. They are mid sized, and offer the basics with a fridge, small sink and the basic kitchen essentials. They are clean, as was the bathroom, which is really what matters when you stay at hotel, right? I feel like the water pressure was lacking but with the restrictions on water usage at commercial properties I'm not sure this is the hotel's issue. Last time I stayed here I was upgraded to a suite and that room was much more spacious. Availability is the key to upgrades - and I'm OK with that. There could be better sound proofing between the hall and the rooms. I heard someone letting their door slam all night one of the nights I was there, but again - I'm hesitant to blame the hotel for the poor manners of one of their guests. The location is easy. There are a few (really good) places to eat within walking distance, and it seems like they are building more. The access to the hotel is easy so if you wanted to drive somewhere else to eat you could do so very easily. I'd say this was your basic, standard TownePlace Suites, and give it four stars for being what it is, but the people make the difference to me.
sarah_r_NJ
Just Okay
Avaliou em 26 de novembro de 2019
Asked for and received an upgrade that actually seemed like a downgrade; smaller bed and terrible water pressure in bathroom. Property has no jacuzzi / spa. The so-called upgrade was to assign us an accessible (handicap) room but we would have preferred a King size bed which this room did not have. In all fairness the staff was super friendly.
briandenike