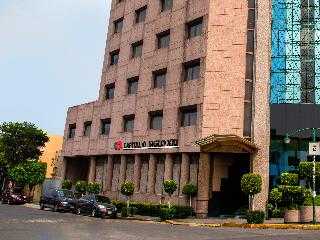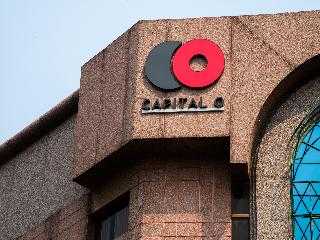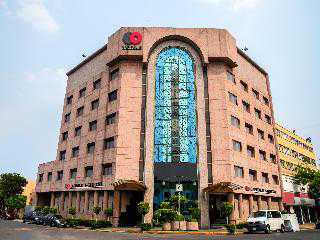 Avaliação TripAdvisor
Baseado em 31 avaliação
Ver todas
Este agradável hotel encontra-se em South zone. As instalações contam com 75 acolhedoras unidades de alojamento. O estabelecimento inclui ligação à internet por Wi-Fi em todas as áreas públicas e unidades de alojamento. Este hotel oferece receção 24 horas por dia para uma melhor conveniência dos hós...
Mais detalhes
Disponibilidade
Selecione a data da sua viagem
Selecione a data da sua viagem para verificar a disponibilidade dos quartos.
Informações do estabelecimento
Este agradável hotel encontra-se em South zone. As instalações contam com 75 acolhedoras unidades de alojamento. O estabelecimento inclui ligação à internet por Wi-Fi em todas as áreas públicas e unidades de alojamento. Este hotel oferece receção 24 horas por dia para uma melhor conveniência dos hóspedes. Infelizmente, não existem unidades onde todos os hóspedes que ficam neste imóvel possam pedir um berço para os mais pequenos. Este alojamento não aceita animais de estimação. As instalações de estacionamento estão disponíveis para conveniência dos hóspedes.
Entrada a partir de: 15:00
Saída até: 11:00
Comodidades do estabelecimento
Opções de transporte
Garagem
Serviços de recepção
Jornais
Avaliação dos hóspedes
TripAdvisor
Pontuação dos viajantes
Excelente

5

Muito Bom

13

Bom

9

Razoável

0

Ruim

4
Perfil dos viajantes
Negócios

6

Romântica

10

Viagem a sós

3

Família

3

Viagem com amigos

7
Resumo das pontuações
Atendimento

Custo-benefício

Limpeza

Localização

Qualidade do sono

Quartos
Bon hotel vale a Pena pelo preco, limpo, recomendo, ten conveniencia perto e metro tbem, ten uma barraca 24hrs de comida
Avaliou em 18 de maio de 2015
Bom hotel por ser 3 estrelas ten metro perto, barraca 24hrs de comida, se esta com fome de noite pode sair do hotel e ir em frente, ten uma conveniencia a 30 metros, nao e muito perto do Centro mas e tranquilo, muito bon. Gostei recomendo.
marcmarta
Decent hotel in challenging neighbourhood
Avaliou em 19 de setembro de 2018
One or two of the reviews of this hotel are surprisingly extreme - probably bad experiences exacerbated by the language problem, i.e. the lack of English spoken. The area is not nice - it suited me to stay round there - but keep your head down and it should be fine. The subway is not far. Room was huge and quite secure. (TV is not all porn, that is a ridiculous statement.) Yes, the lack of English at the desk is annoying, but you get used to it in Mexico City. Yes, the restaurant shutting on Sunday is a pain, but the poor man works all the hours going. (He also has a bit of English and is a decent guy.)
546everclear
RUN DO NOT STAY HERE!!!! !!!!
Avaliou em 19 de março de 2018
Warning do NOT stay at this hotel. We got suckered in by an Expedia agent who suggested this was a "Nice clean hotel" This hotel is in an extremely rough area of town. The rooms do NOT have proper locks on the door. For the first time we decided to barricade the door for some small level of security with chairs and tables in the room. The TV shows nothing but free porn which was pretty damn nasty, the beds had burn holes from cigarettes and the sheets themselves were arguably clean. For $88 on Expedia I STRONGLY do not suggest this hotel. Maybe for $25 if you have no other options. Picture posted below is our safety concerns and lack of a deadbolt lock.
taylor3500
Nice Stay, Not Great, But Nice
Avaliou em 13 de fevereiro de 2018
My family took a week long trip to Mexico City to enjoy the heart of Mexico and try to do so as affordably as possible. In our quest for affordable accommodations, we found Hotel Plaza Solis. Just a 12-15 min drive from Historic Centro or Paseo de la Reforma, this hotel is located perfectly for tourists. You are far enough away from the main attractions that you're not kept awake by the hustle and bustle of the busy city center, but not so far away that it takes forever to get somewhere. We always took a taxi to and from our hotel and if you make them run the meter (highly suggested so you don't get swindled), it shouldn't cost much more than 80 pesos/trip. As many reviews prior have pointed out, this hotel has very hard beds. This indeed is true. However, as someone who has back problems, they were not uncomfortable to sleep on and I enjoyed a full nights rest throughout our stay. The bathroom was clean and the shower was enjoyable. We didn't want our room cleaned, but we did need fresh towels so we had to ask. Luckily I speak a bit of Spanish and was able to articulate what we wanted and didn't want. There was only one man who worked there that could speak English but he was not there often. So, just as a fair warning, if you don't speak Spanish or don't have a translator app handy, you will not be able to communicate with the staff. As for food, there are really only two options that we found: the hotel restaurant and the bakery down the street. The hotel restaurant, Alcazar, offered a decent selection of goodies and filled our tummies more than once. The bakery down the street (take a left out of the hotel and go down a few blocks and it's on the left) was delicious. However, I would advise not spending too much time walking the streets if you don't blend in with the locals. While walking the streets we were approached by a local who essentially told us to get off the street. It was a bit unnerving, but we just learned to shorten our street time and catch a cab ASAP after exiting the hotel. Overall, this was a great place to stay and came at a fair price. We enjoyed our time with Hotel Plaza Solis and I would recommend it to future Mexico City travelers.
Denae K
Great Value-Surrounded by Locals -Loved It!
Avaliou em 3 de fevereiro de 2018
My Mom, Daughter, and I stayed there for a week (Saturday, January 20th - Saturday January 27th, 2018). I had read many reviews about the hard beds; yes the beds are hard but we all slept all night with no fatigue! We stayed on the 6th floor (room 601) so there was no noise above us or around us to keep us up at night. Actually, we were all happy about how quiet the entire hotel was! The bathroom was clean, spacious and the shower was large and the water was consistently hot and the water pressure was amazing. The room had plenty of storage for our clothes. The restaurant downstairs was so fast and yummy; I would recommend eating there a few times to try several items (pastries, tacos, omelets, salads, hot tea- many varieties of hot tea). The restaurant also delivers to your room; we did not do that but many times we passed them in the hallway delivering meals to hotel guests. The front desk does not speak any English so make sure you have the Google Translate App on your phone so you can communicate with them just in case you do not know enough Spanish. There is a local Lady that will do your laundry just around the corner (109 is on her garage door). We dropped off our clothes and picked them up washed and folded the next day after noon. If you walk out the front door, follow Antonio Solis Street to the right, turn right on the very next street and walk about a block, and just knock on the white garage door (109) and she will come down and help you!!! She is amazing! There is a bakery just to the left of the Hotel on Antonio Solis; they are a perfect place to grab a breakfast snack. The taxi cabs are constantly driving right in front of the Hotel; make sure you use a cab with a meter so you do not get ripped off. If traffic is normal, it will never cost you more than 80 pesos to get to Reforma Street where all the big restaurants are. So, I recommend you stay at this hotel if you want to see the sites and are willing to be away from the main action of Mexico. You will be surrounded by locals but they are all very nice and we had no problems!!! Oh, and they can hook you up with Tours right at your hotel if you want to do that! Most Sincerely! NO COMPLIANTS!!!!
Dayla Kay K