Sheraton Denver Downtown Hotel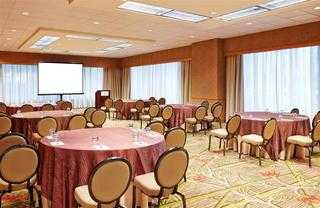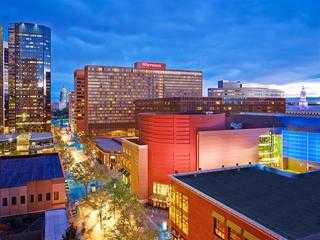 Avaliação TripAdvisor
Baseado em 20 avaliação
Ver todas
O hotel está alojado numa torre com 22 andares e um centro comercial com 8 andares, ligados por uma ponte aérea e uma passagem subterrânea. Tem um total de 1225 quartos e a estátua de um cavalo em tamanho real de Ludonico Luigi, feita em bronze, domina a grande entrada. As instalações têm ar condici...
Mais detalhes
Disponibilidade
Selecione a data da sua viagem
Selecione a data da sua viagem para verificar a disponibilidade dos quartos.
Informações do estabelecimento
O hotel está alojado numa torre com 22 andares e um centro comercial com 8 andares, ligados por uma ponte aérea e uma passagem subterrânea. Tem um total de 1225 quartos e a estátua de um cavalo em tamanho real de Ludonico Luigi, feita em bronze, domina a grande entrada. As instalações têm ar condicionado e o restaurante existente no local serve uma excelente cozinha italiana ao som de cantores profissionais que cantam canções de espetáculo e ópera. Os hóspedes também podem provar charutos no bar e ouvir música Jazz no lounge. As instalações para conferências estão disponíveis para utilização d...
Mais detalhes
Entrada a partir de: 15:00
Saída até: 11:00
Comodidades do estabelecimento
Piscina e comodidades de bem-estar
Piscina
Piscina Exterior
Avaliação dos hóspedes
TripAdvisor
Pontuação dos viajantes
Excelente

7

Muito Bom

7

Bom

3

Razoável

2

Ruim

1
Perfil dos viajantes
Negócios

3

Romântica

3

Viagem a sós

2

Família

4

Viagem com amigos

1
Resumo das pontuações
Atendimento

Custo-benefício

Limpeza

Localização

Qualidade do sono

Quartos
Solid 4 - nicely updated Sheraton but prepare to WALK to your room!
Avaliou em 11 de outubro de 2021
Recently renovated space is beautiful. Of course the beds are comfortable and everything immaculate as you'd expect from these kinds of brand hotels. I have a theory that he Sheraton was comparatively cheaper because of the long long windy hallways!! Prepare to walk a long long time from when u enter the front door of the hotel! Two towers, and supposedly we stayed in the one where the lobby was, but… man! Also, the 'rooftop pool' that was embarrassingly my deciding factor was more like a tub on the 5th floor surrounded by taller buildings on all sides. I was imagining a tall Sheraton building roof top pool w a view of 16th street mall. The pics online are totally misleading!!! Don't book this one for the pool (no jacuzzi)!! Yet, the location (best at one end of 16th st mall!) and the updated and clean room, lobby, bar/Starbucks, comfy beds, nice shower fixtures, cool standing desk, etc. make it a solid 4.
loracYCL
Great Location
Avaliou em 7 de outubro de 2021
Centrally located hotel with modern rooms and decent breakfast. It was crowded since we arrived on a game day but they accommodated us as soon as a room was available and worked hard to get us an upgrade to acknowledge my Marriott status.
Tammy W
Very disappointing experience
Avaliou em 27 de setembro de 2021
We reserved a king room. We checked in at 5pm and was told there were no king rooms available so we were offered a full bed or we could wait for a double queen. We had a dinner reservation and wanted to change and freshen up so we took the room with the full bed. The room was an absolute closet. The door to the room looked like an entrance to housekeeping or maintenance so we initially passed it up. My husband and I barely had room to walk around each other or open 2 suitcases. This room is only for a solo traveler. The room was hot and uncomfortable. After hunting for the thermostat tucked way back on the wall behind the bed, it said 65 but was no was 65 in the room. The bathroom sink was clogged and the shower head spewed water all over. This was the last night of our vacation and I was very disappointed to spend it in this was. No offer of a credit was made for taking this much downgraded room compared to what we reserved and paid for. The front desk person did offer drink and food tickets and if we didn't use them would apply a $50 credit. That was not enough for taking this much downgraded room.
labas1025
Recent upgrade, plus a pool in the heart of downtown Denver
Avaliou em 17 de setembro de 2021
We stayed for a weekend get-away. Downtown hotels were all full during a busy sports weekend. Staff efficiently handled the packed common areas, including at check-in and breakfast. The outdoor pool was a definite highlight, with plenty of chairs in a clean, well-maintained space. The cabana bar was an unexpected plus, creating a resort mood within a downtown hotel. This Sheraton recently remodeled. Everything feels modern and new. There are a few spots where the final touches are being completed, but none so overt to take away from the overall top-tier experience.
inivium
Lots of little issues
Avaliou em 5 de setembro de 2021
I reserved what I thought was an executive room with club access - which I confirmed by phone with the hotel. The "executive" room was large enough but did not even marginally resemble the room shown in the examples online and was terribly laid out for any entertaining or meeting (which is what I needed an executive type room for). Turns out their club is being renovated, but they charged me club access prices. I reserved a room for a colleague and the reservation was not honored by the hotel - said there was no such reservation. Cleaning staff only partially cleaned the room on the one day we left the do not disturb sign off; they left dirty/used cups and trash. Then, on the day before check-out we left the do not disturb on the door and were surprised to see the cleaning staff in the room when we returned. They initially would not allow us back in the room because they were cleaning and were under the impression we were checking out, despite the sign being up and all of our belongings still in the room. We needed our room key re-keyed for the garage several times. Front desk staff was very helpful - they were the best part of our stay. Hotel needs some management help and customer service training. My room was at least quiet, but my colleague's room had people partying in the hall until 4am with no help from security. There were hand sanitizer stations set up near each elevator but NONE of them had sanitizer...this is not best-practice especially considering we were there for a conference.
40Chezne