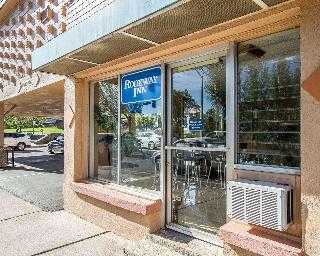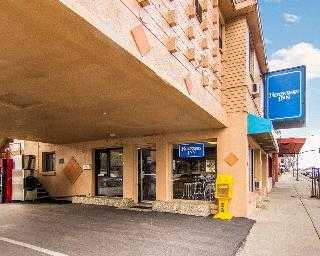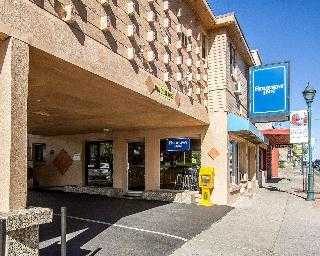 Avaliação TripAdvisor
Baseado em 220 avaliação
Ver todas
The hotel is located in Downtown Flagstaff across from City Hall and Amtrak.
Mais detalhes
Disponibilidade
Selecione a data da sua viagem
Selecione a data da sua viagem para verificar a disponibilidade dos quartos.
Informações do estabelecimento
The hotel is located in Downtown Flagstaff across from City Hall and Amtrak.
Entrada a partir de: 15:00
Saída até: 11:00
Comodidades do estabelecimento
Serviços de recepção
Depósito de bagagens
Avaliação dos hóspedes
TripAdvisor
Pontuação dos viajantes
Excelente

12

Muito Bom

19

Bom

33

Razoável

26

Ruim

130
Perfil dos viajantes
Negócios

7

Romântica

69

Viagem a sós

28

Família

54

Viagem com amigos

29
Resumo das pontuações
Atendimento

Custo-benefício

Limpeza

Localização

Qualidade do sono

Quartos
Simples e bom
Avaliou em 1 de maio de 2019
Hotel barato, simples, porém limpo e silencioso, super bem localizado, porém disse que tem café da manhã continental, mas para comer só tem umas coisinhas doces. Porém tem sucos e café. Achei bem bom. E atendimento bem bom
Carolpedroso
Saved us.
Avaliou em 19 de outubro de 2021
Double whammy: Amtrak ran 4 hours late (11:30 pm arrival), and our ride to Prescott had car trouble, so at 9pm we suddenly had no place to go. This is a short block to the station, check-in was easy. The Motel is modest, and on a busy (noisy) corner. I think the published price of $60s is good... but our rate was $102, I dunno why and was not inclined to argue. Very clean, good shower, bed good. WiFi didn't work, and I didn't want to bother the desk at the late hour for what elsewhere is usually an exercise in futility. In the morning our Hostess was apologetic. I'd return for a stay, but would be fussier about price and WiFi.
Henry S
Manager from he'll, supposedly her name is Sonia.
Avaliou em 12 de outubro de 2021
We checked in Friday night, some young kid checked us in, confirmed we were there for 2 nights. Office smelled and very dingy, we stayed because we really wanted the convenience of walking everywhere Saturday morning, daughter and I are getting ready, someone knocks on the door, my daughter answers, some other young kid asks, are you checking out today? My daughter says no, tomorrow, before she can ask who he was, because he didn't even introduce himself, he leaves. We continue getting ready, but feeling uneasy that some random person just asked when we're leaving, not even 2 minutes later our door starts to open, thankfully we had the indoor lock on it. I rush to the door, close it and ask who is it? The women starts yelling, you are checking out today. I open the door and ask who she is and say No we're checking tomorrow. She continues raising her voice telling me she called my room, (our phone did not ring) it's 11am, she can enter my room. I ask who she is, she says Sonia, again i ask who she is and she finally says she's is the manager. I ask for her last name, she refuses, and insists she's the manager. At this point she starts waking away, says she's going to call me from the office to prove she's the manager. She calls and says, this is Sonia the manner, you don't seem happy here, you have 15 minutes to check out and I'll refund you the rate for tonight. We saw an out and took it packed immediately, went to the office, she handed me a receipt for the $18 I paid the night before and said I would get my refund from Expedia. I asked if she was the owner, she said no, I asked for the info, she said no I don't have it. I pulled out my phone to take a picture of the license on the wall, she reached over the counter around the plexiglass and tried grabbing my phone and slapped my hand away. This woman is the worst! I was completely shocked! I understand most places are short staffed right now, but this is not a short staffing issue, this woman is flat out rude, unprofessional, and needs to be replaced.
313donaldb
Do not go here
Avaliou em 30 de setembro de 2021
Upon entering the office to check in. Outside the glass door is a sign masks required. We enter with our masks on. Woman who checks us in is not wearing a mask. I politely ask her why she requires us to wear masks and she not. God for bid I opened my mouth because what came out of her mouth was the devil. I just simply asked a question. The most rudest disrespectful woman on this planet and customer service. Yes I got feisty right back no one disrespects me. Once we were told where our room was which was at the top level, at the end of the building right by the street right by where the train crosses. Walking into the hotel room was like everybody grab your bags go back to the car and run for the hills. Absolutely not what was expected and what was shown on the website. There is a reason why this place has a two star review. Your family and your friends and your travels are worthy of other hotels and not this one. Management needs absolute etiquette training. There are no words to describe the description of the interior of the hotels and the unbelievable amount of slip shod construction. Run for your lives people!
669teame
Last minute hotel gone AWESOME IN FLAGSTAFF
Avaliou em 21 de agosto de 2021
The service was amazing and the room was super clean! Upon check in the receptionist was extremely friendly and accommodating! Great location, I'm downtown Flagstaff. The room was clean and the sheets were fresh. I'd definitely stay here again!
Quest17379720067