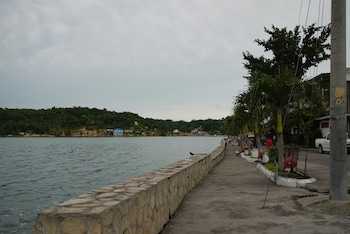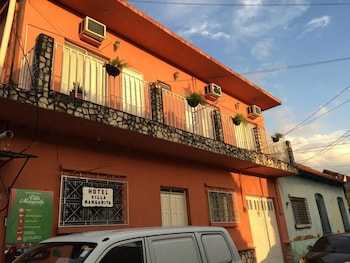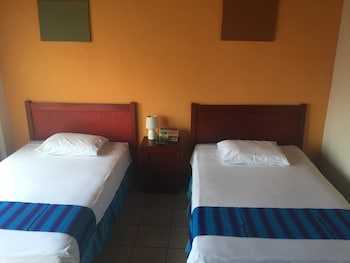 Avaliação TripAdvisor
Baseado em 48 avaliação
Ver todas
Property Location With a stay at HOTEL VILLA MARGARITA in Flores, you'll be a 3-minute walk from Flores Dock and 11 minutes by foot from Mundo Maya International Mall. This hotel is 0.7 mi (1.2 km) from Central Park and 1.5 mi (2.5 km) from Santa Barbara Island Museum. Rooms Make yourself at...
Mais detalhes
Disponibilidade
Selecione a data da sua viagem
Selecione a data da sua viagem para verificar a disponibilidade dos quartos.
Informações do estabelecimento
Property Location
With a stay at HOTEL VILLA MARGARITA in Flores, you'll be a 3-minute walk from Flores Dock and 11 minutes by foot from Mundo Maya International Mall. This hotel is 0.7 mi (1.2 km) from Central Park and 1.5 mi (2.5 km) from Santa Barbara Island Museum.
Rooms
Make yourself at home in one of the 6 air-conditioned rooms featuring flat- screen televisions. Complimentary wireless Internet access keeps you connected, and cable programming is available for your entertainment. Bathrooms with showers are provided. Conveniences include desks and ceiling fans, a...
Mais detalhes
Entrada a partir de: 15:00
Saída até: 11:00
Comodidades do estabelecimento
Avaliação dos hóspedes
TripAdvisor
Pontuação dos viajantes
Excelente

17

Muito Bom

15

Bom

11

Razoável

1

Ruim

4
Perfil dos viajantes
Negócios

1

Romântica

21

Viagem a sós

8

Família

5

Viagem com amigos

8
Resumo das pontuações
Atendimento

Custo-benefício

Limpeza

Localização

Qualidade do sono

Quartos
Médio
Avaliou em 4 de janeiro de 2016
As diárias do hotel vila margarita são relativamente baratas. E condizentes com o que ele oferece: bem pouco. O Mobiliário é antigo, o banheiro não tem box, as cabeceiras são descoladas das camas... Não há café da manhã. Em compensação, é limpo.
Mpaedug
Good price and location
Avaliou em 10 de abril de 2018
My 3rd hotel in Flores, and the best for quiet and price. Room was fine with suicide shower. Easy to get to most places in Flores. No English, not helpful in getting a Tuk-tuk to airport, but found one at 6am.
Ralph B
Not a Hotel or Villa !!!
Avaliou em 27 de março de 2018
Rooms not like the Picture's, balcony yes but no furniture to sit on. Just one person who is speaking English and he is really unfriendly.... garden is not a garden and again no furnitures so it's difficult to sit together with friends... I think it should not be called a Hotel or Villa, it is a small Hostal for short stay but not for relaxing and having good time together.... air conditioning was not working and the ventilation was broken as well. We just wanted to have a nice time after long travelling but after that experience we go back to an Hostel or Camping because there you know what you get and it's cheaper and more comfortable as well!!!
Sightseer763216
Owner arrogant/unfriendly - one guy even tried to attac me physically - nothing like described.
Avaliou em 27 de março de 2018
Where to start: we reserved 2 rooms for 5 nights but nothing was like it was supposed to be/described on booking.com: no garden, no sitting area in the rooms (not even one chair) and the A/C didn't work (in one room not even the fan) so we asked if it would be possible to check-out earlier since we wanted to move on anyways. The owner then called one guy to help him to translate and this guy as over the top: first he appeared/approached really angry straight from the beginning telling us that we reserved for 5 night so we pay for the whole stay - not even trying to hear us out. When I stood up he came really close/kind of pushing me and yelling at me "Don't give me this bullsh** you motherf*****!! This is my country!!" (what a racist thing to say in a touristic town/in a hotel where you clearly have to deal with foreigners on a daily basis) and the owner had a hard time holding him back since he tried to attack me physically...!!!! Thank god there where 3 people (all wearing the same vest with a badge saying "Ministerio de Tourismo") standing at the reception witnessing the whole situation which was our luck. Who knows how the situation would have turned out without these officials. They all raised their eyebrows and shaking their heads which made the owner quiet uncomfortable since he tried to get the proof from them that he could charge us all 5 nights which they denied. He angrily told us then "you pay 3 nights and leave today!" which we highly appreciated and thankfully accepted. A few minutes later while we were packing our bags the guys from the "Ministerio de Tourismo" came to our room asking what happened and looked really concerned. We explained the whole situation and left the hotel. While walking down the street to the port the guy who attacked me before followed us yelling "Putas!" and many other Spanish bad words/phrases making us feel really uncomfortable so we were looking for protection going into the next café to feel safe. All in all I have to say this was the worst experience I ever made being on a journey and I've never been treated so bad as a customer - nowhere in this world!!! Never ever again and I would suggest nobody to stay at this place at all since it's not even cheap!
Sebastian D
The staff are friendly and helpful
Avaliou em 15 de janeiro de 2018
The staff at this place are great and go out of their way to ensure your needs are met. The are incredibly friendly and helpful. This hotel is OK for a short stay. It is clean and central. However, beds and pillows are a little lumpy, mattresses need replacing. The shower, with the electric water heater attached directly to the shower head, gave me an electric shock and then didn't work. We were staying during a week of festivals and the street noise was loud, but this would have been the same anywhere on Flores.
Aquatic_Ape