Holiday Inn Express & Suites Monroe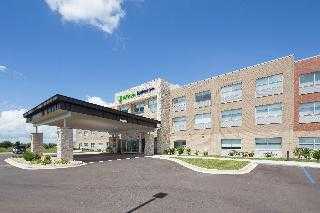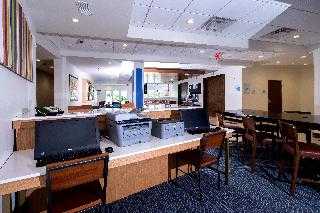 Avaliação TripAdvisor
Baseado em 69 avaliação
Ver todas
The newest addition to the Heart of Frenchtown, is the Holiday Inn Express Hotel and Suites Monroe! We are conveniently located to I-75 at Exit 15, and the halfway point between Detroit and Toledo. Our staff is dedicated to providing our guests with exceptional customer service as well as the utmost...
Mais detalhes
Disponibilidade
Selecione a data da sua viagem
Selecione a data da sua viagem para verificar a disponibilidade dos quartos.
Informações do estabelecimento
The newest addition to the Heart of Frenchtown, is the Holiday Inn Express Hotel and Suites Monroe! We are conveniently located to I-75 at Exit 15, and the halfway point between Detroit and Toledo. Our staff is dedicated to providing our guests with exceptional customer service as well as the utmost accommodations in the Monroe area! You can begin each morning with our Express Start Hot Breakfast, and after a busy day unwind in the indoor heated pool or sweat off stress in the 24 hour Fitness Center. Our comfortable accommodations provide the amenities and services travelers expect at an affor...
Mais detalhes
Entrada a partir de: 15:00
Saída até: 11:00
Comodidades do estabelecimento
Piscina e comodidades de bem-estar
Piscina
Comodidades / Instalações para negócios
Salas de Reuniões
Serviços de recepção
Depósito de bagagens
Avaliação dos hóspedes
TripAdvisor
Pontuação dos viajantes
Excelente

42

Muito Bom

17

Bom

5

Razoável

3

Ruim

2
Perfil dos viajantes
Negócios

17

Romântica

18

Viagem a sós

1

Família

21

Viagem com amigos

4
Resumo das pontuações
Atendimento

Custo-benefício

Limpeza

Localização

Qualidade do sono

Quartos
Ótimo Hotel
Avaliou em 17 de agosto de 2018
Hotel muito bom, com um quarto bem espaçoso e aconchegante. Possui uma televisão enorme e com uma grande diversidade de canais. Possui tomadas USB, evitando a necessidade de adaptadores para os carregadores que não são do padrão norte americano. O quarto já vem equipado com ferro de passar, tábua de passar e secador. Possui também uma máquina de café e umas cápsulas de cortesia. Dentro do hotel existe uma lavanderia aonde você poderá lavar sua própria roupa. Essa lavanderia é equipada com lavadora (U$1.75) e secadora (U$1.50), e na recepção é vendido sabão para máquina, me custou U$1.00. O café da manhã é bom, possui 3 opções de sucos naturais, café e chá, possui também o típico buffet norte americano com ovos, linguiça e bacon, e para quem não gosta muito possui uma máquina de panquecas, frutas e cereais. Para quem quiser praticar um pouco de esporte, o hotel possui uma piscina aquecida interna e uma pequena sala de exercícios com esteira e alguns pesos. Na recepção existe uma "loja" que vende desde água até alguns itens de higiene.
262willianl
Tudo de bom!
Avaliou em 11 de março de 2016
Hotel novo, recém inaugurado, onde tudo funciona perfeitamente. O quarto é enorme, com 2 duas camas de casal grandes. Tem uma TV de 50 polegadas (!) com uma programação variada, porém com MUITOS canais religiosos. O café da manhá é bom, ao estilo americano, com uma razoável variedade de alimentos. Tem piscina aquecida e uma boa sala de ginástica. O pessoal do hotel é muito prestativo. Bem perto do hotel você encontrar lojas de bebidas, um MacDonalds, Burger King, Subway, Red Lobster, etc... Fica numa estrada, mas tem até bastante coisa por perto. Enfim, estando em Monroe, vale se hospedar aqui.
Carlos_Maciel_16641
Poor front desk service
Avaliou em 19 de setembro de 2021
Upon arrival I was told the room was not covered by orbitz and I needed to get that tended with orbitz. As I was trying to call orbitz the staff who was training another staff member was complaining about their manager Rob and complaining about orbitz. I asked for scratch paper and was given a pad with identifying information. I questioned this and was told that's okay, it's what we use. Suddenly the staff member said my stay was covered by orbitz. Upon return home I found that I was charged by the hotel and charged by orbitz. I contacted the hotel who said I had to deal with orbitz and refused to connect me to a manager. I tried to contact orbitz but after waiting more than 30 minutes for chat and getting no response and getting nobody through landline I gave up. I've been a loyal user of orbitz for many years. I've allowed preferred holiday express given a choice. This experience was so bad that I'm done with both.
sonjamayo
Yes. Feces on bed
Avaliou em 17 de março de 2021
Fear Factor, Monroe Michigan edition. Booked this location solely on having a free night won at a school raffle. Being extremely Covid responsible we felt comfortable after talking to the Assistant GM Neiko who was very accommodating during the reservation process to even upgrading our room once I stated it was for my daughter's 10th bday (which is the only reason we did a hotel from the get go, as our local Holiday Inn is under renovations for their suites). The Pros: It is located near the I75 freeway. It is also located near Sterling State Park so those wanting easy access (especially those fishing) this is your place. They offered 1 hr of reserved pool time. This is awesome for those Covid responsible. The Cons: Besides a subway sandwich shop near there isn't much for dinning without driving 10-15 min away. With alot of boat traffic the parking lot was over ran with boats. The ONLY employee working on a full capacity Saturday night was the front desk person. She was doing her best but easily overworked as she was doing the work of 3-4 ppl. On a Saturday there needs to be more help. My wife was getting the executive two room suite ready for our kids after our reserved swim and pulled out the couch bed and had FECES smeared all over the sheets. We checked in at 5pm and were packed and ready to go by 930pm. The sole front desk employee apologized and asked if we'd like to move rooms. You couldn't pay me to stay here again. I spoke to Neiko the next morning and he apologized and promised to refund the full amount that was charged on our free room. It took 4 days to get refunded. I asked to speak to the GM Rob and have not received a call from him going on 4 days. It may be another complaint to him or another dirty room (read the other reviews) but to me it made my 10 year old cry after a awesome day for her bday. Not one phone call from him or anyone from their location or corporate. ***If you're traveling up north and plan on staying around here for the night. Don't. There's other hotels on the same street or better yet drive further north about 10 min for more proven hotels. This hotel is a wannabe newer hotel but comes across like a Knights Inn on so many levels. Very disappointed in IHG and would stay away from their properties until the stench of this location is free from my mind***
BenattiFamilyReviews
Like a Family
Avaliou em 21 de fevereiro de 2021
I've seen many reviews already about how nice and large the rooms are, as well as peaceful and relaxing. But I haven't seen many regarding how it's run like a family. The staff is extremely friendly and helpful, the team is very hands on.. The GM Rob and coworker Nico were extremely attentive to our needs made me feel like I was also part of the Holiday Inn family. Grateful for their help and recommend this hotel!
984zachf