Comfort Inn & Suites Beachfront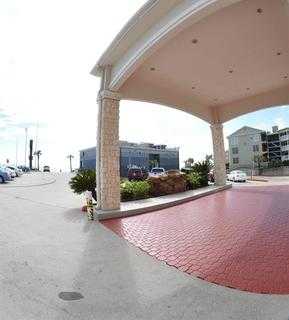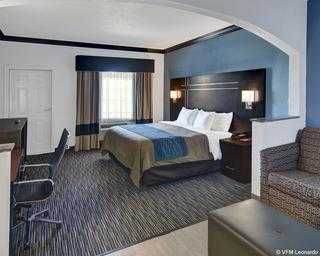 Avaliação TripAdvisor
Baseado em 432 avaliação
Ver todas
Este agradável hotel está situado em Galveston, Texas. Existem um total de 100 unidades de alojamento no Comfort Inn & Suites Beachfront. Não são permitidos animais de estimação nas instalações.
Mais detalhes
Disponibilidade
Selecione a data da sua viagem
Selecione a data da sua viagem para verificar a disponibilidade dos quartos.
Informações do estabelecimento
Este agradável hotel está situado em Galveston, Texas. Existem um total de 100 unidades de alojamento no Comfort Inn & Suites Beachfront. Não são permitidos animais de estimação nas instalações.
Entrada a partir de: 15:00
Saída até: 11:00
Comodidades do estabelecimento
Piscina e comodidades de bem-estar
Piscina
.
Serviços de recepção
Depósito de bagagens
Avaliação dos hóspedes
TripAdvisor
Pontuação dos viajantes
Excelente

175

Muito Bom

109

Bom

62

Razoável

36

Ruim

50
Perfil dos viajantes
Negócios

24

Romântica

130

Viagem a sós

6

Família

194

Viagem com amigos

36
Resumo das pontuações
Atendimento

Custo-benefício

Limpeza

Localização

Qualidade do sono

Quartos
Not worth the price
Avaliou em 22 de outubro de 2021
It's not that this hotel was bad, but it was not worth over $150/night. It really shouldn't be more than about $80-100/night. The bathroom ceiling had water damage, the door frames were rusty, the couch was stained. There was a hole in the wall (which is the only picture I took just in case I was charged for it). I could see stains on the wall under the desk. Overall it did not feel taken care of. The pros were that the bed was clean, the front staff was nice. It was clear that the countertops and shower walls had recently been renovated. The hotel is across the street from the beach, which was great. Despite all that, I likely would not stay here again due to all the other factors along with the price.
Amanda G
worst hotel in Galveston
Avaliou em 14 de setembro de 2021
So disappointing, won't be staying here again or recommending to anyone. We stayed in a two queen room for one night. The front desk staff was rude and treated us like we were imposing on them. The elevator had the up/down lights taped on with scotch tape. The parking garage had trash and construction debris everywhere. The door to the room looked like it had been pried open with a crowbar and the room door did not have a seal and you could see the hallway light around the door. Balcony door was difficult to shut and the door handle had to be pulled hard to latch. The outlet between the beds did not work, so we pulled back the bedside table to find the only working outlet on that wall, of which only one socket worked and no cover on the plug so wires were exposed. The bathroom a nightmare in itself...dirt piled up in the corners, with loose tiles and rust stained ceiling. But don't worry, if you hate your stay, you are out of luck because the management does not care how bad your stay is. Thanks for nothing...back to Hampton I go.
Alicekay512
Substandard and Poor Management
Avaliou em 27 de julho de 2021
3 party occupancy front desk refused to provide anything extra other two towels room came with, pool had a bad algae bloom so kids couldn't swim, manager Kim lied and said she would provide 10% credit, at check out front desk clerk refused provide it. Kids fortunately brought sleeping bags since the pull out bed did not come with sheets or a blanket. Manager was Never available to address issues his out in back and instructed to claim unavailability
randyr09
Not worth it
Avaliou em 31 de dezembro de 2020
The front desk staff was so nice and helpful in moving us to 3 different rooms. The first room we stayed in was so moldy, we were coughing and sneezing that 1st night...until 3am, we couldn't take it anymore. They moved us to another room at 3am. The 2nd room had little tiny baby roaches everywhere. One was crawling on my arm under the covers. On our 2nd night they moved us again because the roaches kept coming. We showed them pictures because they thought we were pulling their leg. Upon checking out, the front desk said they would credit us 50%, then a manager called in and said no discount. After arguing, the manager then agreed to credit us $55 off our $230 bill.. We just wanted to leave at this point. Days later, we checked our bank account and they did credit us the $55, but also charged us twice for $230. Still arguing with the manager. The front desk staff is nice and helpful. Manager doesn't care much about customer service. The breakfast was a brown bag that consisted of an apple and muffin. I would never stay there again!
J3675WXmelc
Not What I was Expecting
Avaliou em 29 de outubro de 2020
I have been overall pleased with the Choice brand of hotels. On one occasion I wasn't pleased with the service, but people have bad days, I get it. The room condition was still clean, and well kept. Unfortunately this stay was lacking, in fact I was, for the first time, disappointed. The outside of the hotel was appealing, but the inside, at least in our room, was lacking. I was actually excited to try this hotel, as its one of two Choice brand Hotels on the island I hadn't stayed at yet. The Comfort Inns have always been, from my experience, a "step up" in quality from the "Quality" In fairness, I did book the room within a couple hours of check-in, as we were planning on leaving the area that night, we decided to stay one more night. I booked a King room, as I usually do, but unfortunately when we arrived I was told that the King room wasn't available. Not because the hotel was booked up, but because they didn't have the staffing to clean and prepare the room. Fine, no big deal. We were given a room with 2 queen beds instead. As we entered the room, we set our bags off to the side. My wife entered the bathroom, and said "You should check out this mirror." As I entered with anticipation, I was presented with a mirror with a whole bunch of rust marks throughout. Then looking up to the fixtures, they too were rusty. Then as we went to plug in our electronics at the base of the lamp between the beds, only the right side plug was working. So I had to pull the table out to plug directly into the wall. Again, not that big of a deal, but the list was growing. Small thing also, the nut that holds the lamp shade on by the door was missing. Again, not trying to nit-pick, but it speaks to the overall maintenance of the building. Then there was the LED lighting on the balcony, Oh my! It was too bright to enjoy being outside. I tried to cover it up, but to no avail. The next morning we looked forward to our coffee to kick start our day. Called the from desk, no coffee was being served downstairs. Ugg! So I went to make some in the room with the provided coffee maker. No coffee cups anywhere in our room. Call the front desk again to request coffee cups brought up to our room. I am compassionate and understanding regarding ones trying to run a hotel on an island that depends on tourists that come and go. Peak seasons, low seasons. Hurricanes, and salty air can reek havoc on anything metal along the continued efforts to fight off the effects that COVID-19 has had on the local economy. But despite the challenges, the other hotels that I've experienced are pushing through. Next time, I'll make a better "Choice".
Erik O