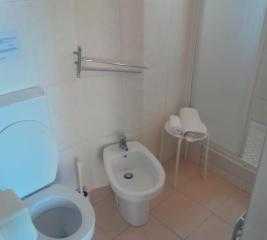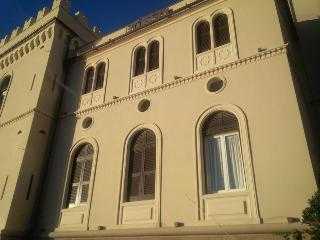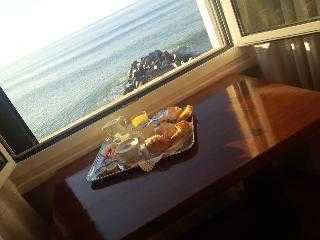 Avaliação TripAdvisor
Baseado em 132 avaliação
Ver todas
Este agradável hotel está situado em Genoa. Existem um total de 17 unidades de alojamento nas instalações. O Castello Miramare não é um estabelecimento que aceite animais.
Mais detalhes
Disponibilidade
Selecione a data da sua viagem
Selecione a data da sua viagem para verificar a disponibilidade dos quartos.
Informações do estabelecimento
Este agradável hotel está situado em Genoa. Existem um total de 17 unidades de alojamento nas instalações. O Castello Miramare não é um estabelecimento que aceite animais.
Entrada a partir de: 15:00
Saída até: 11:00
Comodidades do estabelecimento
Serviços de recepção
Depósito de bagagens
Avaliação dos hóspedes
TripAdvisor
Pontuação dos viajantes
Excelente

22

Muito Bom

43

Bom

35

Razoável

13

Ruim

19
Perfil dos viajantes
Negócios

34

Romântica

41

Viagem a sós

15

Família

13

Viagem com amigos

14
Resumo das pontuações
Atendimento

Custo-benefício

Limpeza

Localização

Qualidade do sono

Quartos
No frills good for a one night stop over
Avaliou em 13 de março de 2017
This was our first stop over on the way home from our mini tour of Italy. It has a slightly faded eccentricity but was fine for a stop over when you are on the road. It is basic. The castle appearance outside is quite entertaining but if you a driving it was an unexpected parking horror story. Who'd have thought Pegli would be sooo busy on a Sunday in MARCH!!! (it isn't the most appealing of beaches. )We were extremely lucky to get the last of only a few free spaces beside the hotel. What you do get is a great view across the bay from the roof terrace, and a sea view from our room, an OK room with a fridge and kettle which weren't available in better hotels we had stayed in - the most comfortable pillows I have ever come across!!😀We both slept well. Can't blame the hotel for the early morning serenade from the room next door! Breakfast was what we have come to expect on the continent- cold buffet, cereal but they will make coffee to order( something the Italians do very well) There is a good restaurant next door opening at 7pm,not 6pm as Tripadvisor states. Good Pizza, nice wine, good price. Pizzas are cooked in their flame pizza oven. This was the second hotel in Italy where our continental adapters only worked in few sockets. We have yet to work out why as some work and some seem to be the wrong size for the sockets. Take plenty of spares! We had a comfortable enough stay in easy reach of places to eat in a place with helpful staff. Not sure I would want more than one night there though.
299cathyd
Old, but clean. Parking a disaster
Avaliou em 7 de setembro de 2016
The location on the beach (not near, really on the beach) is nice, but when we arrived on a hot Sunday all the public parking spaces were occupied by beachgoers. You can make a reservation for a parking space at the hotel (we didn't know), but still be prepared to park your car in a tiny space. The hotel room was old fashioned and could use a refresh. However, it was clean, the shower was Ok and it does somehow fit to the castle atmosphere. Best part of the hotel is the roof terrace!
Robbert C
To fell like the "princes"
Avaliou em 22 de março de 2016
Atthe beach of Genoa - Pelgi a very charming hotel. It's looks like at the legends. The bed was very comfortable ( no pea under the matrix ...) , big room with sea view and you can hear the waves. Very friendly staff.
MZ123461
The Sound Of The Sea
Avaliou em 15 de dezembro de 2015
Could you want any more than a romantic castle at the edge of the Sea? There were two windows in the tower room where I stayed from which I could hear ( and see) the ocean lapping the beach - a wonderful sound to soothe you to sleep. The room itself was excellent with plenty of space more like an apartment than a hotel room and ( unusual for Italian hotels ) there was a kettle for making hot drinks and also a mini bar for cold . From a door at the back of the room a very large roof garden could be reached. If you are looking for character, and a romantic atmosphere , and something more than just synthetic convenience this is the place to come.
19572014
Fantastic!
Avaliou em 15 de julho de 2014
I am back packing through Italy and decided to stay at this hotel. It is a small hotel but right on the sea. It actually was a castle in the 1900's. I had a single room in the tower. It was perfect! Very clean, safe and I have a beautiful view :) Not to forget the rooftop terrace if you don't feel like laying on the beach. The staff are ALL extremely friendly and were more than happy to give me advice on transportation and info on the local tourist spots to visit! Needless to say, I stayed 4 days at this hotel. I would definitely recommend this hotel and would stay again when traveling to this area of Italy! :) I actually had to stay a 5th night in the area and had to leave this hotel to stay across the street at the "grand" hotel Mediteranee (terrible hotel!!!!) the staff were so arrogant, unfriendly and condescending I went back to the Hotel Castello to ask for advice on how to get to the airport! She was soooo friendly and helpful! She have me a map verified my stops on the Internet and gave me an English novel to read for my flight home as another traveller had left it and I had finished mine! She was very kind, friendly and hospitable! All the things that the other hotel should take note of! I have been to Italy on 3 separate occasions and have stayed in a number of hotels. I would MOST definitely return to this hotel and recommend it to anyone traveling to the area! :) Crystal Toronto, Canada
GirlCanadian