Home2 Suites by Hilton Silver Spring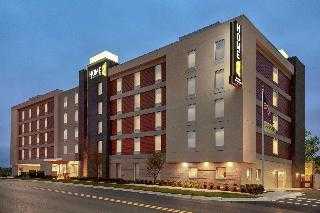 Avaliação TripAdvisor
Baseado em 94 avaliação
Ver todas
Este encantador hotel encontra-se em Silver Spring area.
Mais detalhes
Disponibilidade
Selecione a data da sua viagem
Selecione a data da sua viagem para verificar a disponibilidade dos quartos.
Informações do estabelecimento
Este encantador hotel encontra-se em Silver Spring area.
Entrada a partir de: 15:00
Saída até: 11:00
Comodidades do estabelecimento
Serviços de recepção
Depósito de bagagens
Avaliação dos hóspedes
TripAdvisor
Pontuação dos viajantes
Excelente

65

Muito Bom

12

Bom

9

Razoável

3

Ruim

5
Perfil dos viajantes
Negócios

17

Romântica

5

Viagem a sós

3

Família

41

Viagem com amigos

3
Resumo das pontuações
Atendimento

Custo-benefício

Limpeza

Localização

Qualidade do sono

Quartos
UMD parents weekend stay
Avaliou em 7 de outubro de 2021
Stayed here for UMD parents weekend. The staff was very friendly & helpful. Breakfast was fine, coffee was good, room was nice & clean, although the bed was a full - a little small for me & my husband. Will stay there again!
laurieb471
Overpriced, But Acceptable Accommodations
Avaliou em 5 de outubro de 2021
The Home 2 Suites is very convenient to the 495 exit, but with that comes road noise for highway facing rooms. It is also hard to get on to the freeway going west from the hotel; requires a U turn in a heavily congested intersection. The hotel itself offers large and very clean rooms with a comfortable queen bed (a king would have been nicer). The complimentary breakfast had both hot and cold offerings and while certainly not gourmet provided good choices and plentiful amounts. More fresh fruit should be offered. Only one elevator was in operation 4 straight days which made wait times on the long side. Room rates are steep for this class of hotel.
winwolf56
Definitely a great place to stay.
Avaliou em 29 de setembro de 2021
We were very pleased with this hotel. We stayed in a one bedroom suite, roomy and clean. We loved the kitchen area, and that there was a mall across the street. Breakfast was great, and indoor pool was nice. It was so easy to find, and quiet, despite the location off the highway.
mauireps
Bad Trip
Avaliou em 23 de agosto de 2021
For the money there's better. There was no soap in the bathroom, no parking spaces very noisy upstairs neighbor and one of the other quests was smoking marijuana at all hours day and night. Breakfast could have been better. Won't make this mistake again.
russjackson59
Lack of customer service
Avaliou em 18 de agosto de 2021
Issue reported to the front desk about the room took two days to resolve. I had to constantly remind staff about the issue. Communicating with housekeeping was a challenge as they did not speak English.
OneSweetGAPeach