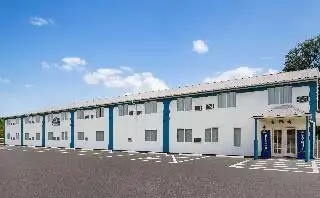 Avaliação TripAdvisor
Baseado em 38 avaliação
Ver todas
Este encantador hotel encontra-se em Hutchinson Area. Existem um total de 40 quartos no Red Coach Inn & Suites Hutchinson. Este hotel não aceita animais de estimação.
Mais detalhes
Disponibilidade
Selecione a data da sua viagem
Selecione a data da sua viagem para verificar a disponibilidade dos quartos.
Informações do estabelecimento
Este encantador hotel encontra-se em Hutchinson Area. Existem um total de 40 quartos no Red Coach Inn & Suites Hutchinson. Este hotel não aceita animais de estimação.
Entrada a partir de: 15:00
Saída até: 11:00
Comodidades do estabelecimento
Avaliação dos hóspedes
TripAdvisor
Pontuação dos viajantes
Excelente

19

Muito Bom

6

Bom

7

Razoável

2

Ruim

4
Perfil dos viajantes
Negócios

8

Romântica

7

Viagem a sós

6

Família

7

Viagem com amigos

6
Resumo das pontuações
Atendimento

Custo-benefício

Limpeza

Localização

Qualidade do sono

Quartos
Don't judge this hotel by its bright yellow exterior. It's a clean, comfortable place to stay in October, 2021u
Avaliou em 19 de outubro de 2021
If you are looking for a quiet, comfortable room that is immaculately clean & at a reasonable price, give this hotel a try. It is perfect for an overnight & for those who don't need a pool, or other such amenities. We had a very comfortable bed & the shower was great with lots of hot water. Our room had a microwave & a refrigerator and the TV had more stations available than our satellite tv service at home. The hotel is an older hotel being refurbished, but work is delayed due to Covid supply and labor issues. However, you can tell that the owner is trying hard to improve things. The exterior of the hotel is very stark and is in need of updating. However, the parking lot is clean — they swept it twice during our 2 day stay — and as soon as you enter the lobby you can tell that things are clean, no musty smells and the hall carpeting swept with the corridor freshly painted. This is not a luxury hotel by any stretch of the imagination, but it offers a nice but basic room at a great price. It's a great location for local attractions with plenty of restaurants nearby & a Walmart within driving distance if you need anything. It's worth a try for the overnight traveler in need of just a bed & a shower.
Sightseer18735946173
Clean and nice rooms
Avaliou em 11 de setembro de 2021
Tremendous experience from service to accommodations. Friendly staff, Dan is working very hard and he is always active to help guest with minimum time space. very nice and clean room, (covid protocols maintained by staff), very comfortable bed and a great hot breakfast the following morning. …
Radhakisu
Wonderful for the price
Avaliou em 9 de maio de 2021
I have been staying here weekly for work. It's quiet, clean and in a good place. There are several restaurants nearby as well as retail. The rooms are cozy and the water is hot with great water pressure. Only thing I wish was there was a communal coffee pot or one in the room. But it's understandable with covid concerns.
C2275WNkaylaw
I gave them a second chance
Avaliou em 2 de maio de 2021
We stayed at the Red Coach Inn a couple of years ago, and it was so dirty that we vowed never to return. But with our "go to" affordable motel (The Atrium) up the street closing permanently, our options were limited. The recent reviews were generally positive, so we decided to give Red Coach another chance. PROS: Comfortable bed, quiet for the most part, air conditioning kept the room cool, plenty of hot water and water pressure and shower head were very good. CONS: Woman at the front desk was not especially friendly, the price of the room on our reservation was not honored, while cleaner than our previous stay, cleanliness could still be improved, room was dated.
Jeff B
Basic and not scary
Avaliou em 22 de março de 2021
What they say about the desk guy is true. He's very nice and helpful. If there had been someone rude or sketchy at the desk, I might not have stayed. From the hall I could hear sounds of tvs, muffled conversations, sinks running. This gave it a homey feel and I couldn't hear any of those things once in the room. True the traffic sounds were loud, but they stopped by around 8 pm and on a Saturday night it was very quiet. The room was clean, there was an overwhelming floral smell that was easily taken care of by running the very functional climate-control fan for a few minutes. The beds were firm and reasonably comfy. I chose this place because they accept cats, so if you need a friendly place to stay the night I would recommend it as a basic way to meet your needs.
wapsapinicolon