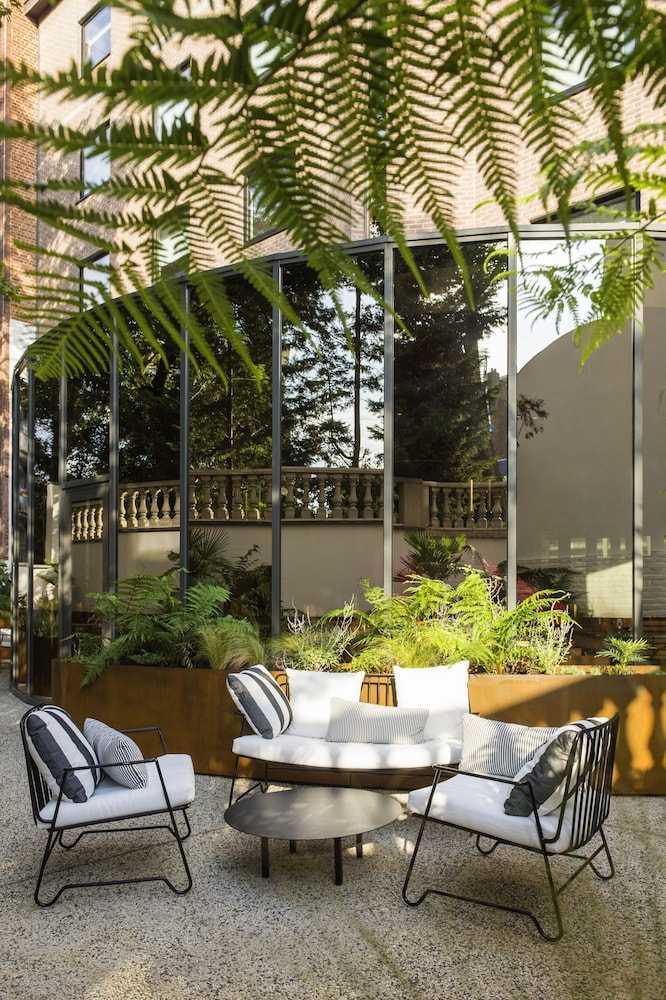 Avaliação TripAdvisor
Baseado em 25 avaliação
Ver todas
Localização Do Estabelecimento Uma estadia Ibis Brussels Centre Châtelain coloca-o no coração de Bruxelas, a 10 minutos de carro de Royal Museums de Belas Artes da Bélgica e de Museu de Instrumentos Musicais - Old England Building. Este hotel ecossustentável está a 2,6 km (1,6 mi) de Parlamento Euro...
Mais detalhes
Disponibilidade
Selecione a data da sua viagem
Selecione a data da sua viagem para verificar a disponibilidade dos quartos.
Informações do estabelecimento
Localização Do Estabelecimento
Uma estadia Ibis Brussels Centre Châtelain coloca-o no coração de Bruxelas, a 10 minutos de carro de Royal Museums de Belas Artes da Bélgica e de Museu de Instrumentos Musicais - Old England Building. Este hotel ecossustentável está a 2,6 km (1,6 mi) de Parlamento Europeu e a 3,6 km (2,2 mi) de Manneken Pis (Garoto a Urinar). As distâncias são apresentadas à 0,1 milha e ao quilómetro mais próximo.
- Avenue Louise - 0,4 km/0,2 mi
- Management Centre Europe - 0,6 km/0,4 mi
- Museu Horta - 0,9 km/0,6 mi
- Flagey - 1 km/0,6 mi
- Museu ...
Mais detalhes
Entrada a partir de: 15:00
Saída até: 11:00
Comodidades do estabelecimento
Serviços de recepção
Depósito de bagagens
Avaliação dos hóspedes
TripAdvisor
Pontuação dos viajantes
Excelente

13

Muito Bom

6

Bom

1

Razoável

2

Ruim

3
Perfil dos viajantes
Negócios

12

Romântica

4

Viagem a sós

2

Família

1

Viagem com amigos

0
Resumo das pontuações
Atendimento

Custo-benefício

Limpeza

Localização

Qualidade do sono

Quartos
Simply excellent
Avaliou em 9 de agosto de 2021
Excellent location, excellent service, and very good accommodations. Located in the shick surrounding of the Chatelain area, close to a beautiful park and many fashionable restaurants, this hotel, with its comfortable rooms gives an excellent and affordable solution for staying in Brussels and enjoying what it has to offer. Highly recommended.
CASIRER D
Simple, trendy and efficient
Avaliou em 23 de agosto de 2020
A very good place very efficient for business. Good service. Sober. Clean room. Nice furniture. Bad point: very poor insonorisation of the room ! You hear from the other rooms. People talking, walking,... Except that: great !
mathiaservyn2020
A great addition to the Ibis range in Brussels.
Avaliou em 20 de agosto de 2020
Thus ia reasonably new addition to Ibis range in Brussels. The hotel is clean and the beds good. Air conditioning available for those warmer days. Stayed here during the covid aftermath. So hot breakfast was not available only a cold option, which whilst reasonable was being charged at the hot buffet prices. So not very well thought out. Fairly easy to find from the airport get the train to Central Station and the 38 bus passes the hotel. From Midi and eurostar or TGV it's a metro to Louise and the 8 or 93 team then a walk of 260m. Not very handy if you have luggage to xarry. By far the easiest way is from Central Station since the bus stops not far from the hotel. The trendy shops in Louise are not far away with trendy prices too.
92002
Snake oil salesman
Avaliou em 28 de março de 2020
We are in uncharted territory and in unfortunate times and s lips and I had booked this hotel for mid-March for a gig visiting from the UK. However, events of Codiv-19 overtook ours and the rest of the world's plans. Approaching our stay Brussels went into lockdown with all venues closing including bars and restaurants, needless to say the gig was cancelled. Government advice was to not travel anywhere, so I contacted the hotel to request a refund as clearly it was unsafe to travel and an unnecessary risk to go to a place where you wouldn't be allowed to explore. The hotel played the company line of hotels being open, so no refunds. Basically saying we should come when government advice across the world says not to travel unless completely necessary and sit in the hotel doing sweet fa. Even the hotel's facilities were closed so all we could get would have been room service - exciting stuff! Fair dos it was non-cancellation, but when you are breaching worldwide government guidance to make a visit to a city in lockdown common sense needs to prevail. It was impossible to visit, so Accor needed to step up in the unique circumstances. They did not and suggested we should still come which was little short of irresponsible. Please do not book with these snake oil salesman. The compromise they offered was to rebook at a later date. What's the point in that when it's likely to be unsafe to travel abroad for quite sometime and we have no need to visit again. Avoid at all costs. The staff were unhelpful by email too, so you're wasting your time trying to reason with Accor div lips and their subordinates.
divlips282820
A nice hotel in an average location
Avaliou em 20 de fevereiro de 2020
My stay was for one night only, so I cannot comment in depth, but this hotel is a nice choice for someone looking to stay in the area of Louise or Ixelles. Since I work in the EU neighborhood, it was a bit out of my way, but all in all, a 20 min bus ride is not something that terrible. The room was nice, with a lot of space for my suitcase, a small wardrobe (its size is just enough to fit your carry on in the bottom and hang your clothes above it), and with a desk, which I highly appreciated. The front desk staff informed me that my room was a superior one, but I cannot really comment on why it would be considered superior. It did have a pull-out bed, just in the middle of the room, which was honestly a bit inconvenient because it took up some space and I constantly tripped over it. There was also a door next to the TV (which is huge btw), which was locked, and I could hear a lot of noise from the other side, both in the evening and during the morning, even some music playing, so the room was not really as soundproof as it was claimed. The bathroom is not heated, and was significantly colder than the rest of the room. However, it was very clean and well maintained, as was the room itself. The bed was very comfortable with nice pillows and a mattress on the tougher side which I appreciate. All in all, it is a nice hotel, the staff is kind and welcoming, but I am not sure if I would stay here again, just because of the distance from the EU neighborhood.
robertakoncar1