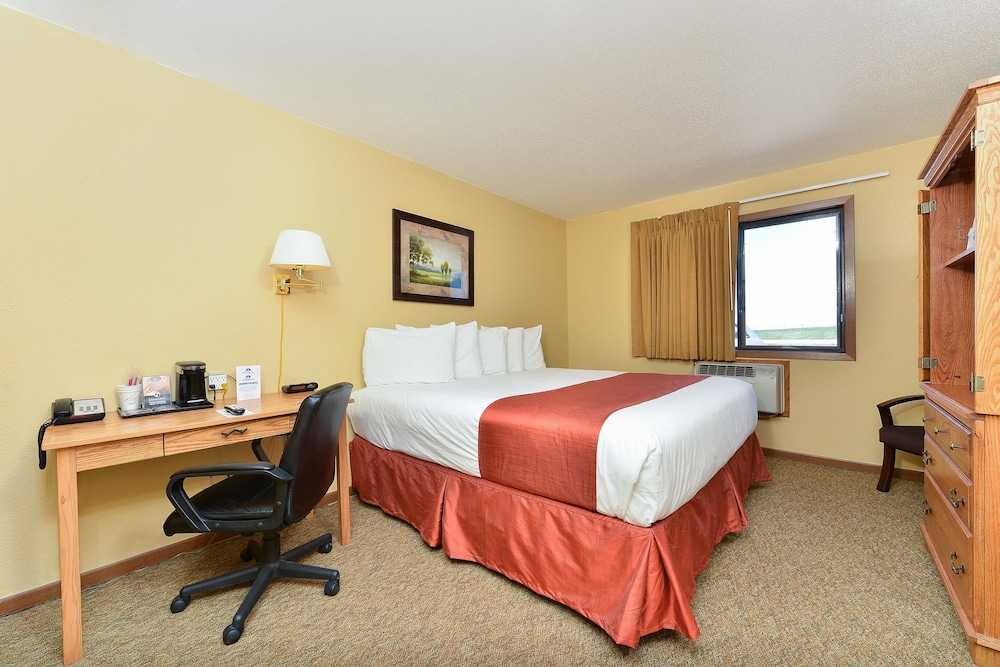 Avaliação TripAdvisor
Baseado em 196 avaliação
Ver todas
Este despretensioso hotel está situado em Kadoka Area.
Mais detalhes
Disponibilidade
Selecione a data da sua viagem
Selecione a data da sua viagem para verificar a disponibilidade dos quartos.
Informações do estabelecimento
Este despretensioso hotel está situado em Kadoka Area.
Entrada a partir de: 15:00
Saída até: 11:00
Comodidades do estabelecimento
Avaliação dos hóspedes
TripAdvisor
Pontuação dos viajantes
Excelente

46

Muito Bom

62

Bom

56

Razoável

17

Ruim

15
Perfil dos viajantes
Negócios

4

Romântica

56

Viagem a sós

13

Família

73

Viagem com amigos

23
Resumo das pontuações
Atendimento

Custo-benefício

Limpeza

Localização

Qualidade do sono

Quartos
Great place to stay
Avaliou em 10 de setembro de 2021
Great hotel. Knowledgeable staff. Very clean Free breakfast of bagels, yogurt, cereal and juices Would recommend Pet friendly. Large grassy area to walk doggies. Right next to highway I've cold ac. Next door to grill restaurant and subway Would recommend
WonderWoman20162016
A place to lay your head, no more.
Avaliou em 23 de julho de 2021
Stayed here one night while passing through. It was not our first choice and not even the second. Other options were booked up 2 months ahead of time and this place was the only thing available. Room had what we needed but let me say a few things this place can improve on: 1) breakfast - not enough and old stuff was put out for guests who turned there nose up to it. 2) welcome committee - receptionist was very u happy and didn't say a word. You didn't know anything until she handed you the bill. Stay but be aware!
jackbauerTX
Avoid this place like the plague!
Avaliou em 21 de junho de 2021
This was the most horrible hotel experience of my life! We get there to check in and the outside has several shady looking men standing around. I quickly walked in and checked in and got my key. My husband and daughter followed me up the stairs to our room to be met by a man at the top that looked high and grinning at us. By the time we get to our room my 10 year old daughter is crying because she is so scared but we lock ourselves in because we were scared to leave in the dark. The shower dripped water loudly all night. Loud tv noise blaring through the thin walls. Our tv kept flashing off and on by itself. We barely slept at all and I felt like bugs were biting me as I tried to sleep. We could not leave that horrible place fast enough the next morning! Keep driving and NEVER stop here!
Stephanie19782014
Dont stay here EVER!
Avaliou em 13 de abril de 2021
Stayed in room 201 on 4/10/2021....total nightmare!!! Kids playing cards in breakfast area until 3:30 am! Shared wall with our room! Hubby went to complain to FD at 3:30 am no one to be found! Believe it was him and his friends causing all the raucus! Unbelievable! He yelled at the kids to go to bed! Got up at 5 am so pissed as we didnt get any sleep, left by 5:30 am, still no one at FD! WTH! Horrible Interstate noise too! Hubby left a written note for FD asking for a refund or discount, no response! I called at 9 am and spoke to someone asking for a Mgr to call me back, no tesponse! Dont stay here EVER!!
843BrendaB
Excellent, highly recommend
Avaliou em 24 de outubro de 2020
Overall it was a great experience. The reception was welcoming, the beds and bathroom were comfortable and clean, and waffles and biscuits and gravy were nice. It's a great place to stay when having traveled all day
V4477JXannaf