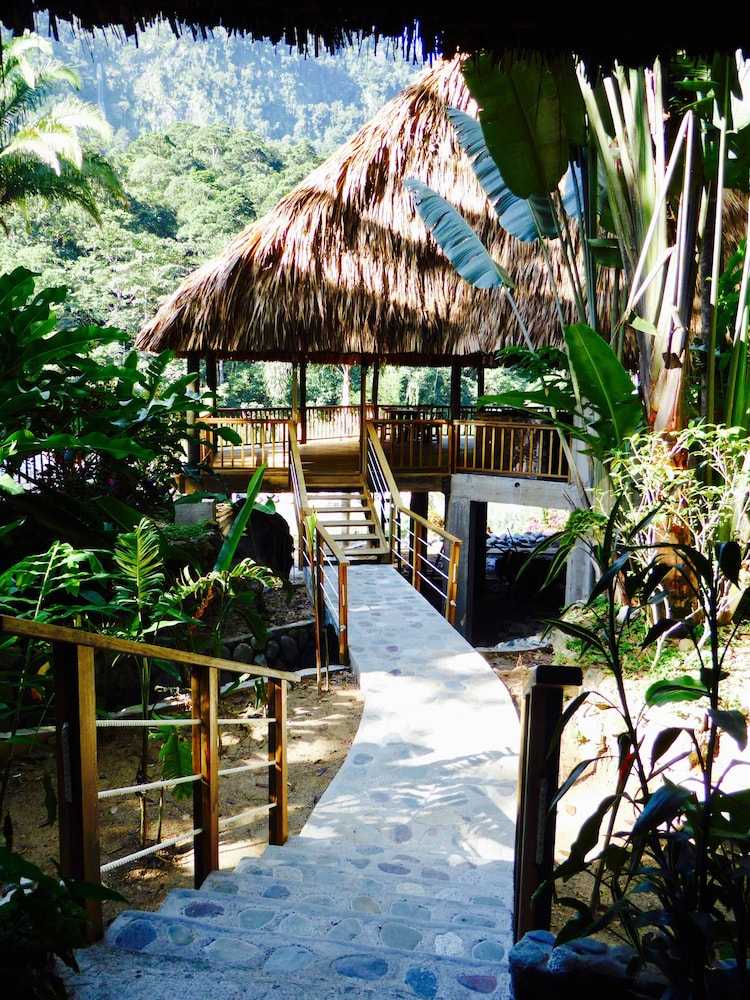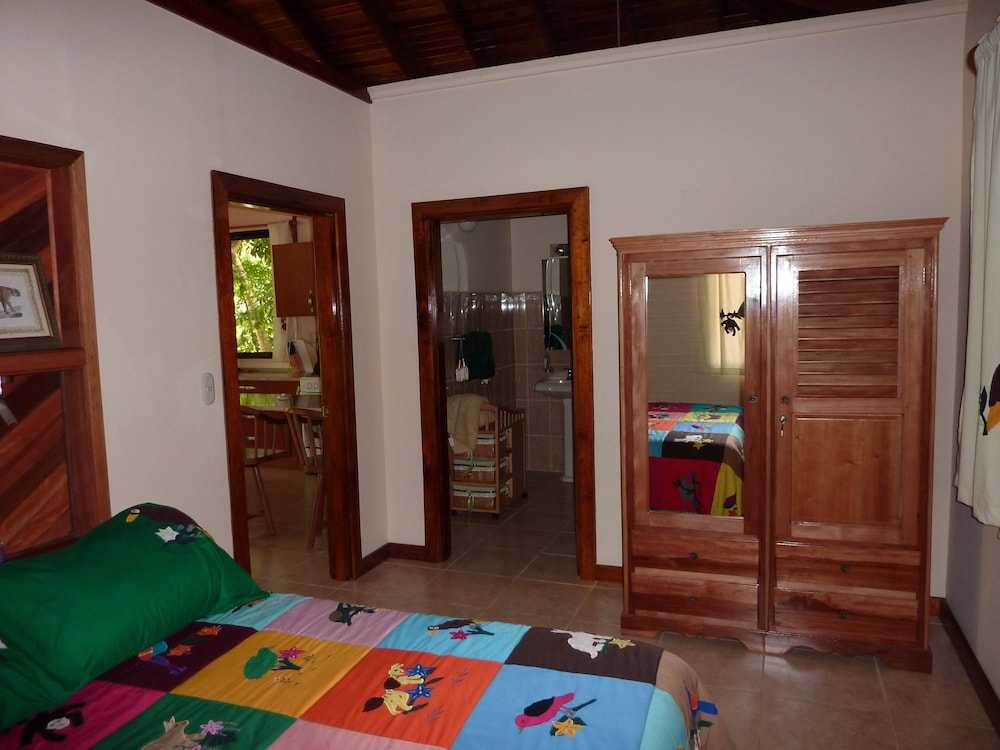 Avaliação TripAdvisor
Baseado em 314 avaliação
Ver todas
Localização Do Estabelecimento Com uma estadia Villas Pico Bonito em La Ceiba, ficará a 0,4 km (0,3 mi) de Parque Nacional Pico Bonito e a 17,1 km (10,6 mi) de D'Antoni Golf Club. Este lodge para famílias está a 17,6 km (10,9 mi) de Centro Comercial Megaplaza e a 18 km (11,2 mi) de Estádio La Ceiba....
Mais detalhes
Disponibilidade
Selecione a data da sua viagem
Selecione a data da sua viagem para verificar a disponibilidade dos quartos.
Informações do estabelecimento
Localização Do Estabelecimento
Com uma estadia Villas Pico Bonito em La Ceiba, ficará a 0,4 km (0,3 mi) de Parque Nacional Pico Bonito e a 17,1 km (10,6 mi) de D'Antoni Golf Club. Este lodge para famílias está a 17,6 km (10,9 mi) de Centro Comercial Megaplaza e a 18 km (11,2 mi) de Estádio La Ceiba. As distâncias são apresentadas à 0,1 milha e ao quilómetro mais próximo.
- Parque Nacional Pico Bonito - 0,4 km/0,3 mi
- D'Antoni Golf Club - 17,1 km/10,6 mi
- Centro Comercial Megaplaza - 17,6 km/10,9 mi
- Estádio La Ceiba - 18 km/11,2 mi
- Parque Central - 18,2 km/...
Mais detalhes
Entrada a partir de: 15:00
Saída até: 11:00
Comodidades do estabelecimento
Comida / Bebida
Restaurante
Piscina e comodidades de bem-estar
Piscina Exterior
Serviços de recepção
Depósito de bagagens
Avaliação dos hóspedes
TripAdvisor
Pontuação dos viajantes
Excelente

273

Muito Bom

32

Bom

5

Razoável

3

Ruim

1
Perfil dos viajantes
Negócios

4

Romântica

103

Viagem a sós

13

Família

87

Viagem com amigos

81
Resumo das pontuações
Atendimento

Custo-benefício

Limpeza

Localização

Qualidade do sono

Quartos
A great mountain retreat
Avaliou em 24 de setembro de 2021
A lovely mountain retreat, with great views of the mountains, river, and (after a rain) waterfall, surrounded by beautiful landscaping, plus a great bar and restaurant. There are also some gook area for hiking. Definitely a top spot in the area, I would happily come again.
cadamsesq
Beautiful and relaxing!
Avaliou em 18 de agosto de 2021
I loved our lodge in front of the river and waking up to the sound of birds. We stayed at El Tucan, spacious 2 bedroom cabin. The staff was very friendly. The infinity pool is amazing. The breakfast menu was our favorite meal of the day. When I go back to the river I will definitely go back to Villas Pico Bonito. I suggest you arrange airport or ferry pick up with the driver the hotel recommends. Call the landline, email communication wasn't succesful.
CathyTGU
Jungle Paradise, Better if You Like Dogs
Avaliou em 18 de agosto de 2021
The hotels in this area are remote paradises with their individual pros and cons. This hotel is in La Ceiba, so if you fly into San Pedro Sula, be prepared for a 4-hour journey to arrive. It is possible to take a taxi to the bus station in San Pedro Sula (about $15). Transportes Christina is one of the only long-haul comfort busses operating due to Covid (around $15 per person). Then, you have to get another taxi from La Ceiba to the hotel (another $20). There are also "chicken" busses that are cheaper, but I didn't want to learn about a more complex route. I also heard that the busses are robbed by gang members every so often. Instead, we chose to get a taxi all the way to the hotel from San Pedro Sula (SAP) airport for $140. Yes, it was twice as expensive, but the relief of not waiting an hour our more for the bus, moving our luggage around 3 times, and likely being spared the whole robbery experience was worth the cost to me. We stayed in the accommodation named El Rio. I loved the view of the river from our room. We had a kitchenette with a stove, refrigerator, microwave, and potable water dispenser. The villa had two sleeping rooms separated by a closable window and door. The front room served as a living room as well with the couch converting into a bed and connected to the kitchen area. The back bedroom had a double bed and a dresser. The provided fan was a MUST. It got very hot and muggy at night. There is no air conditioning. I liked our room the best because it was surrounded by a screened-in porch. We could sit outside in the evenings and not worry about mosquitoes or dogs. The owner has at least 3 dogs that follow guests around and get under their feet. Also, they whine and bark. I am not a dog person, and the only way to keep them out of my space was to shut them outside the screen. The area around the hotel is beautiful with flowers and plants growing along the many narrow stone paths and stairs. This place is not handicapped accessible, so if you have difficulty walking, the landscape could become a major issue. My husband and I both carried our luggage to and from the room, which was a considerable distance from the entrance over hilly terrain. No one greeted us when we first arrived, and I was unclear how to check in. Similarly, no one offered to carry our luggage when we left the property. I cannot imagine being an elderly guest or someone with a physical impairment and staying at this property. Another nice feature was the infinity pool. The water was clean, relaxing, and cool—such a nice place to seek relief from the heat. We ordered all our meals off the menu and had the food delivered to one of the many picnic tables offered around the pool. If you want breakfast early, you have to order it the night before. All the food was delicious, and reasonably priced by U.S. standards (probably expensive for Honduras). I enjoyed my time at the pool the most with views of the river and rain forest. We did not have cell phone reception at this hotel. Wifi was available. If you are physically fit, looking for some relaxing swim time, enjoy views of the rainforest, and do not mind dogs, this is the hotel for you!
yobei
Relaxing, inexpensive place
Avaliou em 9 de agosto de 2021
We enjoyed a sunset and night in this place 25 minutes away from the city of La Ceiba, It's is a nice place to got away from the city , The place has comfortable cabins, nothing elegant but very cozy. These cabins are located in a beautiful and relaxing landscape, the river runs under the mountain of Pico Bonito, the perfect place to disconnect from the world and connect with nature. The road to get there is in bad condition , specialy if its raining , I will recommned drive carefully.
Essuazo
Great views, adventure, and pups
Avaliou em 8 de agosto de 2021
We stayed in the El Bejuco lodge, which was upper level and had great river views. The waterfall can be seen as well (hence the name), but it hasn't been a good rain in awhile so was harder to spot. We did the hike to the falls on our own, just walked 1/2 mile up the road to pay the $8 entry fee and used a map we downloaded. Now, where it became an extra fun adventure is two of the hotel pups (we later found out are Ace and Lexi) followed us the ENTIRE six mile hike, including swimming the river. They followed us the entire day, even sleeping at our door ❤️. They really made this great experience that much better. Oh, and the pool is amazing and all the food was pretty great too (shout out to Nelson the bartender who was amazing).
269jaclynt