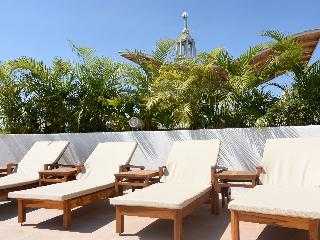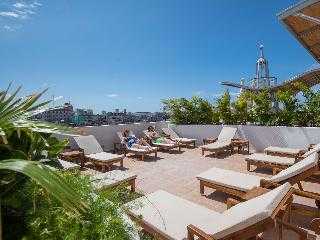 Avaliação TripAdvisor
Baseado em 12 avaliação
Ver todas
Este sofisticado hotel encontra-se em La Habana Vieja. Além disso, o acesso Wi-Fi é oferecido nos espaços comuns do estabelecimento. Este hotel oferece um serviço de receção 24 horas por dia, para que as necessidades dos hóspedes sejam totalmente satisfeitas a qualquer hora do dia ou da noite. Não s...
Mais detalhes
Disponibilidade
Selecione a data da sua viagem
Selecione a data da sua viagem para verificar a disponibilidade dos quartos.
Informações do estabelecimento
Este sofisticado hotel encontra-se em La Habana Vieja. Além disso, o acesso Wi-Fi é oferecido nos espaços comuns do estabelecimento. Este hotel oferece um serviço de receção 24 horas por dia, para que as necessidades dos hóspedes sejam totalmente satisfeitas a qualquer hora do dia ou da noite. Não são permitidos animais de estimação no Palacio Cueto. Reserva-se o direito ao Palacio Cueto de cobrar uma taxa por alguns destes serviços.
Entrada a partir de: 15:00
Saída até: 11:00
Comodidades do estabelecimento
Avaliação dos hóspedes
TripAdvisor
Pontuação dos viajantes
Excelente

3

Muito Bom

0

Bom

2

Razoável

1

Ruim

6
Perfil dos viajantes
Negócios

0

Romântica

2

Viagem a sós

0

Família

1

Viagem com amigos

1
Resumo das pontuações
Atendimento

Custo-benefício

Limpeza

Localização

Qualidade do sono

Quartos
Beware of Hotel
Avaliou em 25 de março de 2020
The Hotel is fairly new, rooms were spacious. It STOPPED there!!! Shower didn't work, waited 24 hours for towels. The staff picks and chooses who and when to sell you internet service. Management is incompetent. Food was regulated by the government it was terrible. Stay at an AIRBnB!
999aidav
1 Star Service for a 5 Star Hotel
Avaliou em 18 de março de 2020
Service is terrible and no one seems to care, which is expected when you make 12 cucs a month. I have stayed in Airbnb's the last 3 yrs and tried this new hotel this time. Rooms do not have night stands or dressers to store your clothes, so you either live out of your suitcase or have your clothes laid out all over the room. Bartender at rooftop made mojitos with bottled lime juice versus real limes. We did not know until we asked him for more lime for our mojitos. We was bugged and pulled out the bottle and poured it in our glasses. WiFi was not available every day. There seemed to be a different excuse everyday. When they did have it they had no change for a 5 cuc bill on a 1cuc charge. Another employee 5 feet away had plenty of bills and coins but their response was that they can not mix the currency from one department to another. Hotel needs cleaning. Napkins and table cloths were dirty and stained. Elevator was closed one day to regrout the tile and when opened the next day, the walls and floors were splattered with filmy water and never wiped down. The lobby chairs and sofas had dirt film visible and never wiped down. Hotel safe did not work and gave up after asking for a repairman for 3 straight days. I can go on with many more examples but you should get the point by know. If you wish to stay in a hotel, I would recommend the older and world renowned Hotel National where customer service is great. Otherwise, you can find an Airbnb with prices to meet your needs.
Jesse007James
Great location, but ...
Avaliou em 5 de março de 2020
This hotel is well located in the heart of Old Havana, at the corner of Plaza Vieja in one of the four main squares, and is housed in an impressive (and recently restored) colonial building. The plaudits end there. This is an awful hotel. The internal décor, although fairly new, is gloomy and uninspiring. Our room was dark, the shower didn't work properly and the curtain rail was broken. Despite the promise that it would be available 'later', there was never any WiFi connection. Breakfast was almost inedible with no fresh fruit at all, indescribable cooked food and a hopeless shortage of bowls, cups, saucers, etc. But the worst thing was the staff: they were surly and unhelpful, brushing off any requests with indifference -- 'later' or 'wait 5 minutes' followed by no action whatsoever. We will not go back.
Anthony W
Nice building BUT
Avaliou em 1 de janeiro de 2020
I will never stay at this hotel again. Booked for 7 nights on my annual Cuban holiday. This place has only been reopened about 7 months after the building had been extensively restored. * No internet for 5 days. * No Cuban beer in the hotel bar in the lobby and none in the rooftop bar. * Also no cola in the rooftop bar. The mens toilets in the lobby sprang a leak and covered the floor near the lift with water. * This is probably why the lights failed in the lift, so travelling up or down was in darkness * This was solved by the hotel closing the lift, meaning guests luggage was transferred via the goods lift. Pity for guests (like me) who were staying on the fourth floor. We were advised to use the stairs. Decided to have a drink at the lobby bar at 5pm, only to be advised by the barman that he was serving a group of people, so would serve me "in about 20 minutes". * Careful where you sit in the morning. If for breakfast, you only want a 500ml bottle of water, all's good in the breakfast area. Stupidly, on the day I was to depart (yes, after a 7 night stay), I sat outside this area and asked for a bottle of water for breakfast and was duly served one, only to be told by the staff that I would have to pay 2 peso for the water before departing, as I wasn't sitting in the breakfast area. The staff are generally friendly, but little care is given to fixing problems when advised. I would strongly advise anyone considering staying at this hotel to reconsider their choice. Such a shame as the location is great and the building looks nice. Beware! David A Australia
davidaP6313NO
Gorgeous Hotel
Avaliou em 1 de dezembro de 2019
This is one gorgeous Hotel. If you go to the 4th floor you can enjoy a the nice roof bar, we had some rum shots a few times there, It's especially gorgeous at Sunset and in the night, the ambiance is very nice. I will definitely recommend this hotel for a comfortable stay to see La Habana. The staff are very friendly.
Nisa_Ron