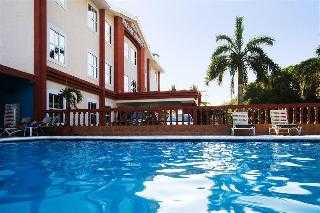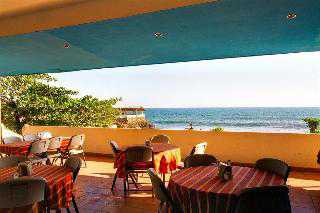 Avaliação TripAdvisor
Baseado em 28 avaliação
Ver todas
Este agradável hotel está situado em La Libertad. Os 30 acolhedores quartos de hóspedes tornam-se um local perfeito para relaxar no final do dia. Os clientes não serão incomodados durante a sua estadia, uma vez que não são permitidos animais de estimação neste estabelecimento.
Mais detalhes
Disponibilidade
Selecione a data da sua viagem
Selecione a data da sua viagem para verificar a disponibilidade dos quartos.
Informações do estabelecimento
Este agradável hotel está situado em La Libertad. Os 30 acolhedores quartos de hóspedes tornam-se um local perfeito para relaxar no final do dia. Os clientes não serão incomodados durante a sua estadia, uma vez que não são permitidos animais de estimação neste estabelecimento.
Entrada a partir de: 15:00
Saída até: 11:00
Comodidades do estabelecimento
Comida / Bebida
Restaurante
Piscina e comodidades de bem-estar
Piscina
Piscina Exterior
Avaliação dos hóspedes
TripAdvisor
Pontuação dos viajantes
Excelente

8

Muito Bom

11

Bom

6

Razoável

3

Ruim

0
Perfil dos viajantes
Negócios

1

Romântica

11

Viagem a sós

5

Família

8

Viagem com amigos

3
Resumo das pontuações
Atendimento

Custo-benefício

Limpeza

Localização

Qualidade do sono

Quartos
Poor value
Avaliou em 9 de março de 2020
Don't let the exterior fool you. This hotel is very badly maintained and very dirty. On top of that it's 55 USD a night. The positives are the fast WiFi connection and the air-conditioning. The staff were friendly enough.
Mike S
2nd time here after 6 years
Avaliou em 3 de outubro de 2018
eveything was the same as the prices and location. they have improved very much in keeping it cleaner and the pool maintance. the safety is still there, where they lock up gate at dark and alway have asecurity guard 24/7. the location is amazing to the beach and shops and restaurants, where yyou can safely walk.
Joe W
basic hotel with friendly service
Avaliou em 1 de novembro de 2015
We booked a few days before arriving, but obviously one cannot guarantee the booking unless phoning again before 2pm the day of arrival. As we were travelling - by public transport - we managed to guarantee the reservation with our credit card. Popular place, especially during the weekends, for beach access. There is a nice pool as well. A short distance from the port and the centre of all life in La Libertad. Our air conditioning was very noisy.
onzils
Good basic hotel in a nice location!
Avaliou em 30 de novembro de 2014
The Hotel Pacific Sunrise is a nice basic hotel. Nothing fancy. Room was clean. As one of the reviews showed earlier, it has a metallic door facing the Ocean. It allows easy access to it. Staff was great. Always accommodating our needs and helping us throughout our stay.
D Z
I had no water in the hotel suite (the most expensive room).
Avaliou em 15 de julho de 2014
I got there in the middle of the week, evening on Wednesday the fourth week of June, 2014. They were going to give me a room facing the street for $46.00. I told them that I wanted a beach view and they said they had only had the suite available for $70.00 per night. I went ahead and got the suite for two nights but it seems that I was the only guest on the third floor the first night. I felt that I had been fooled because the other rooms facing the beach on that floor seemed to be empty. There is no elevator to get to the 3rd floor. I was afraid to eat at their restaurant below because I did not see any people eating there meaning that the food might be old when served because of low turnaround. So I thought it would be better to eat at the malecon (wharf) or anywhere else where a lot of people ate because the food was turned around faster which meant fresher food. Saturday morning, however, there were a lot of guests eating breakfast in the restaurant and using the pool which made the atmosphere more lively. The pool looked clean and inviting when I was there and if felt like a Jacuzzi at 5:00 pm because it had been a hot day and the sun warms up the water. There is an overhead bridge to get to the beach across the street. The best time to bathe at the beach is at low tide after 4:00 pm when the rocky part of the beach is exposed and very unlikely to get hit in the head by one or to slip and fall on the rocky bed part of the beach. Don't try to go swimming at the beach in front of the hotel in the morning because the water is at high tide and the rocky part is covered by water and it could be dangerous to walk and slip on that while the current is going back and forth. On my last morning, I had to call the office 5 times because there was no water to shower. I was told I would be getting it soon. I was taking a shower and had lathered myself with soap when suddenly the water ran out. It took about an hour and a half for the water to come back. By then, I had tried to rinse the soap out of me with three cups of water from the bathroom sink. That's when the water came back. The cable tv first four channels could not be seen because the cable connecting the wall did not have a connector to the cable: they just pushed the cable pin into the wall. I was able to see the World Cup finally on channel 4 after I told the cleaner guy to switch cables with another tv on another room that had the screw connectors on both ends of the cable of the tv. I was able to see most channels after that from 2-99. The room had a large living room and a separate bed room both with air conditioning. They both worked but I did not use them because I do not like air conditioning. I was able to sleep with the window slightly open because I liked the sound of the waves and breakers at nighttime. The bed was comfortable and full size. The bathroom was clean and modern but like I said above, the water was inconsistent. They gave two bottles of water (32 oz each) which I did use each day (2 nights). The view of the beach was very nice from the third floor and you could see all the way to the right which reminded me of Roatan, Honduras. Close by is the malecon full of restaurants. You could go into the center of La Libertad a couple of blocks away to the Mercado, church, park, internet café, pharmacies, and other stores. But next to the Pacific Sunrise Hotel, you had El Faro Shopping mall with a Super Selecto (supermarket) with everything you need there like if you were at home, Pollo Campero, Mr Donuts, La Neveria, ATM machines ($3.00 service charge plus 3% fee by Citibank my bank for foreign exchange fees), film store,and pharmacy, and other souvenir and sundries store. As I walked around Puerto La Libertad, The Pacific Sunrise Hotel seemed to be the best in terms of appearance and modern accomodations compared too others on the malecon that seemed old and run down. If you are lookijg for a cheap place, you can find it. But I did like the look of the hotel from the outside and inside. The staff was friendly.
Carlos M