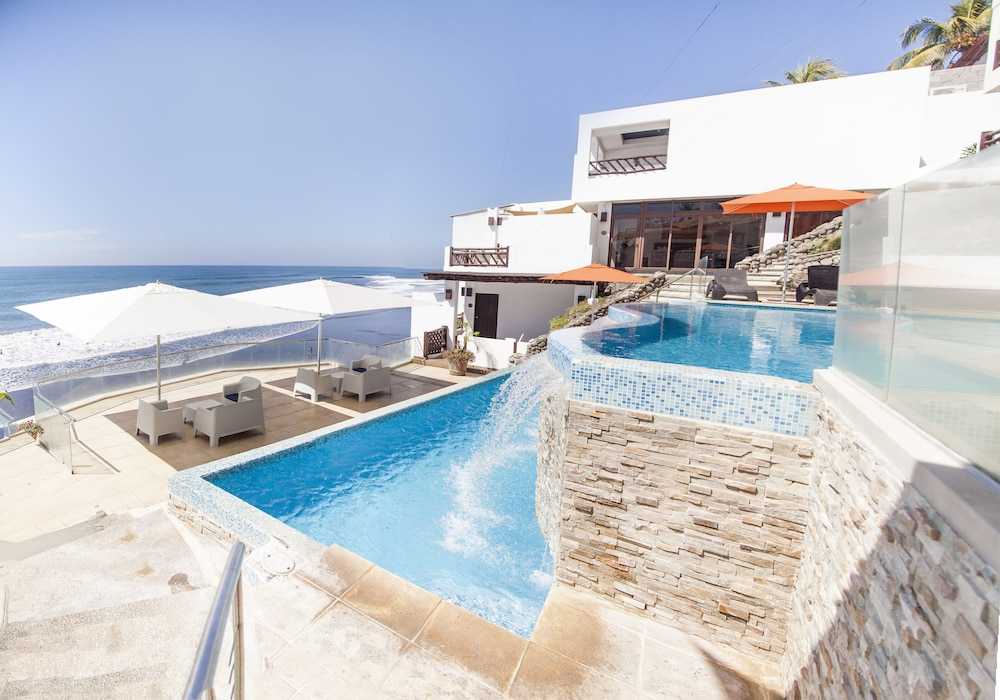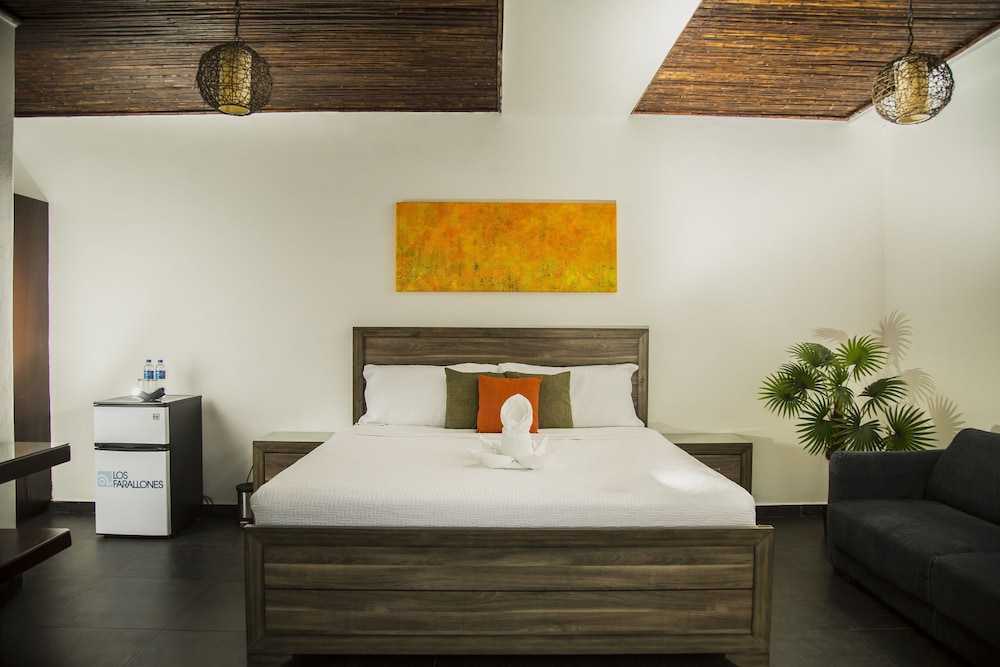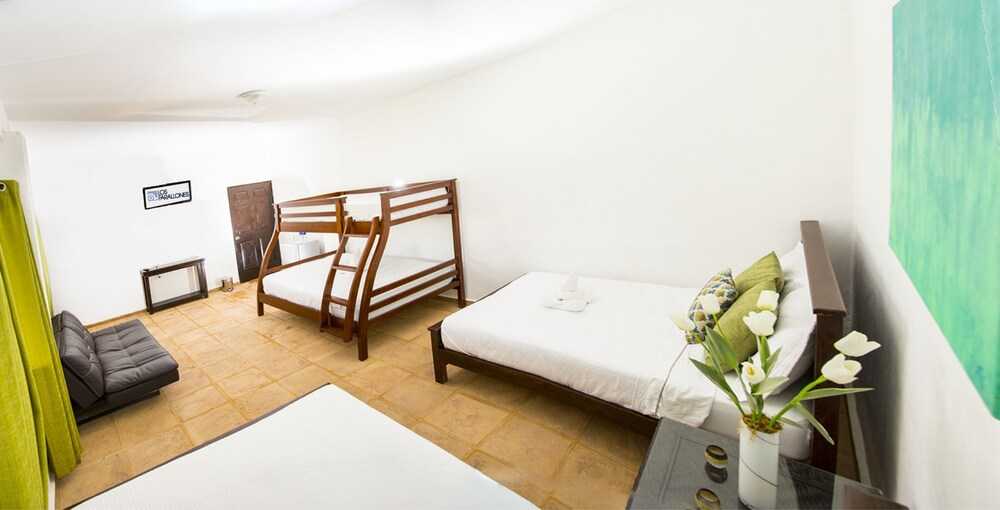 Avaliação TripAdvisor
Baseado em 308 avaliação
Ver todas
Em La Libertad, Hotel Los Farallones ficará a 1 minuto(s) de carro de Playa El Majahual e a 9 minuto(s) de Playa el Sunzal. Este hotel de praia está a 4,2 km (2,6 mi) de Playa San Blas e a 12 km (7,4 mi) de Playa San Diego. Passe o dia na praia privada e desfrute ainda de uma imersão reconfortante n...
Mais detalhes
Disponibilidade
Selecione a data da sua viagem
Selecione a data da sua viagem para verificar a disponibilidade dos quartos.
Informações do estabelecimento
Em La Libertad, Hotel Los Farallones ficará a 1 minuto(s) de carro de Playa El Majahual e a 9 minuto(s) de Playa el Sunzal. Este hotel de praia está a 4,2 km (2,6 mi) de Playa San Blas e a 12 km (7,4 mi) de Playa San Diego. Passe o dia na praia privada e desfrute ainda de uma imersão reconfortante numa das 4 piscinas exteriores. As facilidades adicionais incluem Wi-Fi grátis, serviços para casamentos e apoio para excursões/compra de bilhetes. Uma receção aberta 24 horas e armazenamento de bagagem estão entre o leque de comodidades oferecidas por hotel. Há estacionamento grátis no local. Comece...
Mais detalhes
Entrada a partir de: 15:00
Saída até: 11:00
Comodidades do estabelecimento
Piscina e comodidades de bem-estar
Piscina
Serviços de recepção
Depósito de bagagens
Avaliação dos hóspedes
TripAdvisor
Pontuação dos viajantes
Excelente

173

Muito Bom

50

Bom

24

Razoável

25

Ruim

36
Perfil dos viajantes
Negócios

9

Romântica

98

Viagem a sós

7

Família

128

Viagem com amigos

35
Resumo das pontuações
Atendimento

Custo-benefício

Limpeza

Localização

Qualidade do sono

Quartos
Feeling amazing by the sea
Avaliou em 3 de outubro de 2021
In my opinion this is truly a hidden gem. After the significant remodeling that they did even going as far as to customize each one of the guest rooms with a very specific theme and high-level beach enjoy them in amenities I had an amazing time. The staff is beyond helpful and friendly and my only regret was that I didn't stay the entire weekend.Great job team FARALLONES!!!
366guillermom
Los Fallarones
Avaliou em 31 de julho de 2021
Los Fallarones is overpriced. The road to get to the hotel Is a nightmare. $240 per night is to much. Fix the road and offer activities like a resort to charged that much. You charged like a resort, but you are not a resort. This is just a nice overpriced hotel.
ANA E
Vacation in El Salvador
Avaliou em 30 de julho de 2021
The place was beautiful. It was clean. It was safe. The staff was excellent in their service. I love the touch of fresh fruit in your room every day. They went out of their way to make your stay wonderful.
656joannea
Careful! Hotel Los Farallones pulls the bait and switch.
Avaliou em 26 de julho de 2021
While it is a beautiful property, with beautiful views, the rooms and building are old and dingy, the staff is rude and it is not a good place to stay. We booked a 2 bed ocean view room for 3 nights through Booking.com at the Hotel Los Farallones. When we got there, first the lady behind the desk tried to pretend she couldn't find our reservation (even though our name was on the list with the security people outside who do not allow anyone on the property who is not a guest). Then after playing around on her computer, she pulls a printed out version of our reservation from the side of the desk. She tells us that there is no ocean view available, that there is just pool view. We reluctantly agreed to take the pool view. Then she tells us there are no rooms left with 2 beds, that we would need to share a queen bed. Unfortunately, we were kind of stuck after spending $30 on a cab and not seeing any other available resorts in the area. Also, signs outside say you are not allowed to bring your own food or drinks, so we had to throw away Gatorade's and waters we purchased on the way here and were stuck using their crappy restaurant. We followed the rude counter person to the room and it is not an ocean view or a pool view. It is a basement level with a window and no view. The room has a musty basement smell, almost like mildew. Has a small tv, 2 old glass covered ceiling lights, an AC system, 2 built in night stands and a small dresser and closet. The bathroom has a twelve inch by six inch glass brick window that looks outside to a path behind the hotel where anyone can walk by and look in (no curtains or other covering). There are 2 electrical outlets in the room and none are near the bed. One is randomly placed on the wall in the middle of the room near the floor, the other has the tv plugged into it, leaving 1 outlet to charge phones and device. They have no hot water apparently. The sheets and bedding are very old and dingy (we actually laid a bunch of towels down on the bed rather than use the sheets). The resort has 4 pools that are all in desperate need of skimming and tile repair. The first two are located between the two main buildings of rooms and have no view and little shade. One is about a one foot deep kiddy pool next to an infinity pool that starts off about nine inches deep with two plastic lounge chairs and drops slowly to about five and a half feet. There are 4 sets of lounge chairs scattered around the sides of these two pools. The other 2 pools are really an infinity pool and a drainage pool for the infinity pool. Both overlook the ocean. One, the upper one, has a small bench and 2 lounge chairs next to it. The lower one has a small corner with 2 lounge chairs. Both are about five and a half feet deep. The restaurant charges $3 for a 12 ounce Coke, and don't bother ordering their Pina Colada. It is watery pina colada mix with ice. Not a frozen Pina Colada. The bar and dining room are near the ocean, but the kitchen is all the way at the back of the resort. It takes the waiters about eight minutes to walk your food through the resort to your table at either the bar or dinning room. The burger comes with a small cup of ketchup and a small cup of mayonnaise for both the burger and fries, and if you ask for more ketchup, mayonnaise or anything, they tell you it will be an additional charge. The lettuce on our burgers were wilted and we are pretty sure one piece of lettuce they put on the side was starting to grow mold or fungus. They also apparently sell day passes to locals to swim in the pools that are already over crowded by guest. This resort seems to be stuck in the 80's (when it may have passed for a good resort). All the furnishings inside and out appear to be from that era. There are metal railings near the restaurant and ocean facing pools that show fatigue and are probably not safe to lean on and probably wouldn't be helpful if you needed to hold on to them to make your way down the steps. There is no beach and while the views of the cliffs and oceans are beautiful, this is definitely not a good place to come see them. We called Booking.com and were given a voice recording telling us to email Booking.com's customer service, and that we should get a reply in 48 hours. So much for their promise of prompt resolutions to any issue you face while traveling with them. This has definitely been the lowest point of our trip to El Salvador. This is one of the worst places I have ever stayed in my years of traveling. This is definitely a hotel to avoid.
Bkern631
Beautiful Location
Avaliou em 30 de junho de 2021
Pros: Hotel has exceptional ocean view from the restaurant/bar area and one of the pools. The staff is friendly. The rooms are very clean and beds are comfortable. The landscaping is wonderful and clean. There was a hot tub in our balcony. 2 water bottles per day are complimentary. There's a refrigerator, safe and coffeemaker in the room. There's a local restaurant Cervecería Chapultepec 1/2 block away with excellent ocean view and menu. Mostly Mexican food items. Great for lunch and dinner. Cons: For the cost of staying here $250/night I expected to have a telephone in the room. To communicate with staff, we have to flag down a person. This is an inconvenience. Also, housekeeping is done between 9am & 10 am only. So, if you happen to want to sleep in or have it done later, it won't get done until the next day. They will leave a set of clean towels even if you don't get it done that day. Although beds are comfortable pillows are flat and uncomfortable. They need to invest in new pillows. The menu at the restaurant is very limited and expensive. It's Peruvian food mostly. If you eat or drink at the hotel throughout the day, you have to pay your bill at the end of every night. They won't do it at the time of your check out. Service is very slow but this is how it was at every restaurant we went to along the coast in El Salvador. I've been told service is better in the capital, San Salvador. Another thing that is common throughout is that there are no coffee refills unless you go to a McDonald's. So every cup is charged and it takes up to 10 minutes at times to get another cup.
evajudith