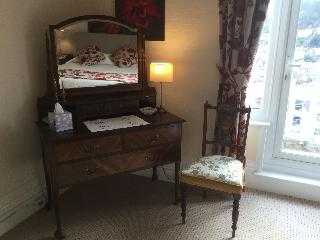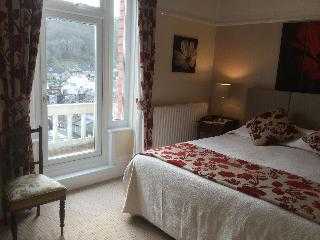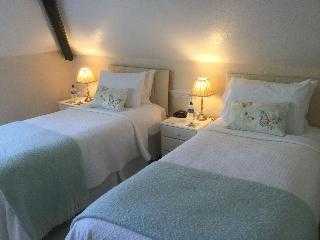 Avaliação TripAdvisor
Baseado em 339 avaliação
Ver todas
Com uma estadia Rockvale House em Lynton, ficará a 5 minutos a pé de Lynton Cinema e de Lynton and Lymouth Cliff Railway. Esta residencial de 4 estrelas está a 13 km (8,1 mi) de Exmoor National Park e a 31,3 km (19,5 mi) de Ilfracombe Harbour. Não perca as várias atividades recreativas e de entretim...
Mais detalhes
Disponibilidade
Selecione a data da sua viagem
Selecione a data da sua viagem para verificar a disponibilidade dos quartos.
Informações do estabelecimento
Com uma estadia Rockvale House em Lynton, ficará a 5 minutos a pé de Lynton Cinema e de Lynton and Lymouth Cliff Railway. Esta residencial de 4 estrelas está a 13 km (8,1 mi) de Exmoor National Park e a 31,3 km (19,5 mi) de Ilfracombe Harbour. Não perca as várias atividades recreativas e de entretimento ao seu dispor, incluindo um campo de ténis exterior. O espaço oferece ainda Wi-Fi grátis. Há estacionamento grátis no local. Para recarregar baterias, dirija-se ao restaurante dRockvale House. Termine o dia com uma bebida refrescante no bar/lounge. Durante a sua estadia, terá direito a pequeno-...
Mais detalhes
Entrada a partir de: 15:00
Saída até: 11:00
Comodidades do estabelecimento
Comida / Bebida
Restaurante
Avaliação dos hóspedes
TripAdvisor
Pontuação dos viajantes
Excelente

307

Muito Bom

29

Bom

3

Razoável

0

Ruim

0
Perfil dos viajantes
Negócios

5

Romântica

121

Viagem a sós

39

Família

75

Viagem com amigos

45
Resumo das pontuações
Atendimento

Custo-benefício

Limpeza

Localização

Qualidade do sono

Quartos
Relax at Rockvale
Avaliou em 16 de setembro de 2021
We enjoyed a very relaxing stay in warm and comfortable Rockvale. Ness & Phill are excellent hosts, very friendly and they quickly make their guests feel at home. The Breakfast Service is attentive and light-hearted, with a wide choice available which is pre-ordered the evening before. The Omelettes and Home-made Muesli are recommended. Our en-suite Room 2 was large, well appointed and very clean, with a fine view across the town to the hills and sea-cliffs beyond. The attention to detail in the room was excellent, with toileteries, tissues & bottled water etc provided and replenished daily if required. Our bed was King-size and very comfortable. A minor issue with our basin plug was speedily rectified by the Maintenance Team (thanks Phil.) As the Autumn weather cooled the heating system was switched On for a short time in the mornings and evenings to provide some background heat. The overnight rain was slow to clear one morning so after breakfast we spent a couple of hours reading and emailing in the light and very comfortable lounge. The Free WiFi was a consistently good speed. Numerous scenic walks are available from the front door and range from easy, surfaced & level to the somewhat more challenging. An important bonus feature is that unlike many local Guest Houses, Rockvale has it's own free Car-Park, so parking is readily available after trips out to Attractions and Restaurants a little further afield. If you prefer not to use the car Rockvale is only a few minutes walk from the Restaurants in the center of town. Rockvale closes for a winter break in mid-October. Unfortunately Evening Meals were not available during our stay, so we booked for Dinner several weeks in advancd at local Inns/Restaurants. Currently, Masks must be worn in the corridors unless you are sat at your breakfast table or in the lounge etc.
Hunter111
high on a hill high in standards
Avaliou em 14 de setembro de 2021
thee best hosts you could hope for,phil & ness have it off to a tee,nothing to much trouble, a wounderful place to stay rooms are of top quality,meals are at a very high standard,hygeine is top quality,we felt safe in all the issue with the virus. its a great place to stay weather you walk,run or drive theres plenty to do. give then a call you will be surprised.
philgH7479IA
Wonderful guesthouse - highly recommend
Avaliou em 5 de setembro de 2021
This guesthouse is a real gem. The owners are brilliant hosts (warm, welcoming, friendly, extremely helpful and kind) - we were warmly welcomed by name and actively encouraged to ring the bell if we ever needed anything. Currently run as a B&B in the absence of staff (website needs adjusting), which is a shame as, based on the breakfasts, the food will be excellent. Delicious full cooked options available with homemade marmalade, granola and bread and GF and vegetarian options. Traditional decor, very comfy beds and spacious bedrooms (ours had a glorious view aross the picturesque town to Exmoor - room 2). We very much hope to return and highly recommend this for a great north Devon base.
Cosmopolitan642683
Superb, relaxing hotel.
Avaliou em 26 de agosto de 2021
Amazing hotel, spotlessly clean rooms. The bed was super comfy. Bar services available. Nothing is too much trouble for the owners Phil and Ness, they will help with any requests. Tasty, filling breakfasts. Superb location, with on-site carpark.
Sue H
A hotel where welcome means welcome!
Avaliou em 17 de agosto de 2021
First of all the town. If you want bustling, busy and noisy then go somewhere else... if you want quiet, quaint, pretty and relaxing, and not the normal seaside town then this is the place. Now you need somewhere to stay and I can 100% recommend the Rockvale. Ness and Phil and first class hosts and cannot do enough to make to make your stay as good as possible. When Ness says 'welcome' she means welcome. Ness and Phil are available 24/7 for any concerns or issue, not that there is any. If can book any room try for room 2. The view is great and the balcony is very welcome on a bright sunny morning. The breakfast is magnificent and their is plenty of choice and the homemade bread is divine. If you want a negative here's one...we only stayed for 7 days!!
Diamondstarhalo1961