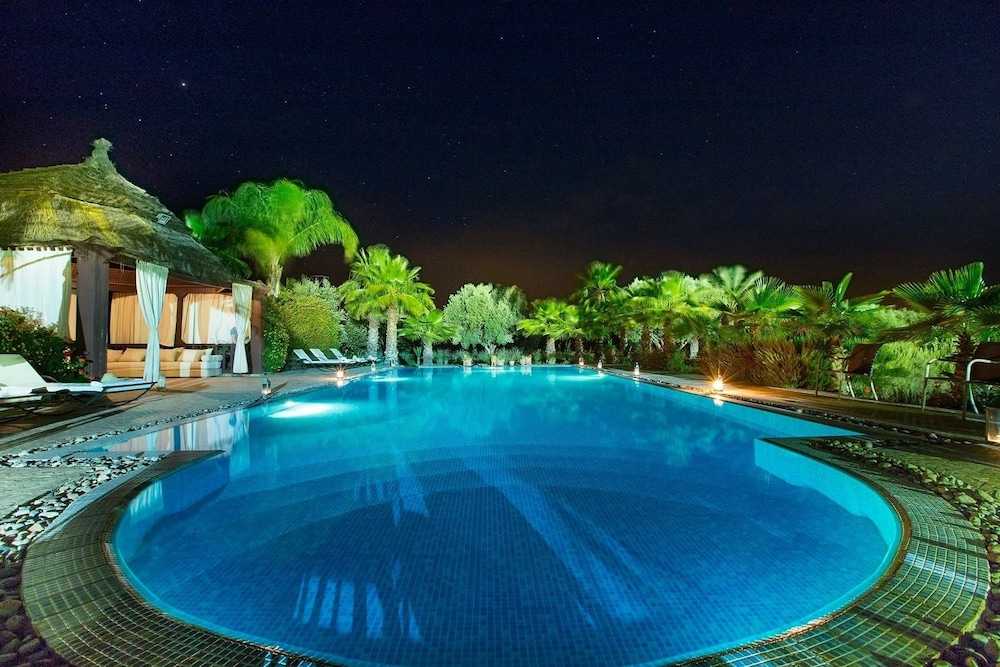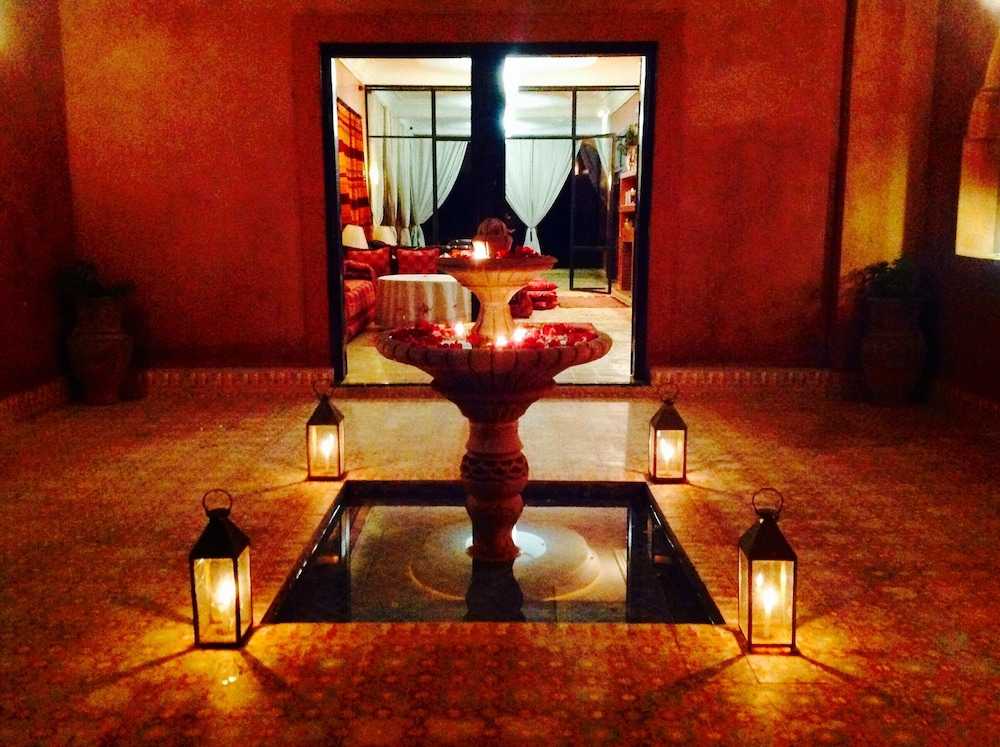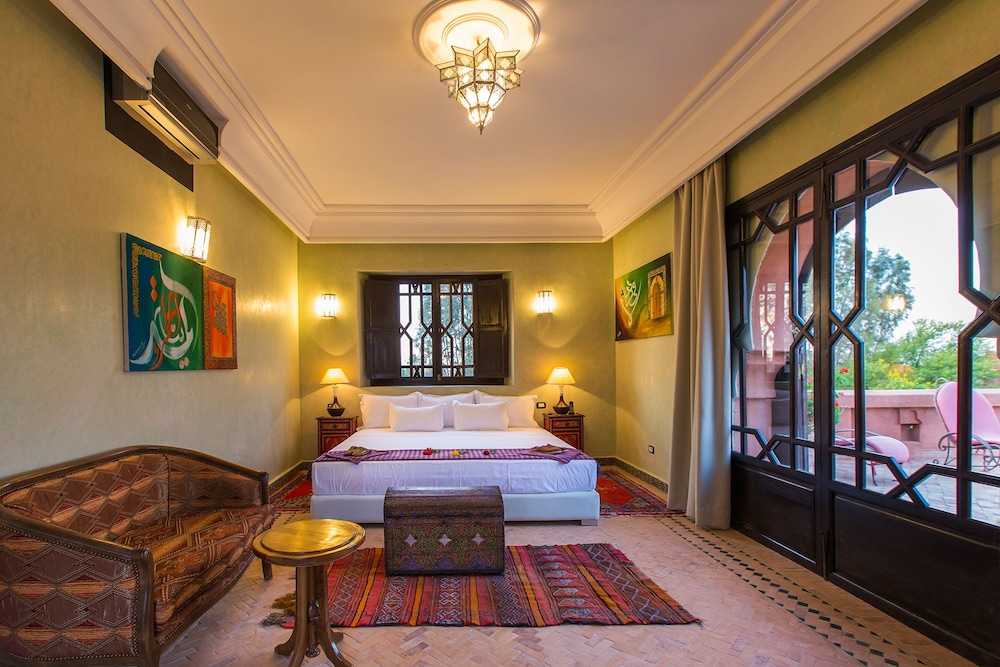 Avaliação TripAdvisor
Baseado em 42 avaliação
Ver todas
Ksar Salha — хороший вариант в городе Тамазузт. Дворец Бахия находится в 21,8 км, а Королевский дворец — в 22,6 км. Этот 4-звездочный гостевой дом — вариант с прекрасным расположением: Сады Агдаль находится в 23,6 км, Авеню Мухаммеда VI — в 27 км от него. Воспользуйтесь разнообразными возможностями ...
Mais detalhes
Disponibilidade
Selecione a data da sua viagem
Selecione a data da sua viagem para verificar a disponibilidade dos quartos.
Informações do estabelecimento
Ksar Salha — хороший вариант в городе Тамазузт. Дворец Бахия находится в 21,8 км, а Королевский дворец — в 22,6 км. Этот 4-звездочный гостевой дом — вариант с прекрасным расположением: Сады Агдаль находится в 23,6 км, Авеню Мухаммеда VI — в 27 км от него. Воспользуйтесь разнообразными возможностями для отдыха и развлечений, такими как открытый бассейн и фитнес-центр. Этот гостевой дом также предоставляет такие услуги и удобства, какбесплатный беспроводной доступ в интернет, услуги консьержа и уход/присмотр за детьми (за дополнительную плату). До близлежащих пунктов назначения гости могут добра...
Mais detalhes
Entrada a partir de: 15:00
Saída até: 11:00
Comodidades do estabelecimento
Piscina e comodidades de bem-estar
Piscina Exterior
Serviços de recepção
Depósito de bagagens
Avaliação dos hóspedes
TripAdvisor
Pontuação dos viajantes
Excelente

38

Muito Bom

3

Bom

0

Razoável

0

Ruim

1
Perfil dos viajantes
Negócios

0

Romântica

17

Viagem a sós

2

Família

15

Viagem com amigos

5
Resumo das pontuações
Atendimento

Custo-benefício

Limpeza

Localização

Qualidade do sono

Quartos
Excellent service
Avaliou em 14 de março de 2021
we stayed at this great place for 2 nights with friends. Chrif & Fatiha are great hosts. Outstanding service, the food is excellent, homemade fresh Moroccan cuisine. beautiful views over the atlas mountains. i highly recommend it.
JawadS22
Oasis outside Marrakesh
Avaliou em 5 de março de 2020
We stayed in this beautiful family run hotel and really enjoyed the tranquillity- the pool is gorgeous and heated, the food was freshly cooked and really delicious , the Madame who ran the hotel hospitable and friendly, the rooms were large, clean and comfortable and the view of the mountains was lovely. there are peacocks, chicks and cats and everything is well cared for If you would like to go on a trip they can organise for you We really recommend a stay here to get away from the hustle and bustle of Marrakesh
Juliet G
Out of this world
Avaliou em 27 de outubro de 2019
We spent the last two days of a week in Marrakech at Ksar Salha, having booked two rooms for our family of 4 We arrived late evening, but the host both greeted us and showed us around the magnificent main house, restored to perfection. The best thing awaited us - after a stroll through the garden on a candle lit path we were led into our own Riad. A fabulous separate building in the garden with an impressive reception, sitting room and two huge bedrooms with 4 posters that easily could sleep 4 each. It was like taken from Arabian Nights. We shared the roof with the 10 or so peacocks and our girls loved the cats & kittens roaming the garden Pool and pool area is superb. The beautiful garden is filled with fruit trees, lots of cosy areas to discover and views to the Atlas Hosts and their staff were fantastic, and we had great meals both at lunch and dinner. It is 1/2 by taxi from Marrakech so can serve as a perfect calm base.
CDJ1
Wonderful hotel!
Avaliou em 21 de setembro de 2019
We've just spent a great relaxing week here. Hotel is lovely and set in a beautiful garden. Owner and staff really looked after us and nothing was too much trouble. Loved the pool also. We ate at the hotel every night and were treated to delicious and really varied Moroccan food. Highly recommended peaceful place to escape the hustle and bustle.
E7216FPchrist
Magestueux, féerique. THE place to be.
Avaliou em 16 de agosto de 2019
We spent a week at Ksar Salha and it was magic. Very big room with a real king size bed (over comfy), the decoration of the place in a traditional moroccan way makes it more romantic and peaceful. It was unbelievable how the food was delicious. I would like to thank Mrs Fatiha and her husband for how sweet and attentionate they are (they pay attention to every single detail and are ready to help with anything needed). I have been impressionate by their way to manage the place and how much passion they share. Thanks for helping us to get some rest from our stressful life. We'll be back soon. We over recommend Ksar Salha! - Big up pour la bonne cuisine super bonne et délicieuse (chaque jour un repas différent et tout aussi succulent) - La propreté et l'hygiène au top - L'endroit est géré par des personnes très professionnelles et passionnées par ce qu'elles font. C'est ce qui rend votre séjour chez eux encore plus magique. J'y retournerai à chaque fois que le tumulte de la ville se fera sentir. Je recommande sans hésitation. Merci pour tout.
luuucynouss