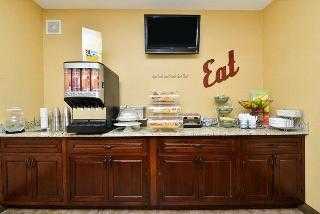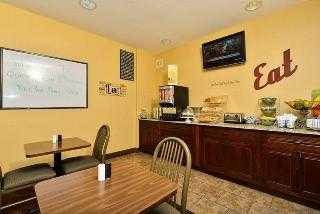 Avaliação TripAdvisor
Baseado em 59 avaliação
Ver todas
Este encantador hotel está situado em Airport. Estão disponíveis 60 quartosde hóspedes para conveniência dos hóspedes. Não são permitidos animais de estimação no Quality Inn & Suites.
Mais detalhes
Disponibilidade
Selecione a data da sua viagem
Selecione a data da sua viagem para verificar a disponibilidade dos quartos.
Informações do estabelecimento
Este encantador hotel está situado em Airport. Estão disponíveis 60 quartosde hóspedes para conveniência dos hóspedes. Não são permitidos animais de estimação no Quality Inn & Suites.
Entrada a partir de: 15:00
Saída até: 11:00
Comodidades do estabelecimento
Piscina e comodidades de bem-estar
Piscina
Avaliação dos hóspedes
TripAdvisor
Pontuação dos viajantes
Excelente

23

Muito Bom

19

Bom

11

Razoável

5

Ruim

1
Perfil dos viajantes
Negócios

19

Romântica

14

Viagem a sós

5

Família

13

Viagem com amigos

3
Resumo das pontuações
Atendimento

Custo-benefício

Limpeza

Localização

Qualidade do sono

Quartos
Icky and Worn Out
Avaliou em 19 de agosto de 2021
I did not have a good experience at this hotel but I did contact the manager after returning home and received a quick apology and assurance that some of the issues I mentioned would be addressed. The security lock on the room we were given was torn off so we were given another room, but that security lock was barely screwed into the door frame. The window between the bathroom and sitting area is strange and that entire window frame needed to be cleaned. The pool area was really dirty and the entire property was run down. The front desk staff and manager were all helpful and appreciative of the feedback. I wasn't expecting a luxury stay, but I do expect cleanliness and safety. Kudos to the manager for her response.
storilearns
Good Place to Stay
Avaliou em 21 de abril de 2021
Staff is very helpful and friendly. Rooms are clean as are the public areas. Breakfast is included, but it is continental. Currently no hot items available. The building is older but well maintained. I had a small problem and staff worked hard to correct it. They offered two options when they couldn't fix the problem which were both satisfactory. My hotel of choice when in Mason City.
doncM5153EG
Absolutely excellent service
Avaliou em 15 de dezembro de 2020
We would recommend this hotel to anyone based on how we were treated by management! They go above and beyond to keep their customers happy. We will definitely be using them again when we have visitors from out if town.
J7406VRjims
Excellent place to stay for price
Avaliou em 19 de janeiro de 2020
Very clean, comfortable beds, staff was friendly. Close to shopping, food and things to do in Mason City, Iowa. If going for Surf Ballroom, it is only 9 miles away. Breakfast is light but decent. Nice size bathrooms and updated
DubuqueJodi
Don't stay there with a group
Avaliou em 21 de novembro de 2019
The hotel was fine and met our needs for the price, however, we booked a group block for our hockey team and the people working at the front desk while we were there wanted nothing to do with us. They were rude from the moment we tried to check in. They spoke down to everyone and when people showed up just 1 hour before check in they refused to even attempt to check them in early. Then we were yelled at and threatened most of the evening. The rooms were basic but fine. Amenities were equivalent to your normal Quality Inns. Ceiling in the bathroom looked like it should be fixed as it was stained and sagging a bit. The rooms were pretty quiet. Breakfast was okay and they kept up with our group which was great. I do have a child with celiac and although he had options with eggs and yogurt, there are so many cereals that are GF and just changing out one of those would help tremendously with options. Cocoa Krispies, all Chex cereals but wheat, most cheerios, etc. I always like to point out that this one small change isn't even noticeable to those that are not GF but helps out so much to those that are. Overall it was okay and if it was just my family things would have been fine but frustrating to have booked a group block there and then be treated so badly.
lacey516