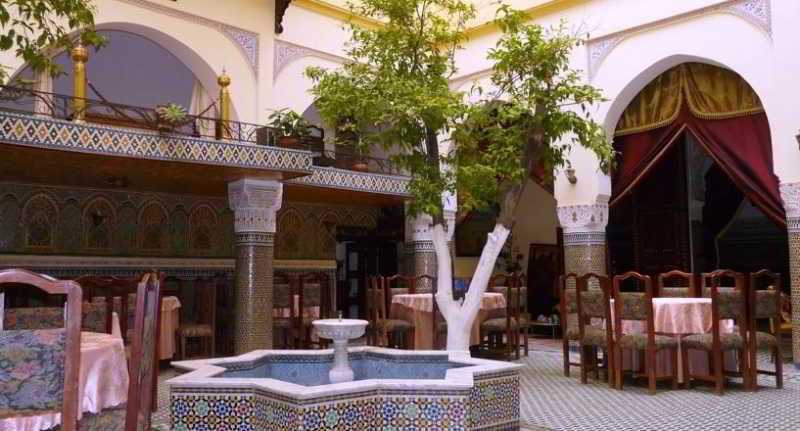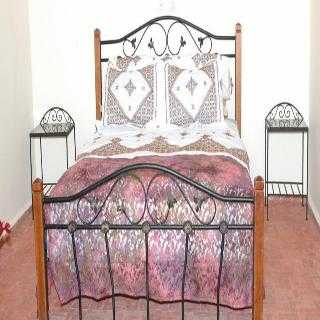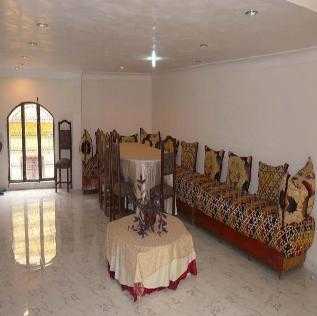 Avaliação TripAdvisor
Baseado em 5 avaliação
Ver todas
Este encantador hotel, pode encontrar-se em Meknes. Com um pequeno número de apenas 5 quartos, este alojamento é muito conveniente para uma estadia tranquila. Estão disponíveis nas áreas públicas ligações à internet por cabo e sem fios. Além disso, as instalações fornecem um serviço de receção duran...
Mais detalhes
Disponibilidade
Selecione a data da sua viagem
Selecione a data da sua viagem para verificar a disponibilidade dos quartos.
Informações do estabelecimento
Este encantador hotel, pode encontrar-se em Meknes. Com um pequeno número de apenas 5 quartos, este alojamento é muito conveniente para uma estadia tranquila. Estão disponíveis nas áreas públicas ligações à internet por cabo e sem fios. Além disso, as instalações fornecem um serviço de receção durante todo o dia. O Ines Palace não é um estabelecimento que aceite animais. Aqueles que ficam neste estabelecimento podem desfrutar de deliciosas opções de refeição oferecidas em ambientes agradáveis. Os hóspedes não necessitam de deixar as instalações para disfrutar de uma deliciosa refeição, uma vez...
Mais detalhes
Entrada a partir de: 15:00
Saída até: 11:00
Comodidades do estabelecimento
Avaliação dos hóspedes
TripAdvisor
Pontuação dos viajantes
Excelente

2

Muito Bom

2

Bom

0

Razoável

1

Ruim

0
Perfil dos viajantes
Negócios

1

Romântica

2

Viagem a sós

1

Família

0

Viagem com amigos

1
Resumo das pontuações
Atendimento

Custo-benefício

Limpeza

Localização

Qualidade do sono

Quartos
Good, mid-range Riad
Avaliou em 22 de agosto de 2011
The Riad is right in the medina, so it's very hard to find. Fortunately, the locals are friendly and helpful although in Meknes not a lot of English is spoken. We stayed 4 nights to give us a chance to explore Meknes - not many tourists visit as Fes is only an hour or so away. It was great to have a hassle-free time compared with Marrakech and to a lesser extent, Fes. The Riad is quite nice - big internal courtyard with fountain and beautifully hand crafted tiled floors and walls. Food is traditional and excellent, so take an evening meal or lunch there. Breakfasts are big but mainly piles of different sorts of bread and jam - thats' Morocco! Now to the quirky stuff. The owner is a highly excitable (to say the least) mature-aged French woman who speaks no English whatsoever, and our French is very basic high school stuff. But she has a heart of gold. When we arrived, completely exhausted, hungry and drenched in perspiration from the heat she raced around like a whirling dervish and within minutes had produced ice-cold water and whipped up several plates of different traditional fresh Moroccan salads - delicious. There are perhaps 4 or 5 rooms in the riad for guests plus two on the roof. We were ensconced in a roof room. These are definitely bizarre. They are like two small brick sheds, each consisting of a bedroom and a small bathroom with terracota internal walls. It was like showering in an earthern-ware flower pot! However, the bed was comfy, the room decorated in Moroccan style, the air con worked, water was hot, and satellite TV with a couple of English channels helped keep up with world news. We had our laundry washed and ironed (a luxury for us) in-house at a modest price. In fact, the owner set up the ironing board and ironed our clothes in the dining room whilst trying to converse with us in French at full-speed as we were having lunch one day! Actually, it was a good experience and being in the medina it's easy to walk to the main square, souks, museums and historic sites. Beware of the medina, it's not that large but we were constantly lost and walked for miles. No worries, you just head for the edge and get a taxi back.
DavidfromOz
Quiet comfortable stay
Avaliou em 2 de maio de 2011
The Riad gives a very grand impression with a huge restaruant dining room (which we did not have time to try) but the individual rooms are cosy and comfortably fitted out. We stopped here after a 3 day mountain trek so it was a welcome bed with helpful staff and nice hot shower! It was very quiet - maybe not the place to come to party but it was just the peace and quiet we were after. In a great location for taxis/grand taxis and the main medina and very easy to get to the main station for Fes etc. The only down side was the lack of a door on the bathroom which made things a little familiar!
Evansesat28
Nice but with some little discomforts
Avaliou em 31 de janeiro de 2011
The place is nice and well positioned. The room was very nice, but there have been some problems with the electricity in our rooms and we have been left without knowing anything for a long time. At the end, we had no discount. The restaurant is ok, but it's too cold. This is probably because the riad has recently opened.
ali_gatto
Pleasantly surprised!
Avaliou em 9 de novembro de 2010
I spent a week at Riad Ines-Palace in October 2010 and was more than happy with my stay there. The room was clean, the bed was comfortable, the surroundings were relaxing and best of all, the food was delicious. I was made to feel very welcome by the manager Aisha and her staff who were all very friendly & helpful, despite my lack of French! The design and decor of Ines-Palace is traditional & authentic Moroccan. To be honest, I usually stay in hotels but found the ambience of this Riad, with its intricate mosaic tiles, pillars, apricot trees, grand doors and rustic style, to be calming & peaceful. Furthermore, the food was actually better at here than any of the other restaurants I tried in Meknes! All-in-all I would be happy to recommend Ines-Palace to other travellers.
NRaja_8
Eccellente riad comodo
Avaliou em 9 de maio de 2015
Siamo rimasti qui 5 notti x la fiera Siam. Camere pulite e confortevoli con un tocco di charme. Signora molto cortese e ottima cuoca! Comodo alla strada principale anche se nella vecchia medina. Portate contante o assegni, non accetta carte.
damilanogroup