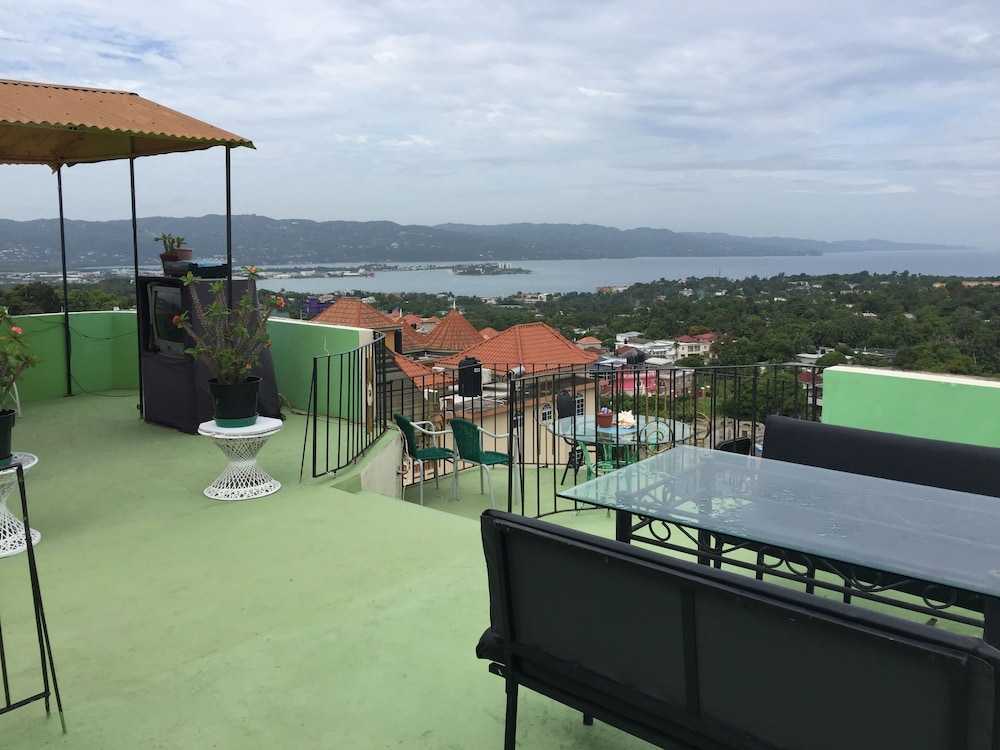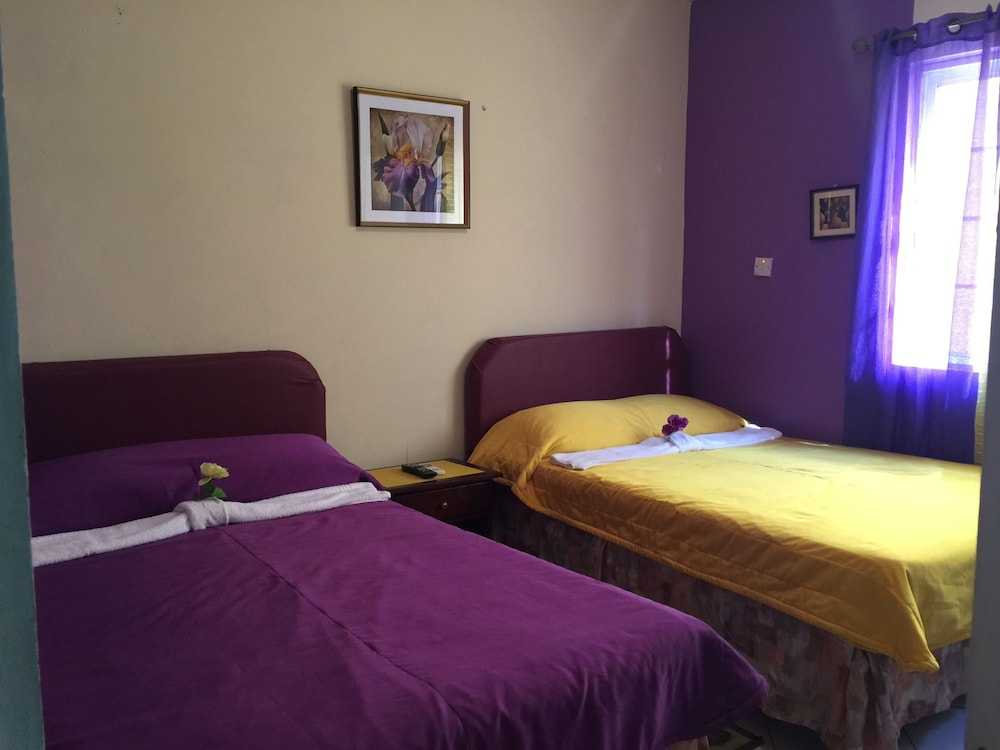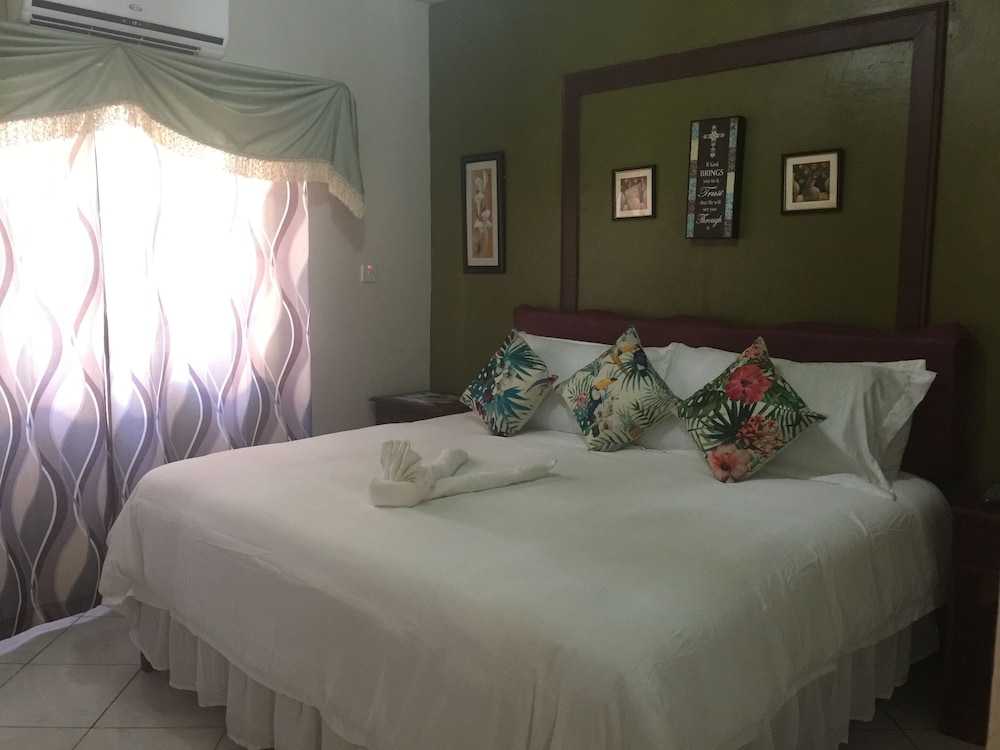 Avaliação TripAdvisor
Baseado em 8 avaliação
Ver todas
Localização Do Estabelecimento Em Montego Bay (Mango Walk), Villa Casa De Fe ficará a 5 minutos de carro de Praia e Parque de Eventos Dump-Up e de Mercado de Artesanato de Harbour Street. Esta villa para famílias está a 2,6 km (1,6 mi) de Sam Sharpe Square e a 2,8 km (1,8 mi) de Saint James Parish C...
Mais detalhes
Disponibilidade
Selecione a data da sua viagem
Selecione a data da sua viagem para verificar a disponibilidade dos quartos.
Informações do estabelecimento
Localização Do Estabelecimento
Em Montego Bay (Mango Walk), Villa Casa De Fe ficará a 5 minutos de carro de Praia e Parque de Eventos Dump-Up e de Mercado de Artesanato de Harbour Street. Esta villa para famílias está a 2,6 km (1,6 mi) de Sam Sharpe Square e a 2,8 km (1,8 mi) de Saint James Parish Church. As distâncias são apresentadas à 0,1 milha e ao quilómetro mais próximo.
- Fort Montego - 2,5 km/1,5 mi
- Mercado de Artesanato de Fort Montego - 2,5 km/1,5 mi
- AquaSol Theme Park - 2,6 km/1,6 mi
- Sam Sharpe Square - 2,6 km/1,6 mi
- Walter Fletcher Beach - 2,...
Mais detalhes
Entrada a partir de: 15:00
Saída até: 11:00
Comodidades do estabelecimento
Comida / Bebida
Restaurante
Serviços de recepção
Depósito de bagagens
Avaliação dos hóspedes
TripAdvisor
Pontuação dos viajantes
Excelente

1

Muito Bom

2

Bom

0

Razoável

1

Ruim

4
Perfil dos viajantes
Negócios

0

Romântica

0

Viagem a sós

2

Família

4

Viagem com amigos

1
Resumo das pontuações
Atendimento

Custo-benefício

Limpeza

Localização

Quartos
Sketchy Hostel
Avaliou em 7 de agosto de 2018
To start, let me clarify our group of 10 knew this place was considered a 3-star "hotel" when we booked our reservation. $70US seems like a steal and the pictures look decent so why not, right? Wrong!!! We wanted a real-life jamaican experience but this was too real. Not worth the headache. You are better off staying at a no-name Motel by the beach. The cons are real long so brace yourself. Cons: 1. Location: Driving through the neighborhood will make you uneasy because it's "under development." Half those houses probably haven't been worked on in years and a bad area is literally around the corner so don't even think about nice walks outside. 2. Accomodations: Wi-fi is offered but its unreliable. Due to the stone walls, you can't access the wifi in your room. Kitchen was dirty 80% of the time. Floor tiles are actually the same tiles used on the walls and in the showers so they're really slippery which is very dangerous but the way this country is set up you can't sue so you might just want to stay away. Furniture look like some kids put it together in wood shop class. Don't touch anything made out of wood. Getting clean towels after day 4 was a miracle. Never got hot water. The jacuzzi is a cesspool. It does not get cleaned. Water pressure was never enough to take a shower. If you stay here you should go to the beach daily so you could get a proper shower or enjoy bird baths for the length of your stay. Free Breakfast was nonexistent. Hopefully you are good with coffee and occasional piece of toast. Coffee was my breakfast a few days. Don't mind the menus. They're just for decoration. They do not have any of the food onsite. You can order if you just want to experience service at a Jamaican restaurant. Gate is locked at night so if one of the slaves... I mean servants... are not awake after working 23 hours straight be prepared to hang outside for a minute. You can never really tell who is a guest staying there also, friend of someone living there or working there. Too much unknown traffic. "Villa" has 20 rooms. They barely fit 2 people comfortably but they're sticking 4 people in them. We didn't have 4 people in a room but apparently rooms with 2 medium sized beds sleeps 4. (The bed isn't a queen or a full-size) Transportation was a rip-off. Its a 5-10 min drive to the beach/hip strip. Our host charged us $10US pp roundtrip. Local taxis charged $260 -$400 jamaican dollars which is equivalent to $2.60 to $4.00 pp roundtrip. 3. Host Greedy; they pay the help around $40,000/mo. Jamaican dollars but they work from sun up to sun down ($300 to $400 us dollars) Unprofessional; asked us to change rooms to accommodate other guests. Lazy Dishonest Treat you like family until they can't get over on you anymore. Pros: 1. You are in Jamaica 2. You are close to the beach, airport, and hangout spots 3. AC units in the room work great 4. Rooftop is a cool hangout 5. Again, you are in Jamaica If you're frugal or just plain stubborn like me you may read some bad reviews and ignore them because you want to spend your money on excursions and souvenirs. It's not worth it. Take your chances elsewhere
s4rest1
Selling a dream but knowingly delivering a nightmare!
Avaliou em 25 de julho de 2018
Do not be fooled by the pictures & (likely fake) positive reviews. This place looks great from the outside, but the inside is a complete mess. We booked this place as a family group on Airbnb expecting that we were renting a villa (or part of a villa) suitable for large groups. We soon discovered that what they are providing is less than a substandard hostel. Breakfast was not provided as advertised. On the first day we were offered eggs and toast. One other day there was a bag of cornflakes and milk left out in the kitchen. All of the furniture is worn/ torn or rusting. Fixtures have been hurriedly and sloppily assembled. The place is littered with old/ broken TVs and furniture which is no longer of use but has yet to be thrown out. At first we wondered why they aren't renovating/ maintaining the place. However as our stay progressed it became very apparent that the owners have no concern for their patrons. Their only interest is collecting peoples money. At one point some of our party were told a mistake had been made and they needed to move to smaller rooms to accommodate patrons who were yet to arrive at the property. When we refused to move. The "friendly family welcome" we'd previously received quickly changed and the owners became quite hostile. While the room prices may seem "reasonable" the owners ensure to recoup their money by fleecing patrons via the exorbitant taxi rates they charge. On our first day at the property we racked up a $300 taxi fare ($30 x10 persons). We later came to understand that we could have done the same journey in local taxis for around $30 for all of us as we did not go further than 15 mins from the property. Of course there was no no information regarding taxis/ restaurants or the local area provided by the owners. Their aim is to keep patrons dependent on them so they can take full advantage. Staff we encountered (outside of management) were friendly and keen to help (if they could) - again it seems management only informed staff of what they "needed" to know. When asked for something so small as for more toilet paper for the room they had to go to the owners room to get this. 
PROS:
The Ac works Excellent location. Close to the city centre and local beaches. Local taxis will take you for about $1-2 pp. Rooms/ bathrooms were clean. We found the beds comfortable enough 

CONS: Poor plumbing system: low water pressure or no water at all. We were a group of 10 & we soon found that showers had to be staggered. This became impossible by the weekend when more guests arrived. No hot water. At first we accepted this as part and parcel of being in a developing country. However, the day other guests arrived. We realised that hot water was available to some rooms. But we had to demand it every time we wanted to shower. Lenroy (owner) would then send the security guard/maintenance guy to do some maneuver which then tripped the electric for the majority of the main building plunging the place into darkness. Flushing the toilet was a lottery. Sometimes it flushed; sometimes not. Sometimes it seemed like it didn't flush but when you went back some time later it had flushed. This became worse the more people who arrived to stay at the property. The stairs on the inside are completely unsafe! Handrails/banisters were not secure. We also noted they seemed to have used wall tiles instead of floor tiles on the stairs to the terrace meaning these were very slippery! Property infested with cockroaches and ants. Probably largely due to poor workmanship enabling holes all over the building! Fridge,microwave, oven filthy and broken; patched up with tape! If you are still considering giving this place a chance just do a quick google search and you will see multiple negative reviews on multiple sites for this same accommodation. Most of them rating it as terrible and complain about the same things mentioned above. Whenever issues were mentioned to management the response was more often than not "it is what it is". Lenroy and Phiona know what they are doing. Since our stay I've seen so many reviews dating back up to 3 years on different sites complaining about the same things. But it seems like when one listing gets too many bad reviews they just close it down and set up another one.
AliciaO170
What a nightmate
Avaliou em 9 de julho de 2017
When I read the positive reviews about this place, I have to think they have it confused with another place. I arrived in Jamaica early and assumed I could store my bags while I explored the town or picked up a tour until the 3:00 check in time. I wasn't expecting a room to be ready. The place is about a mile from the airport but I couldn't find anyone who recognized the address or heard of Villa Casa De Fe.. Fortunately, airport personnel located the hotel online and called them. By the way, my international number was useless in locating them. They said they would send their driver. I waited over a half hour and finally someone arrived to puck me up. The "free" shuttle to the hotel isn't free until check in time. At first they wanted $20 for the five minute ride but then agreed to $15. When I got to the hotel I realized I was not near anything. I was in an old, rundown neighborhood and when I asked if I could walk anywhere I was told it wasn't safe. But for another $20 a driver could give me a tour. I read a review that said there was a casino at this location. Again, I don't know where they were but not only does this house not contain a casino, it doesn't have a restaurant or any of the other normal amenities of normal lodging. I was told that they could order me some food and have it delivered. But there was no menu or restaurant name to choose from. A kitchen and large table were on the main level but the kitchen was filthy and overflowing with dirty dishes. It was obvious I was stranded and it was going to cost me a cab ride to go anywhere. I was told that a driver would be coming around in a couple of hours for a free tour of the area. Otherwise I had to take a regular cab for another $20. There was also a problem with Expedia charging me in advance for 50% of the room. It was all supposed to be paid by me to the hotel. That's the second time Expedia has done that to me. I won't be using them again. While I was waiting for that to get straightened out, I was sitting in the lobby and realized by feet were getting bitten. I moved to the small patio on that floor and the same thing was happening. I noticed all these little knats all around my feet. I knew I had to find another hotel. I got online and found a hotel in town and asked to have a cab come and pick me up and take me there. The cab took over 30 minutes to arrive. Then the girl who checked me in got in the cab with me. I explained to her I wasn't coming back but the whole way she kept trying to convince me to keep my reservation with them. I explained to her that I wanted the convenience of going to a restaurant, the beach and shop without having to wait for and pay for a cab every time. She just didn't get it. She actually walked me up to the new hotel. It was the weirdest, most uncomfortable, most unusual experience ever. The view that people have written about is not worth the hassle. You have to climb up to the roof on very narrow stairs. The furniture up there is old and dirty. There is a hot tub on the roof that was not working, although the top was off and it was filthy. As far as the management being nice, I never met them. I only met and dealt with the one young girl who checked me in. She did call the owner about the cost of the cab rides however. She put me on the phone with I presume the woman who owns the house. I noticed the price of these rooms has dropped quite a bit. If it was free, it still wouldn't be worth it. There are zero amenities at this location, a shady, isolated neighborhood that costs a fortune in cab rides to go to and from and it definitely has bugs, at least in the lobby. I never used the room so I can't say there were bugs in there. I did look at it though. It did have a refrigerator in it but it wasn't very cold. The air was on when I got there but then shut off. The shower wasn't in good condition. There were some old wire hangers in the closet. Honestly, it's not worth it. There are many real hotels to choose from in town and lots of nice resorts on the beach if you're looking to just kick back and relax. Save yourself the time and headache and spend the money for one of those.
kktaz
Convenient
Avaliou em 22 de fevereiro de 2017
A great place where family can come together. The service is good and the staff friendly and keen to assist with anything. The place is beautiful and well secured, with gorgeous hillside and coastal views.
Nallalee
Great place to stay
Avaliou em 17 de fevereiro de 2017
This is an amazing place to stay! It's close to the Montego Bay beach and the taxi is $1.00 to get there. Make sure one of the workers come with you to the taxi so the taxi doesn't try to lie to you to get more money! These people are so kind and caring and it's great place to stay:) definitely going to come here again!!
Leanna C