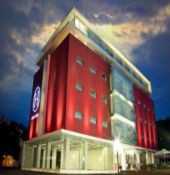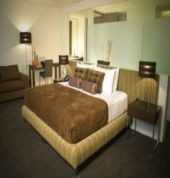 Avaliação TripAdvisor
Baseado em 437 avaliação
Ver todas
Localização Do Estabelecimento Uma estadia Gamma Morelia Beló coloca-o no coração de Morelia, a 5 minutos de carro de Palácio da Arte e de Centro de Congressos de Morelia. Este hotel está a 1 km (0,6 mi) de Espacio Las Américas e a 2,8 km (1,7 mi) de Francisco Villa Baseball Stadium. As distâncias...
Mais detalhes
Disponibilidade
Selecione a data da sua viagem
Selecione a data da sua viagem para verificar a disponibilidade dos quartos.
Informações do estabelecimento
Localização Do Estabelecimento
Uma estadia Gamma Morelia Beló coloca-o no coração de Morelia, a 5 minutos de carro de Palácio da Arte e de Centro de Congressos de Morelia. Este hotel está a 1 km (0,6 mi) de Espacio Las Américas e a 2,8 km (1,7 mi) de Francisco Villa Baseball Stadium. As distâncias são apresentadas à 0,1 milha e ao quilómetro mais próximo.
- Palácio da Arte - 1,6 km/1 mi
- Espacio Las Américas - 1,9 km/1,2 mi
- Francisco Villa Baseball Stadium - 2,3 km/1,4 mi
- Centro de Congressos de Morelia - 2,3 km/1,4 mi
- José María Morelos Theater - 2,6 km/...
Mais detalhes
Entrada a partir de: 15:00
Saída até: 11:00
Comodidades do estabelecimento
Avaliação dos hóspedes
TripAdvisor
Pontuação dos viajantes
Excelente

207

Muito Bom

129

Bom

58

Razoável

19

Ruim

24
Perfil dos viajantes
Negócios

214

Romântica

73

Viagem a sós

12

Família

107

Viagem com amigos

17
Resumo das pontuações
Atendimento

Custo-benefício

Limpeza

Localização

Qualidade do sono

Quartos
With exception of hot water issue, would have been a good stay
Avaliou em 17 de janeiro de 2021
We checked in for two nights but upon returning to the hotel the first night after dinner we were informed that the boiler has "exploded" so there would be no hot water. The next morning we asked if the water was or would be repaired and were told no, but we could move to a sister property further away. We declined and moved to another hotel. The facility otherwise was clean, pleasing to the eye and the staff friendly. We slept well the night we were there.
Bland H
Cute Boutique Hotel
Avaliou em 31 de dezembro de 2019
Very cute hotel located in a ritzy part of Morelia. Close to restaurants and other food places. Service is really good, great breakfast buffet. Rooms can use a little bit of carpet cleaning, but otherwise a very nice place to stay. Riding my
bobby985
Location, quiet and clean.
Avaliou em 20 de março de 2019
A great hotel with excellent personnel (yes, amazingly everyone there was friendly and helpful), great location and a very clean room every single morning. Room service was fast and reliable. The food is pretty good, the variety is good to satisfy anyone.
Pioneer65730971548
Many things need improvement
Avaliou em 2 de janeiro de 2019
We stayed here for two nights in December 2018 - two adults and two teenage daughters in a room with two beds. Other family members travelled with us and stayed in another room. The hotel building is modern and the room itself was clean and well maintained. The hotel is located on the outskirts of town, about a five- to ten-minute drive to the historic centre. Around the hotel there are plenty of shops and restaurants. Although our room on the second floor was facing the street (one of Morelia's main avenues), we heard no noise when the window was closed. There are many things that the hotel management can do to lift this hotel's ranking. 1. The hotel is not easily to find from the street. There is a sign on the top of the building, which is ok if you're arriving by helicopter, but there is no signage at street level with the name of the hotel. This is quite strange. Look for the 'Bife 140' sign (Bife 140 is the Argentinian restaurant at the hotel). 2. When we arrived at 2:30pm, our two rooms were not ready - fair enough given that the official check-in time was 3:00pm. One room became available at 3:00pm, while the other members of our group had to wait until 3:30pm for their room. That is not good enough. Also, the staff at the reception did not bother to ask us to do the paperwork while waiting, to speed things up, until we suggested. 3. The reception area, which also serves as the breakfast area, was cold on a winter morning. It was a bit off-putting to see the reception staff and one of the women serving at the restaurant wearing thick coats and a scarf. Can't they afford heating or an electric door instead of leaving the front door open? We did not eat breakfast at the hotel for that reason, ie too cold. 4. The room had a smart TV that had Netflix, Youtube, Spotify etc. When we first tried it, we could not get Netflix to work. We asked and apparently you have to first connect the TV to the Internet, but there were absolutely no instructions in the room about how to do that. On the second night we connected but then we couldn't get Netflix etc. They told us that their wireless Internet was overloaded and that there would be no Netflix for the rest of the evening. 5. The wifi in our room (for our devices) worked brilliantly if we were lying on the bed, but on the other side of the room it was extremely slow. Therefore, I would not rate the wifi highly. 6. For four of us (and they knew that there were four guests in the room), we were given two towels only. 7. One morning we woke to find our two cars blocked in the carpark by two other cars. Fortunately the hotel staff had the keys for one car and were able to move it but then they had to go and find the owner of the other car to get that moved. Luckily we were not in a hurry. They should manage the carpark more carefully. 8. The safe was big enough for an iPad etc but not for a laptop. 9. In the reception area there is a table with a vat of hot tea, which was actually hot punch. I looked inside it one morning and the fruit was there but no punch (liquid). How difficult is it to keep the vat full? It was right beside the breakfast area, which is right beside the kitchen. All these little things combined just left a bad impression. Fortunately, most of these things should be easy to fix.
KiwiViajero
Modern hotel, small rooms
Avaliou em 23 de agosto de 2018
The Gamma is located in a busy and modern part of Morelia. The modern vibe is nice, and the rooms are clean and comfortable, if maybe a bit small, especially the bathrooms. The beds are nice and comfortable.
johntpt