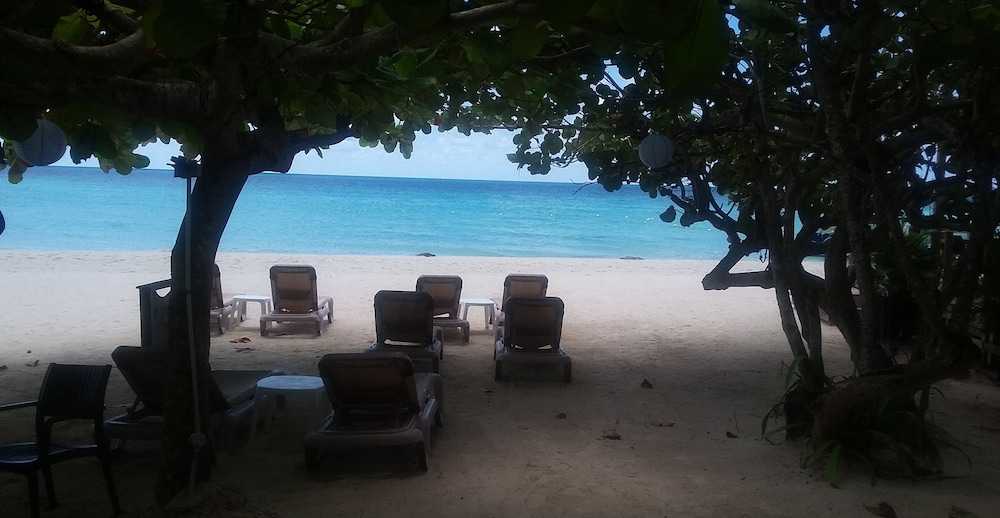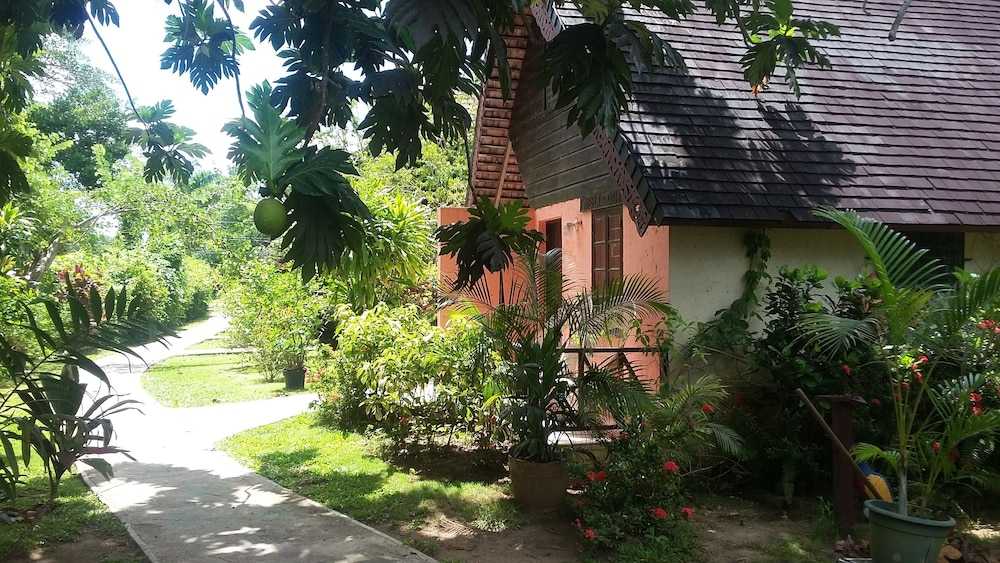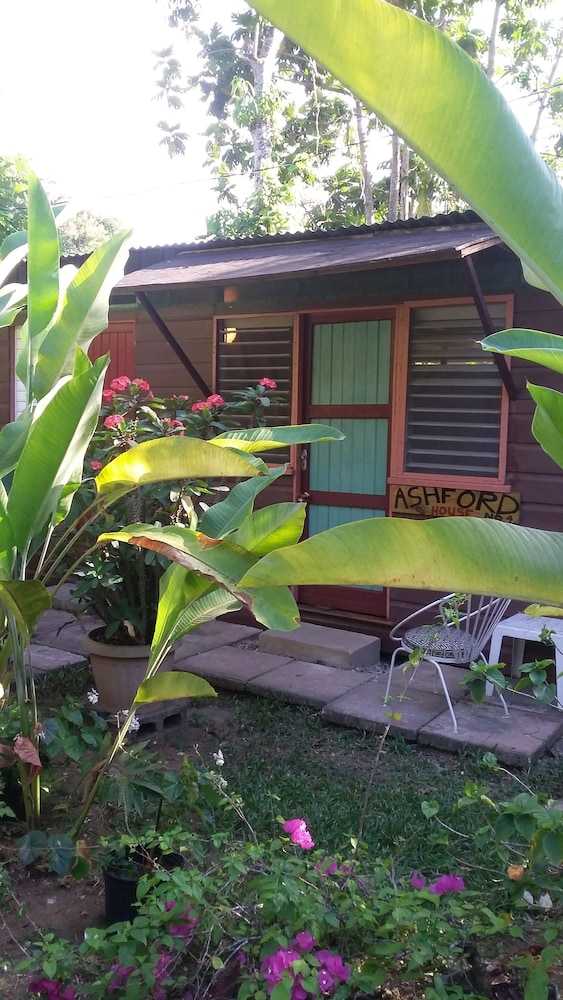 Avaliação TripAdvisor
Baseado em 302 avaliação
Ver todas
O hotel localiza-se mesmo na melhor e mais central parte da praia de Negril. Fica a 3 km do centro de Negril e dos seus supermercados. As lojas de artesanato e souvenirs situam-se respetivamente a 400 e 1.500 m. Existem também inúmeros restaurantes e bares com bom ambiente ao longo da praia, a 100-1...
Mais detalhes
Disponibilidade
Selecione a data da sua viagem
Selecione a data da sua viagem para verificar a disponibilidade dos quartos.
Informações do estabelecimento
O hotel localiza-se mesmo na melhor e mais central parte da praia de Negril. Fica a 3 km do centro de Negril e dos seus supermercados. As lojas de artesanato e souvenirs situam-se respetivamente a 400 e 1.500 m. Existem também inúmeros restaurantes e bares com bom ambiente ao longo da praia, a 100-1.500 m do hotel. O entretenimento musical começa a 200 m, a 500 m haverá música jazz e folk e a 1500 m poderá ouvir-se reggae e música moderna. O aeroporto de Negril encontra-se a cerca de 3 km, o aeroporto de Tinson a cerca de 5 km, o aeroporto de Montego Bay a 50 km e o aeroporto Ocho Rios a aprox...
Mais detalhes
Entrada a partir de: 15:00
Saída até: 11:00
Comodidades do estabelecimento
Comida / Bebida
Restaurante
Avaliação dos hóspedes
TripAdvisor
Pontuação dos viajantes
Excelente

156

Muito Bom

93

Bom

25

Razoável

10

Ruim

18
Perfil dos viajantes
Negócios

1

Romântica

118

Viagem a sós

43

Família

59

Viagem com amigos

33
Resumo das pontuações
Atendimento

Custo-benefício

Limpeza

Localização

Qualidade do sono

Quartos
Hidden gem, beautiful, quiet
Avaliou em 29 de setembro de 2021
This place…. Was amazing! The room was clean, property was very beautiful, well kept, and quiet. Reasonably priced! That's what we were looking for. We wanted to not be on a resort but yet experience the culture and Jamaica. My girlfriend and I went for 3 days at this location. We also stayed at Catcha falling star which was amazing too. We wanted to stay away from the party scene. The beach was so clean and beautiful. Small but nice. The locals were a bit much sometimes when trying to just enjoy ourselves at the beach. But a simple no thanks works great with them. We never felt unsafe or needing to hawk our items on the beach while swimming. The room was very nice as well as mentioned. The balcony was large and comfortable. Faced the ocean. An amazing view. We had a/c, small fridge. Little island area to eat and things. Bathroom clean. Lots of stairs tho up to the room, we stayed in the hummingbird suite. Be prepared for that! Otherwise very secure property. Small very small area to park when entering the property but everyone was so nice and helpful. The restaurant was quite and nice. It faced the ocean. Drinks are a bit pricey. So we ventured down the beach most the time and go stronger and cheaper. But we weren't looking to do much of that anyhow. All in all Good coulda been a little better IMO, but not bad. Coffee was touch and go. We def will be back!
travlbeauty34
Firefly lost its novelty
Avaliou em 27 de maio de 2021
My girlfriend booked this place about 10 years ago and we enjoyed it tremendously. Frankly, the biggest draw was the great beach with lots of activity, yet you could find a corner near the trees to lose the suit and the tan lines. Many of the reviews talk about a family resort but I never would have considered this place a family destination. No real activity for kids and lack of outlets, television for evenings, and location made it more of a grown-up enclave. I am not a big fan of the hedonistic lifestyle offered farther down the beach, therefore this was an oasis on 7-mile beach. We would go back if the clothing-optional beach option came back and would likely make this an annual trip. For now, we will just hope for the best!
K8390KOpaulo
Firefly NEVER Disappoints!!!
Avaliou em 26 de janeiro de 2021
As long time travelers to Jamaica/Negril we have found many nice places to stay. But not always do you find places that feel like home. Firefly is just that, our home away from home! They have the same staff year after year. Everyone remembers your name and your likes/dislikes. This was our 6th stay at Firefly, already looking at #7. This time we had friends join us. They had a special event planned and the staff at Firefly knocked it out of the park!!! From great food, decorations and being able to make it feel private on a public beach. This boutique hotel is ran by 3 of the sweetest Jamaican ladies and located in the middle of the beautiful 7 Mile Beach. Walking distance to tons of bars and restaurants. They have rustic/budget cabins, family type rooms with full kitchens and beachfront suits. Do yourself a favor and check them out next time your in Negril
taunaj
Relaxing
Avaliou em 29 de dezembro de 2020
Still here. everyone who works here is very nice. The food is great food. The rooms are very nice...i stayed in more than one room..first was rustic and quaint...second was modem and mistical. The honeymoon sweet. What else you want?
tsedeniaw
Great Last Min Booking
Avaliou em 14 de julho de 2020
Well.. I will start by saying my lovely other half booked a room online last min as a 1 night stay before we flew out. She did Book a "Camp Style Rom" witch on paper is very attractive based on price. It was simply a room. A small room with one window facing the neighboring parking lot, the other window was boarded up as i believe they used the space between the rooms as a storage for cleaning products, as our particular room was dense with a Clorox/Ammonia related smell. The door lock did not inspire confidence , also because it was a simple hut with a bed and small dresser/Chair. We had to uses the outdoor shower and bathroom facility outside. In their Defense, this is a factor only affecting the small affordable "Camp Style" room we chose, and should not reflect the state of other room on the property. From what i saw the rooms looked amazing, Small birdhouse style rooms with a small balcony out front. They also have a small dining area on the lovely 7 mile beach. I look forward to going back and staying in a better room option, and giving a fair and honest review. But as a single person/couple looking to spend more time on the beach out and about, and simply need a place to drop your bags n shower. it is a viable option. However if you plan on staying a few days, definitely get a better room.
M1622DNpm