Homewood Suites by Hilton Newark-Wilmington South Area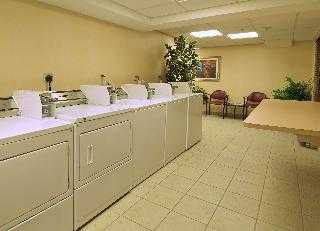 Avaliação TripAdvisor
Baseado em 661 avaliação
Ver todas
The hotel is brilliantly located half way between Baltimore, MD and Philadelphia, ensuring easy access to a wide range of dining opportunities, recreational activities and tourist attractions, including Dover Downs Racetrack and Casino, Herr's Snack Factory Tour and Longwood Gardens. Additionally, b...
Mais detalhes
Disponibilidade
Selecione a data da sua viagem
Selecione a data da sua viagem para verificar a disponibilidade dos quartos.
Informações do estabelecimento
The hotel is brilliantly located half way between Baltimore, MD and Philadelphia, ensuring easy access to a wide range of dining opportunities, recreational activities and tourist attractions, including Dover Downs Racetrack and Casino, Herr's Snack Factory Tour and Longwood Gardens. Additionally, business travellers will enjoy easy access to major corporations and local businesses.
Entrada a partir de: 15:00
Saída até: 11:00
Comodidades do estabelecimento
Serviços de recepção
Depósito de bagagens
Avaliação dos hóspedes
TripAdvisor
Pontuação dos viajantes
Excelente

355

Muito Bom

139

Bom

66

Razoável

41

Ruim

60
Perfil dos viajantes
Negócios

172

Romântica

74

Viagem a sós

28

Família

300

Viagem com amigos

25
Resumo das pontuações
Atendimento

Custo-benefício

Limpeza

Localização

Qualidade do sono

Quartos
Hotel razoável, precisa passar por melhorias e a equipe não cumpre o que promete
Avaliou em 27 de janeiro de 2016
Fiquei em um apartamento de dois quartos. Tamanho bom, duas suítes e cozinha razoavelmente equipada. O hotel segue o padrão homewood, sem grandes surpresas. Fica ao lado da Universidade de Delaware. Oferecem café da manhã grátis e jantar de segunda a quinta. A grande decepção no hotel foi a falta de clareza e cuidado com os hóspedes, pois a equipe, mesmo sabendo dos problemas técnicos do hotel, não avisam aos hóspedes - tipo o esquema "se colar, colou". Os pontos negativos foram: me colocaram em um quarto com vazamento mesmo sabendo da existência deste. E então, quando reclamei, me ofereceram outro quarto. O meu lençol não foi trocado nenhum dia (fiquei 5 noites), mesmo após dois pedidos junto à recepção. A piscina coberta não funcionou nenhum dia e esse foi um dos principais motivos da escolha deste hotel. Na cama, eles usam o protetor de colchão como edredom... oi!?... Ao final da minha estadia, depois de reclamar quase todos os dias na recepção, fui informada que receberia, como pedido de desculpas, um voucher para uma nova estadia. Mas foi tudo mentira. Já se passaram mais de um mês e ninguém entrou em contato comigo. Ah! Também achei a lavanderia muito cara. Foi USD 4.00 para lavar e secar. Prefiro a rede IHG que oferece tal serviço como cortesia a seus hóspedes.
LilianGondim
Perfeito
Avaliou em 13 de outubro de 2014
Estivemos hospedados neste hotel no período de 18 a 29 de setembro. Viajamos com nosso filho de 7 anos e meus pais, por conta disso, nossas exigências quanto a quesitos básicos como limpeza e segurança ficaram muito mais elevadas. O Hotel atendeu todas as nossas expectativas, em alguns momentos até as superou . A equipe da recepção foi muito gentil, a equipe do café da manhã (em especial a Carol) foi muito atenciosa. A hospitalidade oferecida pelo Homewood Suites de Newark certamente tornou nossa viagem mais agradável! Recomendo este hotel a todos que desejam desfrutar de uma experiência impecável. Parabéns à toda equipe! Abraços Desirée
desireeperonbarbi
This is the worst hotel I have had the displeasure of staying at
Avaliou em 25 de outubro de 2021
When we arrived at the hotel (which we have stayed at before and did not have any serious issues) there were a host of problems with our room. I'll list them: there was not a single bath towel in the whole two bedroom suite; one of the shower curtains was missing; there was a dirty towel on the back of one of the bathroom doors; there was no extra toilet paper; some of the shampoo/conditioner toiletries were missing; the freezer was making an extremely loud sound and we then realized that the fridge was not working at all; the "comforters" on the queen beds were mattress pads" the "comforter" on the king bed was a scratchy poor quality duvet insert; some of the trash cans were missing; some of the dishes were missing; one of the dining room chairs was replaced with an office chair; the entire place was overall not that clean feeling. The previous paragraph only lists our initial issues with the place. Not only were there not towels in our room, but it took quite a lot of work to procure any once we complained. We were in a two bedroom suite with 6 people and they only offered us two towels when we asked. When we told them that was not enough they said they only had five. In the whole hotel?! And the towels we ended up with were clearly bath mats as they were so tiny they did not even fit around the body of a smaller sized woman. At least we got bath mats though because there weren't any of those in our room either! I will say that they did send someone up in a timely manner to fix the fridge and someone came up to change the beds, but with the same mattress pads as comforters and one of the beds was made up without a bottom sheet. We were also initially told we would be fully refunded for the entire stay, but then at check out they only offered us one free night out of two. We talked them down to half of one night, which seemed generous on our part, but when I checked what I was charged it was for a full night, so we'll be calling to complain yet again. This was truly the worst hotel experience I or the other guests have ever had. We have stayed at this hotel before and it was fine, so I'm not sure what has happened, but it is a major problem.
cewright521
Terrible front desk service
Avaliou em 22 de outubro de 2021
The front desk person did not greet me for a while. They were out of room keys so I Had to wait 15-20 minutes for room key. Never recognized as a diamond member. Never given water and breakfast was never explained.
rosesteve23
Many others have very similar complaints and issues.
Avaliou em 19 de outubro de 2021
This was a very very piss poor experience especially booking a Hilton name with my 1st time status as a Diamond member prior being Gold for years. I wasn't acknowledged as an Honors member whatsoever during check-in and didn't receive my honors bag with waters but no biggie. Once my guest and I got to the room we were quite disgusted to see the cleanliness of the room. The room size is nice and having a kitchen was a plus but what is the point of the kitchen if there is no utensils, cups, papertowels, or any dishes to use? I believe housekeeping may have forgot to stock it. Big thing with the kitchen was it had red sauce stains splattered on the wall, stove top had grime chunks on it as well as burnt food debris so definitely doesn't look like it was even attempted to be cleaned and if they claim they did, they should really give housekeeping workers a beginners 101 class on commonsense cleaning. There were stains all over the counter top and even the fridge had a thick layer of dust on top with also stained handles of the fridge doors. The couch had some major and questionable stains which shocks me that a massive premium chain like this wouldn't attempt to clean or replace it for viewing purposes. The carpet having stains is normal and expected but then here comes the bathroom. The bathroom was absolutely filthy with short curly hairs which were most likely pubes in the tub and around the bathroom floor around the toilet and the door/trimming had many colored stains n dust build up in every crevice n corner. Had to let the shower run a bit n rinse off the walls of the pubic hairs before entering to shower myself. The tub and faucets were also dirty with built up grime n dirt throughout. The tv stands in both the room and living room had stains on it as well and you would figure at a time like covid, cleanliness would be an extra given effort when cleaning rooms for future guests. Fast forward a few hours towards night time once we got back to the hotel late, my friend had to physically go downstairs at 1:30am-ish because of the bathroom having less than a quarter roll left of toilet paper with no extras in any of the cabinets and the room phones NOT working when attempted to call the front desk. The bathroom closet had a half broken door that didnt slide and some trash on the ground inside as well and can tell the prior guest who stayed used the extra blanket as it was rolled and shoved into a ball on the top shelf and not in the plastic storage bag meaning it was never washed. The only reason I didnt give it 1 star was because the bed n pillows were absolutely comfortable and clean which Hilton has yet to disappoint on (knock-on-wood) as well as being a very convenient location nearby everything. This Hilton Homewood Suites reminded me of how high school/college boys keep their places dirty or like a motel at a beach where the owners dont care about the presentation of the rooms n properties. I was planning to stay 2 days here but after the 1st night of irritation and disappointment I decided to spend the extra money and stay at the Embassy Suites hotel right across the parking lot for the 2nd night which once checking in and seeing the room was 20x better before even fully settling in. This Hilton Homewood Suites felt like it was a dying location that corporate just put on the back burner and not attempt to fix or better anything in.
DanK229