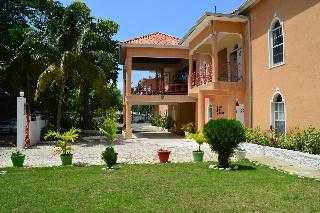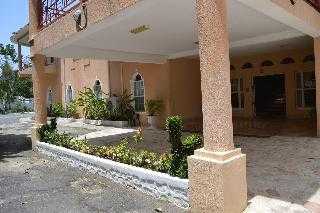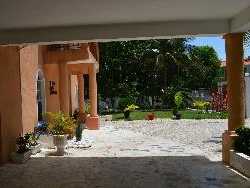 Avaliação TripAdvisor
Baseado em 38 avaliação
Ver todas
Localização Do Estabelecimento Ao alojar-se Casa de Shalom em Ocho Rios, ficará perto da praia, a 5 minutos de carro de Mahogany Beach e de Turtle River Park. Este hotel está a 6,5 km (4,1 mi) de Dolphin Cove e a 7 km (4,3 mi) de Dunn's River Falls. As distâncias são apresentadas à 0,1 milha e ao ...
Mais detalhes
Disponibilidade
Selecione a data da sua viagem
Selecione a data da sua viagem para verificar a disponibilidade dos quartos.
Informações do estabelecimento
Localização Do Estabelecimento
Ao alojar-se Casa de Shalom em Ocho Rios, ficará perto da praia, a 5 minutos de carro de Mahogany Beach e de Turtle River Park. Este hotel está a 6,5 km (4,1 mi) de Dolphin Cove e a 7 km (4,3 mi) de Dunn's River Falls. As distâncias são apresentadas à 0,1 milha e ao quilómetro mais próximo.
- Coconut Grove Shopping Village - 0,6 km/0,4 mi
- White River Reggae Park - 0,9 km/0,5 mi
- Prospect Plantation - 1,9 km/1,2 mi
- Mahogany Beach - 2,2 km/1,3 mi
- Torre do Relógio de Ocho Rios - 2,8 km/1,8 mi
- Turtle River Park - 3,2 km/2 ...
Mais detalhes
Entrada a partir de: 15:00
Saída até: 11:00
Comodidades do estabelecimento
Comida / Bebida
Restaurante
Serviços de recepção
Depósito de bagagens
Avaliação dos hóspedes
TripAdvisor
Pontuação dos viajantes
Excelente

18

Muito Bom

6

Bom

5

Razoável

2

Ruim

7
Perfil dos viajantes
Negócios

1

Romântica

8

Viagem a sós

6

Família

13

Viagem com amigos

7
Resumo das pontuações
Atendimento

Custo-benefício

Limpeza

Localização

Qualidade do sono

Quartos
Amazing
Avaliou em 10 de agosto de 2020
Great customer service with a very warm welcome from the staffs. Presentation for room was awesome, my son slept well knowing he was at his own house. Our next trip to Ocho Rios will be here. We enjoyed every moment 👍🏽
GlobeTrotting779916
Worst Hotel Experience of Jamaica
Avaliou em 22 de dezembro de 2019
DO NOT STAY IN THIS HOTEL. Greeted by an eerie silence, with below average staff. Very slow and inefficient. Imagine, walking in after a 3 hour drive along the potholed ridden A4 and finding NO WIFI and NO HOT WATER. Had to suffice with a cold shower. Reported the 2 issues to 2 separate hotel staff people. The kicker was lack of empathy or accountability from the hotel manager, Andre Davis. Blamed the internet service provider for lack of WiFi. I believe he has never taken a course in customer service - customers have a contract with the hotel, not the service provider. He committed to calling me back about credit for at least the lack of hot water facilities because I was only staying for a night and checked out. NO CALL or MESSAGE until the time of me writing this review. I will be disputing the charges because if I just wanted a bed to sleep in, I would have stayed in a cheaper hostel. NO SENSE OF CUSTOMER SERVICE!! The breakfast wasn't ready until 8:45 am in spite of taking our order the previous night. The only silver lining was the easy access to A3 to get to Blue Hole and Dunn's River Falls & Park, firm bed and decent breakfast.
Meenu B
Very dangerous neighborhood
Avaliou em 1 de maio de 2019
1. The hotel manager is very rude. 2. No hot water!!! 3. Very dirty room and sheets. 4. Bugs in the room. 5. No elevator. 6. Very very dangerous neighborhood, we could not go out to buy food. We dont recommend this place at all.
eyal_gilad
Serious issues with Wi-Fi and hot water
Avaliou em 10 de fevereiro de 2019
Pros: • Great free breakfast, all you can eat. Its Jamaican cuisine which I was unfamiliar with but I was very much pleased with it • Nice, helpful, friendly staff • Relatively clean rooms and shared areas • My room was pretty massive in size for the price, came with a small kitchen Cons: • My first two nights I experienced cold or just barely warm water for showers. It appears that the water may be hotter during earlier periods of the day. Nonetheless, a guest should never have to experience cold showers, it's really annoying. • The staff either decided to not clean my room or forgot to clean it for two days • No alarm clock in the room • No hand held mirror or pull out mirror • Room had an ironing board but I did not see an Iron • The curb appeal of the hotel isn't that great, potholes and things on the way leading up to it. Hotel looks likes its surrounded by a series of alley ways vs. actual streets • The guest Wi-Fi is an absolute joke, it barely worked. To get the real Wi-Fi I had to ask to use the Wi-Fi that the staff uses. Pretty annoying. • The water pressure in the shower was not great at all • Electrical issues: experienced slow charging of electronics, some of my small hair appliances did not work. It's possible that the outlets are outdated or doesn't have enough volts or something. • They also double charged me, once when I booked via my online travel agent and the other when I arrived at the hotel. They took forever to refund the money (like 4 weeks). In Summary: If I were to go to Ocho Rios again, I would just pay more money to stay at a nice resort. It wasn't a horrible stay but due to the cold showers and Wi-Fi it took away from the vacation experience a bit. Staff is great people, that is really the only good thing about this place…the people.
Rich S
Cozy little place
Avaliou em 29 de janeiro de 2019
My family always chooses a new small property each December for just a one night rest stop before we head into Montego Bay. We chose this place after our online research and we were really pleased. The representative Ms. Hines was super professional and helpful to us from the time we arrived, till the time we left. Breakfast was great. We didn't get our porridge this trip but we are told it will be on our list next visit... ha ha haaaa. Rooms are so comfortable and spacious and honestly have everything that you need to be comfortable. We will be back for sure.
ryates2016