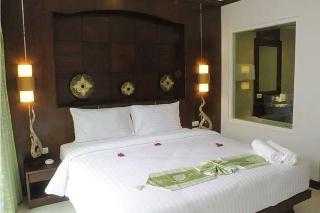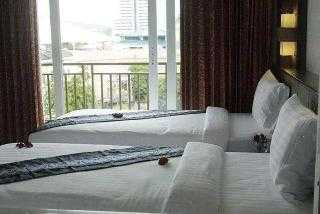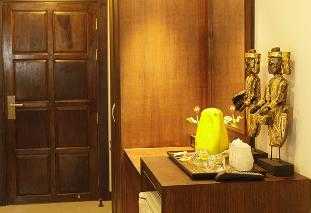 Avaliação TripAdvisor
Baseado em 162 avaliação
Ver todas
The hotel is located in the heart of Patong Beach, just a walking distance to the Patong's biggest shopping department store "Jungceylon", dining spots and nightlife entertainment of the famous on Bangla Road.
Mais detalhes
Disponibilidade
Selecione a data da sua viagem
Selecione a data da sua viagem para verificar a disponibilidade dos quartos.
Informações do estabelecimento
The hotel is located in the heart of Patong Beach, just a walking distance to the Patong's biggest shopping department store "Jungceylon", dining spots and nightlife entertainment of the famous on Bangla Road.
Entrada a partir de: 15:00
Saída até: 11:00
Comodidades do estabelecimento
Comida / Bebida
Restaurante
Piscina e comodidades de bem-estar
Piscina Exterior
Serviços de recepção
Depósito de bagagens
Avaliação dos hóspedes
TripAdvisor
Pontuação dos viajantes
Excelente

18

Muito Bom

64

Bom

45

Razoável

17

Ruim

18
Perfil dos viajantes
Negócios

2

Romântica

62

Viagem a sós

25

Família

12

Viagem com amigos

42
Resumo das pontuações
Atendimento

Custo-benefício

Limpeza

Localização

Qualidade do sono

Quartos
Gone way downhill with new owners... Now a stinky ghetto
Avaliou em 20 de abril de 2018
This has been my go to hotel in Patong since 2015. I've spent 3-4 weeks here every year. I've brought many mates here. I just booked two of their best rooms for 5 days and left after 2 days. I will never go back. The been brought out by a Russian business man and promoting the hotel in Russia. Clientele is 90+% Russian. All signage is now in Russian. While the Thai staff are lovely their Russian owners are driving the place into the ground. Maintenance which was questionable to be begin with is now non existent. The air conditioning in both rooms wouldn't go cold. I kept being told "leave it for an hour" & they did try to fix it but ended up saying that's how its suppose to be. One bed had a cracked base and the mattress lent to one side. Apparently that was how it was suppose to be too. The showers don't drain properly and water floods the floor. There's rusty bits to cut you on in every bathroom. We got "fined" ฿500 for eating our own chips by the pool area (something I've always done). I complained and then we got kick out of the pool area. They can keep their hotel, it's now a stinky ghetto.
splatcat
Does The Job
Avaliou em 1 de abril de 2018
This is almost a really good hotel. The roof top pool is it's jewel. Not too busy, great views, relaxed atmosphere. Although not big, the pool bar helps and the kite flying barman is a lovely guy. I'd say it would easy be a 3 star as it wants to be, but it's dragged down by its location. Although close to beach, ten mins walk down Bangla Road, it's the closeness to the Bangla that maybe the clientele is what drags it down. We had to make several noise complaints throughout the trip, as I was sharing with my 14 year old daughter, and 4am loud partying with ladyboys isn't on. I felt the hotel didn't do enough to sort it or prevent it the next night. Manager too busy trying to be Bruno Mars, but the two other girls in reception were terrific at their jobs. I'd recommend it, but be prepared for noise!! 3/5.
LBCaptain76
Absolutely disgusted
Avaliou em 26 de janeiro de 2018
After booking a room through Booking.com, I received a email 2weeks out from arrival, to say our booking has been cancelled. Not impressed at all as I'm booked to have surgery the day after arrival. I had thought something suspicious was going on when I went to check room rates for different times of the year and there were none available (all 12 months were apparently booked out) Don't waste your time or money reserving a room as they can just cancel at any time. Would never recommend this hotel or booking.com
sandgroperperth2018
Not for families!
Avaliou em 4 de janeiro de 2018
Where to start? We stayed 3 nights here: 3 nights too many. The receptions met us with a surly request for passports then told us we needed to vacate the rooms by 12. No info on the restaurant location, breakfast times, pool etc but I figured this would be in the room info file. This, however, contained only 2 things-info on local shows to be booked through the hotel and mini bar prices. A kettle was provided but no tea or coffee. We had intermittent WiFi in the room. The towels were unravelling and bleach stained (see photo). When I say towels, I mean the one towel we were each provided with. The bathroom had mould around the bath and tiles ([see photo) The bedroom walls were paper thin, we didn't sleep until 3ish when the local music, traffic and room neighbours finally fell silent. A woman with her child let herself into our room one afternoon with a key, reception seemed to think this was the housekeeping manager checking whether or not the room had been cleaned in the morning. We'd never had an issue with this and she was clearly shocked to see us in the room. We didn't really buy the receptions explanation. The pool was great, and was the only redeeming feature a decent size, depth and temperature.
Jan R
Get what you pay for
Avaliou em 29 de novembro de 2017
The rooms are average. You do get what you pay for, however there are many better hotels in Patong that costs the same. The easy accessibility to Bangla Road is what made it worthwhile to stay here. Their restaurant/breakfast is not worth ordering as their food is pretty terrible. Their barman was excellent, drinks are definitely worth the money. Pool is well maintained. Staff were friendly.
TaahirahS1