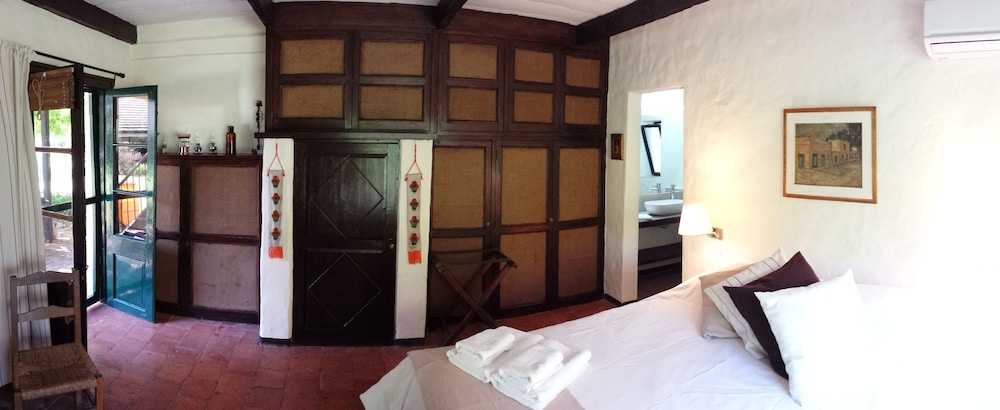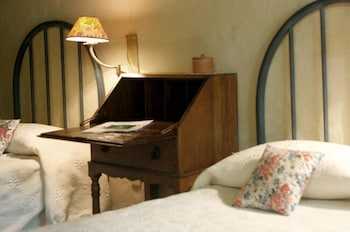 Avaliação TripAdvisor
Baseado em 49 avaliação
Ver todas
Com uma estadia Estancia La Paz em Paysandú, ficará a 17,1 km (10,6 mi) de Parque Otto Wulff e a 29 km (18 mi) de Velodromo Municipal. Esta estalagem está a 29,2 km (18,2 mi) de Parque Municipal París Londres e a 30 km (18,7 mi) de Monumento a Perpetuidad. Descubra o leque de entretenimento e lazer ...
Mais detalhes
Disponibilidade
Selecione a data da sua viagem
Selecione a data da sua viagem para verificar a disponibilidade dos quartos.
Informações do estabelecimento
Com uma estadia Estancia La Paz em Paysandú, ficará a 17,1 km (10,6 mi) de Parque Otto Wulff e a 29 km (18 mi) de Velodromo Municipal. Esta estalagem está a 29,2 km (18,2 mi) de Parque Municipal París Londres e a 30 km (18,7 mi) de Monumento a Perpetuidad. Descubra o leque de entretenimento e lazer ao seu dispor, incluindo uma piscina exterior, uma banheira de hidromassagem e um campo de ténis exterior. Entre as facilidades adicionais contam-se Wi-Fi grátis, serviços de concierge e uma área para piqueniques. As principais comodidades incluem um serviço de limpeza a seco, armazenamento de bagag...
Mais detalhes
Entrada a partir de: 15:00
Saída até: 11:00
Comodidades do estabelecimento
Comida / Bebida
Restaurante
Piscina e comodidades de bem-estar
Piscina Exterior
.
Serviços de recepção
Concierge
Depósito de bagagens
Avaliação dos hóspedes
TripAdvisor
Pontuação dos viajantes
Excelente

26

Muito Bom

12

Bom

7

Razoável

3

Ruim

1
Perfil dos viajantes
Negócios

3

Romântica

21

Viagem a sós

1

Família

17

Viagem com amigos

4
Resumo das pontuações
Atendimento

Custo-benefício

Limpeza

Localização

Qualidade do sono

Quartos
Campo em alto estilo
Avaliou em 5 de junho de 2015
Com atendimento ótimo e paisagem fora do normal a Hosteria é uma ótima opção para quem passa por Paysandu e gosta do campo. Com certeza foi uma das paisagens rurais melhor cuidadas que já vi. Experimente e não deixe de brincar com o cão mega simpático.
eduardom698
A flawed gem
Avaliou em 28 de fevereiro de 2017
We stayed for 3 nights at this beautiful estancia. The grounds are extensive and bird-rich, the rooms are basic but have good wifi access, the pool is a nice place to while away the afternoon and the sky at night is something to behold. On these criteria the estancia scores well. Where it fails is the ability to communicate and take providing dinner seriously. On our first night we were the only ones staying and a choice of steak (quite tough) or pasta was offered. No starter was provided and drinks had to be chased up. On the second night several people were present and a BBQ with starters, salads and different meats was on tap. On the last night several French guests were present and a 3 course meal was provided. The provision of food seemed to be dependent on who would be there and in what numbers. Normally such a relaxed attitude is admirable and a refreshing contrast to formulaic menus in other establishments. Here, however, after long days out, it was simply irritating. Regarding language, none of the staff spoke English and Anne, the owner, preferred to speak with us in French. One consequence of this was that all our requests had to go through her and staff kept a distance from us. Finally, quality of food was not brilliant overall. Stay here for the location by all means but if gastronomy is your main interest then this may not be for you.
Andy B
a true oasis and a gem to the senses
Avaliou em 11 de dezembro de 2016
well this is my second time in 3 years at Hosteria Estancia la Paz at Paysandú State Uruguay the land of the legendary Chajá sweet ( peach and merengue typical cake) i am just in love with the place 25 kms from Paysandu city , about 100 kms from the Salto thermal baths , 125 kms from Colonia de Sacramento and 308 kms from capital Montevideo .Just getting there is the first experience. If you come from Montevideo You drive about 10 kms from town called Young towards Paysandu city and then off intro a trail road among soja croops and cows. I recommend to drive in during day light if your first time as apps like google maps or waze may just loose net but if you do get in at night you may as well enjoy the awesome bonfire welcoming show. You drive in and see a little church on your rigth, the horse stables to your left and the Estancia to your front. La Paz is a Belgian origin family Estancia made into a boutique hotel. I think they dealt with horses and cows in the past before the Estancia became a hotel. A main house serves as breakfast and dinning room and another unit has the beautifully decorated rooms ( every toom is different and named after a flower). The owners also live in the Estancia as well as the friendly staff . An immense scent of Tilo welcomes you as well as the inhabitants of the area, a cat, a dog and another wild inhabitants ... ( I wont tell you not to spoil the surprise...). If you advise about time of your arrival you will still have nice dinner waiting for you. Free wifi and super comfortable rooms ( you do not even close the door...). No T.V which I really welcomed. I do not recall if T.V. on the main house where you have fire set and reading and game area but I am telling you wont even think about it. You have outdoor swimmng pool, tennis court and the option to go for a horse ride with one of the staff dressed up like a real gaucho among the beautiful soja fields. The place could not be any nicer and relaxing. I strongly recommend for a detox holiday, perfect for families and just what you need if you are travelling for business in the area. Mind you travelling around Uruguay takes longer than expected as roads are not perfect ( though improving). Thanks Anne for creating such an Oasis and present to the senses. Thanks Serafino for making sure everthing is perfect. I will be back.
Maria Rosa R
Star wars !
Avaliou em 7 de junho de 2015
Great estancia very well kept, eco friendly and located in the middle of the fields not far from Paysandu. The place is simply marvellous in total respect with the nature. No noise, lot of birds everywhere, horses, cows,... Simply the most quiet place we visited in Uruguay! Great value for money. The night, you can enjoy the marvellous show of stars in the sky. A wonderfull experience. Excellent rooms very well equiped, comfortable and very clean. A lot of activities are possible (pool, jaccuzi, tennis, horse riding, etc.). Very pleasant restaurant where they propose a only one menu. Food was correct but not exceptional. Enjoy the home made wines of the estancia : a very good surprise. Good breakfast with only cold food. Very nice staff maybe too discreet. If they had given us more informations of their different activities, we would appreciated. But overall we have enjoyed our stay there. It's a paradise in the pampa of Uruguay !
Julie R
Tranquil and beautiful
Avaliou em 13 de fevereiro de 2015
This is a truly relaxing place right in the middle of an agriculture/nature. It can only be reached by a – well maintained – gravel/dirt road. It's tranquil and nice with a beautiful garden and an inviting pool. Rooms, while not luxury, are large and comfortable and nice with lots of wood and a bathroom and shower that works fine. We slept very well during our stay. As probably expected you might have to share your room with some creatures, as this is nature, after all. We had some butterflies (harmless), a medium sized spider (keeping it's distance) and a little frog in the bathroom (cute) as house guests. Breakfast is a small continental buffet, but of high quality and coffee was actually good, which we found is not necessarily the rule in Uruguay. English is rather limited at the estancia, but fair enough to manage, and staff is friendly and helpful. Although we do not speak Spanish at all, we managed fine (and our friendly next door neighbors from Denmark/Uruguay were more than willing to help us along). We stayed at the Estancia for two nights in early January and it was a peaceful and relaxing break during our travels around Uruguay. Clearly, to be recommended. On the negative side, we found that the incidental costs for meals, etc. were quite high and the room we got assigned was clearly not the same type as described in the reservation through booking.com. But, as the room was fine, it was not really a problem. However, I am not sure, if it makes sense to pay a premium for a specific room type.
roland_vienna