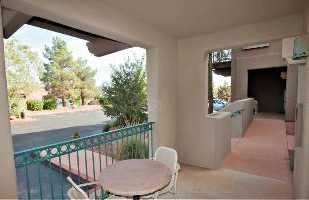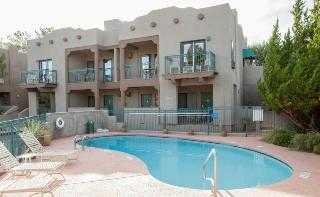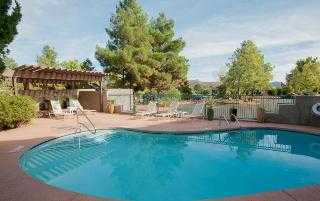 Avaliação TripAdvisor
Baseado em 992 avaliação
Ver todas
Este encantador hotel, que se encontra em West Sedona, é uma ótima opção gay friendly. O Southwest Inn at Sedona dispõe de um total de 28 quartos de hóspedes. Este alojamento foi edificado em 1989. Além do mais, existe ligação à Internet sem fios disponível no local. A receção não funciona ininterru...
Mais detalhes
Disponibilidade
Selecione a data da sua viagem
Selecione a data da sua viagem para verificar a disponibilidade dos quartos.
Informações do estabelecimento
Este encantador hotel, que se encontra em West Sedona, é uma ótima opção gay friendly. O Southwest Inn at Sedona dispõe de um total de 28 quartos de hóspedes. Este alojamento foi edificado em 1989. Além do mais, existe ligação à Internet sem fios disponível no local. A receção não funciona ininterruptamente. O Southwest Inn at Sedona não dispõe berços quando solicitados. As áreas comuns no Southwest Inn at Sedona são acessíveis a cadeiras de rodas. São permitidos animais nas instalações. Os viajantes que chegam de carro irão apreciar o estacionamento disponível no Southwest Inn at Sedona. Os v...
Mais detalhes
Entrada a partir de: 15:00
Saída até: 11:00
Comodidades do estabelecimento
Piscina e comodidades de bem-estar
Piscina Exterior
.
Comodidades / Instalações para negócios
Salas de Reuniões
Serviços de recepção
Depósito de bagagens
Avaliação dos hóspedes
TripAdvisor
Pontuação dos viajantes
Excelente

579

Muito Bom

269

Bom

93

Razoável

34

Ruim

17
Perfil dos viajantes
Negócios

10

Romântica

500

Viagem a sós

37

Família

253

Viagem com amigos

93
Resumo das pontuações
Atendimento

Custo-benefício

Limpeza

Localização

Qualidade do sono

Quartos
Too Expensive for what was offered
Avaliou em 4 de outubro de 2021
We stayed here for 4 nights for a best friend weekend. We booked tis hotel based on the reviews and pictures we had seen online. This hotels is way overpriced for the services and amenities offered. We requested an upper level room but received a room on the bottom. The room had absolutely no view of the beautiful scenery. It was very dark, smelled musty and looked outdated. The sheets were greyish looking, carpet looked worn and dirty. We found several dead roaches in the room. The toilet did not flush properly. Ceiling fan was broken, shower curtain dirty. Worst of all we could hear every single step from the room upstairs. In four days the room was not cleaned one single time. I understand we have COVID protocols but I traveled to another hotel this summer and the room was cleaned upon request. We ad to beg for new towels , and the trash to be emptied. The breakfast was non existent. They offered some burritos and wrapped Peanut butter sandwiches. Nobody ate there. We all were forced to pend extra money for breakfast across the street at a small cafe. They staff was not the nicest either but pretty much just shrugged off our concerns. I understand the limitations due to the Pandemic but then also lower the price of your establishment if you cannot provide services. At over $200 per night this place was simply too expensive . Very disappointing.
grmgrl2016
Southwest Inm
Avaliou em 20 de setembro de 2021
This hotel was disappointing. It was way too expensive for the services we received. Currently the hotel is not cleaning the rooms daily. We had to empty our trash and get clean towels and make our beds every day. The bathroom was more than adequate and the beds were comfortable, but the closet was small and had only 3 or 4 hangers. There were 3 small drawers in the "dresser". The people who worked at the reception desk were friendly and helpful. The advertised fitness room was really a fitness closet. There was 1 treadmill, a few hand weights, and a yoga mat.
SOISJOYEUSE
Pleasant surprise
Avaliou em 24 de julho de 2021
Super cute hotel. This is not within walking distance of the Sedona uptown strip but there are lots of restaurants and stores close by. There is a small workout room with one treadmill. A small pool and hot tub area. The room is nicely decorated. Double sink outside of the bathroom which is nice. Fireplace inside and balcony. There are rooms at the front and back of the hotel. The back ones are on the top floor. Limited parking. Ceiling fan in bedroom area. Nice options of channels on the TV. This is not a cookie cutter hotel which is nice.
gardeningteacher8
Boutique SW hotel!
Avaliou em 22 de junho de 2021
My husband and I decided to re-arrange our plans for our SW road trip a week before . Instead of staying in Flagstaff the whole time, we decided to stay at the local areas. I must admit this was not our fist choice but saw the good reviews and decided to go for it. Price is a bit higher compared to other places but we were pleasantly surprised. We got to the property and the hotel staff was friendly, and they had all the Covid protocols in place. Also helped us out on focal points to visit (with easy hikes but high rewards in terms of views) and also good places to get food from. Room was very SW inspired, nice decorated and very spacious. You also have your private patio which offers a view of the Sedona redrocks. We did not try the breakfast (which was included with the package) due to personal reasons (we needed a heavier breakfast since we were planning on hiking). This hotel is very convenient though. The parking is right in front of your room. There's a good pizza place next door (Famous Pizza) and Layla's (for breakfast). You literally just cross the parking lot and you're there. Directly across the street (go through traffic), there is a Crepe place that offers breakfast and lunch. The best part about this place too is that you are close enough to town but not really in the heart of it that you feel like it's over crowded. Everything else is a short driving distance. Although on the weekends, it's best to get started early as everything gets crowded.
Tetchie R
Unique nice place
Avaliou em 15 de junho de 2021
This place is unique. Very clean and spacious. Nice and quiet. Jacuzzi very relaxing and clean. No table in room however there is a table and 3 bar stools on patio. Problem with table is we 3 are short and hard to get on stools. Double sinks in bathroom. Fireplace very cute but did not need in June.
loist777