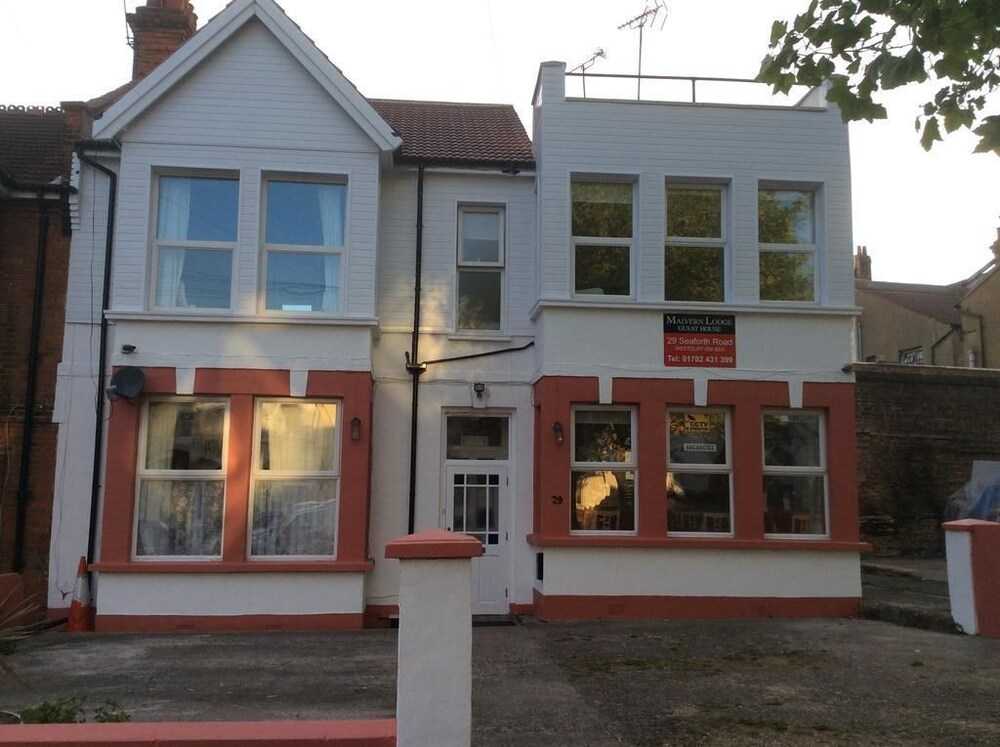 Avaliação TripAdvisor
Baseado em 46 avaliação
Ver todas
Localização Do Estabelecimento Ao alojar-se Malvern Lodge Guest House em Westcliff-on-Sea, ficará perto da praia, a 10 minutos a pé de Cliffs Pavilion e de Beecroft Art Gallery. Esta residencial está a 1,3 km (0,8 mi) de Chalkwell Beach e a 1,5 km (0,9 mi) de Westcliff Gardens. As distâncias são a...
Mais detalhes
Disponibilidade
Selecione a data da sua viagem
Selecione a data da sua viagem para verificar a disponibilidade dos quartos.
Informações do estabelecimento
Localização Do Estabelecimento
Ao alojar-se Malvern Lodge Guest House em Westcliff-on-Sea, ficará perto da praia, a 10 minutos a pé de Cliffs Pavilion e de Beecroft Art Gallery. Esta residencial está a 1,3 km (0,8 mi) de Chalkwell Beach e a 1,5 km (0,9 mi) de Westcliff Gardens. As distâncias são apresentadas à 0,1 milha e ao quilómetro mais próximo.
- Cliffs Pavilion - 0,5 km/0,3 mi
- Beecroft Art Gallery - 0,5 km/0,3 mi
- Westcliff Gardens - 0,7 km/0,4 mi
- Genting Club - 0,9 km/0,6 mi
- Chalkwell Beach - 0,9 km/0,6 mi
- Palace Theatre - 1,4 km/0,9 mi
-...
Mais detalhes
Entrada a partir de: 15:00
Saída até: 11:00
Comodidades do estabelecimento
Serviços de recepção
Depósito de bagagens
Avaliação dos hóspedes
TripAdvisor
Pontuação dos viajantes
Excelente

4

Muito Bom

1

Bom

5

Razoável

9

Ruim

27
Perfil dos viajantes
Negócios

2

Romântica

21

Viagem a sós

7

Família

6

Viagem com amigos

2
Resumo das pontuações
Atendimento

Custo-benefício

Limpeza

Localização

Qualidade do sono

Quartos
cheap and cheerful
Avaliou em 31 de agosto de 2020
decor a little tired but all there for an overnight stay, on site parking and receptionist was polite and very helpful keeping an eye on my motorcycle which impressed me. 500m from the beach and an easy stroll along the seafront to the pier and town centre
gavin o
Dan
Avaliou em 15 de agosto de 2020
I found myself in a tricky situation towards the end of Covid lockdown, I checked in Marlvin lodge, The staff are worm and welcoming and very helpful The room was large and fitted with everything I needed I stayed for over a month with no problems Although if I had a problem, reception would sort it strait away. The guest house is situated 1 min walk to the beach and 20 second walk to the train station If I ever needed a room again this would be my first port of call Many thanks to the guest house!
MRhungry9
Do not, under any circumstances, go here
Avaliou em 30 de maio de 2020
Where to start? In the last week alone, there is the usual crack addled crowd outside. One regular tenant is usually seen wandering outside alone, starting fights/arguments with imaginary people, and will also call out to the local residents demanding he gives them 'just a couple of drags' on their cigarette, and 'not to worry about the coronavirus or none of that sh1t, just throw it over here before you're done'. If you politely decline, he'll repeatedly call you a see you next Tuesday and then continue fighting the people in his head. Also this week, there has been one female resident who was calling everyone a see you next Tuesday whilst walking along the road, when someone objected to this behaviour through their front window, she continued to hurl abuse and goad them, at which point she decided to pour her can of nuclear strength lager over their car. Although it wasn't their car, it was their neighbour's car. When he complained about this, she maintained her torrent of abuse and repeatedly yelled at him to 'forking hit me then you see you next Tuesday'. This woman then walked off towards the lodge, couldn't get back in so decided to continue hurling abuse at anyone who goes past and then break the windows on the front door before staggering off. It's also worth mentioning that this woman was also only wearing one shoe. And the piece de resistance, was this Wednesday 27th May. I'm still not overly sure what happened, although there were 7 police cars that came speeding to the building, stopped and quickly got out their cars. These were armed police. They had their battering ram (which they didn't have to use) and sniffer dogs. They entered the building, dragged one woman out, cuffed her and took her away. If anyone thinks I'm exaggerating, I have video evidence of the whole event and will happily share if required. So, you have been warned. You may think I'm just an angry guy on the internet, and choose to ignore me, and that's fine. Just give this review a thumbs up when you find out about it after your stay.
PeedOffLocal
Not great at all not worth the money
Avaliou em 20 de fevereiro de 2020
Stayed here with my partner last night 19/02/2020 and will not stay again. Yes rooms very big bathroom so small for a family room. As for the beds yes comfortable but me and my partner got bitten to bits by bed bugs. Couldn't speak to anyone as there was no one around this morning when we left. It's a nice location but needs a lot of work doing to it. It could be a very nice hotel
helenmelonsp
I don't see what the fuss is about
Avaliou em 5 de novembro de 2019
I found myself needing to stay the night when working in Southend. I booked through booking.com which had average reviews then I read the reviews here and thought I may have made a mistake. Ignore all of the above nonsense - it's clearly been written by people who expect far more than they're going to get from a budget guest house. My room was warm, the bedding was clean and the shower functioned fine. I paid £30 for a room. Was given a double and was able to get to sleep fine. No noise, no smells and no filth. Probably not great if you are having a night away with your partner but if all you want is a basic room this more than meets the needs. And it does have a car park.
Swimmy133