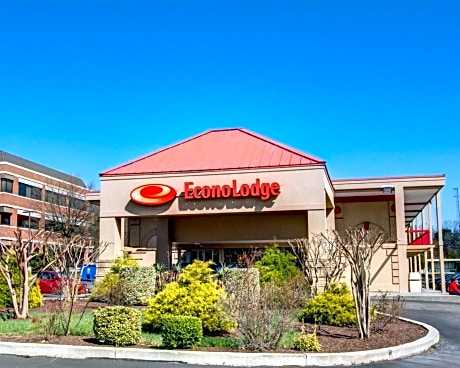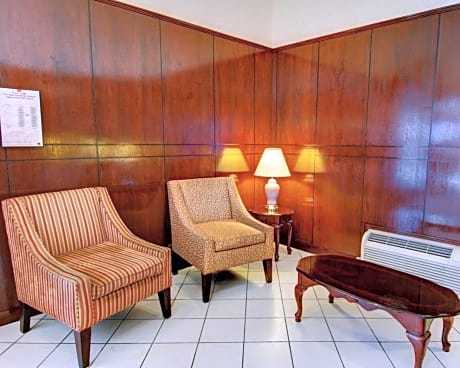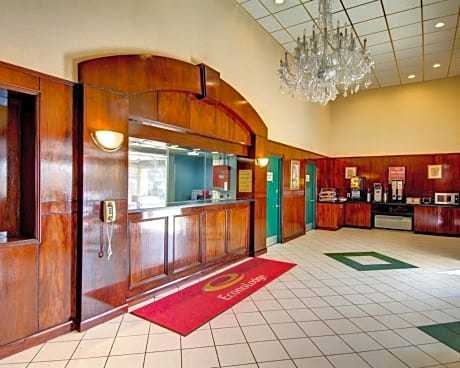 Avaliação TripAdvisor
Baseado em 35 avaliação
Ver todas
Property Location Located in Takoma Park, Econo Lodge Takoma Park is within a 15-minute drive of University of Maryland-College Park and Maryland Stadium. This hotel is 7 mi (11.2 km) from Walter E. Washington Convention Center and 7.7 mi (12.3 km) from International Spy Museum. Rooms Make y...
Mais detalhes
Disponibilidade
Selecione a data da sua viagem
Selecione a data da sua viagem para verificar a disponibilidade dos quartos.
Informações do estabelecimento
Property Location
Located in Takoma Park, Econo Lodge Takoma Park is within a 15-minute drive of University of Maryland-College Park and Maryland Stadium. This hotel is 7 mi (11.2 km) from Walter E. Washington Convention Center and 7.7 mi (12.3 km) from International Spy Museum.
Rooms
Make yourself at home in one of the 53 air- conditioned rooms featuring refrigerators and microwaves. Complimentary wired and wireless Internet access keeps you connected, and cable programming provides entertainment. Bathrooms have shower/tub combinations and hair dryers. Conveniences i...
Mais detalhes
Entrada a partir de: 15:00
Saída até: 11:00
Comodidades do estabelecimento
Avaliação dos hóspedes
TripAdvisor
Pontuação dos viajantes
Excelente

0

Muito Bom

1

Bom

1

Razoável

1

Ruim

32
Perfil dos viajantes
Negócios

5

Romântica

9

Viagem a sós

5

Família

8

Viagem com amigos

4
Resumo das pontuações
Atendimento

Custo-benefício

Limpeza

Localização

Qualidade do sono

Quartos
Hotel bom e ecônomico
Avaliou em 30 de setembro de 2013
Hotel próximo a Washington DC, o custo beneficio compensa se for de carro e fazer o circuito turístico de Washington. O quarto é grande, a limpeza é boa, está muito bem equipado com frigobar, ar condicionado, microondas, cafeteira. As recepcionistas são atenciosas, o café da manhã está incluso e é muito bom, eles permitem você se servir e levar para o quarto. Tem várias lanchonetes por perto. O único que vejo como ponto negativo é o sinal do Wi-fi, que era fraco. Recomendo para quem quer economizar e está de carro.
Gustavo O
SLEEP IN Car before staying here
Avaliou em 20 de setembro de 2019
we were visiting family, who have never stayed in the local hotels. This was terrible. Had to stay on 2nd floor, with a spouse using a cane (only stairs). First night someone banged on our door at 11pm - still don't know why. Came back after noon the next day only to learn that the key cards didn't work, and had to go to the front desk to get new ones. When I walked in the police were there because a patron hadn't checked out by noon and was quite aggravated. Quite scary. There is a Quality Inn next door, but no reviews. That was our mistake - should have checked Trip Advisor before making reservation.
Pamela B
DO NOT STAY HERE
Avaliou em 28 de maio de 2019
I arrived to this hotel around 3:15pm after an 8 hour drive from North Carolina and marching in a 3 mile parade! I have to wait in line for almost 20 minutes when there were 2 people at desk! Once I got to the CSR, she told me that my room wasn't ready yet and I should come back in an hour! All 6 people in front of me got their rooms in no time. I came back an hour later and she told me that my room still wasn't ready but I refused to wait any longer so she gave me a single smoking room and not the non-smoking double I booked, that was filled with smoke, the bed was not made, and only 1 socket worked in the entire room! She said they were short staffed but the workers were outside talking in a huddle. I will never stay here again and I hope this reaches others so that they will never stay here either!!!!!! Thank you
Robert W
02/14/19 BED BUGS
Avaliou em 15 de fevereiro de 2019
Don't stay here. I'm pregnant, and got woken up to bed bug bites. Management refused to give me a refund because I did not take a picture of the bedbug even tho I had visible red new bite marks alongside my arm. The front desk lady even had the nerve to tell me I could've brung them with me. DISGUSTING. SHUT THIS PLACE DOWN ALREADY
Lsan20
Owner/Manager Bill Petal is a Greedy Man who Controls Employees
Avaliou em 11 de janeiro de 2018
I checked in on a cold night around 7:45 PM. The outside temperature was 15 degrees. I got to my room about 8:00 PM and immediately turned on the heater, because the room was very cold about 35-40 degrees. The heater felt like it was blowing cold air. 35 minutes later, the room was still cold and the heater was still blowing semi warm air, not hot. I called front desk and they said will send someone up. 30 minutes later, still no show. So, I decided to cancel and leave. Minutes later was at the front desk requesting to cancel and refund, because the heater didn't work, and staff was not willing to help. The woman behind the counter became very nervous, because I requested to cancel. I stressed I was only in the room for an hour sitting by the heater trying to get warm. She said it's not our policy to cancel. I requested for her to call the manager. She nervously called and spoke with the manager. She got off the phone, and the manager told her to have someone check the heater. So, I waited 15 minutes at the front desk for someone to show up. Nobody yet. So, the woman behind the counter said she would go and check the heater. She came back and agreed the heater was not working. I requested her to call the manager back and give me a refund. A few minutes later, a maintenance man finally came, and then the woman and man were talking. Again, I stated I wanted to cancel, please call the manager, and let me speak to him. The lady was very nervous, somewhat set off and didn't want to call the manager. I told her it's not your fault, you don't take care of the heaters in the room, I'm sure the manager gets a list of needed repairs. It's the manager's fault. She nervously called the manager again, asking that I wanted to cancel and wanted a refund. The manager told her that we don't cancel, I can have another room. The lady behind the counter hung up with the manager, and I requested a discount. You can see the facial expression on the woman's face again, very nervous and said, sorry we are not allowed to give discounts. I commented "Wow, your manager is a "donkey." It's been 2 hours since I checked in, and they are giving me another room. I got to the room, 35-40 degrees. Great, no heat, well this time the heater was working. An employee gave me the manager's name, and I told them I would do a review on this hotel letting the world know that Bill Patel is a controlling greedy person who doesn't care about customers. I do not recommend anyone staying at any property owned or managed by Bill Patel. See pictures of the room. It's not priced as a budget hotel, but it should be. This place should be priced at $45 to $55 per night, if you pay more than $55, your giving money to Mr. Patel. Do not stay at the Econo Lodge in Takoma Park, it's way over price!
John P