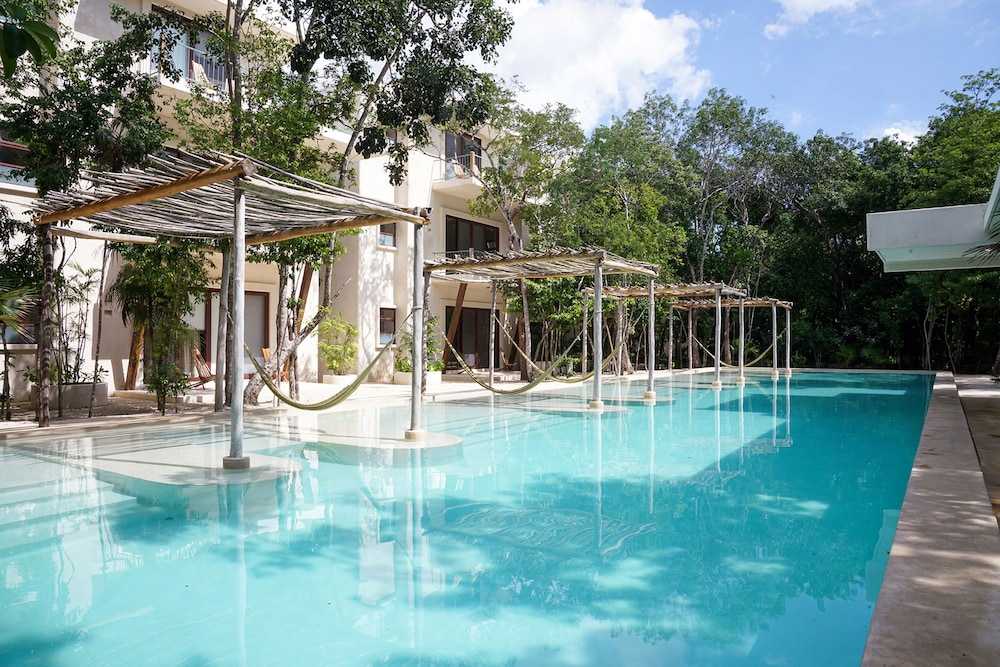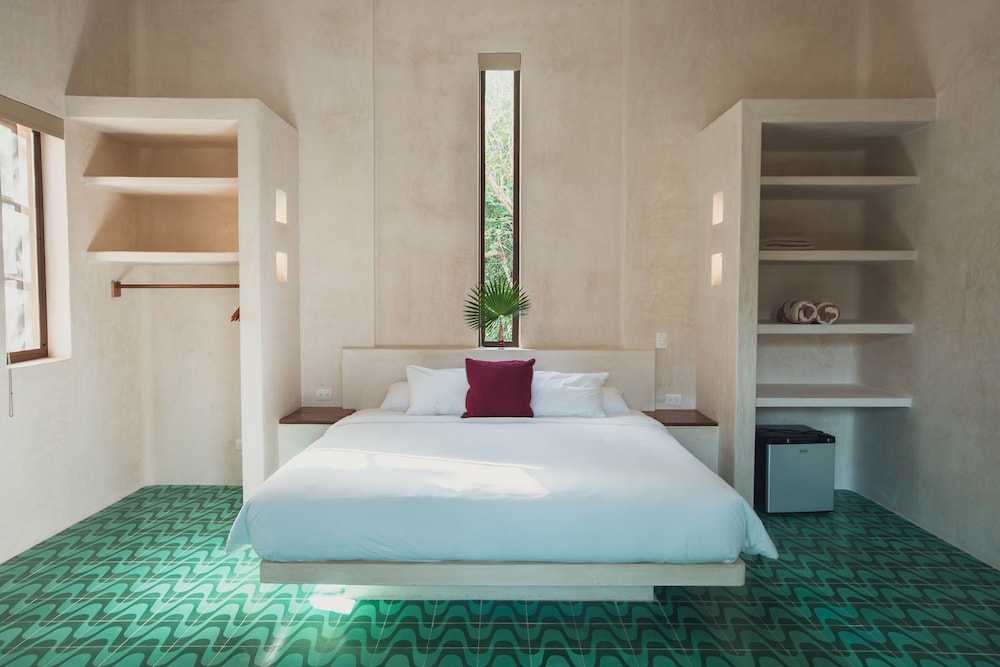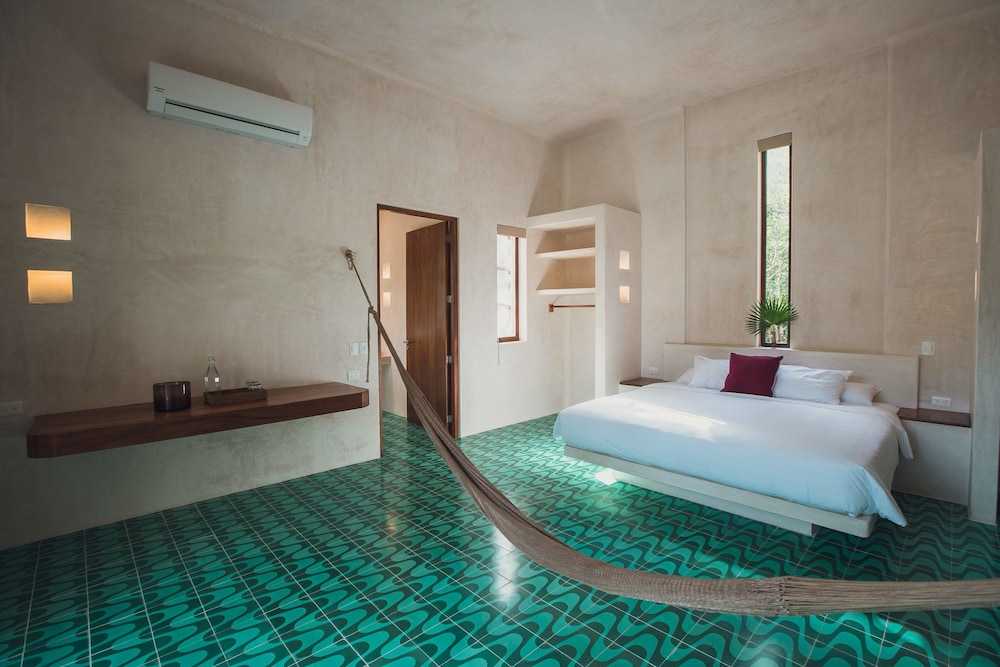 Avaliação TripAdvisor
Baseado em 21 avaliação
Ver todas
Localização Do Estabelecimento Em Tulum, Hotel Holistika ficará em pleno parque distrital, a 15 minutos de carro de Parque Nacional de Tulum e de Gran Cenote. Este hotel está a 6,4 km (4 mi) de Ruínas Maias de Tulum e a 7,6 km (4,7 mi) de Playa Paraiso. As distâncias são apresentadas à 0,1 milha e...
Mais detalhes
Disponibilidade
Selecione a data da sua viagem
Selecione a data da sua viagem para verificar a disponibilidade dos quartos.
Informações do estabelecimento
Localização Do Estabelecimento
Em Tulum, Hotel Holistika ficará em pleno parque distrital, a 15 minutos de carro de Parque Nacional de Tulum e de Gran Cenote. Este hotel está a 6,4 km (4 mi) de Ruínas Maias de Tulum e a 7,6 km (4,7 mi) de Playa Paraiso. As distâncias são apresentadas à 0,1 milha e ao quilómetro mais próximo.
- Dos Aguas Park - 2,5 km/1,6 mi
- Cenote Crystal - 3,2 km/2 mi
- Parque Nacional de Tulum \- 4,1 km/2,5 mi
- Gran Cenote - 6,4 km/4 mi
- Ruínas Maias de Tulum \- 6,4 km/4 mi
- Playa de Tulum - 6,5 km/4 mi
- Playa Ruinas - 6,5 km/4 m...
Mais detalhes
Entrada a partir de: 15:00
Saída até: 11:00
Comodidades do estabelecimento
Comida / Bebida
Restaurante
Serviços de recepção
Depósito de bagagens
Avaliação dos hóspedes
TripAdvisor
Pontuação dos viajantes
Excelente

17

Muito Bom

2

Bom

1

Razoável

1

Ruim

0
Perfil dos viajantes
Negócios

1

Romântica

5

Viagem a sós

5

Família

3

Viagem com amigos

2
Resumo das pontuações
Atendimento

Custo-benefício

Limpeza

Localização

Qualidade do sono

Quartos
Mistake more than Mystical
Avaliou em 17 de setembro de 2021
Had an expectation this place was going to be an amazing sanctuary filled with people who are loving, friendly, and as they love using "mystical" - they really fell short of this. When we checked in, the front desk staff have this confused attitude like why I am standing in front of them - we weren't really greeted and welcomed with smiles and beaming faces. Another worker gave us a tour and he seemed bored and as if someone had forced him to show up to work. They were helpful but the interactions were always awkward and done without smiles - like they are just going through the motions, doesn't really go with the yogi vibe and the rest of hotel's affirmations and theme. I agree with other reviewers as well the staff at the the Tierra restaurant are also not overly friendly, the food/menu is really great though - loved the vegetarian/vegan based. The pool area as well as the grounds are a bit run down. The room was very nice and spacious, great water pressure and hot water (although it was salty and I don't know why) . They made a huge deal on checking out pool towels which was not mentioned when checking in. They charge you 200 pesos for renting our their sh*t bikes, there's no hand breaks. You can't use your credit card to pay for any classes or bike rentals, however, you could use your cc it at the restaurant. They online website was very glitchy and you cannot reserve single yoga classes nor does the hotel guest discount apply online. The higher level management workers were more pleasant, all the yoga instructors were amazing - I enjoyed trying new classes, there was so much variety, like Kundilini, cacao ceremony and we did the Temazcal which was extraordinary! Meet some other hotel guests who were all very nice. Unfortunately, location wise was poor - it's much further to the downtown main streets and not really walkable (so sweaty) and the taxi drivers will use this broken bumpy non-road without lights if you want to go to the playa/hotelera zone area and it will break your back. I would recommend coming for the yoga classes but not to stay here. ART WALK - was nice they have a fire pit area BUT they did not have nightly fires, shame RECOMMEND TEMAZCAL experience
diianamyte
Pretty setting, but overpriced and room was damp
Avaliou em 18 de fevereiro de 2021
A private king room in this hotel was not that much less than the 5* all inclusive we'd departed the day before and for such a basic room without even a phone or tea/coffee machine it was not worth the money. The room was continually damp from the humidity of the jungle setting - towels didn't dry out, black mould grew in the bathroom and the bedding felt damp to sleep in, most unpleasant. Housekeeping was hit and miss, for two days the room wasn't serviced at all, sometimes you'd get fresh towels or toilet roll, sometimes you didn't. You'd then have to WhatsApp the front desk to ask for things like toilet roll and often that didn't turn up, or took 4 hours or more. Yoga classes were removed from the schedule with a couple of hours' notice so three classes my partner planned to do, and we had arranged our day around, didn't happen. The pool was a good size, but the loungers had stained mouldy cushions and rotten legs and badly need replacing. A noisy petrol leaf blower was used outside our bedroom window at 7am each morning. It was not a zen moment. The onsite restaurant is fantastic so I recommend visiting just for that before quickly retreating to a cheaper, better hotel.
leighb123
Good Hotel But Not for Every Traveler
Avaliou em 14 de janeiro de 2021
I booked Hotel Holistika looking for an option that wouldn't be near the hustle and bustle of a major avenue, but I didn't realize how tucked away this hotel truly is. Pluses: • Hotel grounds are lovely. * Pictures of the grounds and rooms are true to life. • Staff is very accommodating. They called in taxis for us when we were at our restaurant and needed to get back to the hotel. They also let us use the dorm showers after we checked out since our flights were later in the evening and we wanted to freshen up. • Maid service was provided each day, which included a fresh (refilled) bottle of water. Minuses: • This hotel is hidden out of the way and far from the main road, (it would probably be a 20-30 min walk to the main road to hail a taxi to take you to Centro/the pueblo) so if taxis are in high demand, there is bad traffic in town, and/or the hotel is having trouble calling in one for you, you cannot simply walk a short distance and try to get one. • The room we were given had low water pressure and the water did not get hot. We should have mentioned it to the front desk, but we thought this was just a quirk of Tulum. We didn't realize we were wrong until we took showers in the dorm which had great water pressure and the water got hot. • The AC did not work, but we were comfortable enough using the two ceiling fans on high speed most of the time. • Half of the walkway to the hotel rooms is not paved (mostly rocks), so pulling your suitcase is a bit of a chore. All in all this is a great hotel if you are a yoga/wellness enthusiast looking to spend most of your day in retreats or meditation, or someone just looking to get away from it all to unplug and relax. However, if you are someone looking to be out and about taking in the sights and activities of the beach road/Zona Hotelera often it may not be the best option, especially during high season when taxis aren't easy to come by.
Sheree J
FEELING CLOSE TO NATURE
Avaliou em 17 de setembro de 2020
You really feel close to nature in this hotel which reminds us more like a village of likeminded people – it totally reflects the Tulum vibes. The Holistika staff is doing the best they can to be as sustainable as possible – f.e. they forgo any single use plastic and have countless plant based food options. If you wanna explore the area or wanna go to Tulum City (which is a 20-30 mins bicycle ride away) you can rent some bicycles for free. In the evening they light up candles everywhere which gives the place an even more magical touch. They have a great music selection at the vegan restaurant every evening, yoga sessions several times a day and other amazing holistic sessions changing daily. I felt Holisitka is all about meeting people and finding yourself in the middle of Nature
Juan M
Tranquility, Gastronomy, Design, Zen, Amazing Customer Service, Beautiful
Avaliou em 31 de agosto de 2020
There is so much to say about my stay at Holistika. We were greeted late at night with personal service to our room and the next morning I was just amazed how beautiful the space around our room is. Of course mentioning that our room itself is spectacular. The restaurant has so many options for breakfast, lunch, and dinner and I'm certain you will find what you are looking for. The pools are amazing, there are two by the way. Plus, we had our 13 month old child with us and everyone was very accommodating and a playpen was provided and the restaurant loved him crawling around. Sadly, as we said goodbye to our room, the paths, restaurant, and our last dip in the pool, we had a wonderful check-out by Sofia who ensured our stay was perfect and hoped to see us again. Sofia, we definitely will and thank you and please send our regards to the beautiful staff at Holistika.
joelarias