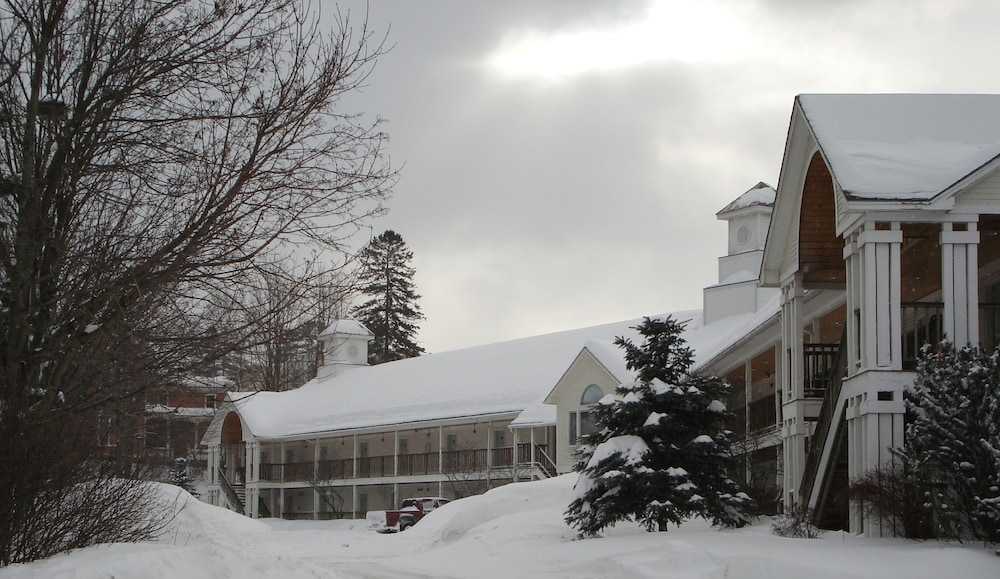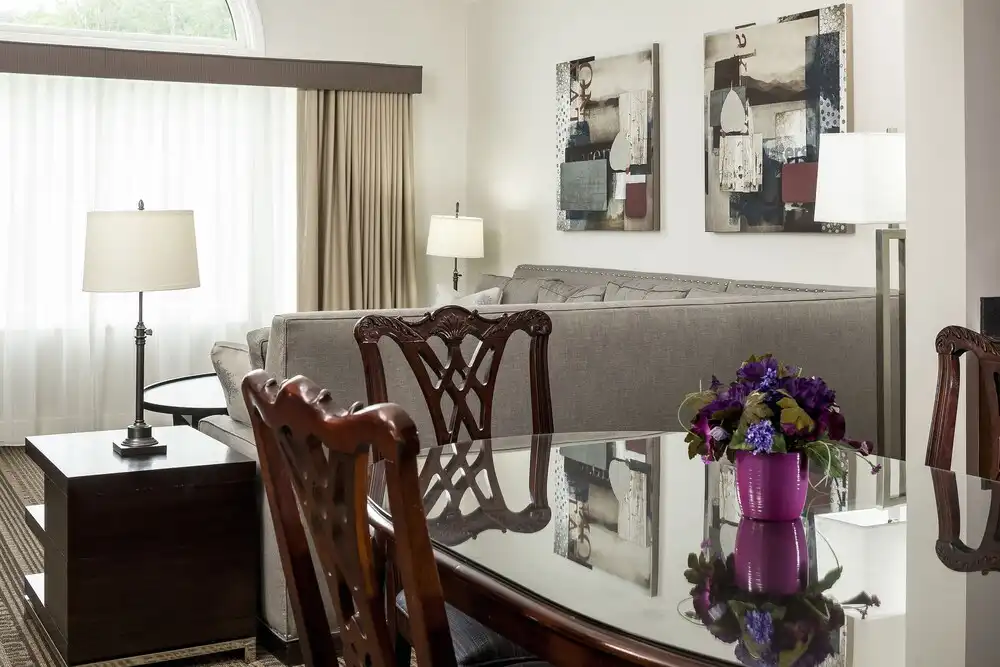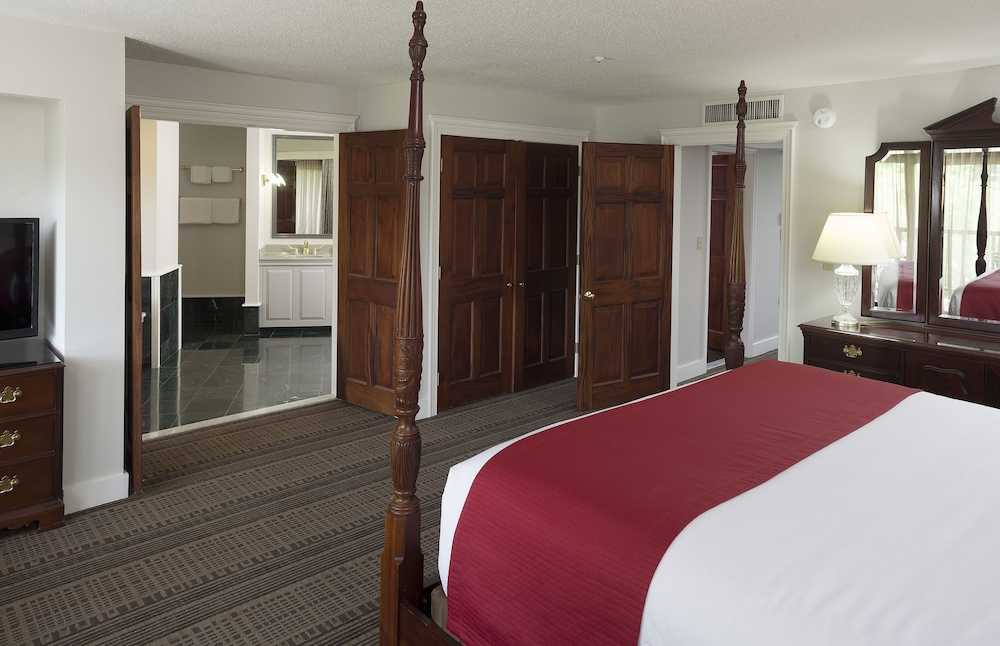 Avaliação TripAdvisor
Baseado em 288 avaliação
Ver todas
Em St. Johnsbury, Fairbanks Inn ficará a 15 minutos a pé de St. Johnsbury Athenaeum e de Fairbanks Museum and Planetarium. Este hotel está a 37,3 km (23,2 mi) de Lake Willoughby e a 48,8 km (30,3 mi) de Franconia Notch State Park. Participe nas várias atividades recreativas do local, incluindo uma p...
Mais detalhes
Disponibilidade
Selecione a data da sua viagem
Selecione a data da sua viagem para verificar a disponibilidade dos quartos.
Informações do estabelecimento
Em St. Johnsbury, Fairbanks Inn ficará a 15 minutos a pé de St. Johnsbury Athenaeum e de Fairbanks Museum and Planetarium. Este hotel está a 37,3 km (23,2 mi) de Lake Willoughby e a 48,8 km (30,3 mi) de Franconia Notch State Park. Participe nas várias atividades recreativas do local, incluindo uma piscina exterior, ou aprecie soberbas vistas a partir do jardim. Wi-Fi grátis, serviços para casamentos e uma área para piqueniques são algumas das comodidades adicionais disponíveis neste hotel. As principais comodidades incluem computadores, jornais grátis no lobby e uma receção aberta 24 horas. Há...
Mais detalhes
Entrada a partir de: 15:00
Saída até: 11:00
Comodidades do estabelecimento
Piscina e comodidades de bem-estar
Piscina Exterior
Avaliação dos hóspedes
TripAdvisor
Pontuação dos viajantes
Excelente

97

Muito Bom

83

Bom

58

Razoável

27

Ruim

23
Perfil dos viajantes
Negócios

23

Romântica

104

Viagem a sós

12

Família

94

Viagem com amigos

21
Resumo das pontuações
Atendimento

Custo-benefício

Limpeza

Localização

Qualidade do sono

Quartos
If "0" was available I would have picked that rating!
Avaliou em 10 de outubro de 2021
If "0" or "negative numbers" were a choice that would be what I would pick. My husband and I planned our honeymoon road trip to a T and had made a reservation for one night at the Fairbanks Inn in St. Johnsbury, VT. We called around 8:45pm to verify that it would be okay to show up later due to being delayed in driving. The front desk person stated yes (the front desk did not ask about reservation or confirm anything… because that would be considered customer service). We arrived at 11:14. Showed our reservation, gave ID etc. they proceeded to say they did not have our room. The front desk called the manager, Chris, on call and claimed it was cancelled. My response was "by who?" Because it was not me and as I showed the person up front, I had my reservation with number. They proceeded to say they had no rooms available and could not do anything for us. For Vermont, in the middle of the fall, finding a place was near impossible. After my husband and I left the hotel and desperately tried calling every single hotel/motel/overnight stay facility within an hour we found out every single place was booked or the front desk did not answer. Once again at this time it was nearly midnight and some locations closed their front desk at 10pm. We went to a local gas station and spoke with a police officer about the situation. His response was that it did not shock him that everything was booked it was parents' weekend at the college and also with the fall foliage brought many tourists. The officer was nice and tried assisting us with a place to stay but was unsuccessful due to everything being booked (we already knew that but really appreciated the help). So unfortunately, we had to sleep in our car. From the conversation from the front desk person and manager it was very sketchy and sounded like they "gave away" our room because we had the charge still on our card the night morning. I have never been so disappointed in a hotel like this before in all my travels. Do not go here unless you are a gambling person who is willing to chance not having a place to stay. Two days later: After the above incident occurred (this was originally posted on google reviews), I called my credit card company and spoke with them about the reservation. My husband and I had used our CC company points to reserve this room. First, the automatic operator asked if I was calling about my reservation at Fairbanks Inn on October 8, so clearly, we still had a reservation that was available. Second, when I got on the phone with a customer service representative, they stated the reservation was open and not cancelled. So- the manager on the phone when we went to the hotel and the front desk clerk lied. They claimed the reservation was cancelled on 09/20 and on 10/10 it was not cancelled but was "completed" since it was posting the date of reservation. Thoughts of what occurred: The front desk/ hotel probably overbooked and then proceeded to lie about the situation instead of being honestly and trying to assist or make their mistake right. Then if I did not call my credit card company about the points- we would have lost all our points because WE DID HAVE A RESERVATION! So, this place I would NEVER EVER suggest anyone stay at.
Megsunne
Hell no Fairfield
Avaliou em 15 de setembro de 2021
Just got an email saying they canceled the night I had reserved a month ago because there are a bunch of rooms being worked on. Well if it was a scheduled project shame on you. I would not recommend this place to anyone. The so called manager says the owner is the only person above her and when I asked for his number she was rude and told me she wasn't going to give me his/her number and that there was nothing she could do. I have no other options so I have to cancel our trip. Thanks Fairbanks. First trip my wife and I planned in many years. Not happy.
Z2364EYtimothyj
Mislead and Disappointed
Avaliou em 31 de agosto de 2021
I traveled to St. Johnsbury with my mom and my brother from 8/29 to 8/31. We live in upstate New York, so this was a good 3 and a half-hour drive or so for us. So, when we finally arrived we were hoping to get right into our room and relax. Well, that wasn't the case. We got there at around 2 pm because that's what the website listed for the check-in time. Well, my mother went to check-in and was told that the check-in time was actually 3 pm. So we had to sit in the crappy parking lot and do nothing until our room was ready. We finally get the keys to a room and open it up only to realize that the room hadn't been finished yet. So, we went back down to the front desk and were informed that she gave us the wrong room key and number (she also ignored me when I asked 3 times where the bathrooms were). So we were moved rooms. Thankfully, the room was fairly nice, unlike the outside of the building. However, our AC only worked the first night so thankfully it was only about 75 degrees out, and our toilet would spend about 2 hours filling up its tank every time it was flushed, so that was fun to listen to in the middle of the night. Aside from that, not only does the check-in time on the website need to be updated, but so do the pictures. The place is much more run-down looking now. The pictures are definitely old. We also saw that they had a pool and expected it to be open, but it was not. The room was good enough, but the website, as well as the staff, need to be updated.
hobbit3791
Never again
Avaliou em 14 de agosto de 2021
Pool was closed. AC in the room didn't work AT ALL. (The poor maintenance guy was nice enough and looked super frazzled) Did I mention it was 90+ degrees out? Included "breakfast" was literally individual yogurt containers in a bowl of ice. That's it. Period.
VermontDave1
They used "bait and switch"
Avaliou em 16 de agosto de 2020
I stayed at the Fairbanks Inn on 8/15/20. The reviews of the hotel were good, great appealing pictures. I arrived to a dirty parking area with plywood and misc items out side. I reserved a king on the courtyard. I was told by the clerk my room was changed. I asked why and he dodged the reason. I was moved to a parking lot room with cars and people hanging out. When I expressed concern to the manager, Drew, he said "there is nothing he could do." He just did not care, he had my $138 and that's all that mattered. Do not believe the pictures on the web site. This place looks and is nothing like they say.
mattmA976OM