Hotel One Villahermosa 2000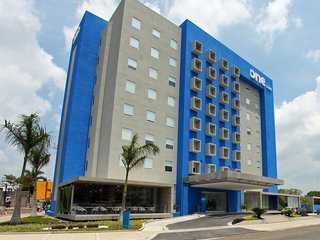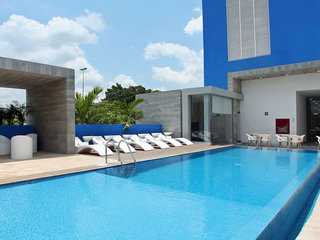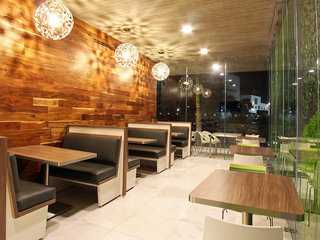 Avaliação TripAdvisor
Baseado em 291 avaliação
Ver todas
Este confortável hotel fica em Villahermosa. Os viajantes poderão encontrar o aeroporto a 18. 0 km. Este alojamento dispõe de um total de 126 unidades. Este hotel foi edificado em 2014. O hotel oferece ligação de internet por Wi-Fi nas áreas comuns. Os clientes podem desfrutar da conveniência de uma...
Mais detalhes
Disponibilidade
Selecione a data da sua viagem
Selecione a data da sua viagem para verificar a disponibilidade dos quartos.
Informações do estabelecimento
Este confortável hotel fica em Villahermosa. Os viajantes poderão encontrar o aeroporto a 18. 0 km. Este alojamento dispõe de um total de 126 unidades. Este hotel foi edificado em 2014. O hotel oferece ligação de internet por Wi-Fi nas áreas comuns. Os clientes podem desfrutar da conveniência de uma receção disponível 24 horas por dia. As áreas comuns deste estabelecimento estão adaptadas a pessoas com deficiências. Não são permitidos animais de estimação no One Villahermosa 2000. Os visitantes podem usufruir do estacionamento.
Entrada a partir de: 15:00
Saída até: 11:00
Comodidades do estabelecimento
Piscina e comodidades de bem-estar
Piscina Exterior
Serviços de recepção
Depósito de bagagens
Avaliação dos hóspedes
TripAdvisor
Pontuação dos viajantes
Excelente

138

Muito Bom

90

Bom

41

Razoável

14

Ruim

8
Perfil dos viajantes
Negócios

197

Romântica

25

Viagem a sós

11

Família

46

Viagem com amigos

7
Resumo das pontuações
Atendimento

Custo-benefício

Limpeza

Localização

Qualidade do sono

Quartos
Simples, mas satisfatório
Avaliou em 25 de abril de 2016
Seguindo o conceito da rede, os quartos são pequenos, apertados, mas com ótimos banheiro e cama. Possuem TV, mas não frigobar. O café da manhã é sempre o mesmo todos os dias, mas há boa variedade. Água e café são disponibilizados o dia inteiro. A academia possui apenas duas esteiras, um transport e uma bicicleta. A piscina tem bom tamanho e fica reservada da circulação. A limpeza é eficiente e o hotel fica em frente ao parque La Choca, ótimo lugar para fazer exercícios ou apenas passear.
Xiankeyla
Very good hotel.
Avaliou em 31 de julho de 2019
Good relation between price and benefits. People were very friendly at the front desk and I loved to swim at the pool by the end of the day. They coffee at the loby was free and available during the whole day. I recommend.
lilianmassena
Modern and convenient hotel
Avaliou em 23 de dezembro de 2017
I found very useful this hotel because it was in the new hotel area where I needed to be at a very good price with all the services I needed. Nice decoration, wifi, even breakfast buffet included. I think is a good deal.
Horacio R
A good place to stay in Villa
Avaliou em 6 de dezembro de 2017
The One Hotel is a great place to sleep. It is clean, and the included breakfast makes it convenient. As always, all the people at the hotel were very kind. That is why this place is cozy and a true home when you are far away.
VastiOnline
It's O-Kay
Avaliou em 22 de maio de 2017
Okay... let me start this review by acknowledging the good service I got from Richard most of the time and some of the girls the rest, there was no issue there. The hotel was also clean, so, there's also that. Now, I stayed in this hotel for close to two weeks... and the first most importan issue is the internet... This is a business hotel, and as such it should have a flawless internet service, with a meager 10 MB/s it's not nearly enough to sustain such a large amount of rooms, I barely could hold VoIP meetings through skype, let alone Video Calls, I tried uploading a report my boss needed ASAP and the internet kept droping, I've been in several business hotels in the country, and any place with less than 50 Megs it's not a good "business" hotel. The second great issue about this place was the services available, there is no restaurant, there is no room service, you have to order delivery to get something in the evening, however, there are a lot of good options all around and there are handy menus in the room so you can order something... you have to take into account though, that when the delivery arrive, you have to go downstairs to receive it, the delivery person can't go upstairs. The third great issue about the hotel are the access keys, I was there for 10 days in a span of two weeks... I had to re-program my key 10 times, once a day, it doesn't matter where I kept it, in my wallet, in my pocket, even in my backpack, it will always need to be re-programmed. Those are my most important issues with the hotel, now to the other stuff. The shower is alright, however, the crystal door doesn't always close properly so when you step out its just all wet. The quality of the toilet paper is not the best, very stiff, other than that, the bathroom is really clean and big enough to be comfortable. The bed is your standard bed, nothing special to note about it. The hotel oversees the "La Choca" Park, one of the biggest, if not the biggest recreational park in the city, if there are rooms available, you should always pick one that has a good view. The area around the hotel is one of the nicest in villahermosa, and one of the safest as well, just don't get too comfortable and keep a low profile and you will be just fine, I definetly recommend getting a ice cream in the park in the evening. The hotel has an outdoor pool that is nice, I've only used it once, but it's a nice difference from the competition that mostly doesn't have one. The parking lot is shared with a couple restaurants that are next door and it can get really dark at night, so if you have a car, try not to keep anything there as it could be an easy target for a thief. Anyway... this hotel is almost what you expect it to be, a bed, a nice bathroom, A/C, it has internet, just not a good one, you can start using it properly at around 10 or 11pm. I give it a 3 star review, and I would probably change my mind if they gave a little more freedom to the food delivery guys, fixed the de-programming of the cards and had a good "high speed internet" as they announce with a wired connection option in the room.
Martin R