Holiday Inn Express & Suites Middletown - Goshen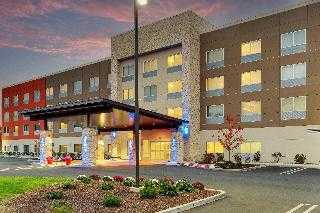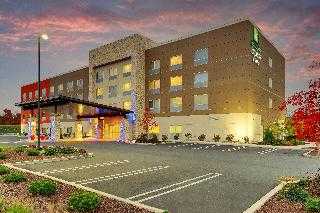 Avaliação TripAdvisor
Baseado em 48 avaliação
Ver todas
Este despretensioso hotel está localizado em Middletown.
Mais detalhes
Disponibilidade
Selecione a data da sua viagem
Selecione a data da sua viagem para verificar a disponibilidade dos quartos.
Informações do estabelecimento
Este despretensioso hotel está localizado em Middletown.
Entrada a partir de: 15:00
Saída até: 11:00
Comodidades do estabelecimento
Serviços de recepção
Cofre
Depósito de bagagens
Avaliação dos hóspedes
TripAdvisor
Pontuação dos viajantes
Excelente

34

Muito Bom

8

Bom

3

Razoável

2

Ruim

1
Perfil dos viajantes
Negócios

6

Romântica

8

Viagem a sós

2

Família

11

Viagem com amigos

4
Resumo das pontuações
Atendimento

Custo-benefício

Limpeza

Localização

Qualidade do sono

Quartos
Too close to the freeway
Avaliou em 24 de outubro de 2021
My room was on the 4th floor on the side closest to the freeway and was VERY noisy. Also, the bathroom shower doors and fixtures were covered with water spots. It looked like they had not been cleaned between occupants. The shades did not keep the light out and broke during my stay. I reported it to the front desk in the morning, and no one bothered to let me know that no one was going to come to repair it. After a second request, someone came and left the blind in pulled down and ask me to leave it that way. It was unpleasant. The hotel did not have hot breakfast and had not even bothered to put up a sign to explain why they had nothing but probiotic yogurts, 3 cold cereals and dry bread and muffins.
Pamela T
Great hotel stay
Avaliou em 6 de outubro de 2021
I went for a wedding. The management was very helpful in allowing us to check in early. Everything was clean and up to par. I stayed for one night as to not drive home drunk from the wedding. Comfy beds room temp the cleaning service was excellent the breakfast was clutch!
chaoticbeauty
Nice new hotel
Avaliou em 5 de outubro de 2021
This was a nice new mid range hotel. The room and layout were clean and comfortable. I especially enjoyed using the Smart TV and watching my shows without having to sign in on the hotel television. Breakfast wasn't great, some days hot breakfast was available, most days just a continental grab and go set up. The biggest con was the strong scent of marijuana in the elevators. There also seemed to be a lot of people sitting in cars in the parking lot every time I went out, no matter the time of day. As a woman traveling alone, I didn't care for that at all. That being said, inside the hotel was always quiet and felt safe. In conclusion, nice hotel for the price I paid. Watch your back in the parking lot. The elevators might give you an contact high. But seriously- super comfy room, great layout, new everything and Smart TVs make this a nice little relaxing spot for whatever you may be doing.
F9767OKmaryj
Close to legoland
Avaliou em 30 de agosto de 2021
Front desk staff friendly and helpful. Room was clean. Housekeeping does not give enough towels, coffee or usual amenities, had to ask front desk both days for extra. Also had to ask for towels for pool. Pool is open until 11:00 pm, but not really heated. For breakfast individual muffins, bagels and toast. Fruit, yogurt and cereal. No eggs, bacon or anything hot. They have daily housekeeping. Quickcheck next door and plenty of restaurants, fast food and shopping 10 minutes away. About 10 minutes from Legoland. Hotel opened two years ago.
FranLoveToTravel
One night in Middletown
Avaliou em 26 de agosto de 2021
We traveled for a wedding at the West Hills Country Club. We arrived 10 minutes before the wedding. The hotel staff a The hotel staff was expedient and respectful. We were able to check in and catch the shuttle in I just enough time to make it to the wedding on time. Once we arrived back to Hotel, we found our room to be clean and comfortable.
PaulaJ1988