Home Place Lodge & Suites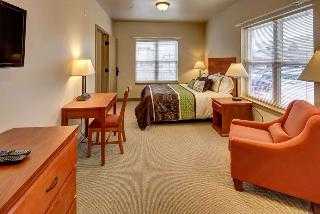 Avaliação TripAdvisor
Baseado em 65 avaliação
Ver todas
Este simples hotel fica em Williston Area.
Mais detalhes
Disponibilidade
Selecione a data da sua viagem
Selecione a data da sua viagem para verificar a disponibilidade dos quartos.
Informações do estabelecimento
Este simples hotel fica em Williston Area.
Entrada a partir de: 15:00
Saída até: 11:00
Comodidades do estabelecimento
Comida / Bebida
Restaurante
Avaliação dos hóspedes
TripAdvisor
Pontuação dos viajantes
Excelente

30

Muito Bom

14

Bom

7

Razoável

6

Ruim

8
Perfil dos viajantes
Negócios

40

Romântica

7

Viagem a sós

1

Família

13

Viagem com amigos

2
Resumo das pontuações
Atendimento

Custo-benefício

Limpeza

Localização

Qualidade do sono

Quartos
Nice location
Avaliou em 16 de setembro de 2020
Rooms could use some updates but very clean and hotel staff was very nice and helpful. We checked in late and they were very helpful to get us checked in fast and to our room. Bar was closing but she let us buy a couple beverages to take out to the patio.
Christine A
Great Stay
Avaliou em 15 de março de 2020
The clarion in Williston was a great place to stay. They had great beds, and very friendly hotel staff. They went above and beyond to make my stay an unforgettable experience. I would highly recommend for all my stays in the future
sethg921
WOW
Avaliou em 12 de abril de 2019
My husband and I stayed at the Home Place Lodge and had a eye opening experience. We had a main floor room to where we could look out into the parking lot. I opened our window to get some fresh air and all we could smell is marijauna. I seen a lady and a man standing near the bushes by our window smoking something in a pipe. I went down to let the front desk know...and the woman and man came walking in....and then went into the office. I come to find out that this is your general manager and the guy was maintenance. The front desk lady was so ashamed about it that I think she could have crawled under a rock. We left and went to another hotel and we pulled ALL of our reservations going forward. Nice to know that the management is high while working.....NEVER AGAIN will we stay there.
fotballover2
Very clean every day and the food was tasty and tasted home made. Staff was real polite and the rooms are huge
Avaliou em 1 de fevereiro de 2019
Really enjoyed the big room and spacious space with a super comfy bed. Delicious food nice gym and very professional staff. Really delighted and would definitely come here again due to a perfect experience
Jonathan M
Management doesn't care
Avaliou em 21 de novembro de 2018
I was given keys to 2 rooms that were still dirty from the prior guest. Like the sheets hadn't been changed and there was food on the counters dirty. They couldn't find the room I booked available and clean so they downgraded me but were happy to make me pay for the bigger room still. Manager the next morning said there was nothing they could do because I'd booked on hotels.com
Dkxgsep16