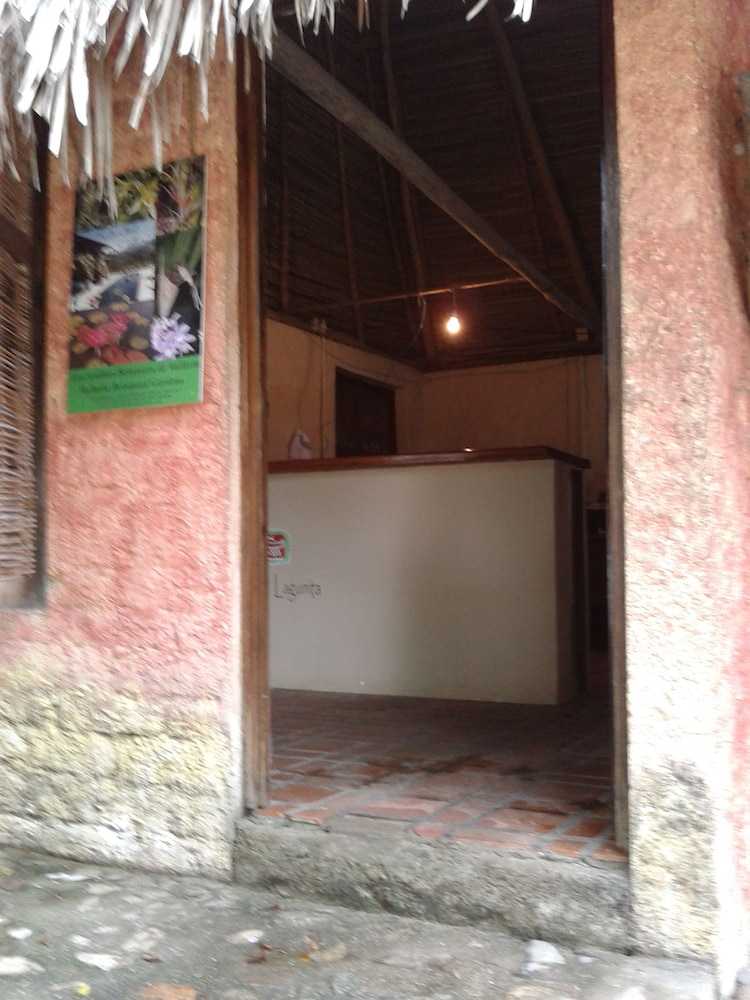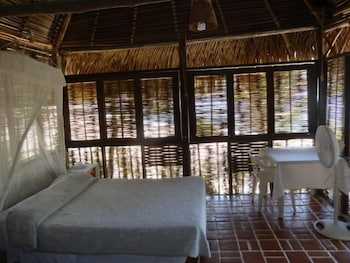 Avaliação TripAdvisor
Baseado em 383 avaliação
Ver todas
Localizado em Yelapa, em frente à praia, Hotel Lagunita Yelapa o situa-se a cerca de 10 km de alguns dos mais afamados marcos da região, incluindo Playa de Majahuitas e Playa Las Caletas. Este resort de praia encontra-se ainda a cerca de 20 km de outros lugares de destaque, incluindo Praia de Quimix...
Mais detalhes
Disponibilidade
Selecione a data da sua viagem
Selecione a data da sua viagem para verificar a disponibilidade dos quartos.
Informações do estabelecimento
Localizado em Yelapa, em frente à praia, Hotel Lagunita Yelapa o situa-se a cerca de 10 km de alguns dos mais afamados marcos da região, incluindo Playa de Majahuitas e Playa Las Caletas. Este resort de praia encontra-se ainda a cerca de 20 km de outros lugares de destaque, incluindo Praia de Quimixto e Playa Las Animas. Relaxa com massagens, tratamentos corporais e tratamentos faciais no local. Entre as facilidades adicionais contam-se Wi-Fi grátis, uma loja de presentes/quiosque de jornais e serviços para casamentos. As principais comodidades incluem uma receção aberta 24 horas, armazenament...
Mais detalhes
Entrada a partir de: 15:00
Saída até: 11:00
Comodidades do estabelecimento
Comida / Bebida
Restaurante
Serviço de Quarto
Piscina e comodidades de bem-estar
Piscina
Piscina Exterior
Serviços de recepção
Depósito de bagagens
Avaliação dos hóspedes
TripAdvisor
Pontuação dos viajantes
Excelente

146

Muito Bom

126

Bom

42

Razoável

39

Ruim

30
Perfil dos viajantes
Negócios

6

Romântica

183

Viagem a sós

27

Família

63

Viagem com amigos

52
Resumo das pontuações
Atendimento

Custo-benefício

Limpeza

Localização

Qualidade do sono

Quartos
Estadia sossegada
Avaliou em 2 de fevereiro de 2020
A localização do hotel que é o ponto diferencial, você fica literalmente na beira da praia, de noite o som do mar é só o que se houve. Não é cheio de conforto, afinal é uma cabana na praia de um vilarejo minúsculo, mas atende bem e é limpo. Tome café no vilarejo do outro lado, tem algumas opções e além disso você fica conhecendo um pouco do povoado de Yelapa. O nosso quarto era conjugado com o do lado, nós dividíamos o teto que era vazado, ou seja, dava pra ouvir um pouco do que o pessoal do lado falava/fazia. Mas o barulho do mar abafava um pouco o que é um lado bom. Mas se puder escolher, pergunte se o quarto é conjugado.
marianasofiams
This hotel is closes
Avaliou em 3 de abril de 2021
This hotel is closed. It has been abandoned. The doors are open, all the furniture is going and the electrical has be cut. I heard the owners are looking to tear it down and build a hotel. It is a great location.
brichar781
Close to nature. Life just on the beach
Avaliou em 10 de janeiro de 2020
Stay 21-Dec-2019 to 03-Jan-2020. Room: Bungalow. About Yelapa Hotel is located in Yelapa, on the north side of the harbor. Yelapa is a village, which can be reasonably reached only by a boat. Although according to google map there is a track along the river, I suspect that only motorbikes, ATVs, horses are suitable for it. There are at least two marine routs: Yelapa – Boca de Tamatlan (40 minutes, 90 pesos for one way pro person), Yelapa – Playa Los Muertos. Money you should give to a boat driver. When you buy tickets somewhere else, normally they are round-trip, that's why twice more expensive. They work from 8:00 to 18:00. When you get in a boat, ask about its rout. Boats have life vests. Strive to sit on stern, in order to avoid hits and jumps because of waves. The journey can be longer as you wish since sometimes the boats have problems the motors. We saw a whale, while we were traveling from Boca de Tamatlan to Yelapa. Yelapa is divided by the river and there are three ways to reach the opposite side of village. The first way is through the village, along the river, crossing the bridge. The second one, is along the beach. You need to go the river ford, afterwards find the passage in rocks and among houses. These are stairs. The last one, is crossing the harbor by boat, just ask someone (5-10 pesos). In opposite side of Yelapa you can find shops, museum, church, restaurants, touristic firms, waterfall etc. Everything is rural and nice. Every day two catamarans bring tourists to Yelapa. I think they visit the waterfall. Nevertheless, there is another waterfall, which is located much further. We rode horses to get there and the journey was excellent. We traveled through jungles, village, crossed river several times, climbed small rocks. The path is off the beaten track. We booked the horse trip at front desk in the hotel. Near the hotel there is at least one restaurant, where we had breakfast every morning. About sea and beach Beach is wide. Near Hotel Lagunita and its restaurant it is not crowded. On the beach of the restaurant we took loungers for free. Sea is deep in two meters from the shore. Be aware of waves. The harbor is scenic. Mountains, yachts, boats. At the front desk of the hotel, you can fill your bottles with water. Beach towels are provided. Also the is a laundry (80 pesos). However, sometimes guys missed something and return laundry unwashed. Check it. Hotel itself We stayed in bungalow. The things which should be taken into account: The temperature in bungalow is similar to outside temperature as bungalow has no solid walls. The roof in bungalow is quite good to cope with torrential rain. If it is humid outside, inside will be humid to. Some sand will be brought by wind inside. Your things will be salted. You will hear instantly the noise of ocean (I got used to it very quickly). You will hear everything outside. Although mosquito net was provided above the bed (it was good and useful, just protect your head, not the whole body), we prefer to use another mosquito means (spiral smog). The shower was functional. In bungalow there is a fan. My impression was very good, as it is interesting and unusual experience to live in 20 meters from the ocean. Besides it, bungalows are joined into tiny village in the magnificent place. Everything is perfectly decorated. Small water pool in the rock is nice. Bungalows are close to pear, it is convenient. Hotel Lagunita is perfect place for those people who got tired of standard hotels and want be closer to ocean, nature and rustic places. Jungles, mountains, river, harbor around it make you vacation unforgettable.
djinninia
Funky hotel
Avaliou em 18 de dezembro de 2019
The Hotel is off the beaten path in beautiful Yelapa! A week here. Enjoying the beach, the sites and sounds of paradise and of course the food! this place is simply magical and Hotel Lagunita even more so. We are in a cabin close to the beach. Amazing and just what the doctor ordered. Paradise.
Howieisallthat
Paradise
Avaliou em 13 de abril de 2019
Like out of a dream. This place has the rustic charm and remoteness that one fantasizes about. It's all about the beach and living like The Swiss Family Robinson. Truly. Be prepared to share your space with the occasional jungle critters (a big spider and/or lizards may find their way into your hut) but so long as you know that this is their territory and you're just a visitor, you will accept it as just part of the scene. And they won't bother you. The restaurant and wait staff are absolutely incredible. Our six year old mentioned how much he loved soursop and later that day a staff member delivered one to us. The owner (Lucas) is a sweetheart and he maintains the property well and wants to attract people who really get Yelapa. Don't forget to enjoy the Pie Lady who will come down the beach during the early afternoon hours. Thank you to the wonderful staff and your welcoming energy. We will be back.
MarinLivin