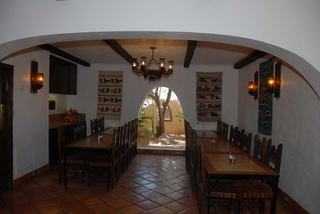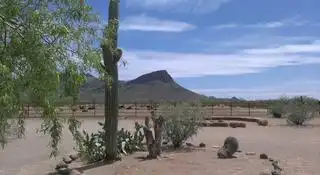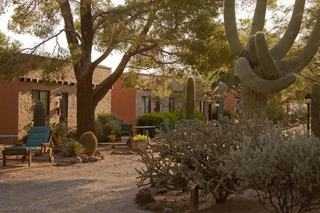 Avaliação TripAdvisor
Baseado em 955 avaliação
Ver todas
Este confortável hotel, pode encontrar-se em Marana. Existem um total de 41 quartos de hóspedes no White Stallion Ranch. O White Stallion Ranch dispõe de ligação à internet por Wi-Fi no local. Os clientes são recebidos num átrio de entrada com receção aberta 24 horas por dia. As áreas comuns no Whit...
Mais detalhes
Disponibilidade
Selecione a data da sua viagem
Selecione a data da sua viagem para verificar a disponibilidade dos quartos.
Informações do estabelecimento
Este confortável hotel, pode encontrar-se em Marana. Existem um total de 41 quartos de hóspedes no White Stallion Ranch. O White Stallion Ranch dispõe de ligação à internet por Wi-Fi no local. Os clientes são recebidos num átrio de entrada com receção aberta 24 horas por dia. As áreas comuns no White Stallion Ranch são acessíveis a cadeiras de rodas. Além disso, está disponível um parque de estacionamento nas instalações para uma maior comodidade dos hóspedes.
Entrada a partir de: 15:00
Saída até: 11:00
Comodidades do estabelecimento
Comida / Bebida
Restaurante
Piscina e comodidades de bem-estar
Piscina exterior
.
.
Comodidades / Instalações para negócios
Salas de Reuniões
Business Center
Sem camas desdobráveis/extra disponíveis
O estabelecimento é limpo com produtos desinfetantes
O estabelecimento confirma que está a implementar medidas adicionais no domínio da segurança dos clientes
O estabelecimento confirma que está a implementar medidas adicionais no domínio da limpeza
São aplicadas medidas de distanciamento social
Apenas trabalhadores de áreas essenciais: NÃO
É fornecido gel desinfetante para as mãos aos hóspedes
Lavandaria
Acesso para cadeiras de rodas – não
Sem elevadores
Transporte para o aeroporto (sobretaxa)
Sala de jogos eletrónicos/de mesa
Áreas para fumadores
Guarda-sóis junto à piscina
Receção (horário limitado)
Bar/Lounge
Mesa de bilhar ou de snooker
Dimensão do espaço para conferências (metros): 0
Biblioteca
Jardim
Sala de fitness
Terraço
Campo de ténis exterior
Estacionamento sem motorista grátis
Espreguiçadeiras junto à piscina
Circuitos para caminhadas/bicicleta nas imediações
Espaço para conferências
Computadores
Lojas de presentes ou banca de jornal
Área para piqueniques
Dimensão do espaço para conferências (pés): 0
Deleite-se com tratamentos corporais e tratamentos faciais. Entre as várias opções de lazer e entretenimento ao seu dispor, incluem-se uma piscina exterior, uma banheira de hidromassagem e um campo de
Avaliação dos hóspedes
TripAdvisor
Pontuação dos viajantes
Excelente

889

Muito Bom

52

Bom

11

Razoável

1

Ruim

2
Perfil dos viajantes
Negócios

18

Romântica

253

Viagem a sós

116

Família

285

Viagem com amigos

150
Resumo das pontuações
Atendimento

Custo-benefício

Limpeza

Localização

Qualidade do sono

Quartos
My White Stallion Ranch Experience
Avaliou em 11 de novembro de 2021
Over Labor Day Weekend I stayed at White Stallion Ranch. I didn't know what to expect. It's now November and I still talk about. From the food, the activities and the service, it was an enjoyable and memorable experience. I tried archery, horseback riding, and shooting (never thought I do that). The plus was the option to book a massage! The room was clean, spacious (fighting moths at night was hilarious -- drawn to the light), but worked it out toward the end. As a Travel Advisor, I have to say that this place is great for couples, families, and singles. They make you feel welcome and by the end of my stay, I got to know a number of guests and perhaps will see them there again. I look forward to my next visit and hope to book clients.
Elizabeth B
The BEST resort you will ever visit!
Avaliou em 27 de outubro de 2021
It's hard to know where to start when reviewing White Stallion Ranch. I travel quite a bit and this place is superior to anywhere you will ever go for many reasons. My friends and I met there for a horseback riding vacation primarily and the riding was outstanding. We've been all over the world horseback riding and this place ranks in the top of our experiences. The wranglers are knowledgeable, friendly and very hands on. We LOVED Cassidy, Shania (sp), Sally & Hector. All of these wranglers went above and beyond to give us an exceptional experience in the Arizona landscape. Our horses were fantastic, healthy, clean and responsive and our tack was in excellent condition. I had no idea our vacation would have so much more adventure than riding. We did rock climbing for the first time in our lives (3 of us are in our 50s and 1 in her 20s) and it was absolutely AMAZING! We learned so much from Wade (our rock climbing expert and instructor) and felt very safe and confident with him. He is a fantastic teacher and really inspired us to continue trying out rock climbing. I could hang out with Wade for days just to listen to him talk about rock climbing, nature and his experiences. Even if you never thought about attempting rock climbing, you MUST do it here at White Stallion with Wade!! Ebikes was another activity I had no knowledge/experience with but with the guidance of Louie and Martin, I felt like I could do it without hesitation. Their oversight and safety demo/talk put us totally at ease with this new type of bike ride and it was so damn fun!! Louie has some great info about the history of the ranch and you're not going to find better people than him & Martin to listen to!! Martin also taught us black powder loading and shooting on another day and let's just say, my husband was totally envious he didn't come along for this experience. I learned so much history about black powder firearms and Martin was an excellent instructor. We signed up for 2 short classes, one was learning about Arizona wildlife with Iguana Joe and Hector. I thought this would be more of a kid kinda presentation and while it was great for kids, it was equally interesting and fun for adults! Iquana Joe is to say it mildly, hilarious! His assistants Hector & Hector's son were so articulate and interesting to watch while they handled tarantulas, scorpions and snakes. I learned so much and it was very entertaining. Our other class/presentation was with Diego on Arizona plants and landscape. Another informative and entertaining hour of interesting content as well as witty and clever presentation style. We learned about cactus growth, identification, edibles, Indian culture and so much more. I could listen to Diego and Iquana Joe for hours. Our room was beautiful, modern and perfectly appointed along with a decor that made me feel like I was staying in a southwestern hacienda. Beds were comfortable and everything was very clean. The food on the ranch is fantastic and every meal from breakfast to snacks, lunch and dinner (along with dessert every night) was delicious and beautifully presented. Our breakfast specials were always great (my favorite was pork breakfast carnitas) and the made to order breakfasts were always perfect. The staff in charge of meals were so polite, nice and accommodating. We had massages one day and I couldn't have asked for a better massage from anyone other than Andrew. Make sure you ask specifically for Andrew, he does phenomenal hand and foot massages!! We participated in Western team penning classes and as an English rider, this was so fun and a totally new experience for me. The rodeo presentation, emceed by one of the ranch owners, was entertaining and very interesting to hear the history of the ranch and so many facts & stories by a man who is responsible for our vacation adventure. Impressive to say the least. I so want to remember each employee from the ranch because we literally never encountered an employee who wasn't kind, polite and helpful. The entire place is beautiful, immaculate and I can't think of one thing we didn't have at our request or available. The pool was great as well as the sauna and hot tub and the mini movie theatre! We met so many new friends and fellow travelers from all over because the activities really create an organic environment for meeting people and engaging in conversation as you mutually enjoy this resort. Oh yea, the breakfast ride!! You must do a breakfast ride, the outdoor food and ride through the desert is so wonderful!! I still feel like I've forgotten something but I hope you get the idea that White Stallion Ranch is a great place and a one in a million resort!!
Dave_Amy05
My grandson said "This was the happiest day of my life!" Excellent value
Avaliou em 24 de outubro de 2021
Safe, expertly supervised genuine experiences! Our family of 8 spanning three generations--three boys age 10 & 11, two mothers, one father, two grandparents--LOVED this resort. The staff, which includes owners, were welcoming and friendly, observant of safety yet relaxed. This is the best all-inclusive experience! We could lie by the pool in the sun or under shade, visit animals all day, or choose from horse activities or e-bike or rock climbing...as well as shooting or arrows. All while knowing we would relax in large suites (the king beds were comfortable and pillows terrific) with refrigerators and patios (sitting in front of our own fire outdoors at night, looking at starry skies), and have meals that catered to choices of all generations and diets in our family. We all loved the evening activities too, particularly the cowboy singer at a large bonfire who really did know Willie Nelson and his songs + loved the Animal Show Man who brought local animals from spiders to snakes to chinchillas for everyone to touch and be aware of when outdoors. The biggest hit with every one of us was the Cattle Penning! Yes, boys who only ride horses a few times a year and grandma with adult daughters who had owned horses many years ago, as well as the men, all were enthusiastic after the team-cattle-herding that was assisted by the skilled 'cowboys/girls' of the ranch. Fantastic! A 3,000 acre ranch set in Sonoran desert bordering on Sonoran Desert Park--you are in the classic John Wayne Movie Set dream.
Cheri R
Authentic Arizona Horse Experience
Avaliou em 19 de outubro de 2021
With travel opening up we chose a week here based on Trip Advisor reviews. I can't think of a bad thing to say about the experience. I had my own horse, a Mustang, for the daily ride. The herding experience was a fun way to meet people from all over the Country bound by a common interest in horses. The rooms are Casitas with all that you need for basic comfort. Best of all was no TV in the room. The food was great. They accommodated our gluten free vegetarian preferences. The staff all seemed happy and friendly. And the owner is a hands on character happy to share stories about the Ranch's past. The enduring memory though is the time we spent on horseback. I miss my Mustang. 'Spirit' was her name and nature. Just twenty minutes drive from the Ranch is the Pima Air and Space Museum, and the world's largest 'Boneyard'. Well worth a visit while your in the area. Will definitely aim to visit again.
tripping10
BEST RANCH EXPERIENCE EVER!!!!!
Avaliou em 3 de outubro de 2021
I've visited this ranch several times over the years. Each time I promise to return each year. This time I'm for real. I will make this a yearly trip. I last visited over 16yrs ago and the True Family and staff is still the same. AWESOME!!!!! I recommend this for everyone. I convince some family and friends to join me. They too will be returning. Food, horsebacking riding, archery, e bikes and just being outdoors enjoying the multitude of stars we don't see in the city. I can't wait to return. Oh! they also remembere me from years ago. Check out Octber 3, 2021 PBS channel 28 episode of Family Travel with Colleen. She featured the ranch. I was smiling as if I were back on the ranch again. (We wore our mask however after being beat up by the sun, I peeled it off) Also made new friends and played some fun games during happy hour. Everyone was happy.
melmelCalifornia