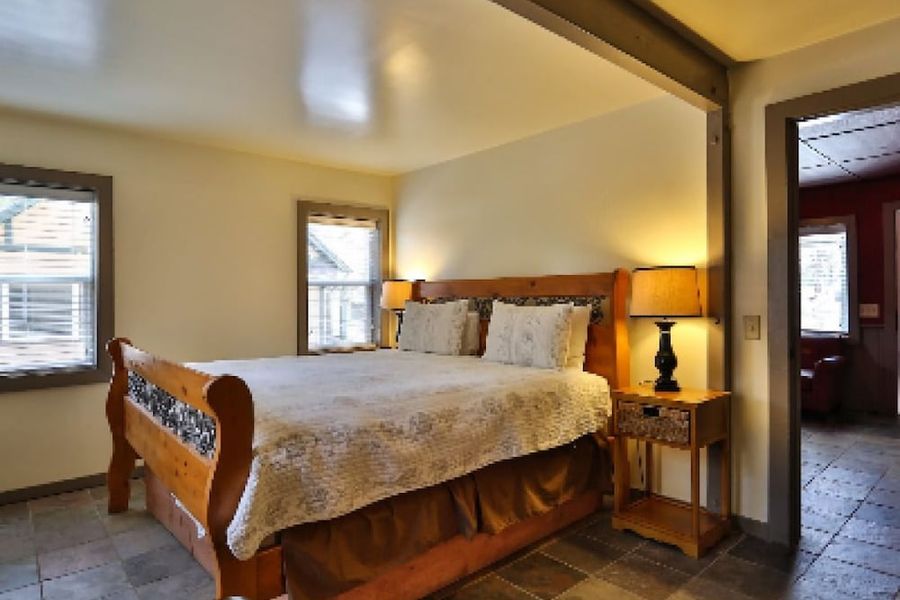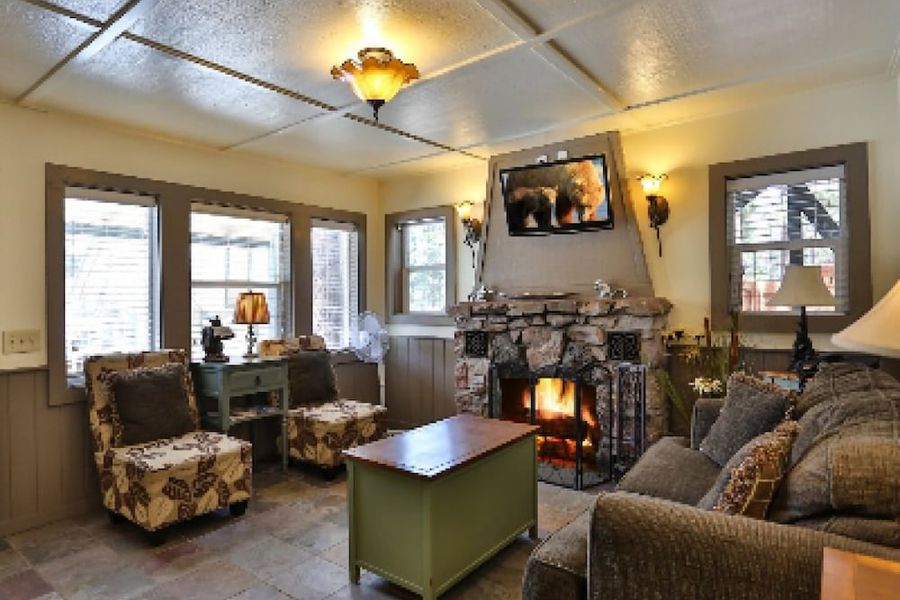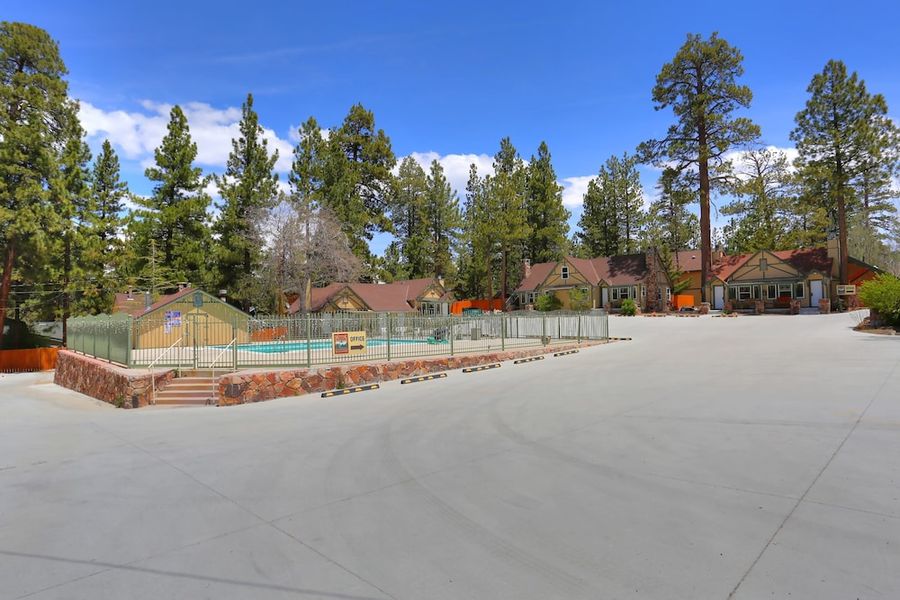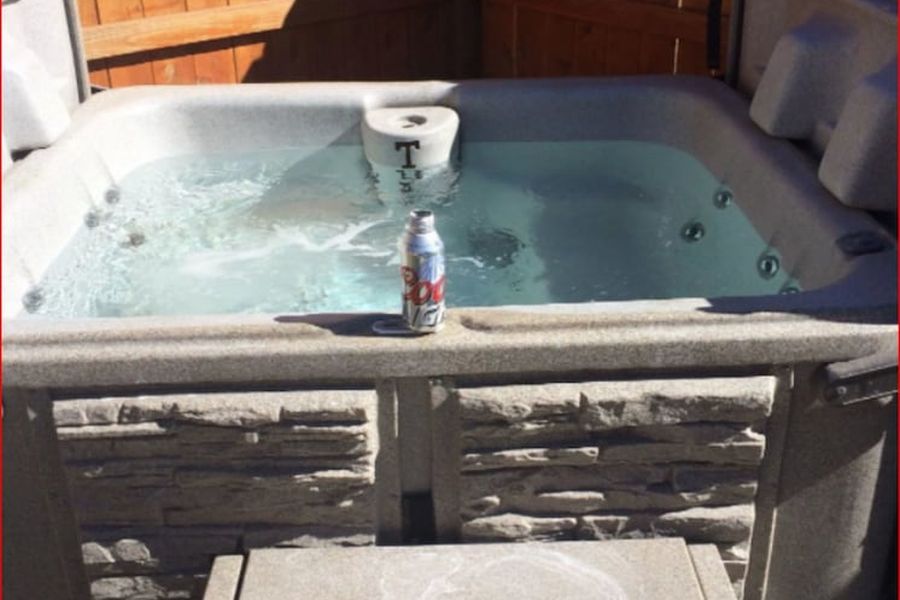 Property Location Located in Big Bear Lake, Bear Creek Resort is a 5-minute walk from Alpine Slide at Magic Mountain and 14 minutes by foot from Big Bear Marina. This cabin is 1 mi (1.6 km) from Big Bear Visitor Center and 1.5 mi (2.3 km) from Boulder Bay Park. Distances are displayed to the neare...
More details
OpenWeather
Select the date of your trip to check room availability.
Property Info
Check-in starts at: 15:00
Check-out ends at: 11:00
Property Location Located in Big Bear Lake, Bear Creek Resort is a 5-minute walk from Alpine Slide at Magic Mountain and 14 minutes by foot from Big Bear Marina. This cabin is 1 mi (1.6 km) from Big Bear Visitor Center and 1.5 mi (2.3 km) from Boulder Bay Park. Distances are displayed to the nearest 0.1 mile and kilometer. - Alpine Slide at Magic Mountain - 0.4 km / 0.2 mi - Metcalf Bay - 0.8 km / 0.5 mi - Aspen Glen Picnic Area - 0.8 km / 0.5 mi - Big Bear Marina - 1.2 km / 0.7 mi - Bowling Barn - 1.2 km / 0.8 mi - Gilner Point - 1.5 km / 0.9 mi - Big Bear Visitor Center - 1.7 km / 1.1 mi -...
40210 Big Bear Blvd, Big Bear Lake, CA 92315, USA - Big Bear Lake, California - U.S - 92315
Property Amenities
Check-in starts at: 15:00
Check-out ends at: 11:00
Guest rating
TripAdvisor
Travelers rating
Excellent

79

Very Good

49

Good

15

Reasonable

11

Bad

21
Travelers profile
Business

3

Couples

64

Solo travel

4

Family

62

Friends getaway

15
Scores Summary
Cleanliness

Location

Rooms

Service

Sleep Quality

Value
HOW TO RUIN A VACATION
Reviewed 2 february, 2021
Where to begin. Rude PERIOD ! Not a clean place AT ALL. Unless of course you sleep on the street. Really. No Joke Intended Stained towels. U get 1 towel per stay Per person. Ur towel will be wet from the last shower. Shower is So dirty u can't see in or out. Seriously Your neighbors Will sound like they are in your room even when they are in theirs!! U hear even a whisper. Joke. Floors are Dirty. Blinds are broken. Please don't get me started ME started on the toilet ! Ewe. Really! Kitchen ! No. But they say they it's a 4 star. It isn't even close It is a -4 in the ratings. Nota 4 IT is a true scam. We could go on. Lights..... 40 watts. So u can't see the filth
edwarda647
WARNING WARNING DONT EVEN STAY HERE
Reviewed 13 october, 2020
ARNING WARNING. do NOT stay here. Lies is all I get after 4 phone calls so I guess i just have to eat it on my stay. The last story they told me today is the manager is on vacation and they dont know when she will be back ! did someone bury her in the back??? but this morning they said she just left the office and will be right back, I've called sat, sun,mon and today with all diffrent storys. HERE'S WHAT HAPPENED to us on sat nite. We come back from town after a nice nite out, looking forward to our special jaccuzi room..... the jaccuzi was broken,barely luke warm barely and it never got any warmer at all, so now were freezing,bummer,oh well we'll just take hot showers,the SHOWER IS BROKEN, dial just keeps spinning around with either BLISTER SCALDING HOT or ICE FREEZING COLD,so cant use, now were realllllly cold...oh and it GETS EVEN MORE HORRIBLE, the front door lock is STUCK , the deadbolt will NOT OPEN were locked in our room now all nite, hope there isnt A FIRE AND WE DIE because we cant get out, so I gently pry open the dead bolt get things from my car and the dead bolt NOW IS STUCK OPEN,wont go in we have to sleep all night with the front door open and ajar with the couch moved in front of it so vagrants dont try to stab us in our sleep. yup no sleep for us, it was 30 degrees and freezing. the front porch bench desided to crash on us also.... comical huh? I told all these things to the front desk and Bear Creek REFUSE'S to talk to me about any of it. WOW Bear CROOK Resort is more like it. The Fire Dept will shut them down most likel
foodernews
Stay away!
Reviewed 27 august, 2020
This place is a dump, and management is extremely rude and inhospitable for a business that is in the hospitality industry. We booked Unit 14 for a Saturday and Sunday night. When we arrived on Saturday afternoon, the unit had a strong odor that was giving us headaches and making my 70 year-old mother-in-law nauseous. We assumed the smell was from extra cleaning because of Covid, opened the windows to ventilate the unit and went out to do some outdoor activities in Big Bear. Wrong! The smell wasn't from cleaning; it was from bug spray to try to kill the ants that we later discovered all over the kitchen, downstairs bedroom and living room. In addition to the ant problem, the water in the pool was drained (which was not disclosed on their website or Booking.com), multiple light bulbs were out, there were screens missing in several windows, one of the beds had a crater indented into the mattress that made it virtually impossible to sleep in, the TV remote did not work and the air conditioner literally spit out icicles during the night. Overall, the unit was dated (not in a good way) and run down. We weren't expecting the Ritz Carlton, but we did expect it to be clean, free of bugs, with a working TV and light bulbs, and a beds that could be slept in. We could have dealt with the other issues, but the ants and lingering smell of bug spray were a deal breaker. Unfortunately, because we had been out enjoying ourselves during the afternoon and evening, we did not realize the extent of the ant problem until after 8 p.m. We called the front desk and spoke with Mandy. She was not at all surprised and did not deny that they had sprayed for ants before our arrival. In fact, admitting that there were major issues with our unit, Mandy offered to cancel our reservation for a full refund. She pointed out, however, that because it was a Saturday night, we might have trouble finding somewhere else to stay. She was right. We went online and called around to a few places, but couldn't find anywhere else to stay on Saturday night (there were 7 of us – me, wife, four kids and grandma – so we would have needed at least two rooms). Because we could not find another hotel, Mandy gave us the option of staying on Saturday but cancelling and getting a refund for our second night. Since we didn't have any other options, we decided to stay on Saturday and cancel the second night of our reservation. We were expecting to get a refund for at least half the amount we paid, since we had only stayed one night, and because of all of the issues with the unit. Instead, Bear Creek only refunded us $270 out of a $740 booking. So basically, they charged us $470 to stay one night in an ant-infested, bug-spray-smelling, run down dump of a cabin. For the past several days we have been fighting with Bear Creek to get a half refund (we should be asking for a full refund), and can't believe the way we've been treated. On Sunday, Mandy basically told us we were dumb and that we should have been able to figure out that they wouldn't give us a half refund. She told us that she was only following company policy, couldn't do anything for us, and that we would have to speak with the owner, "Angela." On Monday, I called back to talk to "Angela." She's not in, and Mandy doesn't know when she's going to be in. I ask her to have Angela call me. No call. The next day (Tuesday), I call again for Angela. This time, Skyla answers the phone. She listens patiently, but says she can't do anything for me. I'll have to speak to Angela. She takes down my name and number and promises to pass my message on to Angela. Again, no call from Angela, so I call back. Skyla answers again. She said that she gave my message to Angela, but Angela THREW IT IN THE TRASH, said she's not going to call me back, and said she's not giving us a refund. At this point, we're not sure if "Angela" really exists. But if she does, we're shocked that someone in the hospitality industry would act like this. I was really hoping that Bear Creek would be reasonable with me and work something out so that I wouldn't have to leave this review. But it seems like online reviews are the only way to get some people's attention. We'll see if it makes a difference. From the way this company has behaved so far, I'm not holding my breath.
K138SUtomp
Cute cabin. Very relaxing
Reviewed 25 july, 2020
Really close to most everything. Simple check in and out. Great price. our neighbors were very friendly Was clean, Bed was comfy. We will defiantly. Go back. Lots of trees. pool was big but closed because its July of 2020..
marykA1836BE
Great location -bad service
Reviewed 22 june, 2020
The room we paid for was sub-par. We were expecting a kitchen and stuck with a standard room above the main office. Stairs only, no elevator. The blinds are missing and and had no privacy. Was given a used sponge to wash my own dishes in the bathroom sink, no maid service unless you pay $50 extra. I was texted and harrassed by the property after my main review. So unprofessional!
Karip8088