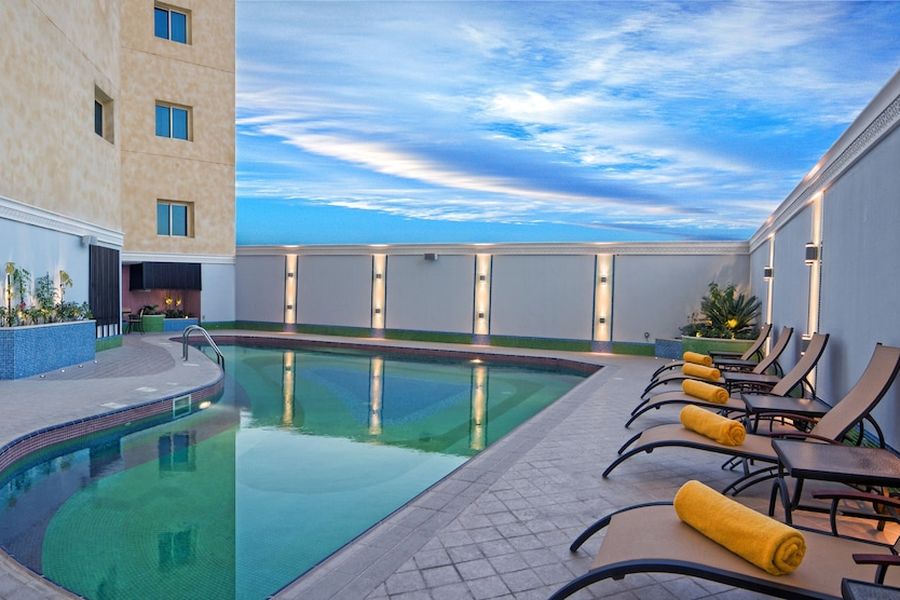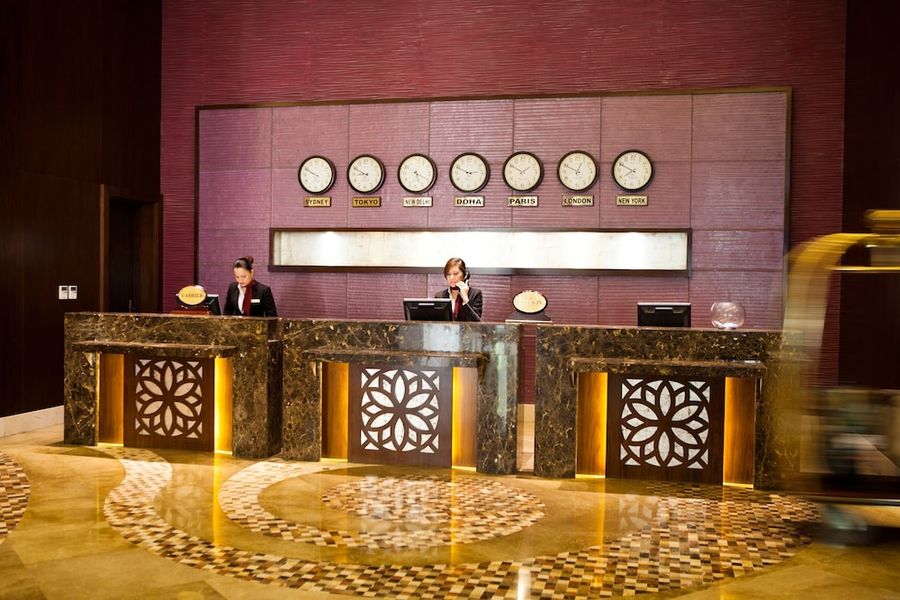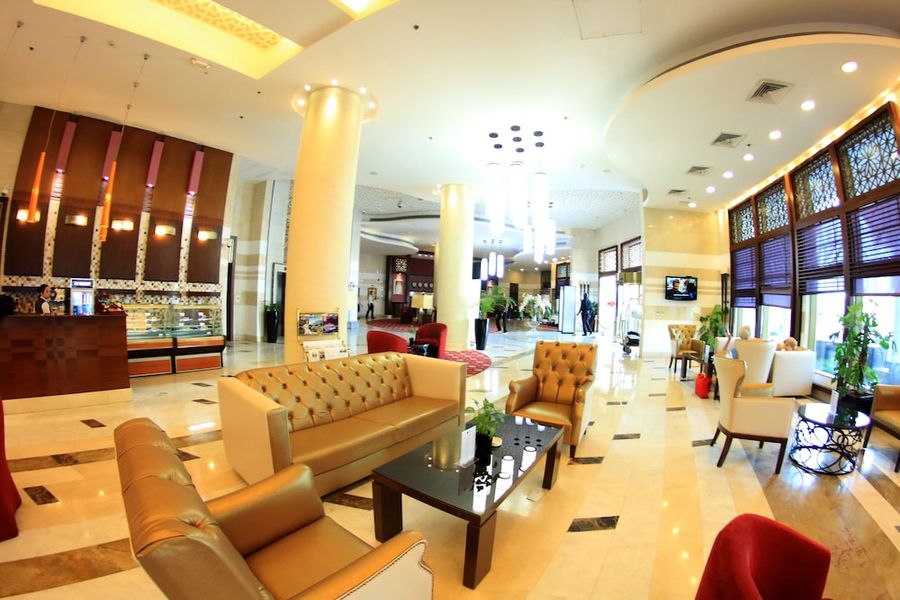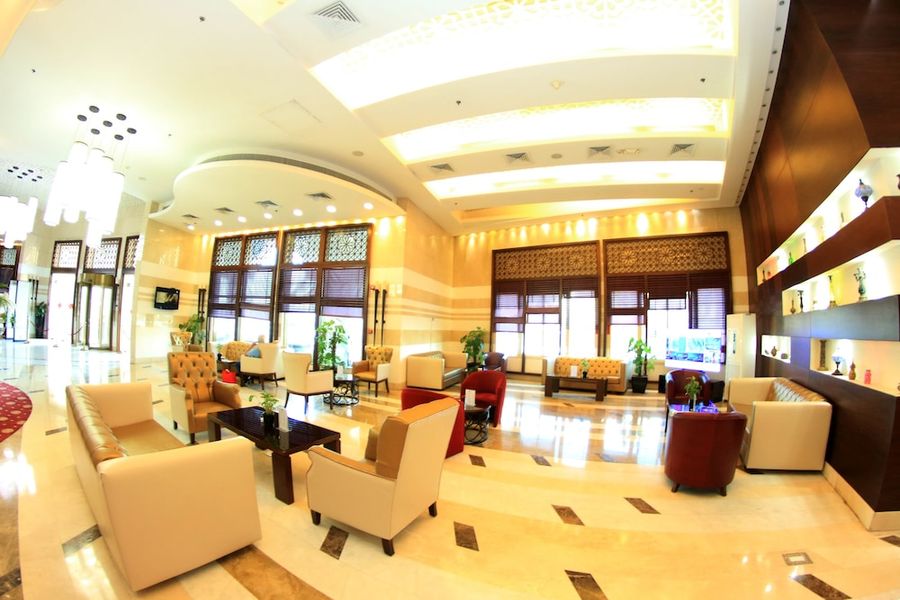 Property Location When you stay at Grand Regal Hotel in Doha, you'll be in the historical district, within a 5-minute drive of Grand Hamad Street and MIA Park. This 4-star hotel is 1.7 mi (2.8 km) from Doha Corniche and 5.1 mi (8.1 km) from City Centre Shopping Mall. Distances are displayed to the...
More details
OpenWeather
Select the date of your trip to check room availability.
Property Info
Check-in starts at: 15:00
Check-out ends at: 11:00
Property Location When you stay at Grand Regal Hotel in Doha, you'll be in the historical district, within a 5-minute drive of Grand Hamad Street and MIA Park. This 4-star hotel is 1.7 mi (2.8 km) from Doha Corniche and 5.1 mi (8.1 km) from City Centre Shopping Mall. Distances are displayed to the nearest 0.1 mile and kilometer. - Grand Hamad Street \- 0.9 km / 0.5 mi - National Museum of Qatar - 1.3 km / 0.8 mi - Souq Waqif - 1.3 km / 0.8 mi - Doha Corniche - 1.4 km / 0.9 mi - Gold Souq - 1.4 km / 0.9 mi - Abdulla Bin Zaid Al Mahmoud Islamic Cultural Center - 1.4 km / 0.9 mi - Pouce - 1.5 k...
Near Qatar Islamic Museum, Ras Abu Abboud St, Doha, Qatar - Doha, Doha - Qatar - 22057
Property Amenities
Check-in starts at: 15:00
Check-out ends at: 11:00
Guest rating
TripAdvisor
Travelers rating
Excellent

40

Very Good

46

Good

36

Reasonable

17

Bad

32
Travelers profile
Business

65

Couples

23

Solo travel

23

Family

23

Friends getaway

21
Scores Summary
Cleanliness

Location

Rooms

Service

Sleep Quality

Value
What could have been....
Reviewed 24 november, 2022
Due to a six AM flight to Manilla, Becca and I decided to stay in Davao for two days before my final departure from the Philippines. We wanted to stay in the Water Front Insular Resort where we had stayed previously and really enjoyed. But it was not available for our dates. Therefore, I half-assed looked for a place myself and came across the Grand Regal Hotel. It seemed like a really good deal for the Premium Deluxe Room for only $75.00 a night, but immediately after booking, I found this was the biggest mistake of my vacation. Right after clicking accept the accommodations, it showed me the bill for the place and the no refund policy. For a room that should have only cost me a 150.22, it turned out to be a total of $270.02 after Extra Person Fees and Tax Recovery Charges. This charge included the estimated amount they pay the hotel for occupancy related taxes owed by the hotel and any amounts charged to them for resort fees, cleaning fees, and other fees. The balance of the charge is a fee they, the hotel supplier and/or the website I booked on, retain as part of the compensation for their services which varies based on factors such as location, the amount, and how I booked. I booked on their website for one. And I wasn't notified of any of this policy until after I paid for the room. Then it showed there was a no refund policy. This should be illegal. I knew I was screwed. When we arrived, we found the place at one time may have been the crème del a crème of Davao City. Now, it shows considerable age as renovations obviously haven't been attempted in some time. Carpeting is quite worn and some painting could be attempted. We were not met by any bell hops to help with our luggage as we carried our own inside. Then a bell hop brought a cart over and loaded for us. Reception was over staffed yet we still had to wait twenty minutes to be checked in by a rude/non-receptive staff. When we got to our room, it was nothing spectacular, no bathtub, worn dressers, carpet, and no mini bar as advertised. Plumbing fixtures date back to the 70's. Did I mention that the shower drain backs up and excess water drains onto the bathroom floor over the glass shower door floor barrier? As for the view, it was nothing to look at other than a car lot and maybe a shipping dock; quite pathetic actually. These are the good points of the room. Still, we went out to the Viking Restaurant to enjoy our weekend as we had heard so many good things about it. The Viking restaurant should have been called Gluttons R Us. This place stays fully booked all the time as reservations are required and there is a waiting list to get in. I don't know why. The food isn't all that good. There is a ton of it and quite a variety. It is buffet also. This means everyone in Davao gets to breathe over it and put their hands on it. Some even ate right off the buffet as they moved on to the next item. God, I do hate buffet. The only aspect I could find that half way made this adventure bearable was that beer was included. The next morning, we decided to go down to the free breakfast that was included. This type of breakfast was good if you were born in these parts. I'm really not accustomed to dried fish and soup first thing in the morning. Regardless, I was able to make do with what was offered. I got my eggs, bread, fruit, and coffee. The mangos and pineapples were quite sour and not fresh. The morning staff was as unfriendly as the evening staff. After which, we went back out to discover more of Davao. Upon our return, we decided to check out the attached Casino Filipino. Becca and I were discussing what games to play as she's an avid Bingo player and I'm not much of a gambler at all. However, I know Blackjack, Texas Hold'em, Stud, and Draw. I'm not much on the one-armed bandits though. But before we could even pull out any money, I guess a dealer or manager came over and told Becca, in Bisaya, that I didn't meet the dress code since I was wearing shorts and a tank top. It was two pm and we were the only customers. Becca interpreted the conversation to me, even though, the manager was quite capable of telling me in English, and we turned to walk out. This was fine by us as we don't really gamble and can afford to save our money. Right now, we have nine hours before our departure from this establishment and all I can think to do is talk about how bad our past two days have been thanks to the Management and Staff of The Grand Regal Hotel Davao. I wouldn't recommend this place to my worst enemies. There are many other establishments to stay in in Davao. Again, if you are considering the Grand Regal Hotel, change your mind now.
rickerr03
Poorest Customer Service One Will Ever Experience As a Hotelier.
Reviewed 22 april, 2022
With my 8 years Experience in Hospitality industry I've never been faced with such unbearable services, they from the time u arrive no one seems to care, someone comes and directs u to where you're supposed to sit minus greeting you or even Introducing themselves to you, the tone of voice is so very harsh and rude, just because someone is going in your hotel for quarantine doesn't necessarily mean his infected with Covid for cry out loud stop treating your guests like animals who deserve no Respect at all. The food is packed in a very funny way as if we're refugees mind you no one spends all the days they spend in your hotel for free, no Amenities in the room, the beds are dirty with hair and stains, the screen doesn't work, the sockets are in bad shape, everything is total mess, you call various departments just to be given service and everyone keeps on sending u to another department, when they come even housekeeping attendants start questioning you about the request made as if you're some miserable guest who doesn't deserve to have amenities in the room. Everyone just looks at u like a missed call and doesn't even bother to ask, there's no smile from any of the workers, everyone has a sad, angry face they look at u as if they want to strungle you, it's a shame seeing such a hotel in a good strategic place having such poor unbelievable services. There's alot of discrimination as well in race I Must say and it's so sad.
AJonez3
Horrible Staff and Service
Reviewed 29 december, 2021
Very bad customer service with the staff. No proper greeting, no proper communication between house keeping, room service and reception. No clue that they have to do the RT PCT on the 1st day the guest arrives. Food was horrible and no choices. Only 2 choices which would be veg or non veg. Non veg would be fish chicken and lamb the day I stayied. Bad WIFI connection. Booked the hotel for 2 days but stayed just for one day. Paid 1002QR for the 2 nights Hotel package. Horrible experience.
345kirkd
Terrible hotel
Reviewed 4 march, 2021
Very bad staff that they talk to people maliciously. Nurses and doctors also, they are disrespectful ! They make me and other people depressed. This hotel must be changed! I mean the staff (doctors, hotel staff and security ) because we got from them a very bad treatment. I ask doctor to respect my feelings because I am staying here . I would be unfair if I didn't say that housekeeping and room service are nice and lovely, they respect us and make us happy; Thank you for them only, but the others are extremely terrible. The rooms are old and dirty also!
7vll
Pretty bad
Reviewed 23 december, 2020
The food is pretty boring, no variation at all. The room is not so uplift to the expectation which worth its price. The room services, staffs, operators are NOT professional at all. With the same price, it is better to find other options.
NashJohn_Travller