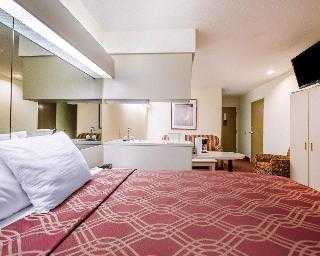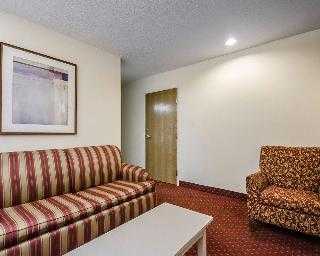 Avaliação TripAdvisor
Baseado em 63 avaliação
Ver todas
Este acolhedor hotel está localizado em Evansville. O número total de quartos de hóspedes é de 82. É possível aceder ao Wi-Fi em todo o hotel. Além disso, as instalações fornecem um serviço de receção durante todo o dia. No caso de serem solicitados todos os quartos incluem berço para crianças. O Ec...
Mais detalhes
Disponibilidade
Selecione a data da sua viagem
Selecione a data da sua viagem para verificar a disponibilidade dos quartos.
Informações do estabelecimento
Este acolhedor hotel está localizado em Evansville. O número total de quartos de hóspedes é de 82. É possível aceder ao Wi-Fi em todo o hotel. Além disso, as instalações fornecem um serviço de receção durante todo o dia. No caso de serem solicitados todos os quartos incluem berço para crianças. O Econo Lodge Inn & Suites Evansville dispõe de estacionamento para conveniência dos hóspedes. Graças a políticas sustentáveis deste estabelecimento este tem um impacto mínimo sobre o ambiente. Reserva-se o direito ao Econo Lodge Inn & Suites Evansville de cobrar uma taxa por alguns destes serviços.
Entrada a partir de: 15:00
Saída até: 11:00
Comodidades do estabelecimento
Sem berços/camas para crianças disponíveis
Proteção de acrílico entre os clientes e os funcionários nas principais zonas de contacto
Sem camas desdobráveis/extra disponíveis
O estabelecimento é limpo com produtos desinfetantes
O estabelecimento confirma que está a implementar medidas adicionais no domínio da segurança dos clientes
O estabelecimento confirma que está a implementar medidas adicionais no domínio da limpeza
São aplicadas medidas de distanciamento social
Apenas trabalhadores de áreas essenciais: NÃO
Estabelecimento para não fumadores
É fornecido gel desinfetante para as mãos aos hóspedes
Lavandaria
Os funcionários usam equipamento de proteção individual
Receção 24 horas
Os lençóis e as toalhas são lavados a uma temperatura mínima de 60 °C
Internet sem fios grátis
As superfícies tocadas com frequência são desinfetadas
Serviços de lavagem a seco/lavandaria
Acesso para cadeiras de rodas (poderá haver algumas limitações)
Café/chá nos espaços comuns
É obrigatório o uso de máscara no estabelecimento
Acessibilidade nos quartos
Equipa multilingue
Pequeno-almoço grátis
Polibã adaptado para cadeiras de rodas
Casa de banho acessível para cadeiras de rodas
Cofre na receção
Estacionamento sem motorista grátis
Circuitos para caminhadas/bicicleta nas imediações
Computadores
Lareira no lobby
Áreas especificas para fumadores (multas aplicáveis)
Uso do centro de fitness nas imediações (desconto)
Não se servem bebidas alcoólicas no local
O estabelecimento segue as orientações de higiene e limpeza de uma entidade reguladora ou de uma marca Commitment to Clean (Choice)
Estacionamento para autocaravanas, autocarros e camiões
Algumas das comodidades e serviços em destaque incluem Wi-Fi grátis, uma lareira no lobby e utilização de uma sala de fitness nas imediações com desconto.
Avaliação dos hóspedes
TripAdvisor
Pontuação dos viajantes
Excelente

12

Muito Bom

17

Bom

15

Razoável

7

Ruim

12
Perfil dos viajantes
Negócios

13

Romântica

10

Viagem a sós

9

Família

18

Viagem com amigos

7
Resumo das pontuações
Atendimento

Custo-benefício

Limpeza

Localização

Qualidade do sono

Quartos
Squeezed
Avaliou em 22 de junho de 2019
We checked into this property after a so-so experience at the Super 8 down the road. While this was cleaner and had a much better appearance we paid more for our room while getting a bit less in some areas. The room was so small that we could barely get around our bed. I haven't been in a hotel room this cramped since I was in NYC several years ago. The TV was placed on top of the cabinet that served as a closet meaning that I had to crane my neck to watch TV which isn't optimal. The bathtub wasn't completely clean--hair left from the last guest(s) which is kind of gross. Also, no hairdryer which my wife was counting on. While they advertise a continental breakfast, they actually served eggs, biscuits and gravy and waffles on the weekend. No eggs or biscuits and gravy on the weekdays which was a disappointment. A big plus on the waffles was a second flavor, blueberry one day and maple cinnamon on another. I wonder if I had stayed longer would there have been additional flavors. The staff was friendly and courteous and the location is great--just off the highway and close to the Y, which has a track and field that I used to walk on when the Y was closed. There is plenty of shopping and dining nearby which makes this property a good choice for the budget-minded.
Don I
Not too bad. Nice room, Disrespectful other guest. inconvenient re-access to room
Avaliou em 28 de agosto de 2018
The reviews for this location weren't the best, but we decided to try it anyway. The room was nice, we stayed in a King Suite. This is the first time we have had to find a motel that accepted pets, didn't have a pet previously. We were there 3 days, thoroughly enjoyed our stay, except for a couple of things. I have never understood why motels put an older couple in a room surrounded by children in other rooms. We are in our late 50's, we raised our children, now prefer to travel without children. When 9-10pm gets here, we are ready to be in the bed, but the children nearby are still running up and down the halls slamming doors. This motel has 3 floors, so be prepared to call the office and hope it gets stopped, we were on the 3rd floor. If you smoke, which we don't or if you have a pet, which we do, and if you have to let the pet go out, it can be frustrating. We were on the 3rd floor on the very end of building. At 5am, when the dog woke me up to go potty, I would like have to slipped out of the room , down 3 flights of stairs and out the door on the end, then slipped quietly back in and not worried about what I looked like and no one seeing me that early in the morning. But, the Key Card slot on the outside doesn't work to let you back in, so when I go out on the end, I had to walk all the way back around to the front door through by the front desk to get in. I tried to put a very small rock in front of the door, while I was standing right there, so I could get right back in and their early morning employee moved the rock and shut the door leaving me standing there without saying a word to me. It was not a security issue, because I was watching the door. The young lady that works evenings, is super nice, we sure enjoyed our interaction with her. If you choose to stay here, just be aware, if you need to go in and out, it may not be convenient. We will be in the area again next week, just trying to decide where to stay, will probably pay $20 more so I can access end door with my room key. This is a nice place, if you don't need that convenience. This is the first motel that my room key didn't open the outside door. :-(
281brendap
Worse than expected
Avaliou em 13 de março de 2018
I had stayed here a few years ago and thought it wasn't bad for the price so I decided to stay again recently. Worst decision. Despite being "smoke free," the halls reeked of smoke. The only affordable room was a 1 bed, not a big deal, but when I stepped in the room, I realized that it couldn't have been bigger than a jail cell. I felt very unsafe with weird people walking around and coming up to the front counter while the person at the desk was reading my credit card number out loud. An immigrant woman who might have been involved in human trafficking asked us for money. I didn't sleep all night because the walls were so thin. Not only did I hear kids screaming and people yelling, but the people next to us were either jumping on the bed at various speeds or were having sex. We could hear the bed move, first slow, then really fast, then silence for a few minutes before it picked up again. I was about to throw up and I for sure didn't want my kid to hear that! Breakfast was not good and as soon as I touched anything an employee came and yelled at me! just terrible.
413kimmie
Near the exit #9
Avaliou em 13 de fevereiro de 2018
Stayed here for 1 night. Right off exit 9. easy to find. The room 218 was facing the main street and highway. There was some street noise during the night, but not a lot. The room was smaller but I was not throwing a wedding reception in it. Everything was clean. The heater worked great. Here was what was for breakfast. Toast/muffins, 2 kinds of cereals, Hot White gravy on biscuits, a waffle maker, cf and oj. enough to get you going. If you need more stay at the $100 night ones!
hrcalso
Vacation
Avaliou em 10 de fevereiro de 2018
Great stay! It was a very clean and comfortable place. The people there were very respectful and polite, the hotel staff were very, very nice and the everything worked in the room. It was well worth the money, I would recommend it to anyone
Lisa M