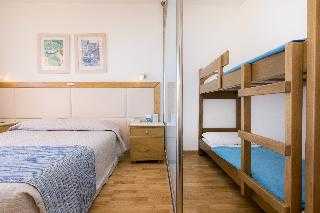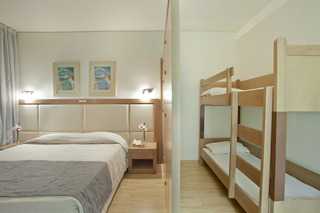 Avaliação TripAdvisor
Baseado em 1676 avaliação
Ver todas
O hotel situa-se na costa sudeste de Chipre. Localiza-se em Protaras, com as suas vastas praias e águas cristalinas, próximo do pitoresco porto piscatório. Existem várias lojas, tabernas, bares e clubes nocturnos nas imediações. O Aeroporto Internacional de Larnaca fica a cerca de 45 minutos. Este h...
Mais detalhes
Disponibilidade
Selecione a data da sua viagem
Selecione a data da sua viagem para verificar a disponibilidade dos quartos.
Informações do estabelecimento
O hotel situa-se na costa sudeste de Chipre. Localiza-se em Protaras, com as suas vastas praias e águas cristalinas, próximo do pitoresco porto piscatório. Existem várias lojas, tabernas, bares e clubes nocturnos nas imediações. O Aeroporto Internacional de Larnaca fica a cerca de 45 minutos. Este hotel balnear, renovado em 2005, conta com 228 espaçosos quartos e confortáveis suites, recentemente renovados para agradar aos hóspedes mais exigentes. As instalações incluem ar condicionado, hall de entrada com recepção em serviço sob 24 h, guichet para câmbio monetário, bengaleiro, café, sala para...
Mais detalhes
Entrada a partir de: 15:00
Saída até: 11:00
Comodidades do estabelecimento
Piscina e comodidades de bem-estar
Piscina Interior
.
Serviços de recepção
Concierge
Depósito de bagagens
Proteção de acrílico entre os clientes e os funcionários nas principais zonas de contacto
O estabelecimento é limpo com produtos desinfetantes
O estabelecimento confirma que está a implementar medidas adicionais no domínio da segurança dos clientes
O estabelecimento confirma que está a implementar medidas adicionais no domínio da limpeza
São aplicadas medidas de distanciamento social
Apenas trabalhadores de áreas essenciais: NÃO
Estabelecimento para não fumadores
Lavandaria
Os funcionários usam equipamento de proteção individual
A temperatura dos funcionários é medida com frequência
Receção 24 horas
Aluguer de bicicletas no local
Internet sem fios grátis
As superfícies tocadas com frequência são desinfetadas
Serviços de lavagem a seco/lavandaria
Acesso para cadeiras de rodas (poderá haver algumas limitações)
Café/chá nos espaços comuns
Sala de jogos eletrónicos/de mesa
Acessibilidade nos quartos
Serviço de baby-sitter ou supervisão de crianças (sobretaxa)
Apoio para excursões/compra de bilhetes
Equipa multilingue
Guarda-sóis junto à piscina
Pequeno-almoço grátis
Salas de tratamentos de spa
Polibã adaptado para cadeiras de rodas
Piscina exterior sazonal
Casa de banho acessível para cadeiras de rodas
Uma sala de reuniões
Piscina para crianças
Bar junto à piscina
Jardim
Sala de fitness
Snack-bar/pastelaria
Terraço
Serviços de concierge
Bagageiro
Espreguiçadeiras junto à piscina
Serviços de spa no local
Ténis no local
Clube para crianças (grátis)
Estacionamento com acesso para cadeira de rodas
Número de bares de praia: 2
Lojas de presentes ou banca de jornal
Brinquedos para crianças
Receção grátis
Caminho acessível em cadeira de rodas
Mobiliário de exterior
Centro de congressos
Lojas no local
Atividades supervisionadas/guarda de crianças (grátis)
Número de restaurantes: 3
Jogos para crianças
Serviço para casamentos
O estabelecimento segue as recomendações de higiene e limpeza da Intertek Cristal (especialista terceiro – Global)
Escorrega aquático
Campos de ténis exteriores - 2
Número de bares/salas comuns: 4
Minibar
Distribuidor de água
Alivie o stress com massagens, tratamentos corporais e tratamentos faciais. Entre as várias opções de lazer e entretenimento ao seu dispor, incluem-se campos de ténis exteriores, uma piscina interior
Papel higiénico
Avaliação dos hóspedes
TripAdvisor
Pontuação dos viajantes
Excelente

942

Muito Bom

426

Bom

203

Razoável

70

Ruim

35
Perfil dos viajantes
Negócios

23

Romântica

375

Viagem a sós

45

Família

934

Viagem com amigos

127
Resumo das pontuações
Atendimento

Custo-benefício

Limpeza

Localização

Qualidade do sono

Quartos
Honest Review… Great Resort, would visit again!
Avaliou em 2 de novembro de 2021
My family and I spent 17 nights at this resort in October and had a great time. The hotel is positioned slightly out the way but has a great transport network into Protaras and other areas in the form of bus and taxi's which are reasonably priced. Walking into Pernera is only a short distance where you will find bars and restaurants. There are a number of lovely coves and beaches within walking distance of the resort. Boat trips are readily available from the small harbor located next to the hotel and are reasonably priced. Upon arrival, check in was pleasant and straight forward we were greeted with drinks and pleasantly surprised to hear that we had been given a free room upgrade. ROOM : Lovely, clean and tidy and had the most fantastic views of the sea. Tea, coffee and milk were topped up daily. Housekeepers worked hard kept the rooms clean and gave fresh clean towels daily. POOL : Area is nice and clean and there are plenty of sunbeds. Only downfall with the pool is that it is fairly small and you have nowhere to escape the children who want to jump in right next to you and splash you. There were lots of children at the resort of all nationalities. It's just a shame that some parents when on holiday with children are more interested in taking selfies and sunning themselves rather than monitoring their children allowing them to run riot!! (This is not a fault of the hotel, purely down to lack of parenting). Beach towels are available and can be changed whenever needed, pool/towel attendant was lovely always happy for a chat. SPA : Had 2 massages at the Spa and they were just lovely and reasonably priced. ANIMATION TEAM : Absolutely fantastic, a credit to the hotel and their company One Stop Entertainment. Hannah, Detti, Andre, Ellina and Marina worked so hard every day and were keen to involve you in the array of activities. That said, they were not overly pushy, so if you didn't want to get involved they still had time to chat with you and make sure you were ok. My family and I got involved in lots of the activities (aqua gym, aqua yoga, water polo, killer darts, French boules and …….the hotel dance!!) had lots of fun. We have been fortunate enough to travel and visit many hotels and I must say this entertainment team were up there with the best! Evening entertainment acts were hit and miss, some fantastic, some not so entertaining. That said everybody's likes and dislikes are different so there's something for everyone of every age. One thing I did notice on a number of occasions and so too did fellow guests was the appalling way in which the animation team manager (Alex) spoke to and treated the team. I have never in my life seen somebody speak to their staff and treat them in such a derogatory manner, this in front of guests. Whenever Alex was around you could see the change in the demeanor of the animation team which is such a shame, you could see they clearly feared him. This treatment by Alex was so shocking to see and unnecessary for such an exceptionally hard working ,lovely team. I truly feel his behavior should be addressed. FOOD & DRINK: Food in the main buffet restaurant was good, something for everyone. That said it did get a little repetitive and there were times when what should have been hot food was only lukewarm. Waiting staff worked very hard, clearing and cleaning the tables, which is a difficult task the way some people eat!!! I did have concerns with regards to the children being allowed to enter the restaurant unaccompanied. My reason for this is on a couple of occasions I witnessed 2 young girls at the desserts station (Parents were still by the pool). They had jumped up onto the dessert counter and were using their fingers to pick at desserts including mousse, also removing the chocolate decorations from the other cakes and pastries with their fingers. Their hair was long and loose resting on top of the desserts. I did challenge them on one occasion. This was not hygienic and I'm sure you will agree, unacceptable, especially with the current climate the world is in with Covid-19. I did make a point of speaking with the hotels assistant manager about this, however I was made to feel like I was over reacting. I didn't feel my concerns were addressed as the same thing happened again the following day. STAFF: Staff at the resort are so friendly and helpful can't do enough for you. Maria at the pool bar was just lovely and a credit to the hotel, so too was Stelios and his staff in the main restaurant. Reception staff friendly and when I asked for an additional pillow in the room they promptly contacted housekeeping who brought the pillow to the room with 10 minutes (excellent customer service). OVERALL: We had a fantastic time and whilst I have highlighted some blips we would definitely return to this hotel and would encourage others to visit. Unfortunately I can't accept Alex's actions towards the animation team and really do feel this this should be addressed. Thank You Golden Coast Hotel for a lovely well needed holiday
lisa14Burton
Positives and Negatives
Avaliou em 1 de novembro de 2021
After reading some of the other reviews, we were holding our breath somewhat. It was the location especially in regard to the beach that sold it to us. Now, as I have said, we didn't know what to expect. What can I say… So I'll narrow it down to the positives and negatives. Positives are EVERYTHING!!! We couldn't fault our stay at all. The room was excellent ~ after all, do you really need a lounge etc, when all you do is get ready and sleep in the room? The staff were outstanding. Nothing was too much trouble and always greeted with a smile. What a brilliant team you have in the hotel! A special thank you to Fanos, Maria, Hannah, Andrei, Pannikos in the restaurant, Detti and of course a huge shout out to Pannikos and Lukas! The best towel monitors in the world, ever! The restaurant staff were awesome as well. The food in the all inclusive is not too bad at all, however upgrading to the AI plus is definitely worth it. The snack bar is superb. The Italian restaurant is really really good. Best bruschetta I've ever eaten. We didn't try the spa as the pool, beach and our new bff's kept us busy. Lots and lots of laughter with the staff as well as guests, as a great holiday should be. We thoroughly recommend going along the coast line (either way) for a walk. Beautiful beaches and snack bars. Now the negatives… There aren't any to be honest apart from the fact that we didn't book for a longer stay. I think we will definitely be coming back here next year.
Donski69
Staff were EXCELLENT!
Avaliou em 23 de outubro de 2021
My girlfriend and I decided to book a last min holiday to Cyprus and Golden coast seemed to be the best value for money, and it did not disappoint one bit! Staff were awesome all around the the hotel and were super accommodating. Special shout-out to Bernadette, who were part of the animation team. Although we did not want to participate in any of the activities she was still super friendly and always full of energy! She is a credit to golden coast! Food was great here too, excellent variety and they changed up the menu each day, the food that we did have was always good quality! Rooms weren't super modern however the cleaners always kept them super clean so no complaints at all! Would visit again 👍🏽
NathanHoliday1
Fabulous Holiday
Avaliou em 22 de outubro de 2021
Just returned from a lovely 2 weeks at the Golden Coast. The room was very spacious with an amazing view over the bay from the 4th floor. The bed was super comfortable and the bathroom was lovely with high quality fittings. We stayed All inclusive and there was a good choice of food for breakfast , lunch and dinner. I was usually able to find something I liked. The Italian a la cart restaurant was available to book and served lovely enormous pizzas amongst other delights. My only negative was the drinks available for regular All inclusive customers, the beer and wine was not the best quality, we did pay extra at times to get the better quality drinks available for premium all inclusive customers. I dont think having two levels is a good idea. The hotel is right on a lovely beach great for snorkelling and next to a small marina for boat trips. The entertainment was very good and the staff very helpful and friendly. Special mention for Hanna and Bernadette in the animation team and Stelios in the restaurant and Maria at the bar areas and the amazing Fanos who was just about everywhere! You all made our holiday extra special. Highly recommend this hotel.
carolleKingsLynn
My relaxing holiday
Avaliou em 6 de outubro de 2021
Hotel was clean. Has a good size room but view was over a field. Food was excellent, staff were very friendly and helpful. Entertainment was very good with the kids and adults. Night entertainment was not bad. Overhaul had a brilliant time. Weather hot, last week in Sept to 1st week in Oct. Would highly recommend.
Polycal