Holiday Inn Express & Suites Georgetown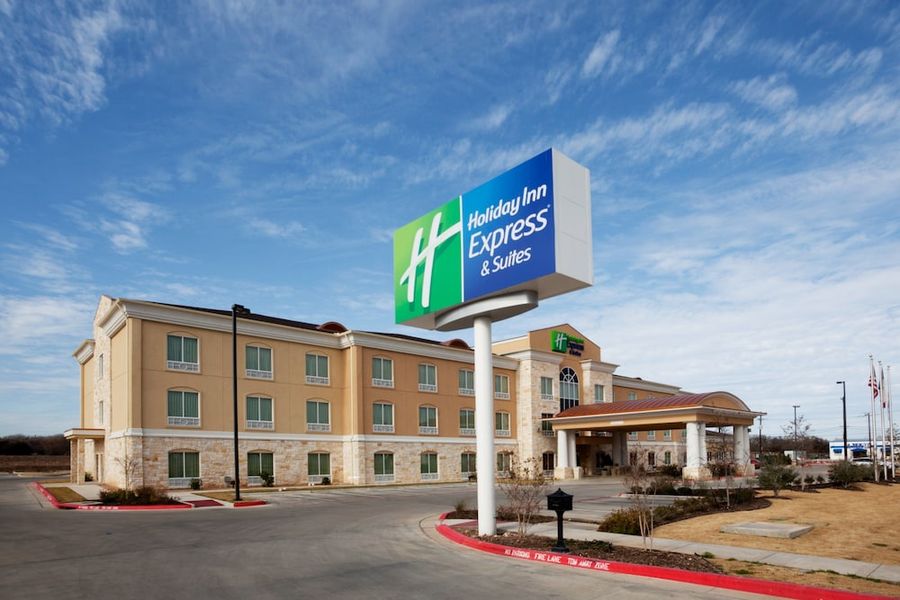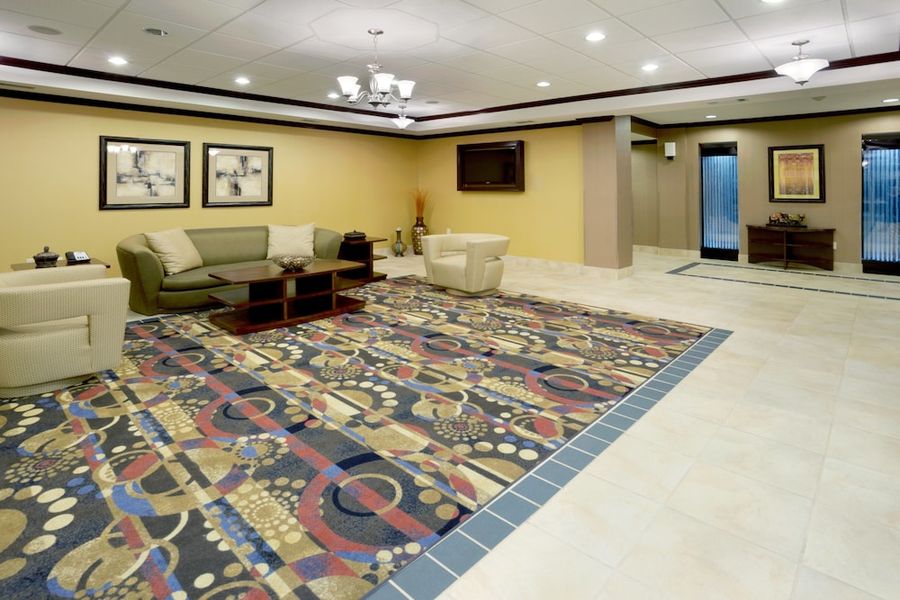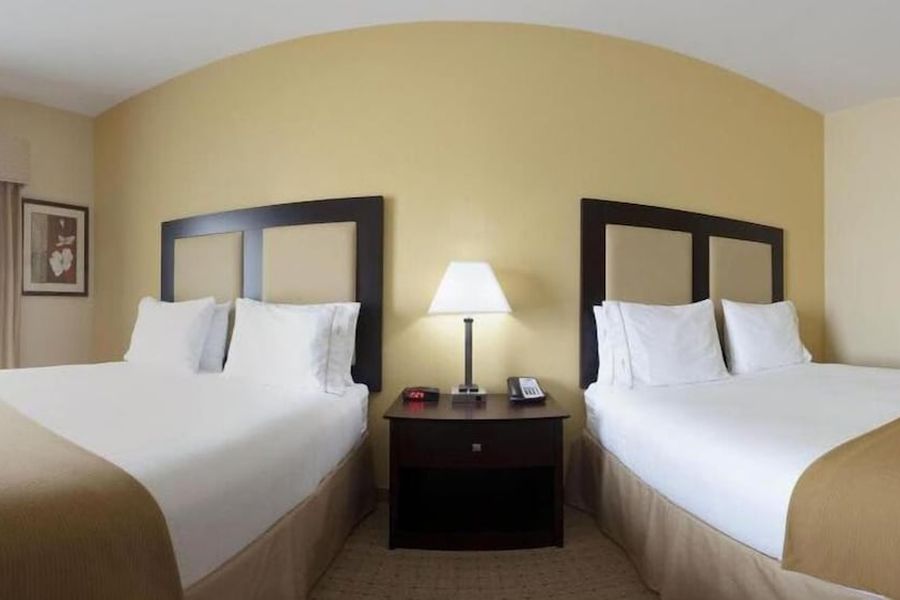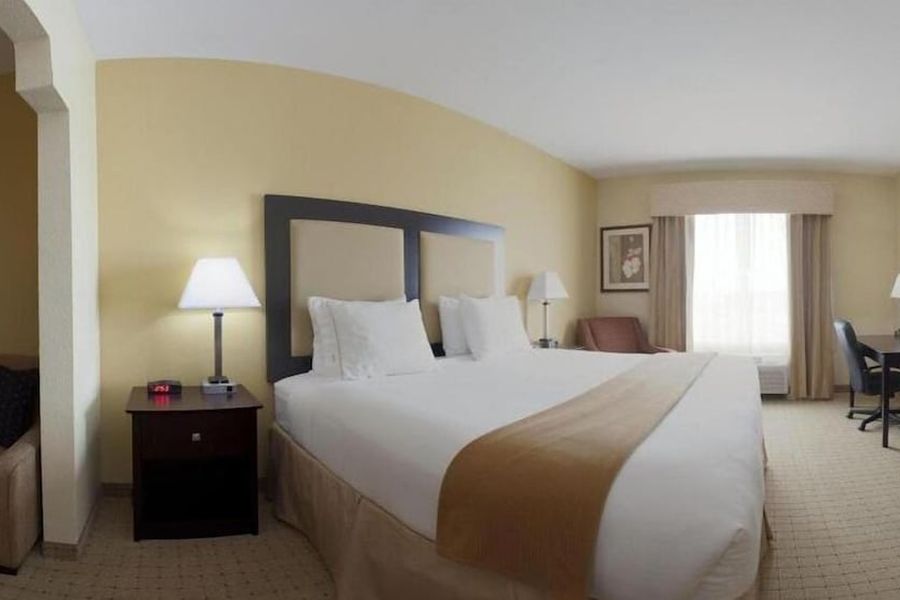 Property Location Located in Georgetown, Holiday Inn Express & Suites Georgetown, an IHG Hotel is within a 5-minute drive of San Gabriel River and Mel's Lone Star Lanes. This hotel is 1.3 mi (2.2 km) from Blue Hole and 1.4 mi (2.3 km) from The Williamson Museum. Distances are displayed to the near...
More details
OpenWeather
Select the date of your trip to check room availability.
Property Info
Check-in starts at: 15:00
Check-out ends at: 11:00
Property Location Located in Georgetown, Holiday Inn Express & Suites Georgetown, an IHG Hotel is within a 5-minute drive of San Gabriel River and Mel's Lone Star Lanes. This hotel is 1.3 mi (2.2 km) from Blue Hole and 1.4 mi (2.3 km) from The Williamson Museum. Distances are displayed to the nearest 0.1 mile and kilometer. - San Gabriel River - 1 km / 0.6 mi - Mel's Lone Star Lanes - 1.6 km / 1 mi - Blue Hole - 2.3 km / 1.4 mi - The Williamson Museum - 2.4 km / 1.5 mi - Statue of Three-Legged Willie - 2.4 km / 1.5 mi - Georgetown Palace Theatre - 2.4 km / 1.5 mi - Georgetown Winery - 2.5 km...
431 North Interstate 35, Georgetown, TX 78628, USA - Georgetown, Texas - U.S - 78628
Property Amenities
Check-in starts at: 15:00
Check-out ends at: 11:00
Guest rating
TripAdvisor
Travelers rating
Excellent

69

Very Good

49

Good

13

Reasonable

10

Bad

12
Travelers profile
Business

33

Couples

28

Solo travel

3

Family

67

Friends getaway

9
Scores Summary
Cleanliness

Location

Rooms

Service

Sleep Quality

Value
THE STORY OF and THE DEFINITION OF "THE FLEECING OF A CUSTOMER"
Reviewed 10 august, 2022
PRICE GOUGING OVERCHARGING HOTEL **Please Note: There are other Google Reviews stating this exact same thing happened to them at this hotel!! I have posted the July 24, 2022 Photo, sent to me by the Hotel, Taken By, I am assuming, a Histrionically and Overdramatic Housekeeper at the Holiday Inn Express in Georgetown Texas; located at 431 N IH 35, Georgetown, TX 78628. THE STORY OF and THE DEFINITION OF "THE FLEECING OF A CUSTOMER" My Credit Card was Charged $56.50 without my knowledge. I was not notified before, during, or, after they made a decision to charge this on my credit card ~ I became aware of this when it posted to my Credit Card Account, and, when, then, calling and being verbally accused of, and, I quote... "THERE WAS BLOOD ALL OVER THE TOWELS". Ummmmm……...NO!! NO THERE WAS NOT!! We Checked into this Hotel on July 23, 2022 and Paid over $150 for 1-Night. Before checking out, the next morning, I picked up all trash and put it into the trash cans, wiped off the sink, and, put all of the towels into 1-pile in the bathroom. A week later, I see an Extra Charge of $56.50 on my Credit Card Account, so, I call the Hotel and tell them (very nicely) that they have accidentally charged a second amount on my credit card. This is when I am told, in a very curt and rude manner, that this is their charge to me because I ruined their towels with blood! BLOOD!!!???!!! I explain that I definitely did not and asked, if, maybe, their housekeeper referenced the wrong room number. Again, very rudely, I was told, No, they have pictures. Well, I say, this is great, I want to see the pictures, because, I know, for a fact, that I did not leave BLOOD all over their towels, nor did I change the oil on my motorcycle with their towels, nor did I rebuild my diesel engine with their towels, nor did I wash my pet elephant that was having stomach issues with their towels, nor did I put their towels into the bottom of my pet monkeys' cage with their towels; because, I would not do that!! Just like I would not leave BLOOD SOAKED Towels in a Hotel Room!! I am told, with disdain, that they have the room number correct and that this is a New Corporate Rule to charge me for damaged towels. I ask, how many freaking towels are you talking about??? The towels were small, cheap and thin, so, maybe they paid $3.00 per towel, so, I must be accused of bleeding all over 18 or more towels!! While on the phone, and, as promised, I received a picture of the BLOODY TOWELS, via email. Well, as you can see in the photo, the towels are NOT Blood Stained. I then say, to the still rude human being I am speaking to, Those are NOT BLOOD COVERED TOWELS!! I explain to him (Please reference the numbered photo): #1. Lipstick on a Washcloth. #2. Not sure, looks like a footprint. I did have to use a towel on the floor, because, the bath mat had already been used earlier in our stay. #3. This is some Baked Ziti, that was accidentally spilled, while sitting at the coffee table, eating dinner, the night of our stay, and, I cleaned part of the spilled Baked Ziti up with all of the napkins I had, but, then, had to use the towel to get the rest, which was not a lot. The person I am speaking with is aloof, detached, disinterested, incurious and indifferent; he does not care about the facts and keeps stating there was Blood and about a New Corporate Policy. He states it is a New Corporate Policy to charge this amount. I offer to give him $7.50 for some laundry detergent, since, I can tell, that this hotel must be going through some extreme financial hardships, since, they already charged OVER $150 for a 1-Night Stay, but, are fleecing their customers by saying that damages occurred and are stating that it is more severe than it actually is and then charging the customer, on the Credit Card that the customer trusted them to have, an exorbitant price. I did try to be helpful, by explaining that by putting these Towels and the Washcloth into an item called a Washing Machine, and, Then Adding some Laundry Detergent, and, Then Pressing Start on said Machine, then, the water will impregnate said Laundry Detergent, causing suds, that clean, and, then, when done, MAGIC HAPPENS AND Guess What!!.... TOWELS WILL BE CLEAN!! Because, said baked ziti (which, by the way, I explained to him that I could produce the receipt, from Uber Eats, showing that I had BAKED ZITI delivered to the hotel, the night I was there) … Because, Baked Ziti is Not Laundry Detergent Resistant!! Interesting part: I then said I was going to contact the Attorney General of their State and the CFPB (Consumer Financial Protection Bureau) for this activity, which, I deemed to be the fleecing of a customer and price gouging. I was then contacted back, in less than ½ hour, and, was then told that they were going to refund $36.50 (BUT NOT ALL OF IT). So, my review that I am posting for this Hotel is: Do NOT Stay at this Hotel unless you can afford to pay additional amounts of monies, charged on your credit card, without your knowledge or that you wish to stay in unclean surroundings. Under the Table, in our hotel room, was old food that had not been cleaned up; 1-was a Fruit Loop but the other 2-items were unidentifiable and there was hair in the bathtub/shower. The Coffee Bar, in the Lobby, free to guests was disgustingly filthy (Which I DID take photos of !) This Coffee Bar looked like this when I came down to get coffee late afternoon, the day we checked in, and, it still looked like this at 5:30 a.m., the following morning, even though the person at the Front Desk stated to another hotel guests, that asked if there was fresh coffee, that, yes, fresh coffee was put out an hour before. An Hour Before, you put out fresh coffee and left the coffee bar this dirty?? It tells you a lot about the cleaning policies and procedures of this hotel. Coffee Bar Pictures that I took are posted for your review. I guess my question is, do I get to send the Hotel a Bill for being in a room that had old food on the floor and hair in the shower, and, if, I am allowed to send said Bill to them, does $56.50 seem to be an appropriate amount??
125christyb
Family visit
Reviewed 18 july, 2022
Date of visit was July 11-14, 2022. Room was clean when I arrived for a late night check-in. I was told during check-in that there is no room service until after 3 days. Also would need to request for additional towels & washcloths. Breakfast was served between 6:30-9:30 am. It was fair , but pancake machine was out of order. Pool was open, but did not use. There is a What-A-Burger drive thru next to hotel. Easy access to highways. It was quiet and air conditioner worked good. Hotel is pretty new, so no problems with plumbing or broken appliances. Room has a refrigerator and coffee maker. I would stay again, if visiting the area.
Linda O
They really don't care..
Reviewed 13 april, 2022
Arrived with a soccer team with a reservation for queen rooms upon arrival, front desk told us they had given all our rooms away and only had king beds available. Front desk accommodated us by giving us extra rooms for free, but upon check out they charged the credit card. They took no responsibilities for the "bait and switch" on the rooms. Don't not stay this hotel with a large group!! They need to be held accountable for their actions.
E8333OFstephaniep
Bedbugs!
Reviewed 20 september, 2021
Nasty stinking excuse for a hotel. Bedbug infestation and a completely unprofessional manager made for a nightmare stay. Hotel smells musty and was filthy. Breakfast was terrible and housekeeping was nowhere to be found. Mostly the bedbugs though.
880rlc
They don't care.
Reviewed 29 august, 2021
Don't. Just don't. I booked a King Executive Upgraded Suite Nonsmoking. When I checked in, they gave me a standard room with 2 queen beds. I went back down to the check in desk, they apologized and then gave me a standard room with 1 king bed. Undeterred, I went back down again and was told I would need to pay an additional $10 per night to get a suite. I refused and the manager relented and finally gave me the suite. When I booked the room with corporate, I was told the bathroom in the room would have a Jacquzzi tub. When I got to the 3rd room with no Jacquzzi, I went down to complain for a 3rd time and was told there are no jetted tubs on property besides the hot tub. Wow. It was late and we went to bed. We were in town for a bowling tournament and needed to be on the road by 7:15 each morning. Breakfast is supposed to start at 7:00. It was not until 7:15 on Saturday morning that most of the hot stuff came out and we had to leave. The pancake machine never worked the whole time we were there, which is a big selling point for my 6-year-old and I. We had to pay for breakfast at the bowling alley. One of the whole points of staying with Holiday Inn Express is that breakfast is included. That night we discovered was appeared to be a tissue besides the couch. We complained about it to the front desk first thing the next morning and we were told we needed to fill out a form to get our room cleaned. Sorry, should we have filled out a form before our stay to ensure we got a clean room? Crazy. We filled out the form and went out for the day. We returned that afternoon and the tissue was still there. We complained because clearly they didn't thoroughly clean the room because they knew exactly where to look and didn't get that. So we called on the room phone for a manager and were told the lady at the check in desk was the only one on duty. She came up and we explained the situation. It was approximately 4:45 p.m. and she said housekeeping was leaving at 5:00 p.m. and would take care of it; she called the room to verify this a few minutes later. We went out to dinner at approximate 5:15 and told the lady at checking who had been helping us no one had showed up. She said they would. When we came back, it was cleaned up. I had been trying to call corporate about the issues we have had since Friday. I was put on hold for 1 or 2 hours and would give up. I put in a call on Saturday at 4:00 p.m. and was told the wait was 19 minutes and I could hang up and they would call me back when it was my turn. I never received a call back. I was fed up this morning at 9:00 so I called back. I was still in the queue!! I held for 2 hours. At 11:00 a.m., 19 hours later, a live person answered. I told him the whole issue, basically I feel like they just wanted me to get the completely incorrect thing and not complain because they have made it as hard as possible. The hotel itself didn't care. Corporate left me on hold for 19 hours, so they clearly don't care. He let me know he would send a message to the hotel and to the ownership level but there was no guarantee they'd even respond to me. I asked could he please have someone at the ownership level contact me, but that wasn't possible. I tried to put in my issues through the app on Friday night and again on Saturday, but it does not appear to be possible until after your visit. I would think they would prefer to take care of a customer while they're still a customer and not after the fact when you're completely done with the whole company. I have been an IHG member since 2014. Never again.
qcraze