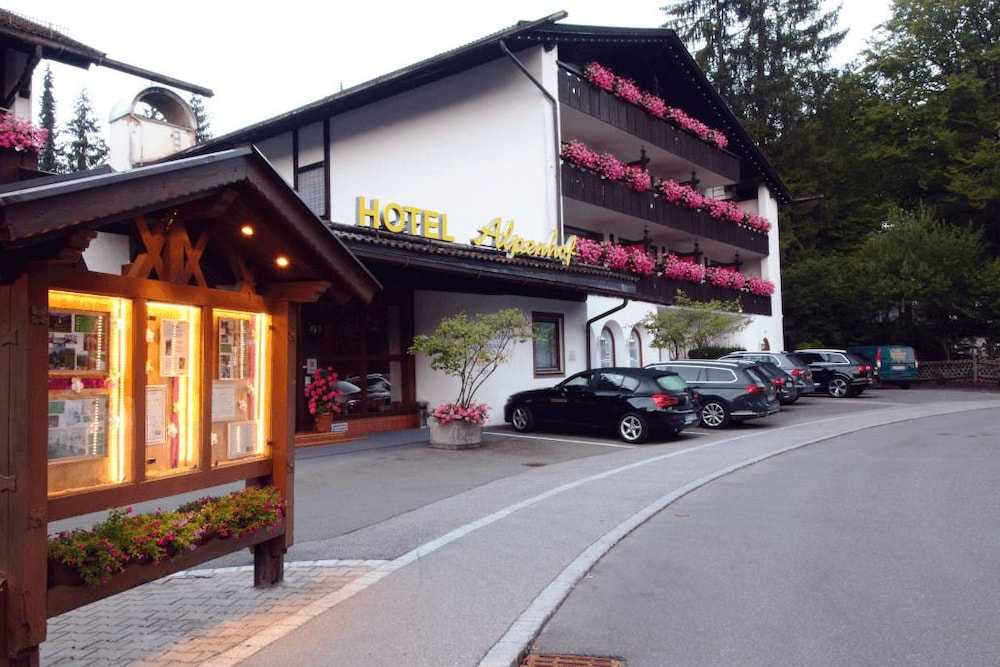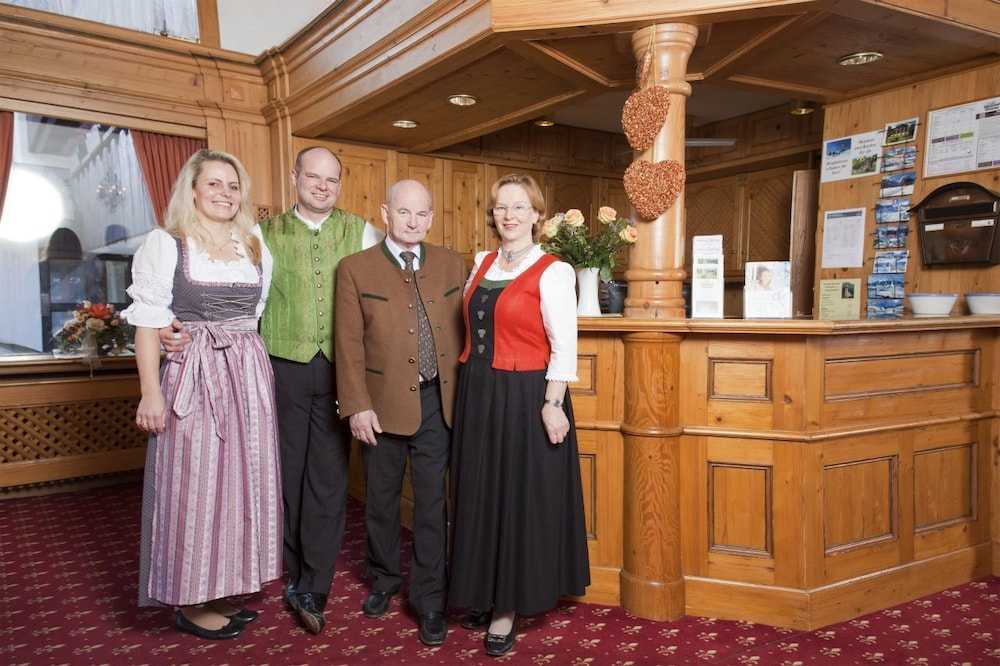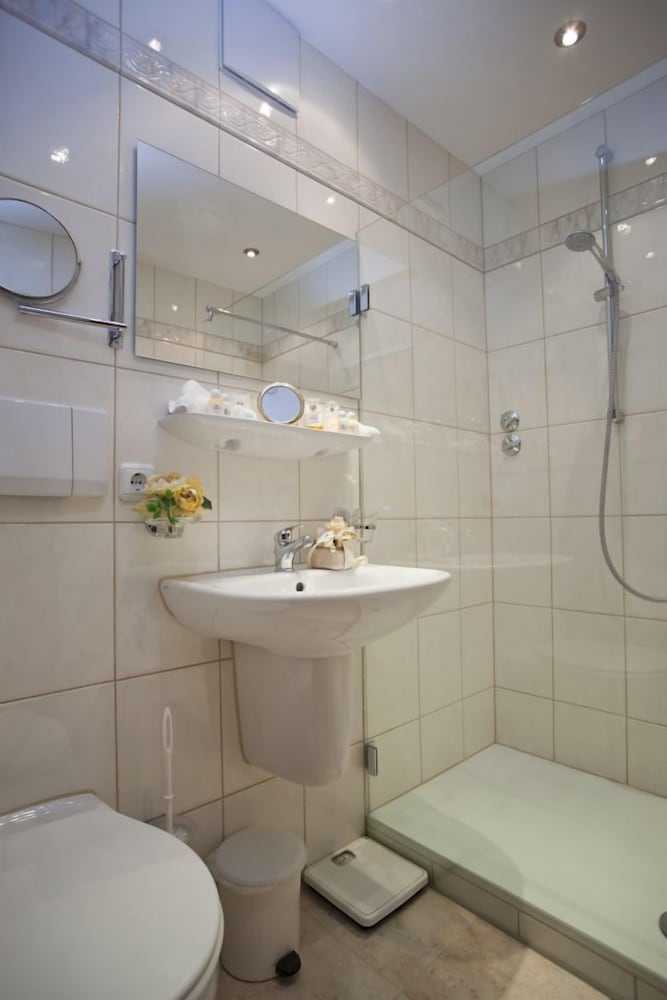 Avaliação TripAdvisor
Baseado em 126 avaliação
Ver todas
Ao alojar-se Hotel Alpenhof Grainau em Grainau, ficará perto de teleféricos, a 15 minutos de carro de Resort de Esqui Garmisch-Partenkirchen e de Eibsee. Este hotel de 4 estrelas está a 10,2 km (6,3 mi) de Partnach Gorge e a 23,1 km (14,4 mi) de Zugspitze. Tire partido das várias opções de entreteni...
Mais detalhes
Disponibilidade
Selecione a data da sua viagem
Selecione a data da sua viagem para verificar a disponibilidade dos quartos.
Informações do estabelecimento
Ao alojar-se Hotel Alpenhof Grainau em Grainau, ficará perto de teleféricos, a 15 minutos de carro de Resort de Esqui Garmisch-Partenkirchen e de Eibsee. Este hotel de 4 estrelas está a 10,2 km (6,3 mi) de Partnach Gorge e a 23,1 km (14,4 mi) de Zugspitze. Tire partido das várias opções de entretenimento e lazer ao seu dispor, incluindo uma piscina interior, uma sala de fitness e aluguer de bicicletas. As facilidades adicionais incluem Wi-Fi grátis, armazenamento de esquis e apoio para excursões/compra de bilhetes. As principais comodidades incluem um serviço de limpeza a seco, armazenamento d...
Mais detalhes
Entrada a partir de: 15:00
Saída até: 11:00
Comodidades do estabelecimento
Comida / Bebida
Restaurante
Piscina e comodidades de bem-estar
Piscina Interior
Serviços de recepção
Depósito de bagagens
Sem camas desdobráveis/extra disponíveis
Estabelecimento para não fumadores
Lavandaria
Aluguer de bicicletas no local
Internet sem fios grátis
Serviços de lavagem a seco/lavandaria
Transporte para o aeroporto (sobretaxa)
Apoio para excursões/compra de bilhetes
BTT nas imediações
Receção (horário limitado)
Pequeno-almoço grátis
Salas de tratamentos de spa
Polibã adaptado para cadeiras de rodas
Bar/Lounge
Cofre na receção
Jardim
Sala de fitness
Terraço
Estacionamento sem motorista grátis
Serviços de spa no local
Jornais no lobby (sobretaxa)
Circuitos para caminhadas/bicicleta nas imediações
Estacionamento com acesso para cadeira de rodas
Comedouro e bebedouro
Serviço de armazenamento de esquis
Passes de esqui disponíveis
Transporte grátis da estação de comboios para o hotel
Tire partido das várias opções de entretenimento e lazer ao seu dispor, incluindo uma piscina interior, uma sala de fitness e aluguer de bicicletas. As facilidades adicionais incluem Wi-Fi grátis, arm
Avaliação dos hóspedes
TripAdvisor
Pontuação dos viajantes
Excelente

89

Muito Bom

30

Bom

4

Razoável

3

Ruim

0
Perfil dos viajantes
Negócios

7

Romântica

59

Viagem a sós

11

Família

39

Viagem com amigos

7
Resumo das pontuações
Atendimento

Custo-benefício

Limpeza

Localização

Qualidade do sono

Quartos
SPA hotel... without SPA Careful with reservation!!
Avaliou em 11 de setembro de 2020
I admit that personel is very friendly and the restaurant can impress with menu. Here's what the two ** are for. However, I need to give a low rate. I came to this hotel solely for one day of SPA treatments (two nights), and during the reservation I was ensured I don't need to book massages or treatments, I can choose once I'm here. Well, last night i heard there is nothing they can offer me for today! I should have been informed either to book in advance or that the staff will be on holidays. I really didn't have any other reason or sentiment to be here other than for the treatments. This morning I spent an hour on the phone trying to find other hotels with a day spa which would accept a last- minute customer. No help with booking (i heard from the receptionist that it's better if i call myself), no alternatives. I asked for a discount and saw only a little smile. Not even a complimentary drink on the house! I'm shocked, I certainly won't be back and won't recommend.
martab955
Nice views, friendly service
Avaliou em 8 de agosto de 2020
I can only judge the restaurant, in which I spent a lovely evening on the outdoor terrace with my kids. The menu is large, very traditional Bavarian. The portions are large, the quality rather mediocre. The best is the garden with a playground and a small creek running through it. Spectacular in nice weather is the Zugspitz view as a backdrop if it had not been for the large awning which spoilt the view from our seat. Hirschbraten (roast of venison) is not really recommended.
petero251966
Comfortable German family hotel
Avaliou em 12 de janeiro de 2020
We have stayed here a few times. The package including ski pass was good value, it includes half board with a good selection of courses. The family run hotel is very friendly and the staff are very helpful.
503joed
Great Hotel, Terrible Restaurant
Avaliou em 10 de setembro de 2019
We stayed here in August with our six year old son. The hotel itself was quite nice, if dated. A typical quaint Bavarian hotel. The elevator was ancient, I suspect five or six decades old, so take the stairs. The shower in the room is a disaster, with only a partial wall that doesn't keep water off of the floor. Beyond that though, the hotel was very nice in terms of accommodations. The beds were good and the room was a reasonable size with good views of the mountain (choose the mountain side). The location, which is on a side street from the main road, is quiet and relaxing with lots of opportunities to explore. The outdoor chess set was a hit with my son. The pool and spa area was excellent but the pool is not suited for young children as there is no shallow end. The depth was between 1.5 and 3 metres, so you need to know how to swim. The staff were very friendly and helpful and knowledgeable. I would have given an excellent rating for the hotel if it were not for one thing: the restaurant. We had the halbpenzion (breakfast and supper meals included in the price). The breakfasts were fine but the suppers were simple unacceptable. The service was fine and prompt but the portion size and food quality were laughable. The first evening, we chose the fish and were served an incredibly tiny portion of local fish, which had been broiled to death and coated in rock salt. The zuchinni that were served with it were horribly oversalted and the lemon risotto tasted as though it were sprayed with lemon table polish. The whole meal was almost inedible. The spatzle that my son ate were like glue. On the second night, we tried other dishes and the portions were again extremely small. The cook on the food was better than before but two thirds of the plate were empty. The veggies consisted of five little snow peas. The starch was three fingerling potatoes. You could really tell that they were far more concerned with profit than they were about properly serving their guests. If I ever stay there again, I would not take a meal, apart from breakfast, in the restaurant. Better to walk to a standalone restaurant in the town.
John R
Bavarian Charm at its Best
Avaliou em 4 de maio de 2019
We just got back from a 2 week trip in Germany/Austria and this charming Inn really left a mark of happiness in our hearts and a smile on our faces. We only stayed 2 nights here as we had a goal to visit the "Top of Germany" on Zugspitze peak. We had 3 rooms between 4 travelers and all were in agreement that this Inn was a perfect choice for us in the darling village of Grainau. We considered several neighboring cities, but were very glad we chose the Alpenhof in Grainau. From the moment we walked in at reception to the time we departed, the sincere, wonderful service was taken note of. The Inn has the most beautiful grounds and stunning view of Zugspitze mountain range. I urge my fellow travelers to absolutely get the Mountain View! It was well worth an upgrade. Our rooms were on the second floor and all had a wonderful view. The room is definitely styled in a classic Bavarian decor. Some may say a little dated, but we wouldn't have changed a thing inside the room. The room boasts a nice little sitting area and mini fridge with ample refreshments. There were outside covered patios for each room that allow you to soak in the views and watch the many melodious birds there, namely the Black Birds who are very similar to American Robins. We enjoyed that as bird lovers! The only thing we did not like about one of our rooms was the step in shower/tub combo with accordion doors. Try to get a walk in shower if possible, unless you have little ones who need a tub. The room key is very heavy (so you don't lose it) but also the opening and locking the door is a small chore. Very minor annoyance I guess you can say, for everything else makes up for it. If you are traveling with pets, I did notice several dogs here. One couple ate breakfast in a separate dining area with their dog on a leash. Also, we were there during spring weather, so it was in the 50's. Even in cold weather we prefer a room with cool air at night, so we just opened a window and it was very comfortable. There is no A/C that I could notice, so in the summer it could possibly be a bit warm if the weather heated up. I'm sure they have portable fans. I'm pretty sure it stays cool at night in this mountainous region. All of the staff were very helpful in explaining the hotel features, the attractions, etc. We ended up buying the Zugspitz card pass for train/cable car. It was $49 euros for each of us and of course was worth it. The Inn is walking distance to the train that starts your journey to the Top of Germany. We loved, loved, loved the breakfast in the morning. It was charming, delicious and the service was warm and friendly. As another reviewer noted, this place in frozen in time, but in a good way. We will always remember our short but sweet stay here! Hope to see you again someday, Alpenhof!
CaliQuail