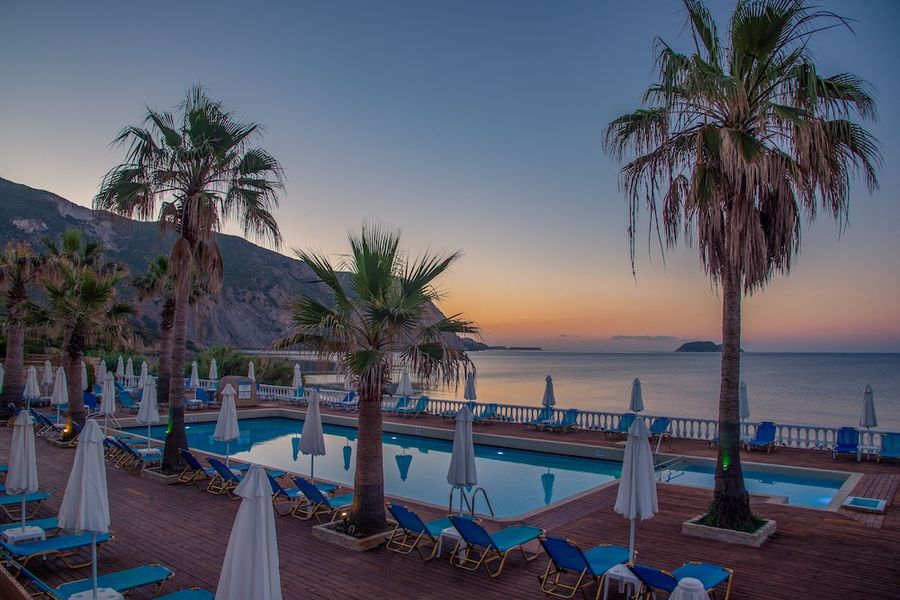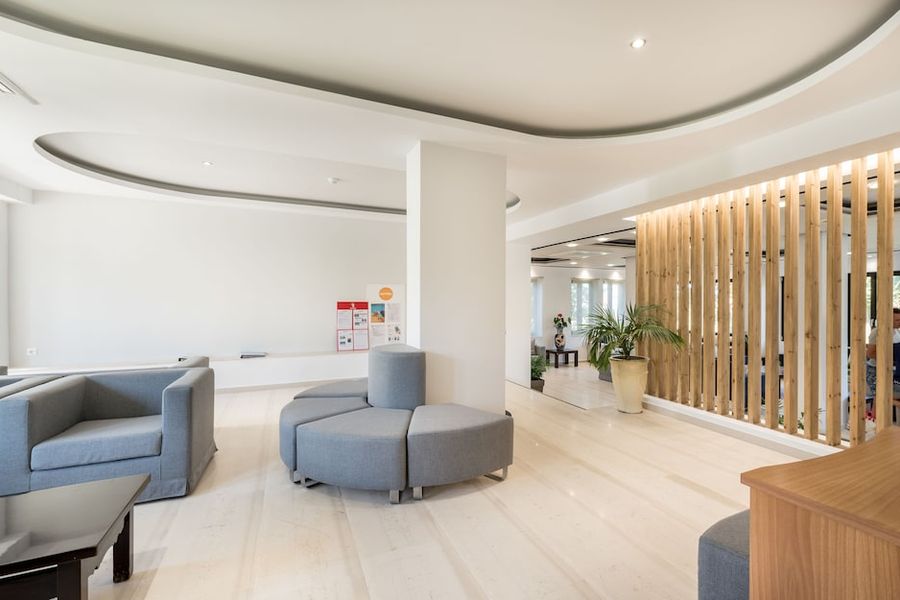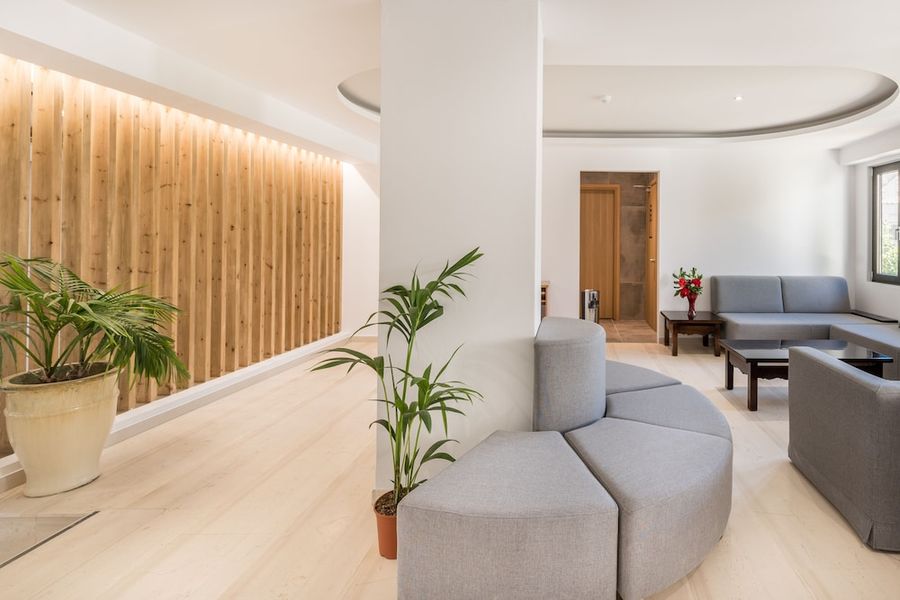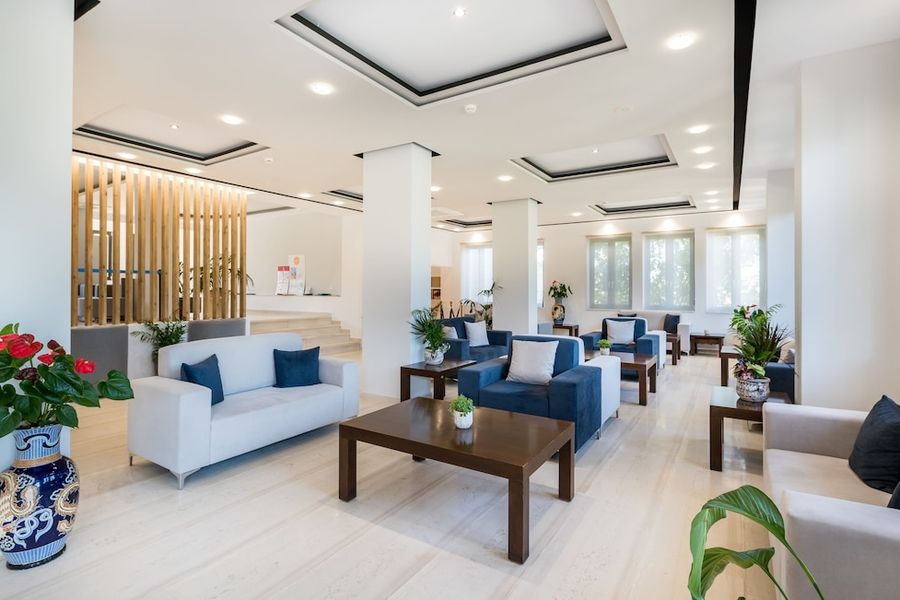 Property Location When you stay at Crystal Beach Hotel in Zakynthos, you'll be on the beach, just steps from National Marine Park of Zakynthos and 3 minutes by foot from Kalamaki Beach. This beach hotel is 2.6 mi (4.3 km) from Laganas Beach and 3.2 mi (5.2 km) from Zakynthos Ferry Terminal. Distan...
More details
OpenWeather
Select the date of your trip to check room availability.
Property Info
Check-in starts at: 15:00
Check-out ends at: 11:00
Property Location When you stay at Crystal Beach Hotel in Zakynthos, you'll be on the beach, just steps from National Marine Park of Zakynthos and 3 minutes by foot from Kalamaki Beach. This beach hotel is 2.6 mi (4.3 km) from Laganas Beach and 3.2 mi (5.2 km) from Zakynthos Ferry Terminal. Distances are displayed to the nearest 0.1 mile and kilometer. - National Marine Park of Zakynthos - 0.1 km / 0.1 mi - Ionian Sea - 0.1 km / 0.1 mi - Kalamaki Beach - 0.3 km / 0.2 mi - Kalamaki Crazy Golf - 1.1 km / 0.7 mi - Laganas Beach - 4.5 km / 2.8 mi - St. Dionysios - 5 km / 3.1 mi - Agios Dhionysio...
Ionian Islands, Kalamaki 291 00, Greece - Kalamaki, Ionian Islands - Greece - 29100
Property Amenities
Check-in starts at: 15:00
Check-out ends at: 11:00
Guest rating
TripAdvisor
Travelers rating
Excellent

146

Very Good

70

Good

28

Reasonable

9

Bad

4
Travelers profile
Business

0

Couples

136

Solo travel

3

Family

49

Friends getaway

30
Scores Summary
Cleanliness

Location

Rooms

Service

Sleep Quality

Value
Excellent hotel but..........
Reviewed 13 august, 2022
We have just returned from a two week stay at this hotel and cannot fault the staff who were all great in all departments or the room we had, which was spacious with very effective air conditioning. The only disappointment for us was the food. The breakfast buffet was good but, more often than not, the food was cold, and should have been much hotter. We went half board based on reviews of the restaurant for the evening meals, but we were disappointed. Having seen the A la carte menu online, we looked forward to our meals but, as it turned out (and we were not aware of this until sitting down for our first dinner), the half board guests only get a sheet of A4 paper with a limited selection of 3 starters, 3 mains and 3 desserts (i.e. not the full range of options that any Tom, Dick or Harry walking in off the street would get). Similarly, there was a daily special but this wasn't on the half board menu unless you wished to pay extra for it. There were also no explanations as to what the meals came with (i.e sauces, how meats were cooked). To this end, every night we had to ask the great waiters what the meal was or what it was served with. You could order something off the main a la carte menu but you had to pay full price for it. In our opinion, if it was necessary to do this (as it was on one occasion), we should only have been required to pay the difference in cost from what was on the half board menu rather than guests who had paid for half board having to pay full price. The menu was also quite repetitive - i.e. variations on the same dishes appearing night after night etc. Some nights we just ate out as it was so poor which defeated the purpose of half board entirely. You were only ever issued with one set of cutlery for the full three courses which meant you had to retain your fork and knives after any bread or starter to use with the main meal etc which we found pretty unacceptable. It is also worth noting that the A4 sheet half board menu was never displayed anywhere outside the restaurant and so, unless you asked reception for a copy around an hour before dinner service, you wouldn't know what you were about to sit down to eat in advance. (Again, if the full a la carte menu was available in the first place to half board guests, this problem would not exist). We would suggest that it would be useful to display this outside the restaurant or as a notice within the reception area each day (well in advance of dinner service) to allow guests to plan their evening if the options on offer were not to their liking. As an aside, we found that the food on offer in the pool bar during the day (i.e. for lunch) is overpriced for what you get and there is much better alternatives in the form of Greek tavernas and restaurants just along the Old Kalamaki road. It was also somewhat surprising to us that we were not provided with a feedback or survey form at the end of our stay to be able to provide constructive criticism or suggestions to the hotel following our stay - something which we are usually required to fill out in most establishments at the end of a stay. Despite the food issues, we would definitely stay here again as location, rooms and staff are great but would only stay bed and breakfast.
mairsScotland
Perfect location for a relaxing stay in Kalamaki
Reviewed 26 june, 2022
We have been to Zante many times over the last 15 or so years including stays in Kalamaki on a few occasions when our children were younger at the likes of Caretta beach and Antonis but the Crystal beach is on a different level for a relaxing holiday for us as a couple - stayed in 114 The location just cannot be bettered for the Kalamaki area as it's simply directly "plonked" above the most perfect stretch of the whole area of the beach which although can be busy-ish is absolutely so stunning and also peaceful as it lies right at the edge of the national park The pool area itself is simply tranquil and a perfect holiday environment for couples and also families who require a more peaceful location without the noise The hotel itself doesn't have a hotel feel as it's more of an apartment feel as there is no rush for towels on sunbeds nor hustle bustle anywhere on site etc . Our room was very modern and contemporary with all needs catered for including air conditioning (we did have an issue with the a/c not working and went to the reception desk to report it and by the time we had walked back to our room - literally 2 minutes - the maintenance chap was at our door already and sorted it within 5 minutes ) and the king size bed was as comfortable as our Hypnos superkings at home Our room also had a perfect sea view and the only sound we could here whilst in it was the rush of the sea waves which for me is what I want to hear As for general cleanliness you have Lola the happy hardworking lass who will greet you daily with a cheery hello and a smile , this lass will clean your room spotlessly daily and and change bedding and towels daily also and nothing is too much trouble for her which is what we really do have to say about all the members of staff that we encountered be it at reception , restaurant , beach bar , handy man etc.. The food at breakfast has a very good extensive selection to cater for many different nationalities ( genuinely across different selections of food and drink there must be over 70 different selections from fresh pastries to fruit , hams and cheeses and also cooked breakfasts ) and if any plate choice gets diminished then one of the friendly girls will bring fresh top ups within minutes Room check in is at 3pm although we arrived at 1pm and our room was ready to enter and check out is at 12pm but facilities are available for a later check out upon request Locally we found amongst others the favourable places to eat being Venaz , Lambros (on the main road by the Crystal Beach) and also Michaelos which is over the roundabout Turn left from the hotel entrance and walk two minutes after zepos (which is nice) you will stumble upon Stani taverna and for traditional Greek food you will not find better , I recommend the stifado and also the octopus - yum yum We found the better places to eat were near the Crystal beach rather than down the "strip" as the food tended to become more tourist the nearer you got to the centre If you decide that you want to go local food which we did on a couple of occasions as I am partial to a good old gyros then the only place to go is Tazies which is about 8 minutes walk from the hotel - we don't eat fast food at home but Tazies does the perfect gyros (3/5 euros)and various pizza from pizza oven (start at 7 euros) and are much better than any restaurant in town As for local bars you will find the best ones on your doorstep as during the day you have the perfectly located little beach hut next to the hotel that will serve you a refreshing selection of fruit bowls for 4 euro or a cool mythos for 3 euros whilst sat outside with the breeze hitting you directly which is needed when it's hitting 37 on the beach Night time you have La Luna close by and for the perfect end to the night you have our personal favourite "Mojito" which serves the perfect cocktail at a very reasonable price of 5-6 euros Also the cave bar is a must for a chilled out drink The only negative that I could possibly give the Crystal Beach is the price at the bars for residents as for example all bars locally charged 2.80-3.50 for the staple Mythos and in the Crystal Beach it was 5 euros and the same was across the board for drinks and food but it wasn't enough of a gripe to prevent us returning as if we do once again return to the beautiful and friendly Kalamaki area in the future it would be dependant on us being able to secure a room at the Crystal Beach as anything else locally would now be a non booking Thanks to all the staff at the Crystal Beach as you really are doing a great job to ensure a perfect holiday Well done !
Tour504366
More than just an hotel: the perfect place
Reviewed 7 august, 2021
The Crystal Beach hotel was nothing but perfect. Me and my girlfriend went there for a whole week and it honestly was a fantastic experience! The hotel room was beautiful with an amazing view and a nice balcony. Every morning there was a different breakfast selection and it was delicious every single time. The hotel has such a nice swimming pool with very comfortable sun-beds and it was never too busy. Besides the pool, the hotel lies directly in front of the Kalamaki beach, which is one of the nicest sand beaches Zakynthos has to offer. Non hotel guests have to pay for the beach sun-beds, but the hotel has a small strip of grass with their own sun beds and parasols right near the beach, for free! The hotel also offers amazing lunch options during the day and there is a bar where you can get your favorite drinks (all day long!). Furthermore, the hotel has a fantastic restaurant with different specials each day and an amazing view over the see and a beautiful garden. The restaurant was very busy, because people from all over the island came there to eat (I think that says enough about the restaurant). The staff were very kind and helpful, always with a smile on their faces. Overall just a wonderful experience, we will definitely come back!
Losha K
Highly recommended
Reviewed 27 september, 2020
7 days of relaxation with my wife in a beautiful location. From 6 September 2020 to 13 September 2020. Excellent hotel staff even in times of SARS - Cov2. Our age: 66 and 65. Traveled enough around the world. The hotel is perhaps the only one that directly overlooks the immense beach that runs from Kalamaki to Laganas. It was probably built before the whole area became a protected marine reserve (Caretta turtles). Then direct access to the sea, beach equipped with sunbeds and umbrellas (be careful not to walk over the brood of turtle eggs duly fenced and protected). Splendid sea: practically a borderless salt water pool with no (or almost) wave movement in the period indicated above. Real water temperature (the best of the Greek islands visited so far). Very transparent and gently sloping sandy bottom. No motor boats allowed in the sea (protected marine park). To return to the hotel: perfect cleanliness, excellent food, abundant continental breakfast (in times of SARS - CoV2 it takes a little more time and patience to be served in order to respect, rightly, all the protection measures to protect the staff and also for our protection). We had chosen bed and breakfast. But we also used the excellent restaurant for dinner. The evening dedicated to the grill is recommended. Great outdoor hotel bar next to the relaxing pool. Nice people at the reception: efficient, courteous and they didn't even charge me a surcharge for the "late check out". But don't tell the owner of the hotel. Here I stop. What can I say ... recommended to everyone. I would go back immediately. The only drawback not attributable to the hotel: not even the shadow of loggerhead turtles. They appear to be on the opposite island of Kalonisi. Yeah, but the eggs come and lay them on the hotel beach. I haven't seen a single one. That they come on purpose when I'm sleeping to spite me?
0biOne
Excellent 2* Hotel
Reviewed 20 august, 2020
Fantastic location, beautiful beach, close enough, and far away enough from Laganas, excellent restaurants nearby (Vinaz Resto Bar) and helpful staff. I would recommend that the hotel restaurant perhaps invest in fresh orange juice and better coffee for their breakfast servings in the morning. I also recommend that the hotel make it clear to guests that the Crystal Studios are not part of the hotel. Unfortunately our friends booked the studios thinking it was by the hotel, however they were disappointed to find that it was quite far away and that they were not able to use the pool facilities at the hotel perhaps due to COVID. It was all in the fine print, but not clear enough and it ruined the trip for our friends.
mariskathecapetonian